---
Review of Egonlab Spring 2023 Men's Fashion Show
Down the Rabbit Hole
By Mark Wittmer
Egonlab goes through the looking glass with their Spring 2023 collection, introducing a coating of bubbly psychedelia to their signature razor-sharp flavor of haute punk urban glam. Titled Wonderland, the collection sees the upstart project of young creative director duo Florentin Glemarec and Kevin Nompeix impressively expound upon their core strengths while making a somewhat less successful (though still fun and certainly marketable) push to incorporate new cultural and aesthetic references into their oeuvre.
Despite the overtness of the pre-show delicacy that greeted attendees outside the venue in the upper chambers of the Palais de Tokyo – a pink chocolate fountain with pastry vulvas and penises for dipping – the show's sense of sexuality, though omnipresent, was relatively restrained. The designer duo's penchant for kink reference and Berghain-esque club style was diffused with excellent tailoring and a refined sense for craft. Thigh-high boots and leather briefs met voluptuously elegant great coats; slashed denim jackets and skirts (they've taken a cue from the popularity of that Miu Miu skirt) met intricately patterned knitwear or sequins.
Mushrooms are big right now, and the show's Alice-referencing title and graphical work paid unabashed homage to the most psychoactive of the fungus kingdom's colorful denizens, like the visually iconic amanita muscaria. While these colorfully printed pieces felt like, in a way, a departure from the rest of the collection, the thrown-together feeling fit the festival-ready, thrift-shop hedonism of its target neo-hippie demographic. This thematic imagery also forms an interactive tie-in with the brand's own version of the metaverse, Egonimati, which launched last season alongside that collection.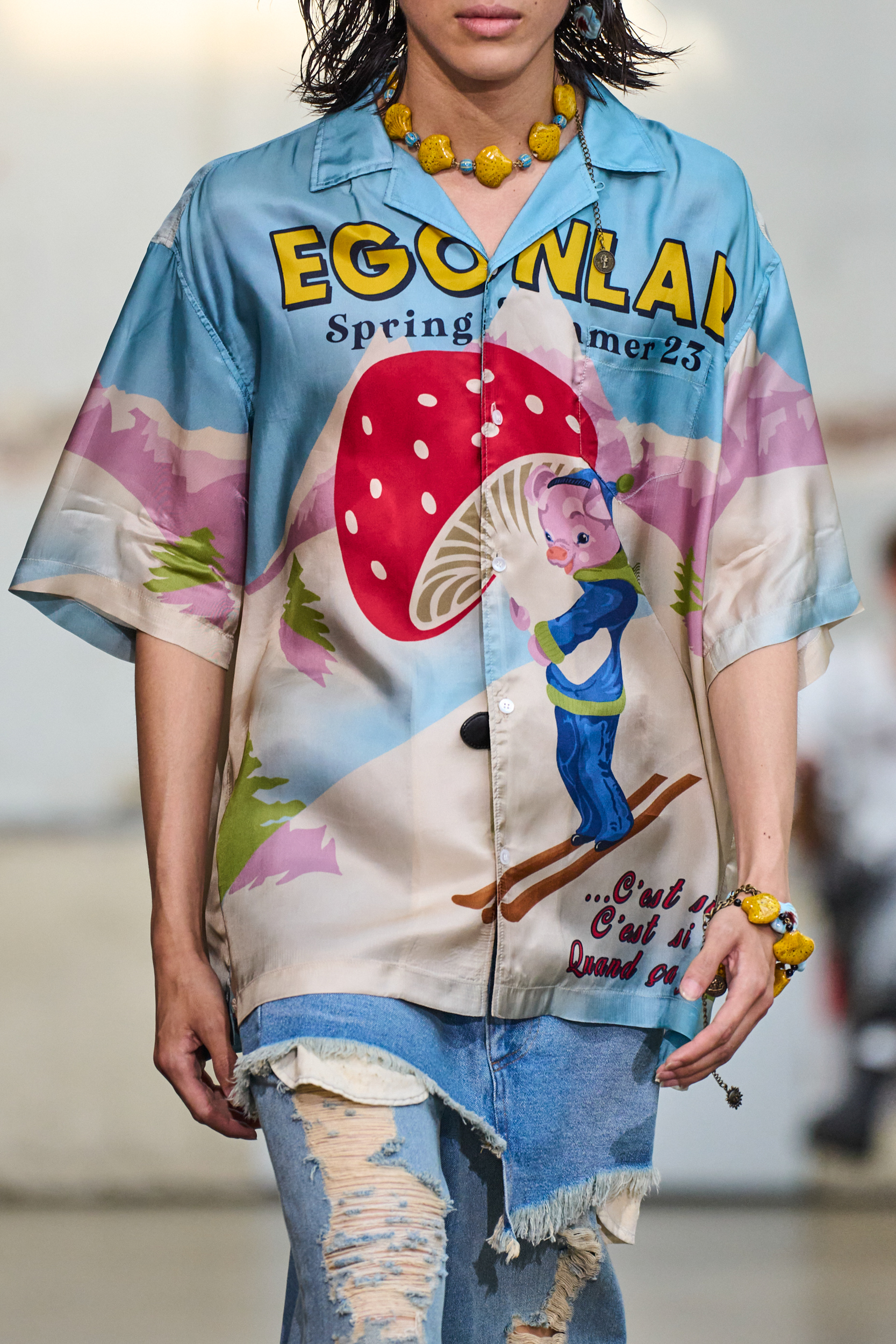 But balancing out this heady change of direction were the strong details and accessories that ran throughout the collection, in particular the ring on a strap that took the place of bags and was used to hold coats, another smart suggestion of layering and modular styling possibilities.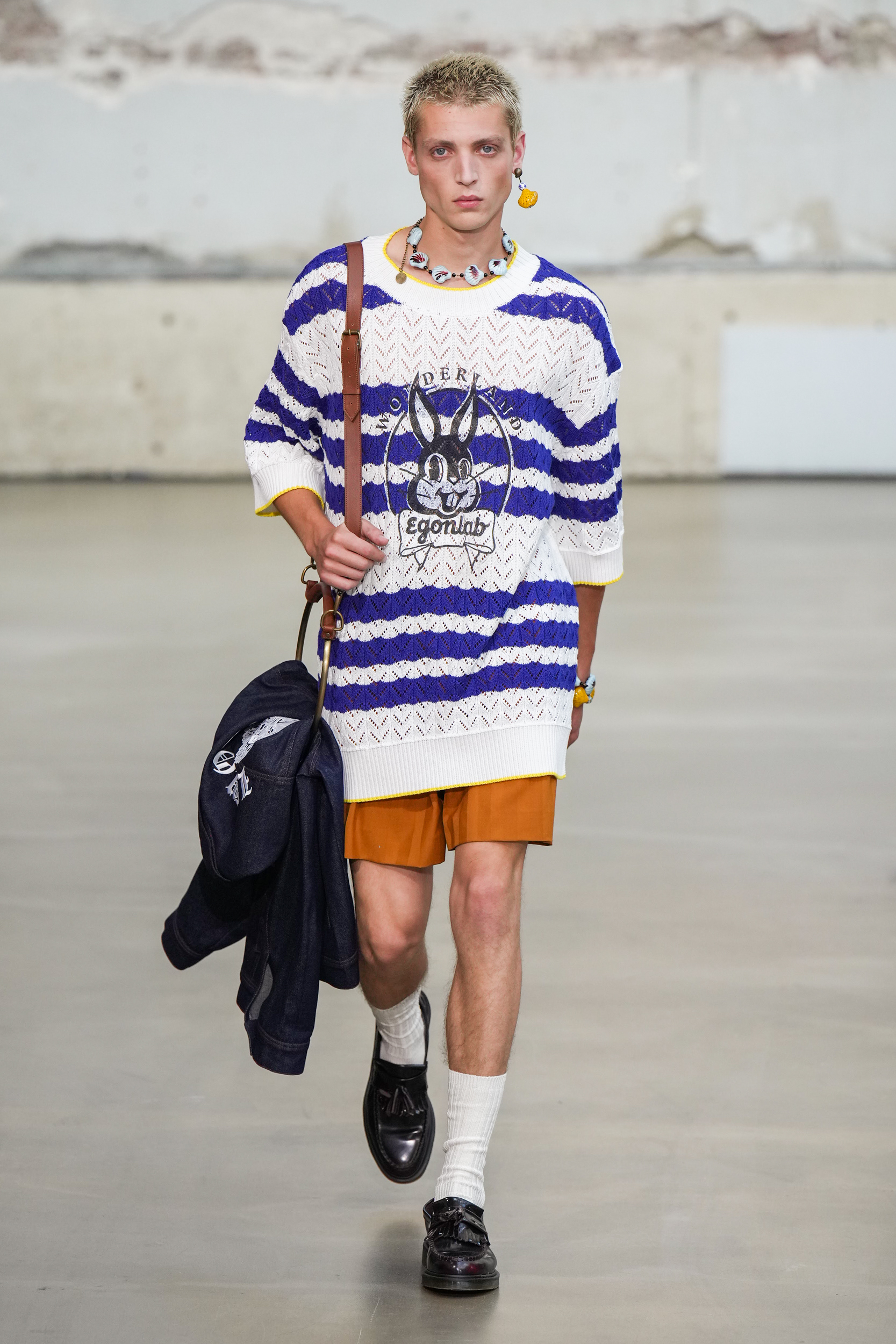 We saw a similar piece from Jonathan Anderson at Loewe several years back, but we're happy to see Egonlab reintroduce the idea, and it fit particularly well for this collection.
Other thoughtfully crafted moments included the patchwork denim and leather ensemble, the cigarette (or whatever other smokable you fancy) holder ear clip, and the chunky stone necklaces and belts. The brand's continued commitment to and celebration of gender fluidity is also very commendable.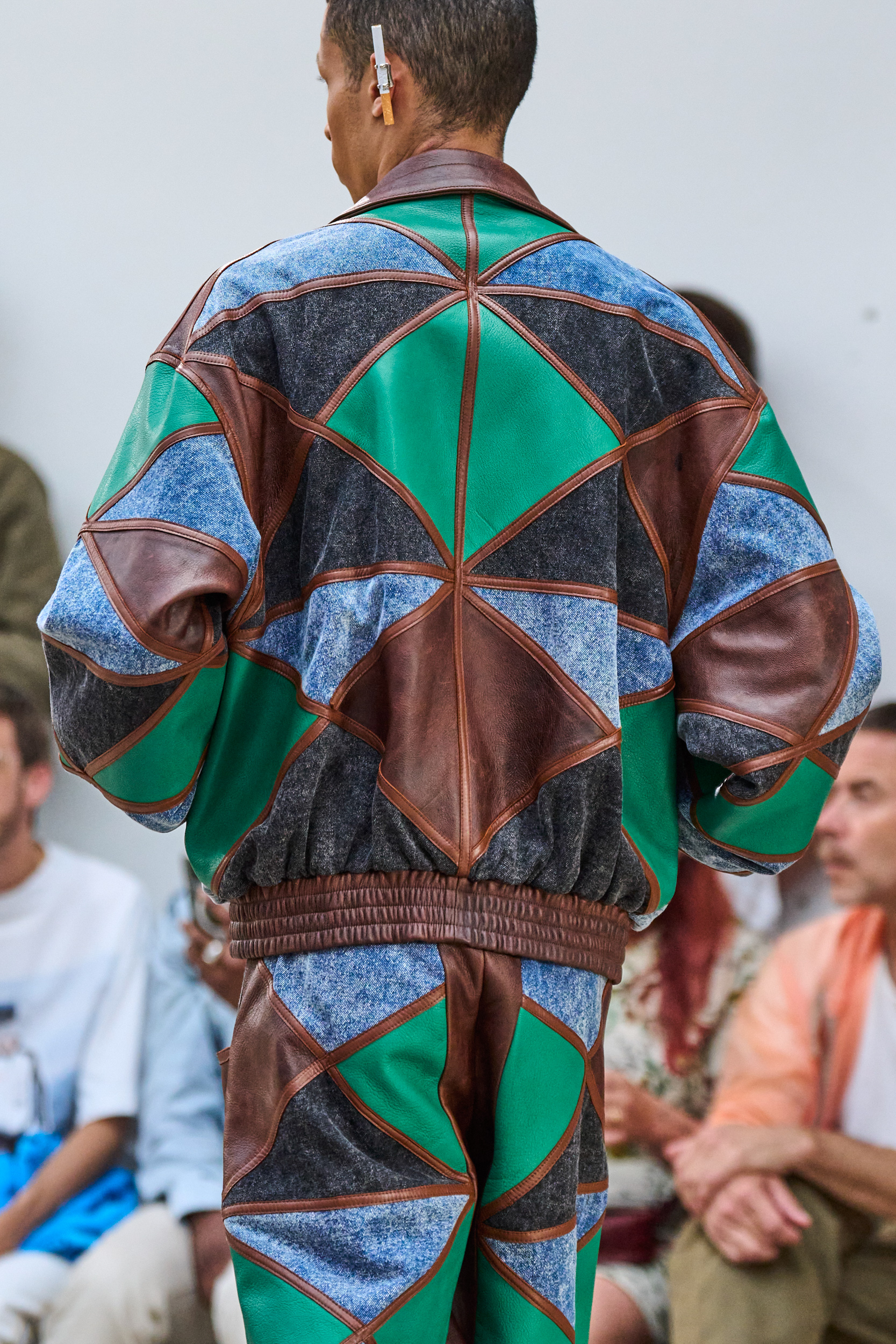 Delivering a collection that felt thoughtful, playful, and largely cohesive – save perhaps for its off-kilter digressions into obvious rehashings of pop-art psychedelia – the collection confirms Egonlab as one of the most exciting young brands on the scene. As they continue to hone their already impressive design chops, we hope the duo can also learn new ways to incorporate their impressively ambitious conceptual aspirations across their collections more thoroughly.
---