---
Review of Emporio Armani Spring 2022 Fashion Show
Forty Years Later, The Empire Strikes Back
By Long Nguyen
Emporio Armani was born in 1981—far ahead of its time. I imagined it as a line with which to experiment, capturing new trends and introducing fashion for all; a container in which everyone can find something and make it their own, interpreting it in a personal way. Today, it represents the cross-cutting and dynamic version of my style concept and has not lost its initial spirit of individuality and community, search, and freedom. These are the values I wanted to emphasize with this exhibition because Emporio has always been a brand strongly anchored in the contemporary world, reflecting the energy and vitality of the metropolis, capturing its beat, and offering an experience made up of clothes, accessories, and ideas," said Giorgio Armani. Ahead of the unveiling of the Emporio Armani Spring 2022 co-ed collection, the anchor of this brand is entering its Fortieth Year celebration.
The celebration is an all-around immersive experience from this fashion show to an exhibition at the Armani/Silos titled The Way We Are, including signature products, archival videos, and imageries made over the four decades destined for a youth public was a revolution back then in 1981. Already throughout different neighborhoods in Milano, images depicting visuals from the current Emporio Armani ad campaign have begun their takeovers of various locales from bus and train shelters in Garibaldi and Stazione Centrale to Malpensa and Termini Airports in Milano and Rome, billboards and murals on Via Broletto, Corso Garibaldi and Via Tortona in central Milano.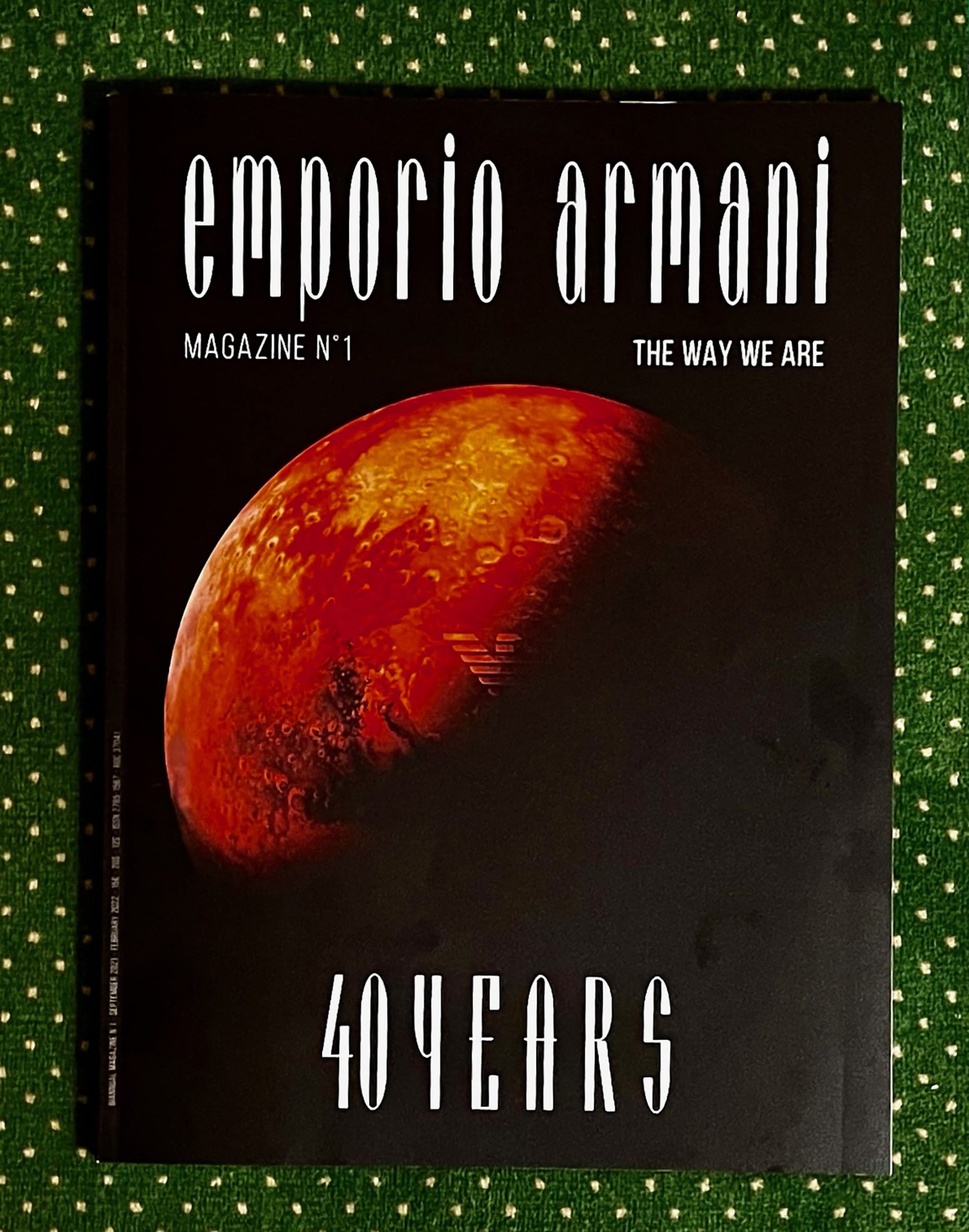 But that's not all. A special issue of Emporio Armani Magazine under the same title as the Silos exhibition, a magazine first printed biannually from the first edition for the fall 1988 season and now in print again for the first time since the last issue number 18 in September 1997. Precisely twenty-four years apart, issue number 18 and the new issue number 1 resemble each other in remarkable ways. The difference is in the selection of writers for each of the issues in their epoch. There are still articles about pants, a father's suit, and sports surrounded by the multiple images of the fall-winter 2021 Emporio men and women collections ranging from the very casual underwear to a more dressed up sort of in a relaxed single breast suit.
The Emporio Armani wasn't precisely a glorified catalog. In addition to the obligatory photographs of the latest seasonal assortment of products, it was an intended cultural magazine with authors from different arts, fashion, and films writing on the latest social-cultural matters viewed as of genuine interest to the brand's young audiences.
Before, there was a thing called content creation and the like now omnipresent in the digital sphere. It is of note that the brand is returning to a printed format when the print media is fast disappearing from public life. The new issue starting again from scratch, so to speak, is called Magazine Number 1 or issue #1 with an image of an orange partial moon and bits of the eagle symbol for the brand.
Four decades is a long period and a significantly longer time frame for fashion that operates in dog years. In that time, terms like Gen-Z and Young Millennials have yet to exist. Then, designer fashion wasn't so much the province of young people like it is the obsession of the luxury business today. But looking at the exhibition just before the Spring 2022 show at the Armani headquarter on Via Bergognone, there is a great deal of familiarity, like visiting a place one has been many times before and now revisiting.
I have not been back to Milano since mid-June 2009. After this prolonged absence, the city on the whole and the Bergognone mega office complex remain just as I had left it. That's something extraordinary about Milano, walking into the same hotel twelve years later, and the reception staff greeted you by your first name and gave you the same room.
That sense of familiarity – a sense of family – is undoubtedly a strong emotion at this fortieth-year Spring 2022 co-ed show. Immediately, you recognize the Emporio Armani traits as the first few girl models came out. Wearing dark navy double breast loose fit pantsuits, short strappy light blue, and light grey dresses, and those short-cropped over the hips jackets either in crossbody button or as the single breast with relaxed pants in khaki or even pale green. And the guys sometimes in a group of 3 or 4 together in their soft shoulder pantsuits in sand, pale yellow or dark camel that looked as light as second skins.
This softness extends overall in this collection from loose to tightly fitted garments, some of the new clothes made with uneven dyed patterns.
A few of the soft jackets, tunic tops, and pants on the guys are made from a kaleidoscope patchwork of Armani colors – colors that the designer used very often in the Emporio collections over the years – light blue, dark blue, beige, khaki, light grey, and taupe. It's the condensation of time in the fabric of the garments.
The collection is an all-around wardrobe not just for day and night but for sports. There is a selection from the sport EA7 segment with new technical oversized hooded blouson zippered sweatshirt jackets paired with either stretchy shorts or even loose tiered zippered pants that unzipped at different levels.
The one difference was the required social distancing seating at the Teatro. Some things you adapt, some things you don't and are here to stay.
This Spring 2022 co-ed show features many of the timeless clothes any audience would expect to see at this Armani Teatro. That is a wonderful accomplishment coming from a fashion brand now considered a cultural institution in this city and around the globe.
What exactly does the Emporio Armani brand represent in these mostly turbulent four decades?
In the superfast world of fashion, this Armani brand developed and devoted to the younger consumers demonstrated a remarkable staying power despite all the earth-shaking changes occurring all around the industry. It is the first designer fashion brand to have a different brand entirely devoted to young consumers. Emporio Armani is democratic fashion before such a nomenclature even existed. Much has changed in the fashion world since 1981, but this brand is experiencing a revival as a critical moment when the youths the brand catered to all these years are now becoming prime consumers.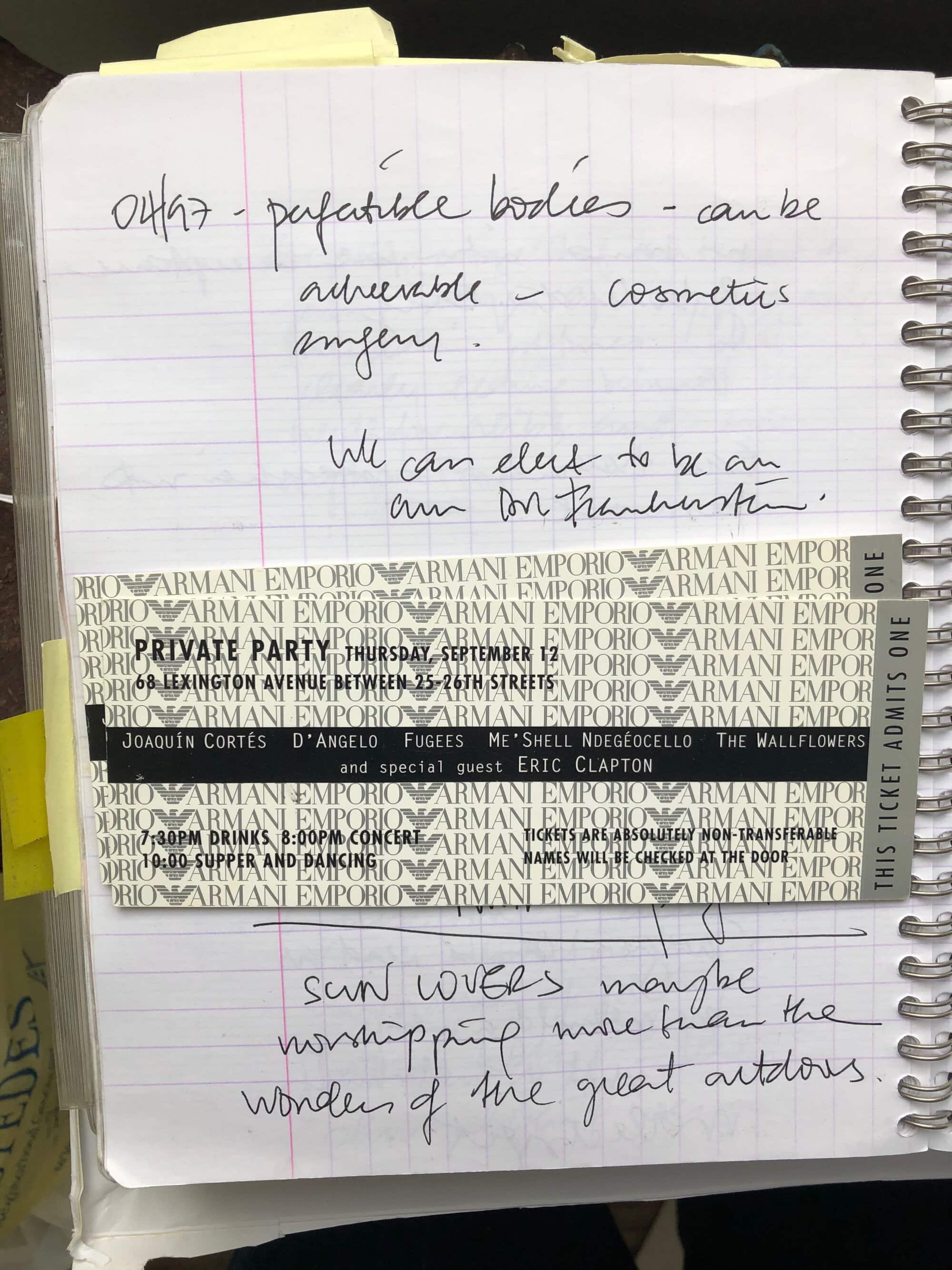 In mid-September 1996, I remembered the Emporio Armani dinner concert at the Lexington Armory in New York featuring multiple talents, including Eric Clapton, Fugees, D'Angelo, Me'Shell Noegeocello, and The Wallflowers. The brand was one of the first to champion this level of collaboration with musicians as it did with actors across the board. 

Credit – Photo Long Nguyen Archives
The Way We Are, the exhibition, firmed the idea of endurance of style in rooms labeled ICONS. In the other rooms surrounded by colorful images, the labels should be heroic and erotic as both elements entail the Emporio Armani forty-year story in clothes and pictures.
A couple of the rooms at the Silos exhibition featured colorful transparencies on the walls showing the brand's ad campaigns over these decades, kind of like a giant wall of model kids wearing as little as nothing to slim-fired suits to dresses of all proportions and colors. It is an expansive representation of the Emporio brand obère these four decades.
But there is something else.
What isn't so surprising to see, though, is that practically all of the models – guys or girls – photographed were all whites with very few exceptions. I did not see any black or Asian models in the two rooms until things changed slightly where here and there, any black model appeared or any Asian one. It is breathtaking to observe the decades of social-cultural change, especially in America, on these walls of advertising images inside Milano's bastion of Italian style.
It is a sign that fashion is not exactly a driver of social and cultural change, but vice versa.
But, the chances are there, and more will be apparent in the coming years save for perhaps the signature clothes in new fabrics, new colors, and new shapes.
---