Ethereal Femininity
'Underwear as the new eveningwear' has been a theme for some seasons; however, S/S 23 Haute couture presented something a little more intimate and beguiling. While several provocative displays of the female form existed elsewhere, the idea of the reveal was tempered in discreet preludes of femininity, presented ethereally in sublime silhouettes of lighter-than-air silks. Familiar elements such as the columnar slip dress are reimagined in layers of transparency or finger-light lingerie-inspired satins and velvets. Schiaparelli's body-skimming, champagne-colored dress subtly caresses without clinging and will be a celebrated silhouette for the season. Maria Grazia Chiuri demonstrated her evocative celebration of feminine strength with pieces inspired by Josephine Baker, but it clearly defined the message of strength in femininity. Exacting columns of velvet or silk showed the acute craftsmanship; take the elongated form in subtle cream, delicately crafted with beads.
Lace also emerges as a standout trim, nodding to the vintage inspiration behind many key looks. There was indeed a flavor of 20's styled silhouettes in the beautiful and endlessly elegant Fendi pieces that will provide inspiration for the forthcoming S/S 24. Look to light layers of intricately carved leather to give a pointer for combinations of lace and sheer, or consider the handpainted florals that replicate coloured lace, crafted into soft subversive layers. The hint of lingerie inspired by an affluent past at Armani Prive portrayed the importance of embellishment and shone in full-length liquid gowns with the era's dropped waists. At the same time, the acutely cut V-front bodices – a design feature that will be re-interpreted – held the omnipresent subtle overlay of sheer silk.
Light layers continuing in exaggerated ruffles were a standout manifesto that displayed a playful coquettishness of the female form. Valentino's confident offering in barely-there silhouettes rendered in the finest soft laces and silk chiffons were so light that they danced in ethereal unison around the torso or came in asymmetrical swathes that wrapped down and around to the hem. Consider the 'dare to bare' black drop-waisted slip – it may seem overt, but it was also a piece of beauty.
While layered sheers play a vital role in adding textural interest, the colourways added to the ethereal context. Pale blue, pink, blue, sand, and peach, resembling delicate hues from the mother of pearl, were soft, gentle, and in keeping with the delicate laces and soft tulles and chiffons.
These delicate yet provocative silhouettes and the underlying theme of the 20s may result from the turbulent times we have been experiencing and, in doing so, provide a sense of strength and confidence in a powerful display of femininity.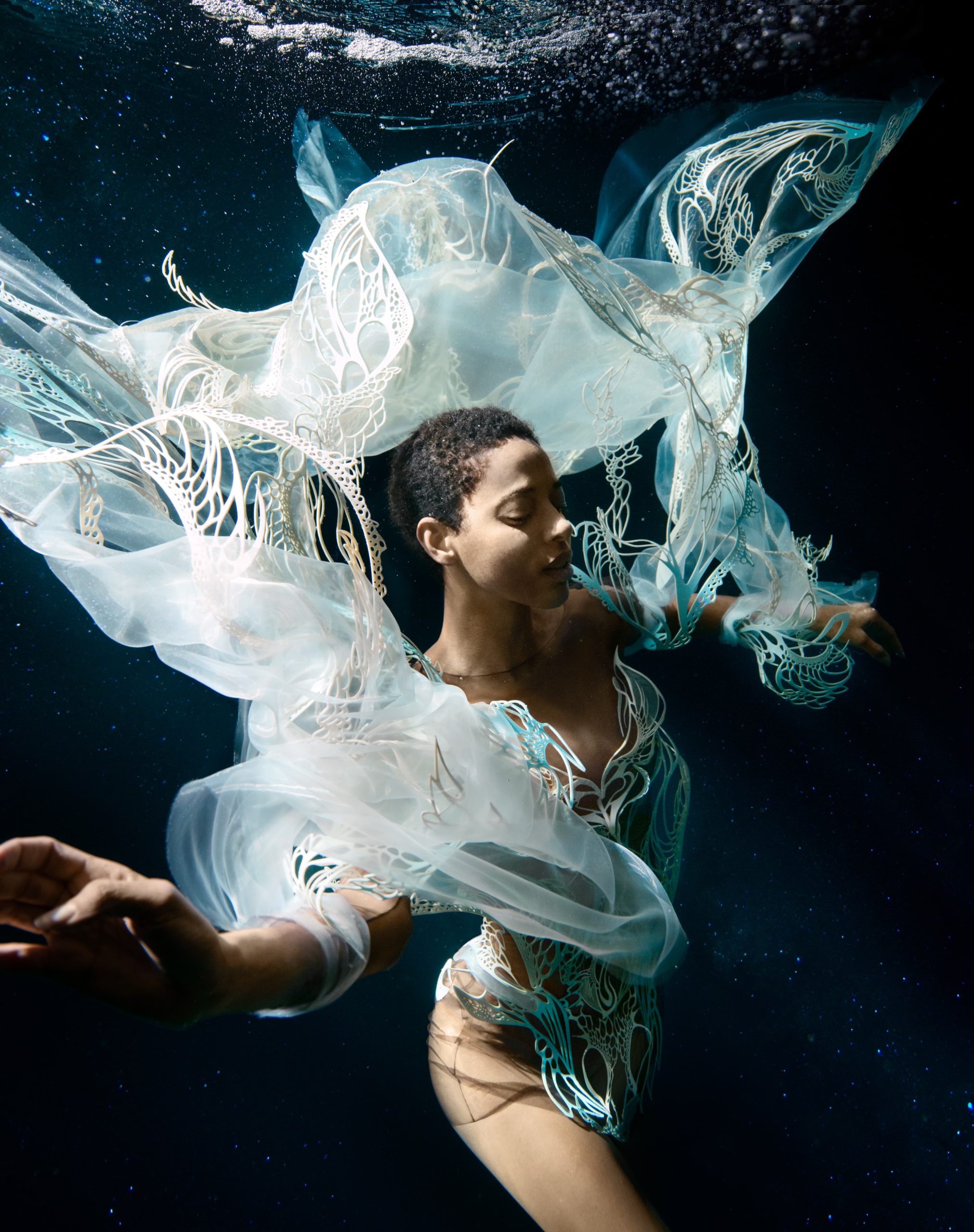 ---