---
Review of Milan day 3 – Etro, MSGM, Han Kjøbenhavn, Nick Fouquet – Federico Curradi, & Tokyo James Spring 2022 Men's Fashion Shows
Prada Celebrates its Utopia of Normality, While Designers in Milano Indulge in Individuality
By Long Nguyen
On this third day of the Milano Men's Spring 2022 show season, Miuccia Prada and Raf Simons showed a streamlined and stellar collection celebrating the joy of fashion.
Other designers in Milano pursue their points of view.
Etro
On the outskirt of Milano, Kean Etro staged a live show in the Scalo Farini area, a northwestern neighborhood of Milano transforming a green space from disused state railyards. The designer paid tribute to the brand travel heritage in his collection, citing inspirations from Bruce Chatwin to Agatha Christie.
Etro's spring collection explored the brand's nomadic spirit, which meant in clothes the colorful mixtures signature Etro with a tribute to Franco Battiato, an Italian composer whose designer had worked on projects in the mid-1980s before working the family firm. The show's music was a soundtrack from one Battiato masterpiece work 'L'era del Cinghiale Bianco.'
This spring outing with models navigating their walks on the existing railways on a sunny Sunday morning consisted of the usual bright colors and prints the house is known for now, with a touch of the travel spirit missing in the pandemic year. But, here the travel is also one of introspection, in looking inward to the roots of the house that give rise to the light green leaf print silk shirt and pants or the ecru linen knit sleeveless tank and bright satin pants that opened the show with the model carrying a white shoulder bag.
Being a spring collection and showing outdoors provided the impetus for a light take on the house's upholstery-based prints. The hooded sweatshirts featured the house classic paisley-based prints on one model with green shiny silk pants while another model had on a light silk airy shirts under a yellow-orange degraded cotton single breast suit. Silk pajamas in the variations of paisley pale blue and sand linen embroidered caftan rounded out the sporty range.
On another spectrum of travel, this time through music, is Massimo Giorgetti's video with the Italian DJ Lorenzo Senni titled 'Canone Infinito' working together with photographer Francesco Nazardo and the Milano image-makers No Text Azienda to produce the morning to night seaside short film.
MSGM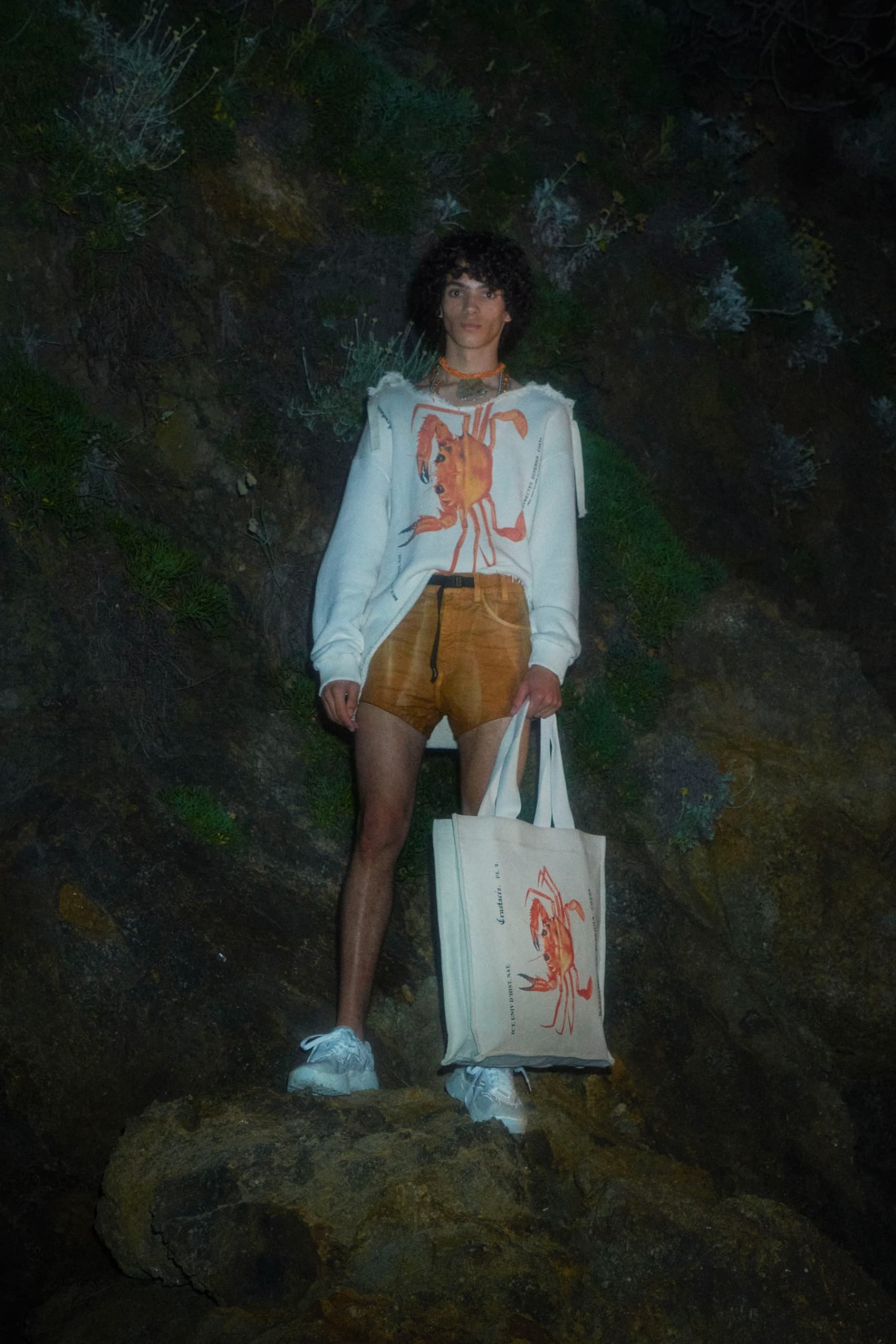 Giorgetti's MSGM men's spring collection revolves around the 1990s surfing ethos from the Stephen Miller photographs from The Spiritual Good Time series of guys in surf suits and bleach hairs hanging out against sunset on the horizon.
Now translated into clothes, these imaginary surf lives become colorful hand-dyed pants, stretch print mock necks polo and cargo pants, white print shirts, and black leggings. The bright neon green and light purple suiting reflected the colors early dusk lights. A pale blue sweatshirt with an orange crab print continued the sea motif in this light and carefree collection of street vibes clothes.
Han Kjøbenhavn
On another extreme scale of the fashion spectrum more towards the world of fantasy, Jannik Wikkelsø Davidsen's collection for Han Kjøbenhavn – the Copenhagen brand founded in 2008 – combining voluminous shapes with hard contrast straight line cuts with a short film depicting a future science fiction birth somewhere in the outer boroughs of a distant yet familiar post-apocalyptic planet. There the newborns became giants towering over the buildings, wearing white suits with a hand sculpture neck scarf or a cropped tee shirt.
Davidsen's exaggerated proportions recalled the kinds of avant-garde fashion from the late 1990s. These diverse forms all merged into clothes with a mixture of the wide shoulder shapes from the previous decades.
The creative director demonstrated an eye for sharp tailoring amidst extreme shoulder proportions of a blue silk pleated lapel, a jacket, wide pants, and a cropped tee shirt.
A black leather jacket with pagoda shoulders and elaborate midsection cutouts and metal diamond shape intarsia and a long black skirt or simple black sharp shoulder suit showed Davidsen's masterful command of tailoring techniques.
More demure outfits in this Han Kjøbenhavn collection include a white tank top with oval-shaped neck cutouts and faded denim with a zig-zag overlay on the legs or a cropped black animal print square tee-shirt over black flare pants – making them the least outlandish garments.
A quick browse through the brand's e-commerce site revealed the extent of the streetwear merchandise available for this couture offshoot presentation. Some of the shapes translated quickly into more commercial versions, like the grey straight-leg pants paired with a sand color interwoven jacket in this presentation.
Nick Fouquet – Federico Curradi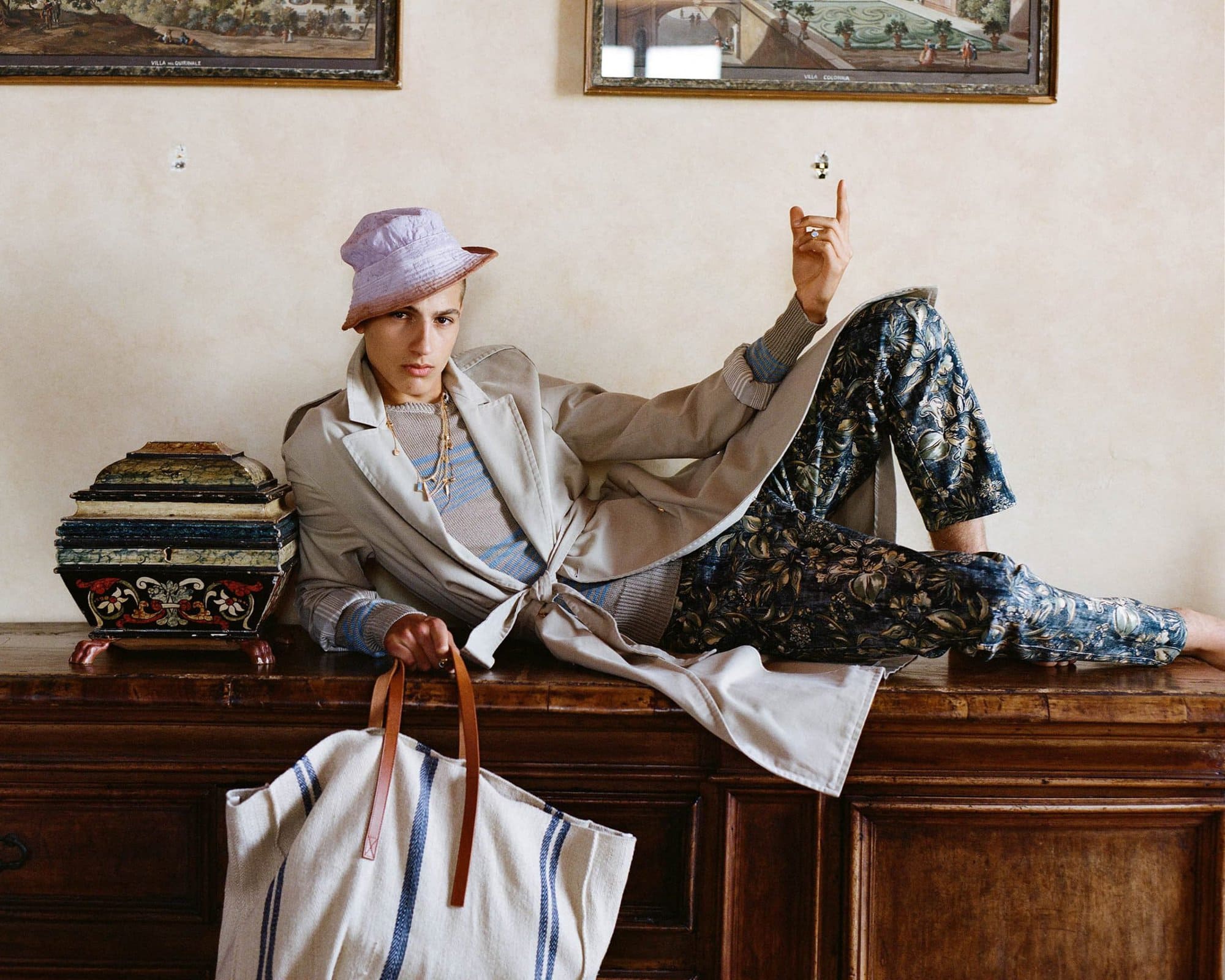 For their second Milano showing, the American hat maker Nick Fouquet and the Italian designer Federico Curradi presented slim grey jackets with hand-made porcelain buttons, linen coats, and light grey shirts embroidered with small cactus a range of stripes knitwear.
Fouquet featured double layers hats like a blue top shuffle hat on top of a brown straw hat. The pair makes clothes far from the provinces of high fashion, clothes that consumers can find at great stores but clothes without so much of the artificial hype and fanfare behind them.
Tokyo James
The Nigerian British designer Iniye Tokyo James has a message this season. He dedicated his spring collection to 'all outcasts out there' and a special mention to the 'Osu,' the term for outcast used among the Igbo people of Eastern Nigeria who are banished from communal land and banned from village life and social interactions. The title James used for his straightforward runway video in place of art film.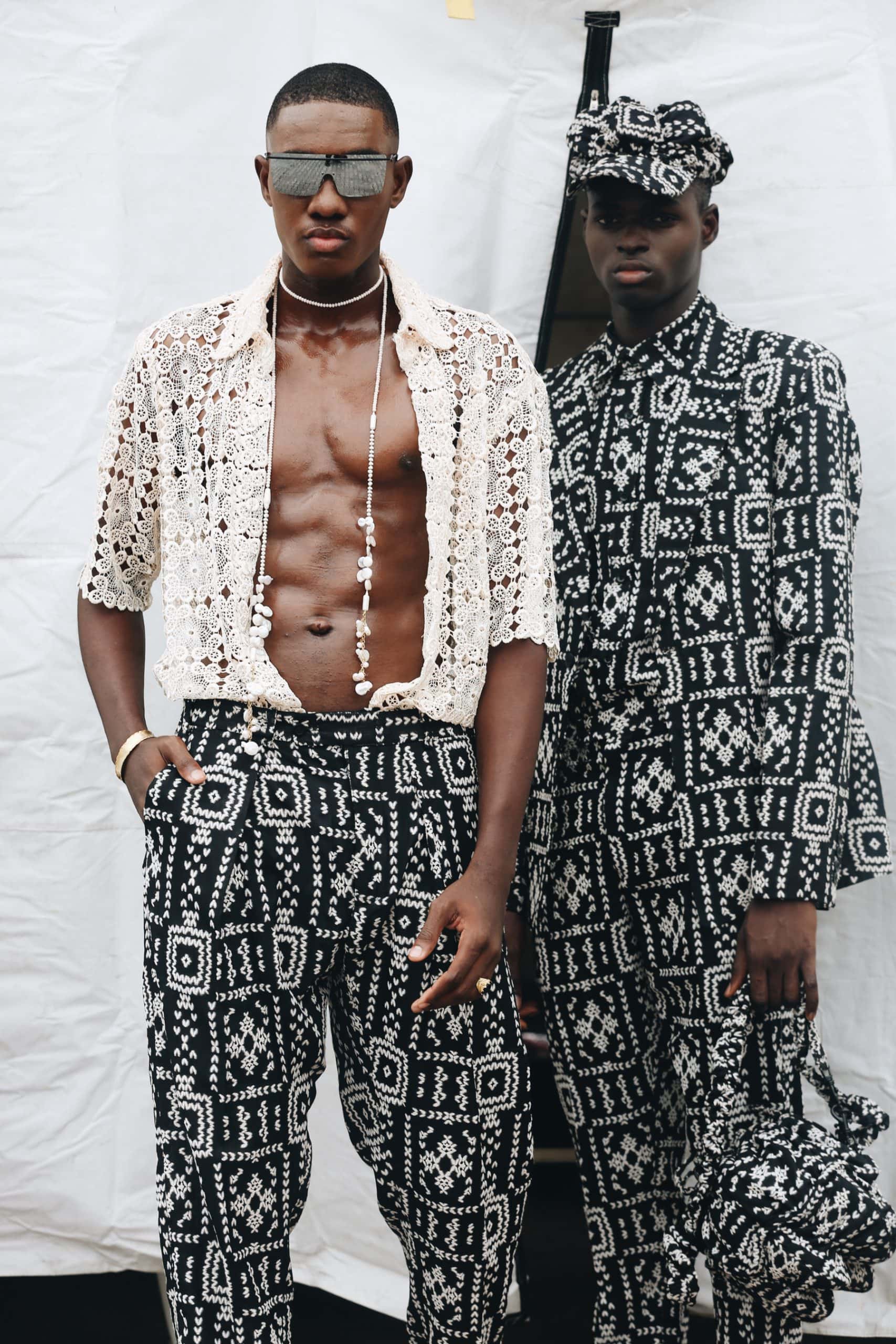 The designer has an equally compelling fashion message in the intricate work embroideries, hand-stitching details, and geometric patterns in a well-craft collection with a more serious range than in his previous seasons. James' runway video opened with an intricate white see-through crochet geometric pattern on a shirt paired with a black and ecru print pant that indicated the more sophisticated and elaborately constructed clothes that followed.
A pink see-through long coat with shorts, a red and black patchwork of crochet knitted jacket, and ecru crochet short with a simple single breast linen jacket showed James' acumen for widening the appeal of his clothes to a broader market globally.
The tailoring is evident in a light purple cropped jacket linen slim suit or a light orange one-button single breast jacket with a ruched effect on the sleeves. The pant legs and the front of the jacket and the slim white cotton linen suit with a side slicing in the front of the jacket added particular design elements to the collection that carefully blend British tailoring with Nigerian-inspired colors and fabrics.
Sexism and racism have been at the forefront of global efforts to educate and eradicate these behaviors and habits within and without the fashion industry to the arduous tasks of diversity and inclusion, now fashion's buzzwords. But the fashion industry rarely paid attention to the class system, the unspoken within the struggle for equal treatments. But how can luxury fashion raise this issue of class that is perhaps inherent within the industry itself?
---