[column size=two_third position=first ]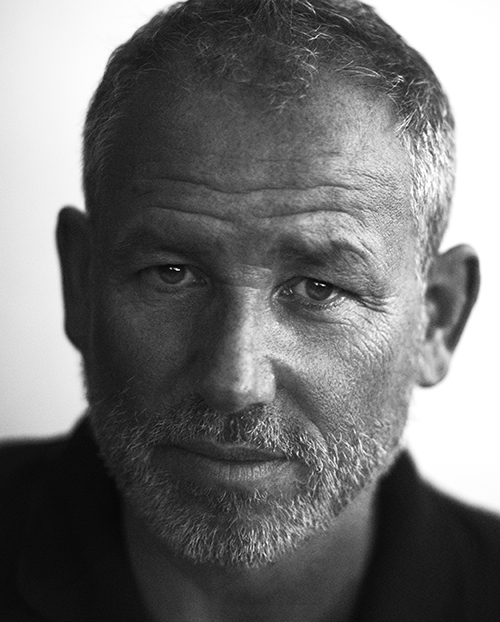 [column size=one_third position=last ]
Fashion has its fair share of 'icons,' but few with as much originality, influence, and staying power as creative director

FABIEN BARON

. 
His pioneering work on visual identities of magazines from American Harper's Bazaar to Italian Vogue and Paris Vogue, along with his creation of iconic campaigns for clients such as Calvin Klein, Chloé, Burberry, Dior, Louis Vuitton and others has help define what it means to be a creative director today. The Impression sat with the founder of Baron & Baron agency, editorial director of Interview Magazine, photographer, and industry leader to chat about how he started, rolling up your sleeves, the state of the industry, craftsmanship and Greenland.

BY KENNETH RICHARD
Fabien, thanks for taking the time to chat. Have to admit the irony isn't lost on me that I'm doing an interview with the man would leads Interview. Feeling a certain sense of pressure to step up my game.
(Laughs) Funny an interview with the Interview. Will try not to be too hard on you.
Thanks. So let's dive in, how did you come to found the agency?
Well, it came naturally as people started to call me. The first was Gene Pressman at Barneys who asked me to do their campaigns. I hired Steven Meisel and we shot it with Christy, Linda and Naomi.
Not a bad way to start! When did you know you were officially an agency?
Much later! I still don't know if we are!
So while we are strolling down memory lane, as everyone remembers his first, what was the second?
Ahh, that would be Valentino with Christy.
Impressive. You've charted a unique path being a creative director, photographer, filmmaker, interior designer, and even a furniture designer. Was there ever a moment where you thought, "What did I get myself into?"
No, the progression was all quite organic. In this role so many things interlock with each other. Once you start appreciating other things, you have a tendency to go beyond your boundaries. Photography is something I've always done since I was a kid so it has been a part of my life from early on. Film seemed to be a natural continuation of what I do because I'm directing photographers, DPs, models, and people. I was interested in moving images a long time ago before fashion took hold of the moving image. Everything was logical and made sense in terms of a progression. Also, to really understand someone's point of view, you have to try what he or she does him/herself.
[quote text_size="small" author="- Fabien Baron"]
I don't mind controversy. Controversy creates dialogue and dialogue is good.
Are there areas of design that you would like to explore such as architecture for example?
I've played with architecture quite a bit and had a chance to be involved with many architects in numerous projects from commercial retail design to my own homes. I was intrigued by the process and created my own personal projects so I could use my own personal spaces as a testing ground. Beyond the theoretical design, the actual building of physical space has always fascinated me.
You've a 360-point of view. What personal attributes do you feel contribute to that holistic viewpoint?
I'm ever curious and the more I learn about things the more belief I have to make the right decisions. Even though I have a deep respect for each of these roles, I wanted to bypass the stigma of being singularly coined as a "graphic designer, magazine guy or photographer" because I always felt the point of view is paramount. The capacity to story-tell with perspective and dimension is what intrigues me… It's important to have the knowledge to do more than one thing. I don't believe you can sit in a studio and work with a photographer if you don't know photography. I'm also not afraid to get my hands dirty and take the risk of failure. As a photographer, it means there have been times I've been successful and other occasions, less so, but it's a learning curve. The same has applied to magazines or film or anything I've endeavored. But is has always been about staying curious and informed so I can make right decisions.
Let's talk about risk. Do you think brands are more or less risk adverse?
Everything is more calculated today. It is better to be more calculated, but often the risk they are calculating is the wrong risk.
That's intriguing, what is the right risk?
I like when there is no risk but it is risky. (Laughs) So it is controversial. I don't mind controversy. Controversy creates dialogue and dialogue is good.
Ok, so let's go back to photography, as you are a prolific photographer yourself. How do you decide what you will shoot versus someone else?
I usually shoot the ones that I know people will have an issue with. (Laughs) In some cases you spend so much time in conversation with a client that you have a vision in mind so it is much easier if you do it yourself. Sometimes the client is looking for something so specific that you shoot it yourself because it is more direct than having to turn around and explain it. Often, however, I don't shoot for a client because I don't think it is the best fit. There are photographers whose look is right for that client.
What characteristics make for a good photographer?
Uniqueness! They have to have their own voice. There are many photographers out there whose work looks alike or are in the same vein and I'm not interested in that. That doesn't mean they aren't good, as many of them are, it just means they aren't unique or  original. It comes down to what your point of view is and that is the most important thing.
You have built some strong teams in your career, any words of wisdom for those looking to build creative teams?
It is not a job you do alone. You need a good team. First you have to be a good team player. Your ego has to be in your pocket and not out there flashing, "me, me, me." Especially at an agency, an ego doesn't work. You need to always care and know how to be discreet.
What has been a favorite recent project of yours?
My favorite project was to go to Greenland and shoot my own pictures.
How did that come about?
Remo Ruffini of Moncler called me and told me he was working with Leica on a new camera, and would like me to shoot pictures for an exhibit. I told him that I would be interested in going to Greenland and he said, "Yeah, you can do whatever you want." It was a project I always wanted to do but had put aside. It was technically very challenging. I had been to Greenland before to take pictures as I was doing a book at the time on the sea. I realized while I was there taking pictures that they were very nice but–and I don't mean to put anyone down here–they felt very much like National Geographic: a beautiful, perfect landscape. I was there for five days and tried a few different things but when I came back I had a bunch of pictures that were nice but nothing I was going to use for my book. I thought "Hmmm, not really what I'm looking for." I wanted my own interpretation of the place. I realized the way to do this properly was to go back and shoot at night and light the whole thing up. I wanted to treat the landscape like theatre and make it look stranger than it is. You go to these places and take pictures of all that is fabulous and amazing, but what happens is they look uber-fantastic. The place takes over and the pictures turn out like super nice postcards. I'm not interested in that. When I take landscapes, I go to places where there is nothing interesting and using light and cropping to try to make something unusual out of the ordinary. I go to beaches or normal looking forests and within those landscapes to find the language that I'm looking for.
When you go to a place like Greenland, you are so overwhelmed by the place's splendor and power that when you take a picture, you are just recording what you see in front of you.
I didn't like that idea which is why the first time I went there I didn't keep any of the pictures. They were postcards. Just nice pretty pictures. So when Remo called me and said they were launching this camera I said, "I know what to do. I want to go to Greenland and take pictures of icebergs at night." He thought I was crazy but said, "If that is what you want to do, go do it."
How do you light an iceberg?
The good thing about it is that it is white and reflects light quite a bit so we made these special strobes to light them.
The images look otherworldly.
Exactly. That was the point, as I didn't want to take a picture of a normal iceberg. You can go to Google to find many. Today, one can go to the Internet and look at any place, but to find something that is "yours" in the place, you have to work! You have to come up with something.
How has technology impacted what you do?
There is a plus and minus. For the plus, the instruments with which you work are faster, quicker and better. The cons are, "but not as good." (Laughs) The cons are about quality as there isn't as much quality work. Everybody is taking a picture today. Everybody is a photographer. Everybody is a Photoshop artist, illustrator, or whatever. Now everyone can do everything on a computer, which is fantastic because everyone can express themselves in different ways. However, a lot of people take technology as a short cut to not working hard. They think that because technology is there and they have a tool to do something, they can just click on the button and the work will be done.
A lot like photographing those icebergs. That took a second trip and more forethought.
Exactly. If I had grabbed a 5D and rushed out and gone "click, click, click, click" it would take a lot more than that to get those pictures. One of the things I like is the craft, and today we are losing craftsmanship. You can press a button to get a picture and can do anything on the computer and you don't have the craft anymore. They don't have the knowledge it will balance. When the Industrial Revolution happened factories popped up everywhere, then they realized these factories are polluting everything so they had to go back and get greener. It is the same with technology as everyone is now learning to live with these technical items and we are going to learn how to not go too far with technology and where to stop it. To make it correct for humanity.
Is there anything you would like to do that you haven't had the chance to do yet?
I would like to do a feature movie. Something is in the works but nothing I can talk about right now. I've done a lot of commercials for the past twenty years and with each one I put more and more into it. I've always felt passionate about film. I feel more and more that film is where my place is.
We look forward to experiencing your work in the cinema.
Thanks Kenneth.