---
Interview & Editorial images taken from The Impression biannual magazine – The Film Issue, Vol. 3
Fashion has its fair share of 'icons,' but few with as much originality, influence, and staying power as creative director Fabien Baron, founder of Baron & Baron and Editorial Director of Interview Magazine. His pioneering work on visual identities of magazines from American Harper's Bazaar to Italian Vogue and Paris Vogue, along with his creation of iconic campaigns for clients such as Calvin Klein, Chloé, Burberry, Dior, Louis Vuitton and others has help define what it means to be a creative director today. The Impression's Chief Impressionist, Kenneth Richard, caught up with Baron to chat about films and what influences him.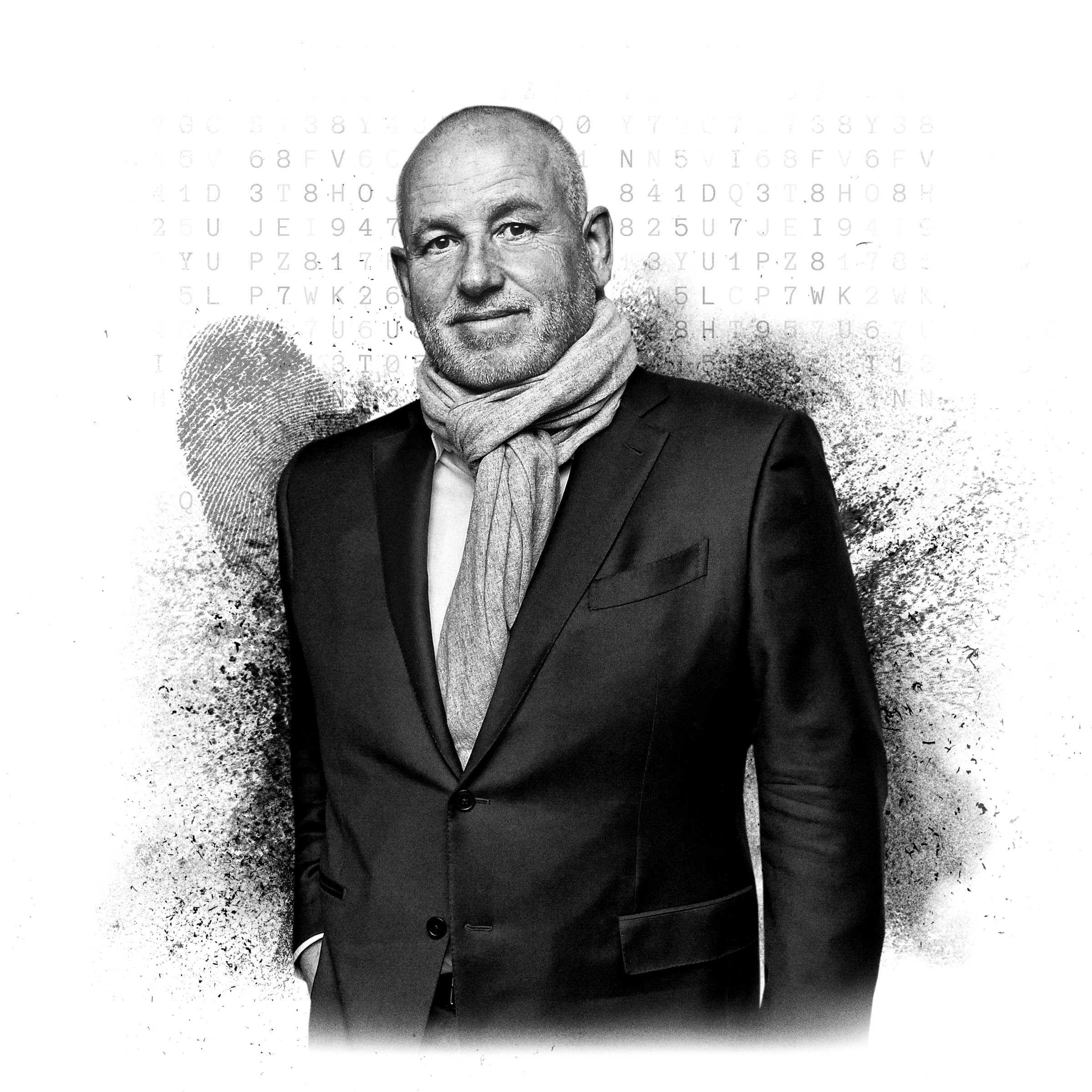 Kenneth Richard: Fabien, that's quite a sexy story! Have to dive right in and ask how did that come about?
Fabien Baron: I met Gia Garison a couple of months back when I did a portrait of her for Interview and have been looking to do something else together since. Then this project came along, and I immediately started thinking of Andy Warhol, Candy Darling, The Factory, Flesh, Women in Revolt and Andy's other films. They were so ahead of their time. Very simple in a way, but also incredibly intriguing—even more so today. And I thought, bingo. Inspiration found.
And it's such a relevant moment for the story. On one hand, you have so many trans people coming out, with a huge wave of support and acceptance. At the same time, there's this negative political push from the Trump administration. So, it's a balancing act at the moment. I'm intrigued by the subject… and I was touched. I was honestly touched by Gia. I wanted to record that. I wanted to record Gia in a way that was authentic, vulnerable and real. Those pictures are, of course, fashion, but I think they're closer to portraits—in that I tried to get into the intimacy of the person, see through to her soul.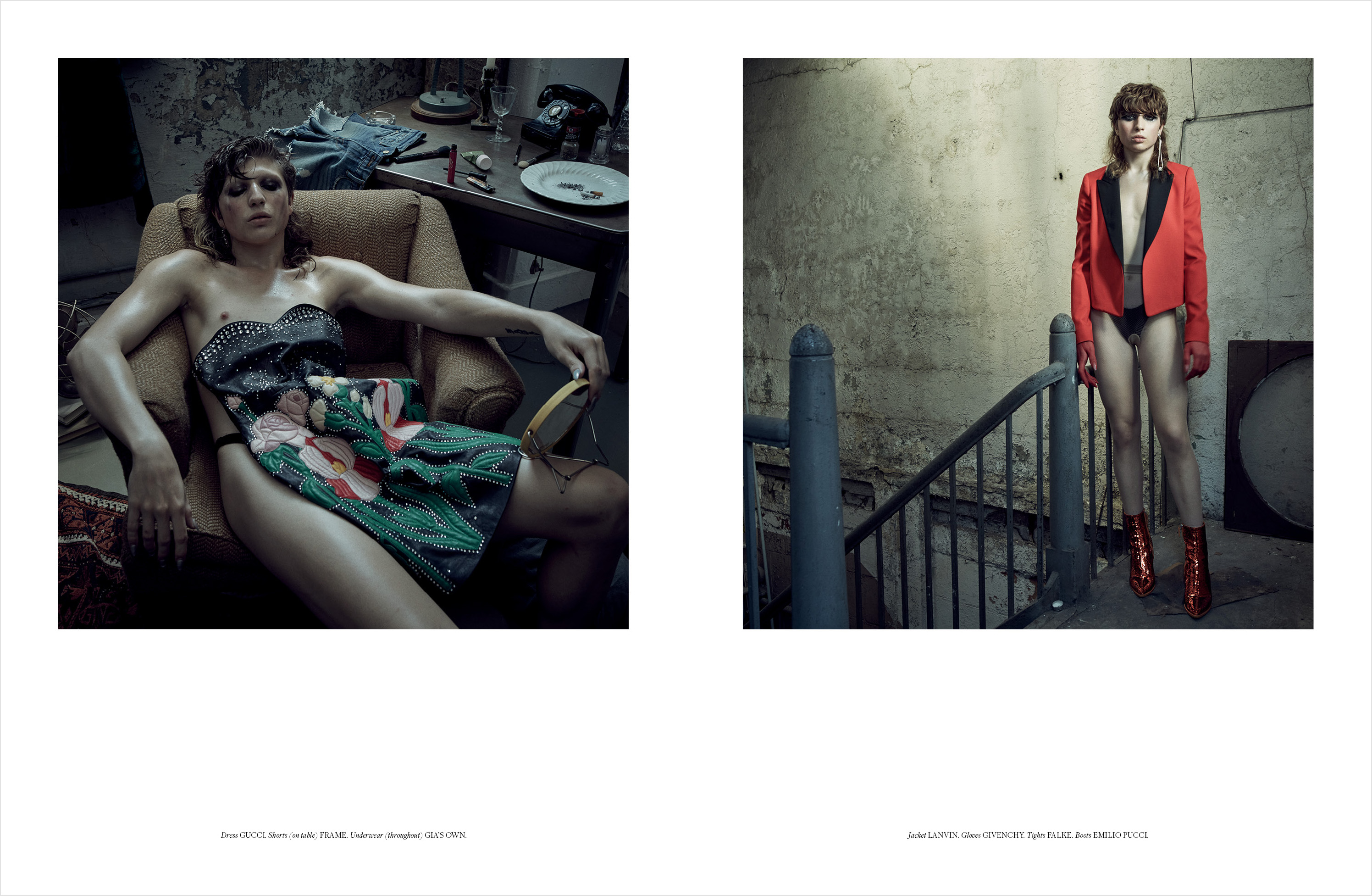 Kenneth Richard: Moving, and grateful for the story. On to moving images – what were some of your first cinematic experiences?
Fabien Baron: Oh, I remember my first experiences with film so vividly. The first that I really remember seeing was Seven Samurai. And the first I truly fell in love with was Metropolis. Do you remember Metropolis, the Fritz Lang movie? And then Citizen Kane. The way it was shot and the narrative, I was so blown away. That's when I started to have love for images—moving or still. Those films had a tremendous influence on me.
Kenneth Richard: Do you have a genre that you like more than less? Or directors?
Fabien Baron: Not really—for me it's all about a director that has a clear vision, and a film that has some meaning, a bit of weight. Jean-Luc Godard's Breathless, Stanley Kubrick's 2001, Easy Rider, Reservoir Dogs, Taxi Driver, Apocalypse Now, Raging Bull and The Godfather are a few that come to mind. And I like the Bergman movies, the intellectuals.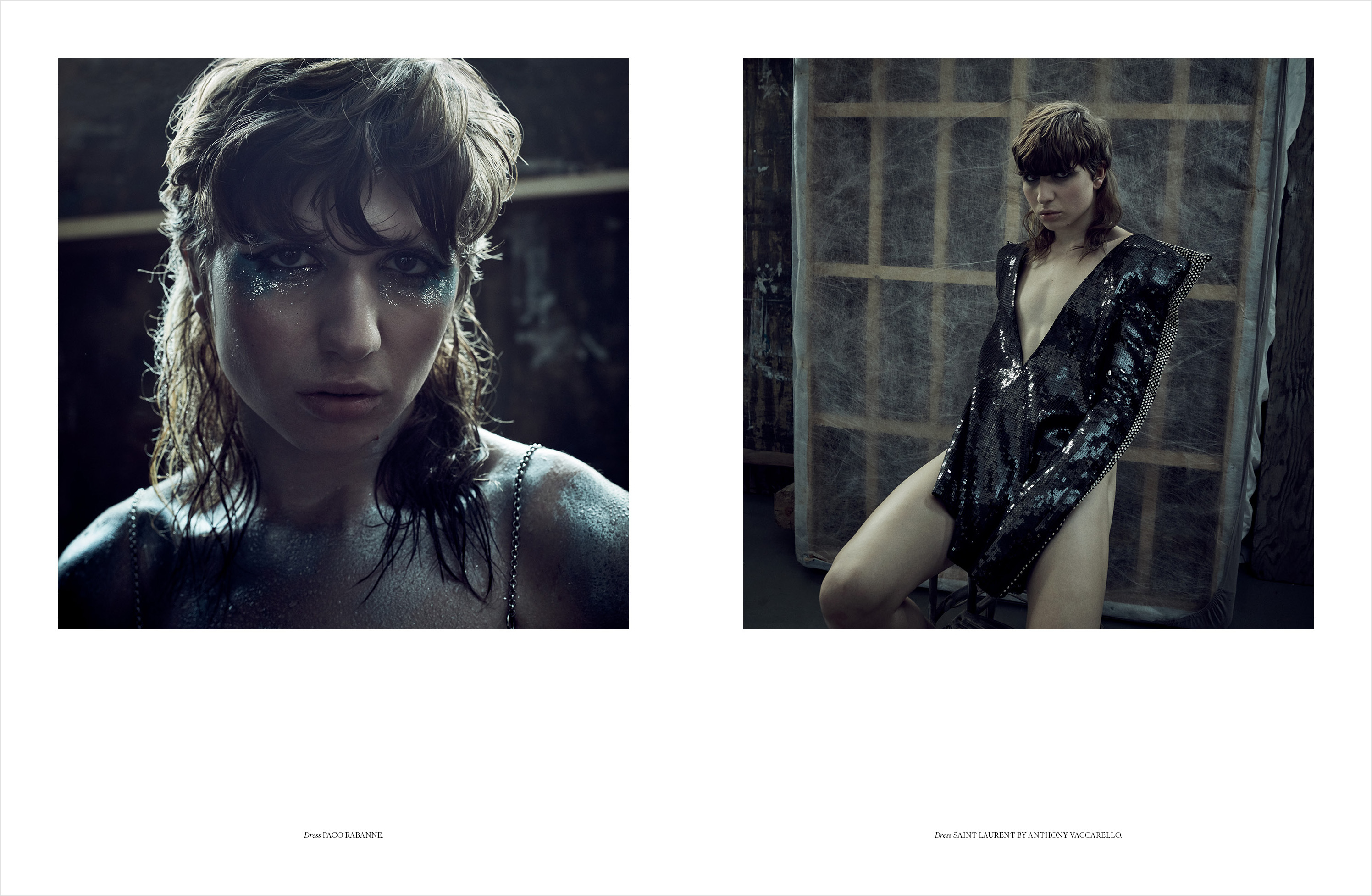 Kenneth Richard: Are there some contemporary directors that you —
Fabien Baron: Oh, yes. I love Alejandro González Iñárritu, for example. Babel, Amores Perros, The Revenant. He always has a narrative. I love the way he can juggle and weave multiple stories, like in 21 Grams. He uses the camera as a witness, and it makes you feel invested and tense. I think he's a great director.
Kenneth Richard: Your son Matt Baron is a director too, right?
Fabien Baron: I pushed him into it! [laughter] He's doing super well. He does commercials for Gatorade, Adidas, and others. He's done some fashion, of course (how could he avoid it?) but he is now heavy into the commercial world. Which is good, because fashion doesn't always know how to build narrative for film. It's an industry that's mastered the art of creating an image, but if you want to learn how to create narrative, imbue a piece with storytelling, you have to look outside of fashion to learn.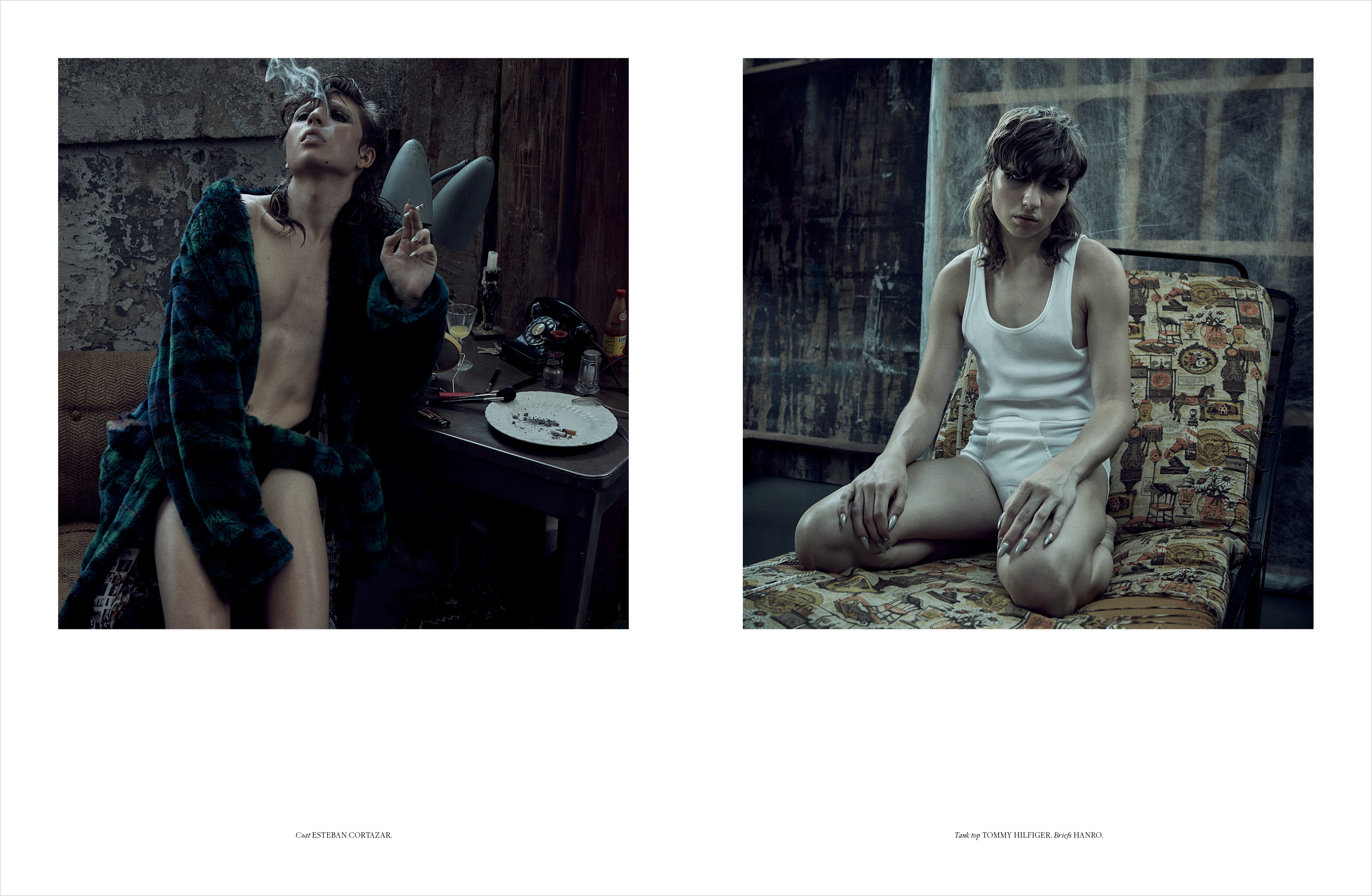 Kenneth Richard: How did you steer Matt toward directing?
Fabien Baron: In a sense it's just in his blood. He grew up with it. I took Matt to the movies and to the set with me, just exposed him to that world. Honestly, he's always had an innate understanding of how to set a goal, and then put together the right team to achieve it. So when I saw that in him, I started bringing him to shoots, around all this incredible talent, people like Harris Savides and Darius Khondji, etc., and pointing out what everyone does. You know, it's amazing what a production a commercial can be. Crews of 120 to 200 people, equipment and cranes, special effects… I think he got really intrigued and charmed by the whole thing. And I knew he's the type of person who could stand in the center of all this, synthesize all the information and make great decisions.
At the end of the day, those are the two pieces that make a great director. The instincts to surround yourself with amazing people, and the ability to make good decisions quickly and efficiently.
Kenneth Richard: You've had the good fortune to work on a number of large commercial spots yourself. How did you work your way into film?
Fabien Baron: I've always been fascinated by film. But when I first started out, it was really hard to connect to that side of the business. At that time there were no moving images in fashion. There were Sears commercials and some for the larger beauty and fragrance brands, but there were never any spots for fashion brands. But film was just irresistible to me, so I grabbed whatever opportunities I could, starting with fragrance commercials early on, about 25 years ago.
There's a big-ness to film that I'm drawn to every time. Static images are the end of a process, but film is always alive. So you can't work the same way you do in print—you have to let go. You have to surround an image with all the tools it needs to come alive, then let go and allow that moment to happen on its own. And for that to work, you need more than just a good picture. You need a good artist, good storytelling, good music, good sound, good editing, and so on. It's the layering of all those aspects that I find so magical.
Still, today, fashion can tend to get stuck in still imagery. There's a practical aspect of that—it can be difficult to find film narratives that allow for multiple outfit changes to show off a collection. You know, it's like, why does that person need to keep changing outfits? But fashion needs to learn to embrace stronger storytelling if they want to stay relevant in a world where the moving image is king.
Kenneth Richard: Has the internet unlocked the handcuffs for you to build longer narrative to explain those outfit changes?
Fabien Baron: A little bit. With the web, a brand could, for example, construct a film the way they do a collection. Create a master film for the season ("The Collection"), and then break that into bite-sized pieces for social media ("The Outfits"). So the internet definitely offers flexibility in that sense. Everything doesn't have to fit into 30 expensive seconds anymore.
But I think we are only at the very beginning of exploring how fashion can utilize film. And there's still some hurdles to overcome to push that forward. Right now I don't necessarily see the photographers wanting to become directors. And brands don't yet totally understand how to navigate the business of film—which is a very different industry. Every time I do a big budget commercial, I'm struck by what a different world it is. Teams are huge and everyone has a highly specific role—from the director to the AD to the DP, the focus puller, sound engineer, gaffer, and so on. The process is planned down to the second. If you're scheduled to end at 12:00, you finish at 12:00, not 12:02—or you violate union rules. Everything has to run like a well-oiled machine. And that's a difficult way to work for fashion people—they're not used to that yet.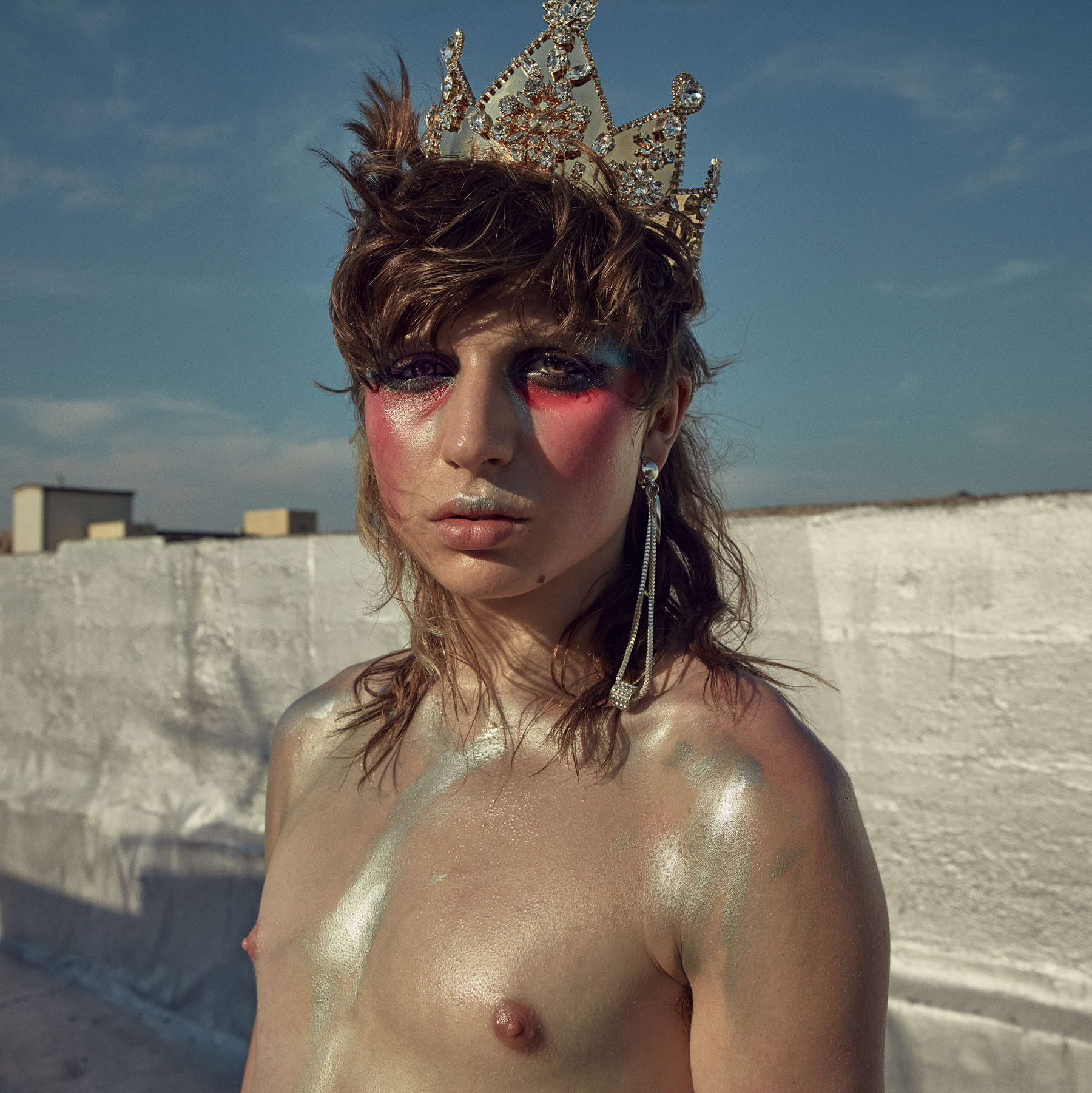 Kenneth Richard: Do you find that brands think, 'Oh we can just do this on our iPhone.'
Fabien Baron: There is a definitely a tendency for film to be an afterthought. Clients will sometimes suggest "tacking on a film" after the shoot at the last minute… and they want something great, like something they just saw somewhere. I have to explain how much that piece they just saw cost, how much planning went into it, how long it took to get right. It takes a lot of work to make something look spontaneous.
But, again, we are at the beginning of film and fashion coming together to understand each other. Brands will need to shift their expectations and start to allow for more time and budget share if they want to create films that really resonate.
And there are the labels out there that have caught on and are doing the right things. Like Gucci—they put effort into moving images to make them meaningful and reflect what they stand for. I think Miuccia Prada, too, has a very good understanding of what film is about, what to do with it, how to use it, and why. I think she understands that medium because she loves that medium.
Kenneth Richard: With your love of film, any thoughts on making a feature yourself?
Fabien Baron: Yes, absolutely. I'm looking at scripts now, and figuring out how to make it work. I signed with Serial Pictures, partners with Anonymous Content, who just won an Oscar for Spotlight and a Golden Globe for The Revenant.
So I'm in the process at looking at books, stories and original scripts, and developing my own ideas and having discussions with my producer. It's going to be a long process because I'm doing a lot of other things at the same time. But this has always been a dream of mine, and I want to do this right.
Kenneth Richard: Do you think having a fashion background adds value in film?
Fabien Baron: Definitely. The fashion industry teaches you how to develop an aesthetic and create discipline in maintaining a point of view. And, of course, fashion is where you hone your sense of visual storytelling—all the subtle and overt emotional cues that an image can deliver.
So with film, it's about having both—a strong narrative and strong aesthetic. One needs to work with the other, to create the right balance of tension and harmony that makes a film unforgettable.
But, ultimately, it all starts with the story. If the narrative is not exceptional, I'm not going to even approach a feature. And that's why my focus is there, right now. Because I've been lucky enough to have been able to do my aesthetic exercises every day for decades.
Creative Director/Photographer | FABIEN BARON
Fashion Editor | MIGUEL ENAMORADO
Model | GIA GARISON
Hair | AKKI | ART PARTNER
Makeup | MARLA BELT | STREETERS
Lighting Director | STEPHEN WORDIE
Photo Assistants | WILL TAKAHASI & TIM HOFFMAN
Set Designer | STEFAN BECKMAN
Production | RED HOOK LABS
---