---
Review of Fendi Fall 2021 Couture Fashion Show
Old and New Eternal Rome Craft into Sumptuous Intarsia Dresses, but Haute Couture's idea is Absent
By Long Nguyen
"Pasolini observed Rome become modern – and that is what is interesting to me: connecting eras, the old with the new, the past with the present," Kim Jones, the artistic director for womenswear, said of his new fall Fendi couture collection. 
In sort of a continuum of his debut haute couture show last season, Jones proposed another cross-cultural experience, this time as a transplant in Rome learning to appreciate the daily routine of an old and a new city all around him. The time-space travel from the hills of England to the Italian Eternal City via epic literary experiences of Virginia Wolf's Orlando succumbed this season to the closer observation of the details of life in the Roman city. 
The poetry and literary writings of the Italian film director-poet-writer-intellectual-actor and political activist that most interest Jones related to how to experience this cosmopolitan city.
Rome is a fascinating city because it has so many pasts – and I was drawn to Pasolini because his vision of the world has always inspired me. He was something of an outsider in Roman history, but one whose voice remains constant.

– Kim Jones 
This season the inspirations are local with a film by the director Luca Guadagnino featuring an all-star cast – Kate Moss, Christy Turlington, Adut Akech, and Mariacarla Boscono of dreamscape moody film short in these exquisitely made couture garments.
The grey colors of the marbles of the statues at the entrance to the brand headquarter at the Palazzo della civilità become the light grey painted cloud-like pattern on a jacquard print on organza embroidered v-neckline blouse with grey marble pants.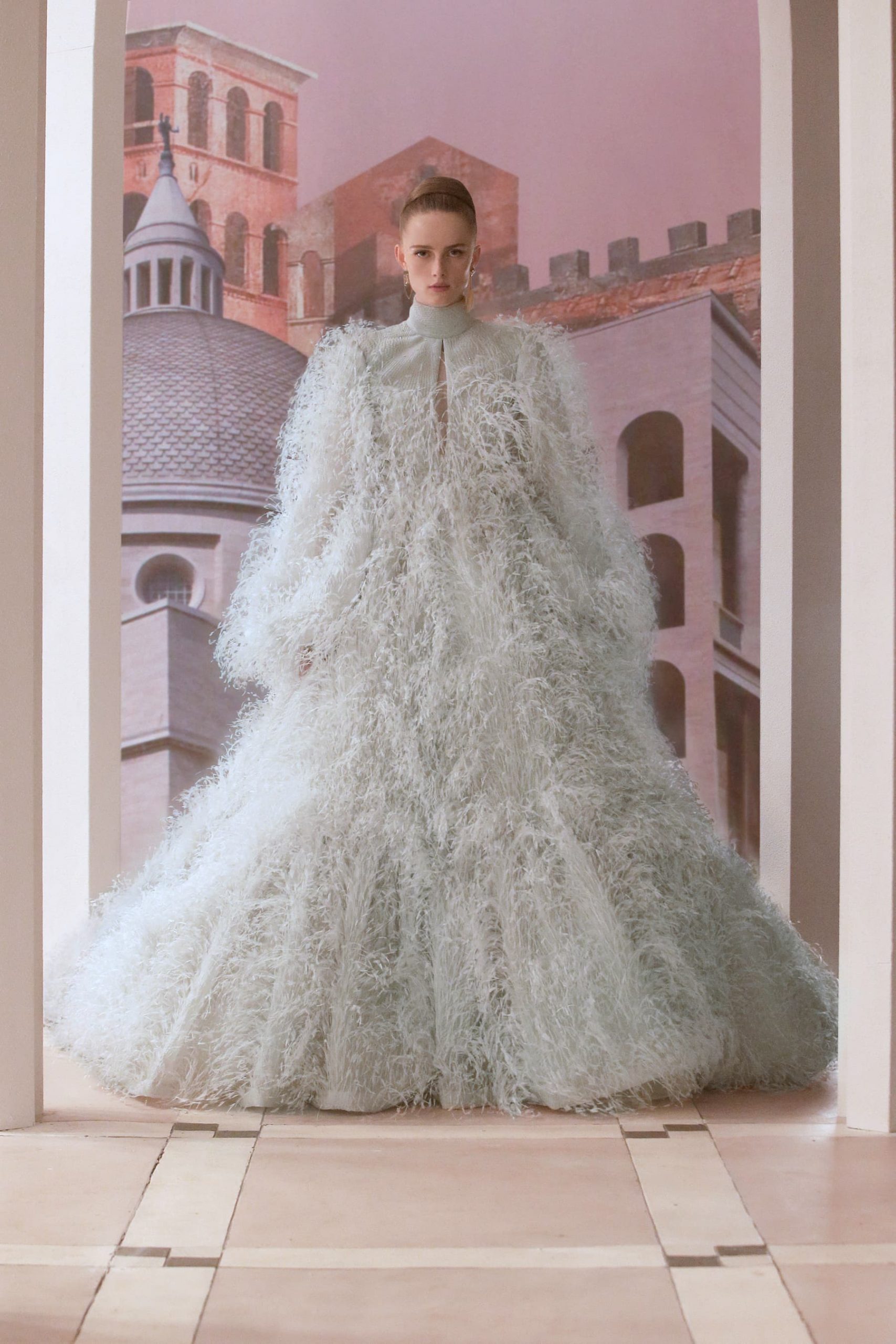 The detail of the craft on these Fendi couture garments are nothing short of marvels by themselves, especially seeing them up close at the brand's Paris, temporary showroom space for clients. The artisanal skills of the Fendi atelier in Rome crafting these garments, especially the leather and fur pieces, are masterful and undoubtedly unrivaled. 
An ecru tulle cape has a black, white, camel intarsia dyed mink create the mosaic geometric pattern on a bolero cape paired with a light white sheer tulle long dress with organza ribbons and elaborate mother of pearls flowers embroideries. The dress took over 470 hours of handwork. On a white Persian lamb cropped bomber jacket, 450 applied elements of shaved minks form petals and leaf motifs that required over 132 hours of atelier work.
An ecru white gauze long dress with black to grey gradient silk organza, georgette, and crystal embroidered with tufting technique gives the illusion of clouds gathering formations. A silk jacquard long sleeveless dress combines different embroidery methods, hands, and machineries like Cornely embroidery and hand-applied fur elements.
But one of the most impressive displays of couture crafts is the tulle cape embellished with over 2,800 mink elements to create a representation of intarsia roman marble piece paired with a white pressed leather mini-dress with a graphic of a composition of a vase of flowers. The details on this cape and dress can't appreciate from even a short distance. Still, up close, the intricate placement of the mink furs is a remarkable demonstration of Fendi's expertise in the fur-leather arena.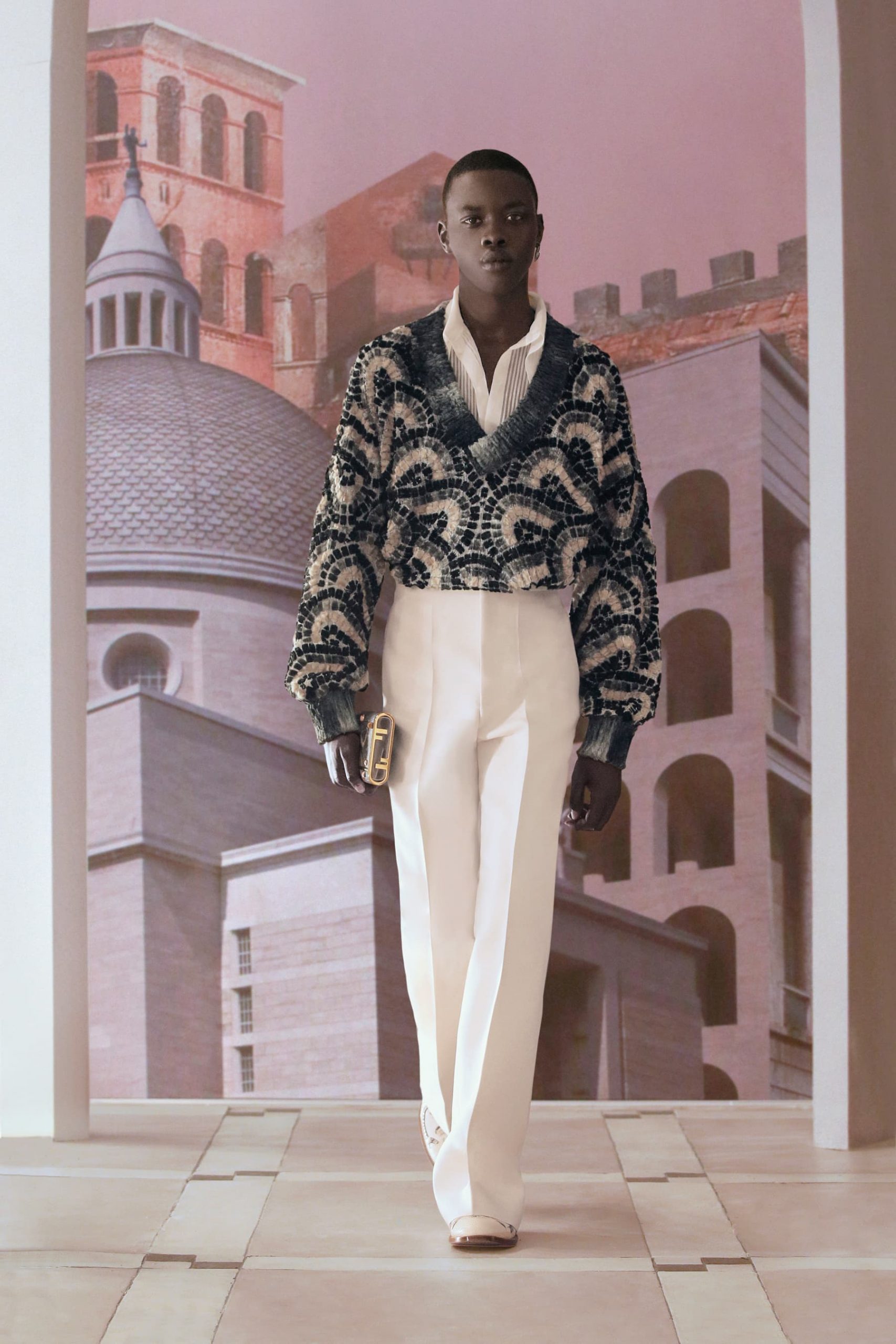 For menswear, there are white leather pantsuits with python intarsia of a Greek garland composition with leaves and acorn all over or a short grey knit mosaic of Persian lamb cropped sweater requiring more than 440 hours of handwork.
But what do all these fantastic ranges of couture clothes with their complicated intarsia and multiple embroidery techniques have to do with the way modern women dress? The shapes of strapless evening gowns, linear day dresses, elegant ball gowns, and mini dresses signal a much older consumer rather than the younger set. These styles and silhouettes have little to do with how young women want to dress today.
While the white micro dresses of cut-out minks or the white mink bomber blouson with flared pants denote a certain allure of sexiness, the silhouettes of the pale green dress or the silk jacquard dress don't telegraph youth or young in any manner. The two dresses with crinolines are literally from the last century as hardly any young women dress in this way going out today or at least any young women that Fendi would want to court with this couture collection. The collection isn't a realistic proposition for how women can dress today.
More importantly, this couture collection is thin in terms of ideas of fashion designs. There aren't any new shapes, nor are there any attempts at making a new garment in the way Demna Gvasalia did at his debut Balenciaga couture collection the day before.
Here, Jones over-decorated his clothes and severely under-designed any of these couture garments.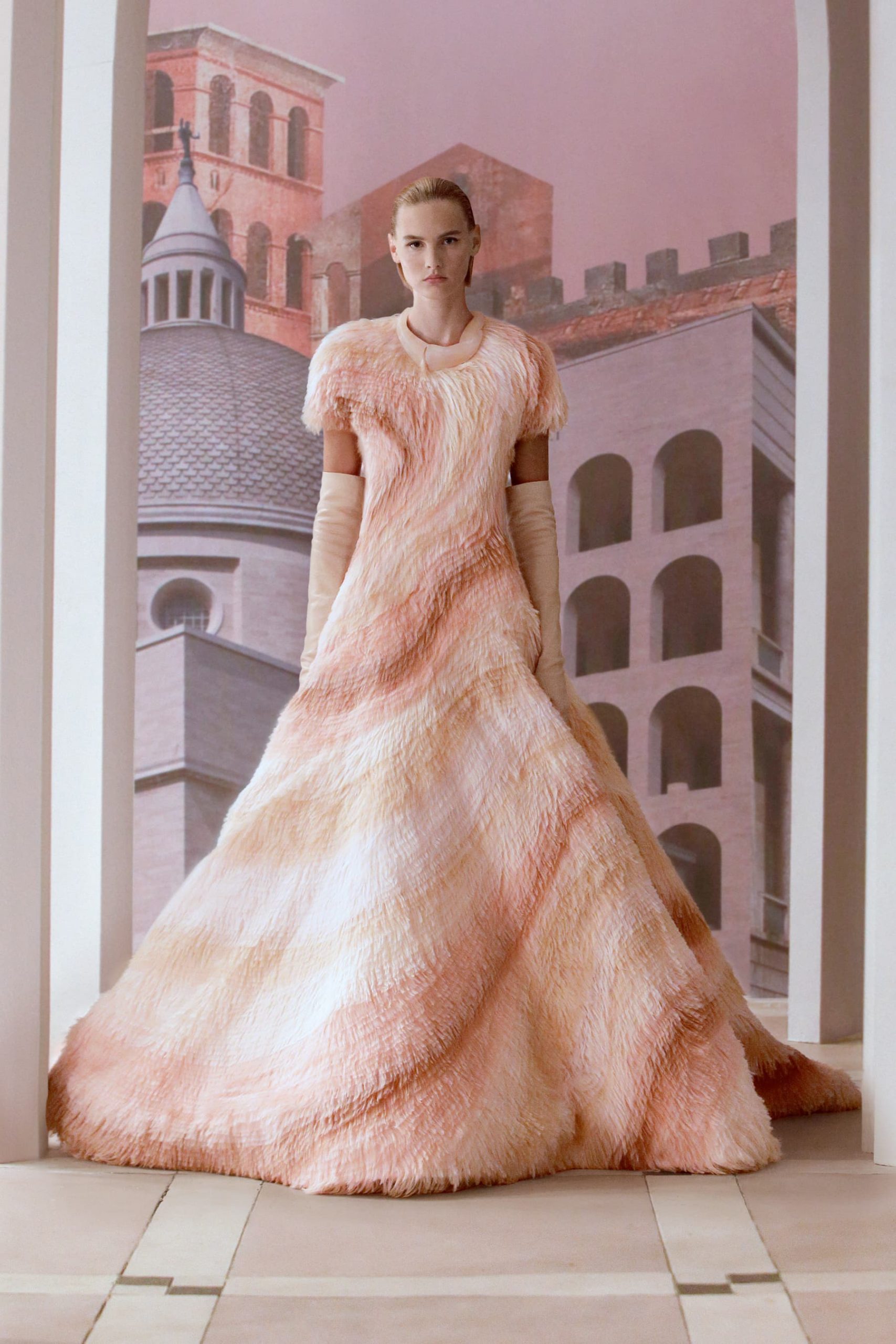 It is also difficult to discern why Pier Paolo Pasolini's literary work was a source for this collection. The murdered director was better known for his stark black and white realist films, including his first Accatone in 1961, telling stories of pimps, prostitutes, and thieves around Rome. Had Pasolini's stark visions of his films been used as an inspiration, perhaps the feel of the collection would have shifted to another dimension – but that's a theoretical big if moment.
On this second couture outing, it seems that Jones is very much uncertain about the role of haute couture and, specifically, the role of couture at Fendi. This exercise is undoubtedly priceless as a demonstration of the house atelier's expertise with leather and fur. As a force in haute couture in setting a direction for fashion and clothes, this exercise is far less clear.
---