---
Review of Kim Jones' Fendi Fall 2021 Fashion Show
A Slight Change of Stage Décor, But Where's the Beef?
By Long Nguyen
"She is here. He is her. Change the world and end all fears. He is her, She is Here," the voice of the occultist Genesis Breyer P-Orridge narrating from a track titled "S/He is Her/E" recorded along with cultural anthropologist Carl Abrahamsson from a 1990 spoken word trilogy Loyalty Does Not End With Death.
Thus, with a bit of mystery began the new adventure for Fendi, the Roman heritage house, on a new era's cusps. The designer Kim Jones shows his debut women ready to wear collection, which is considered vital for the brand looking ahead in the second installment of the post-Karl Lagerfeld epoch. The first was the haute couture show, staged in Paris towards the end of January with a star-studded cast and an award-winning stage set decorated with giant glass sculpture with the double FF logo to house the displays of curated old books.
Now in Milano, the double FF logo transparent glass sculptures reemerged framing littering of old Roman ruins like broken columns, the sort of things a visitor to Rome would find at many of the capital city's famous sites.

As the models meandered around the different pathways of the crowded set, the new fall collection that Jones sent out was very commercially focused. However, it is not a show that would have provided the house with overarching aesthetics, an ethos that can be filtered down the brand's food chains to small leather goods like wallets and, of course, the perennial sneakers.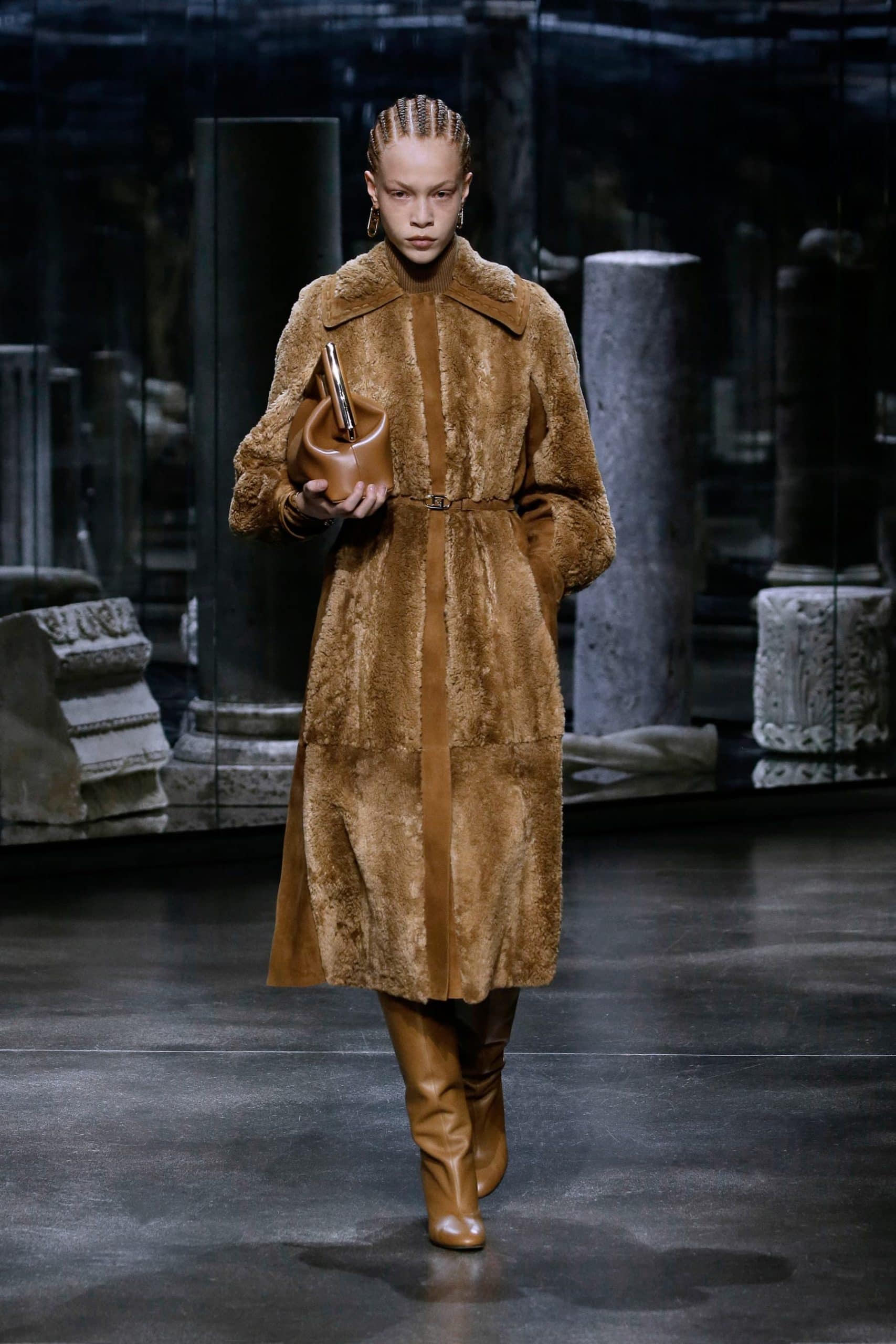 "The Fendi family are women of intellect who work hard – and that's what I wanted to celebrate. A powerful dynasty. I'm taking the amazing strong women I know and work with and listen to their needs. There's a usefulness to the collection, explored in a chic, timeless way," Jones said of this reality-based collection that offered a bit of the reminiscence of the wardrobes of these five sisters in the bell sleeves of a mink and bonded suede long coat that opened the show.
What followed this opening look of a brown mink bonded suede coat was a series of mixtures of camel color cashmere and wool combinations, the kinds of associations that resembled past collections from Max Mara, and at times bits of old Jil Sander in the mingle. Less were any new wardrobe propositions. Here is the long camel cashmere single breast coat with a pair of matching short and cropped turtleneck or a camel cashmere double breast pea coat over a brown knit bra and knit below the knee. The short shirt-coat is worn with shorts and a midriff turtleneck or the boat neck satin corset wrap over a boat neck one sleeve asymmetrical cut long dress.
The Fendi selleria stitching techniques, that slightly rough hand sown with large threads, are applied to these camel cashmere coats, giving these new garments a traditional Fendi touch of crafts. And the Fendi craft techniques are unrivaled, like the herringbone pattern mink coat that seemed feather-light due to the suspended construction on the inside or the à jour embroidery inset, a stitch made between two threads is removed in parallel on a black shearling coat.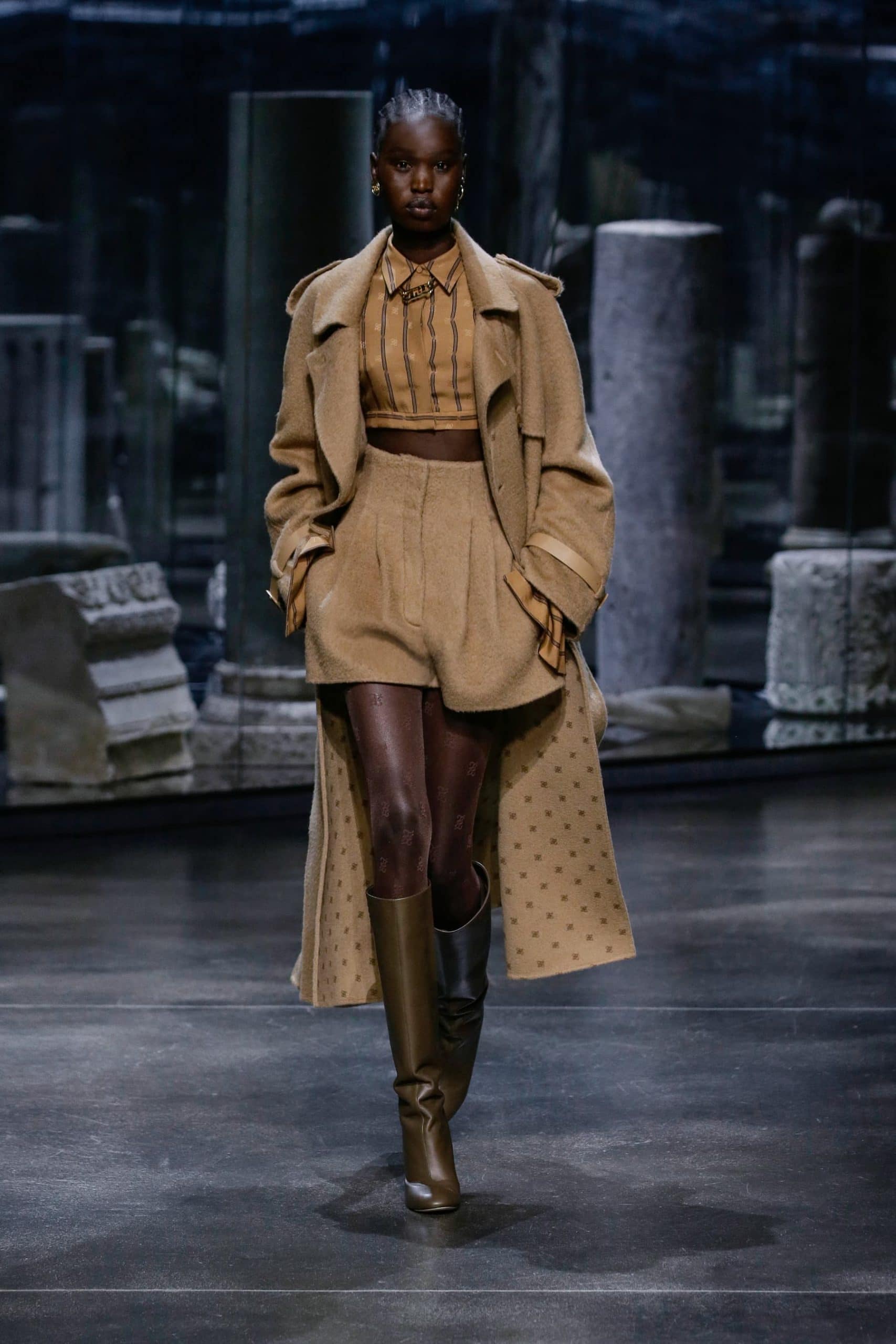 The clothes felt a bit old fashion. At times, they felt like bits and pieces from the leftovers of a distant glamorous after-dinner party from the late twentieth century – the camel boat neck long sleeve cashmere column dress, the high waist camel cashmere pleated flare shorts with a cropped stripe shirt. A camel cashmere coat or a light mauve silk satin belted boxy short with a knit turtleneck midriff top and brown leather coat.
The different garments' associations are heavy-handed and hard to grasp, like a large sleeve short mink coat with python trims paired with a cashmere mohair bra top and a matching high waist brief. Or the silk shirt knotted at the midriff over an extended column skirt.
How are a brown knit bra top, a pair of soft pleats front pants, and a boxy overcoat convey the idea of fashion now?
Fashion, at Fendi, has always lacked a central aesthetics that can make real connections to the younger generations. Little from this show is the now.
The Karl Lagerfeld era, more than half a century-long, while grand in many ways, was not lavish in bestowing this Roman heritage brand with a highly adaptable storyline that can continuously evolve and evolve yet core remains intact. Lagerfeld did not leave behind any recognizable fashion style; any signature look instantly identifiable by the public can be reworked and rebranded with new accolades as needed each season.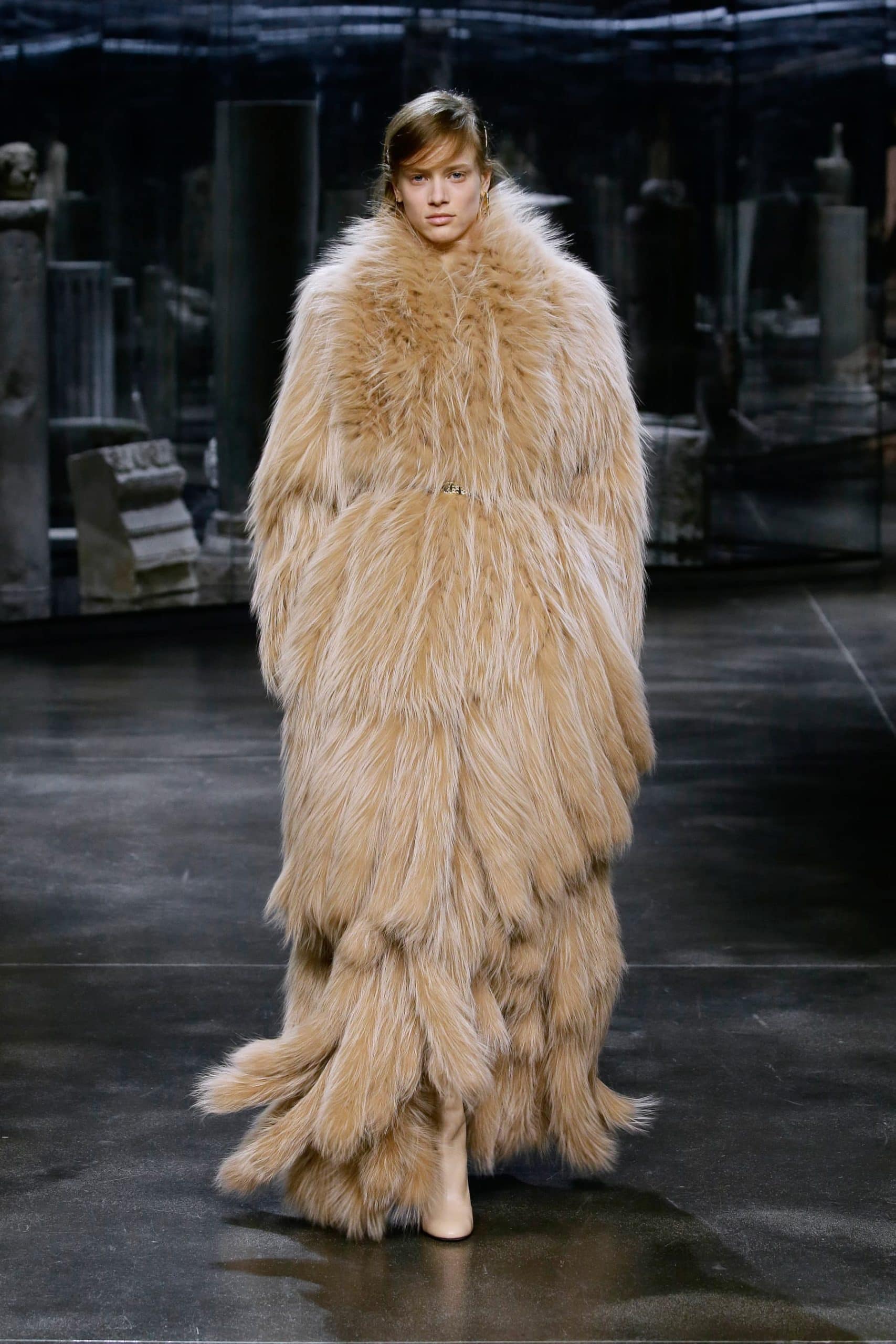 Yes, there were tons of furs in the Lagerfeld era, and even 'Haute Fourrure' show in Paris in July 2015 at the Théatre des Champs Élysées to showcase the house's new crafts like sophisticated intarsia techniques, shaving, and other meticulous handiwork to render animal pelts less, well, like furs. Here in this show, there are plenty of furs coats to satisfy anyone still craving pelt clothes – herringbone camel and a white mink coat, a charcoal mink and wool intertwining coat, or o an oversized fox fur coat with so many tails or fur torchons hanging at the bottom.
But crafts aside, young people today don't relate to furs like two generations ago. They were pressuring luxury brands to cease production of fur-related products and brands like Prada, Gucci, Balmain, Michael Kors, Giorgio Armani, Burberry, and Versace.
These giant heritage furs look aside; what exactly is the Fendi story told in this fashion show?
How does this fashion show create and tell a new Fendi story to a new generation?
What is the aesthetics from this show that permeate through to all the brand's touchpoints?
At Fendi, powerful storytelling has never really been the brand's forte. This show could have been a prime moment to fill in this enormous vacancy. Fendi's aesthetic fundamentals are not precisely powerful to provide emotional connections, and when all considered, it is still more of a brand for older consumers than younger ones.
The recent Icons social media campaigns featuring the Peekaboo and Baguette bags, the Colibri heels, and the FF boots where the focus is less on relating with consumers with a narrative than just a blunt display of products.
Take a look at Fendi ad campaigns, especially those placed with influencers on social and digital media. These social media campaigns are focused on specific products – the Baguette, the Peekaboos – with few narratives save because these bags are well made. Take the most recent campaign for Spring 2021 for the Sunshine Shoppe, for example. According to the brand's Instagram post from last week, the tagline said: "a celebration of the signature #Fendi craftsmanship updated in a new seasonal finish" or "the Sunshine Shopper's distinctive codes reworked in a mini satchel – discover the new #FendiMoonlight bag."
Even this Valentine's Day campaign lacked that emotional effect. The tag line read, "Love is Love – There's still time to find the perfect present – tap the link in bio to explore our selection of bags, ready-to-wear, and accessories brimming with luxury and romance." The photo showed two models looking at each other at close range wearing large logo sweaters. At the same time, each carries a cross-body bag and a handbag. The tag lines in these cases touted Fendi's masterful and expert craftsmanship.
Gen Zers and Millennials don't care much for another lesson about arts and crafts – these aren't the kind of values they are looking for in a luxury brand that wants them as consumers. The fundamentals at Fendi are weak, and the brand has yet to figure out how to deploy its assets in a real attempt to connect to young people on an emotional level. The attempts to connect to young people through a teacher's lens aren't the same as peer-to-peer counseling.
While the collection veered towards the commercial in asking what kind of clothes are realistic today and taking inspiration from the Fendi family of sisters, the show lacked the vernacular that connects to the young generation's aspirations and values.
---