Review of Fendi Holiday 2023 Gift Guide by Photographer Johnny Dufort with models America Gonzalez, Rachel Marx, Kerolyn Soares, and Steph Shiu
Fendi brings sparkle and low-key glam to the festive season with its new Holiday 2023 gift guide lensed by photographer Johnny Dufort.
The holiday collection features an edit of classic Fendi pieces reimagined with seasonal sparkle and celebration in mind, bringing festive materials, color palettes, and adornments to bags, jewelry, and accessories.
Dufort's imagery deploys an idiosyncratic photographic perspective that feels at once humble and high-gloss to show off the sparkling character of the seasonal style while maintaining an accessible vibe of low-key cool. The characters step through a liminal interior space that, thanks to the presence of retro wood paneling, wall-to-wall carpet, and elegant red curtains, feels somehow like a ski chalet, a theater venue, and a bingo hall all in one. The decked out protagonists walk through this space perhaps on their way inside to a holiday gathering, but stop to pose for some unseen paparazzi.
The imagery does bring a distinct visual perspective and hint of narrative to communicate the spirit of Fendi's giftable picks with sparkle and laid-back glamor.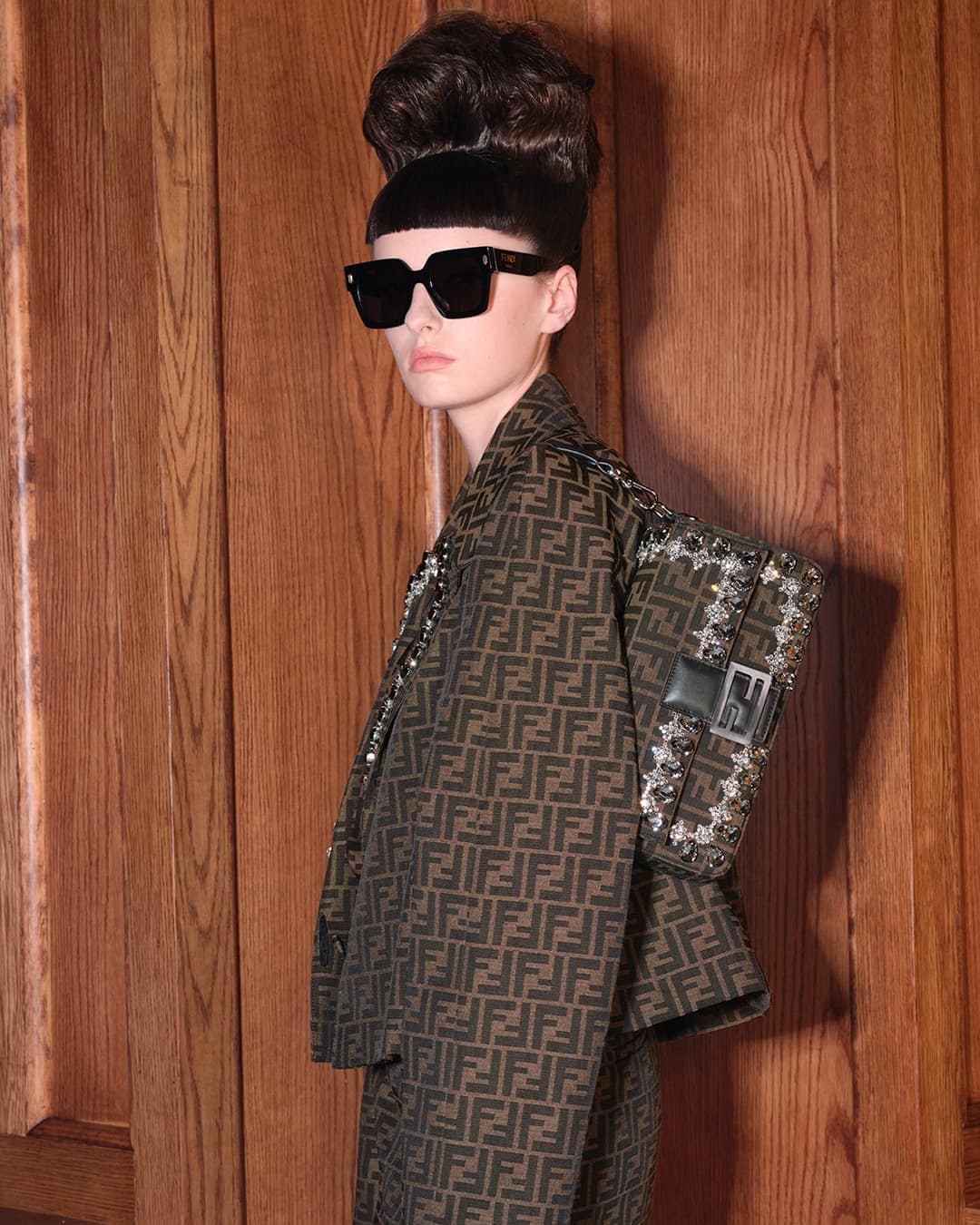 Fendi Creative Director of Accessories And Menswear | Silvia Venturini Fendi
Fendi Creative Director of Womenswear And Couture | Kim Jones
Fendi Creative Director of Jewelry | Delfina Delettrez Fendi
Photographer | Johnny Dufort
Models | America Gonzalez, Rachel Marx, Kerolyn Soares, Steph Shiu
Stylist | Ellie Grace Cumming
Hair | Jawara
Makeup | Hannah Murray
Casting Director | Shelley Durkan
Set Designer | Max Bellhouse

---