---
Review of Fendi Spring 2021 Haute Couture Fashion Show
Lofty Aspirations, but No Shock and Awe in Clothes
By Long Nguyen
"Words, English words, are full of echoes, of memories and associations – naturally. They have been out and about, on people's lips, in their houses, in the streets, in the fields, for so many centuries. And that is one of the chief difficulties in writing them today – that they are so stored with meanings, with memories, that they have contracted so many famous marriages … Words like us to think, and they like us to feel before we used them," – the voice of Virginia Wolf from the only surviving recording of the writer conducted by the BBC in an interview in April 1937 played over a darkened hall inside the Palais Brongiart just before the lights were on to expose a cavernous stage set that resembles a giant life-size labyrinth.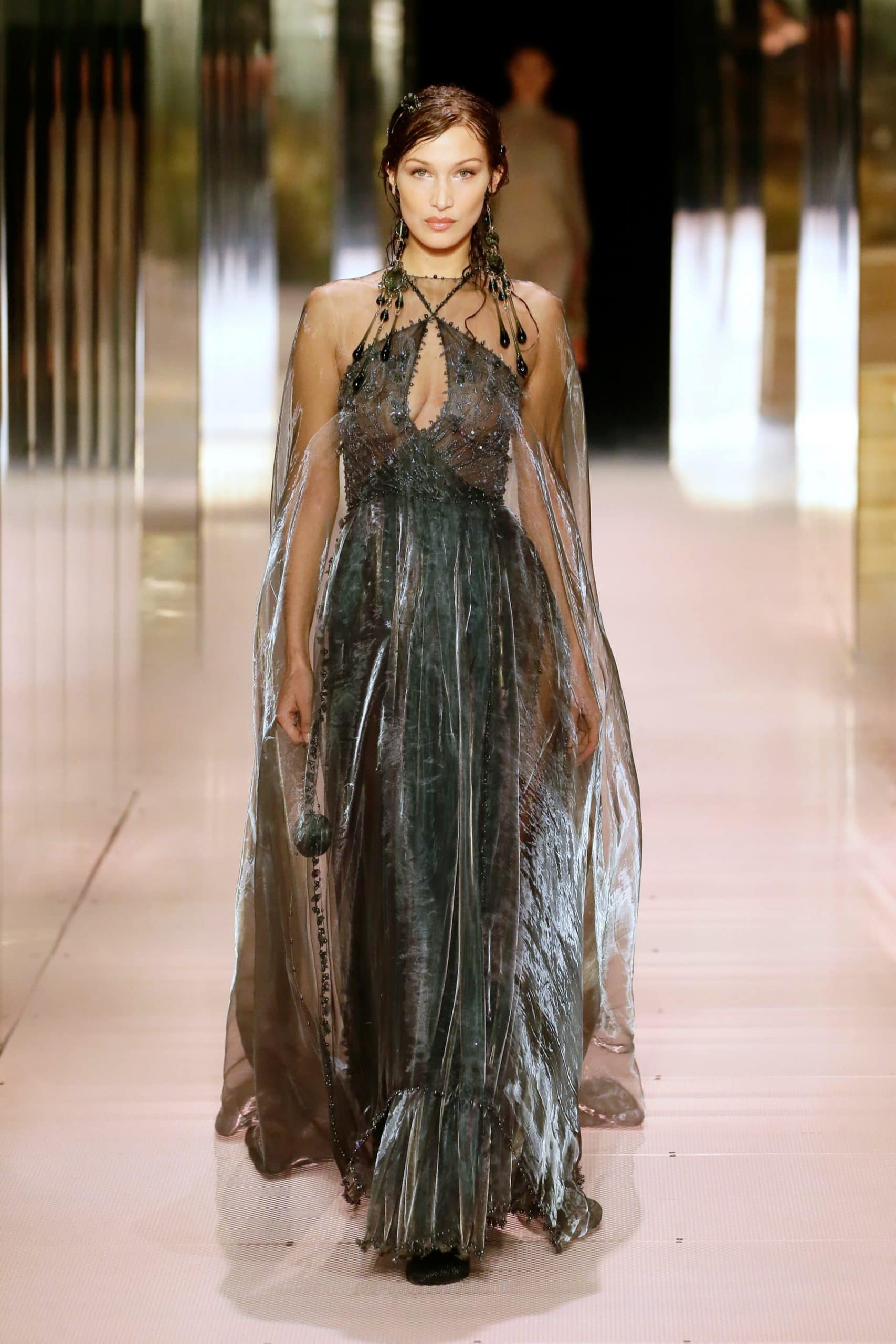 As church bells rang in the background that added to the unfolding drama, a model emerged onto this glass maze wearing a black shiny satin silk v-neck off shoulder long sleeve blouse with an extra-long sleeve over black boxy satin pants. Then, another came out in a black fur long sleeve tunic, black riding pants, and black thigh-high leather boots. Then, Bella Hadid in a cross neck blue-grey embroidered tulle oval shape long dress with a transparent light organza cape. A male model then wore a black tailored pantsuit – perhaps as a sartorial gesture to the Orlando theme embedded as the aesthetic centerpiece of this collection.
Clothes tell a story, and the strongest clothes, expressing a deep personal vision in cloth, often foment powerful emotional reactions.
Kim Jones, the new artistic director for couture and womenswear at Fendi, explores the relationship between Virginia Wolf and Vita Sackville-West, who inspired the narrative of the Orlando novel as her son wrote that the novel was 'the longest and most charming love letter in literature, in which (Virginia) explores Vita, weaves her in and out of the centuries, tosses her from one sex to the other, plays with her, dresses her in furs, lace, and emeralds, teases her, flirts with her, drop a veil of mist around her,' as per a quote in the spring show program.
Jones staged his first Fendi couture show with this massive installation concepted by Alexandre de Betak with Fendi double FF logos constructed in glass structures housing miniature atriums, marble blocks, carpets, libraries, and more. In a nearby room was wooden bookshelves with books and ephemera curated by Peter Harrington Rare Books that included an original copy of the novel Orlando read by Vita Sackville-West shown in one transparent glass structure set in a rectangular formation covering the entire surface of the Palais Brongiart. Other books scattered within these shelves are the correspondences between Wolf and the artist Vanessa Bell's husband and Vita Sackville-West's works that include her notebook plans for the gardens at Sissinghurst, as well as early hand-printed books published by Hogarth Press.
The show was wonderfully staged, with all the possible accouterments with the multimillion dollars set and the cast of superstar models, past and present. Still, it feels like a great fashion show for the late twentieth century, not for this moment.
The clothes are flawlessly made, but they don't suggest or even offer any new way of exploring gender, identity, and sexuality. In lieu, there are plenty of wonderful clothes with a primordial capturing of the clothes of the 1920s, an ear where cinema starlets became, well, a budding thing at the time.
The collection, on the whole, contained a few good but minimal selection of actual clothes. Still, the show's aesthetic thrust remained stuck in pause instead of leaping forward like Orlando through time and different cultures, smashing and merging ideas, rather than just staying put in one era.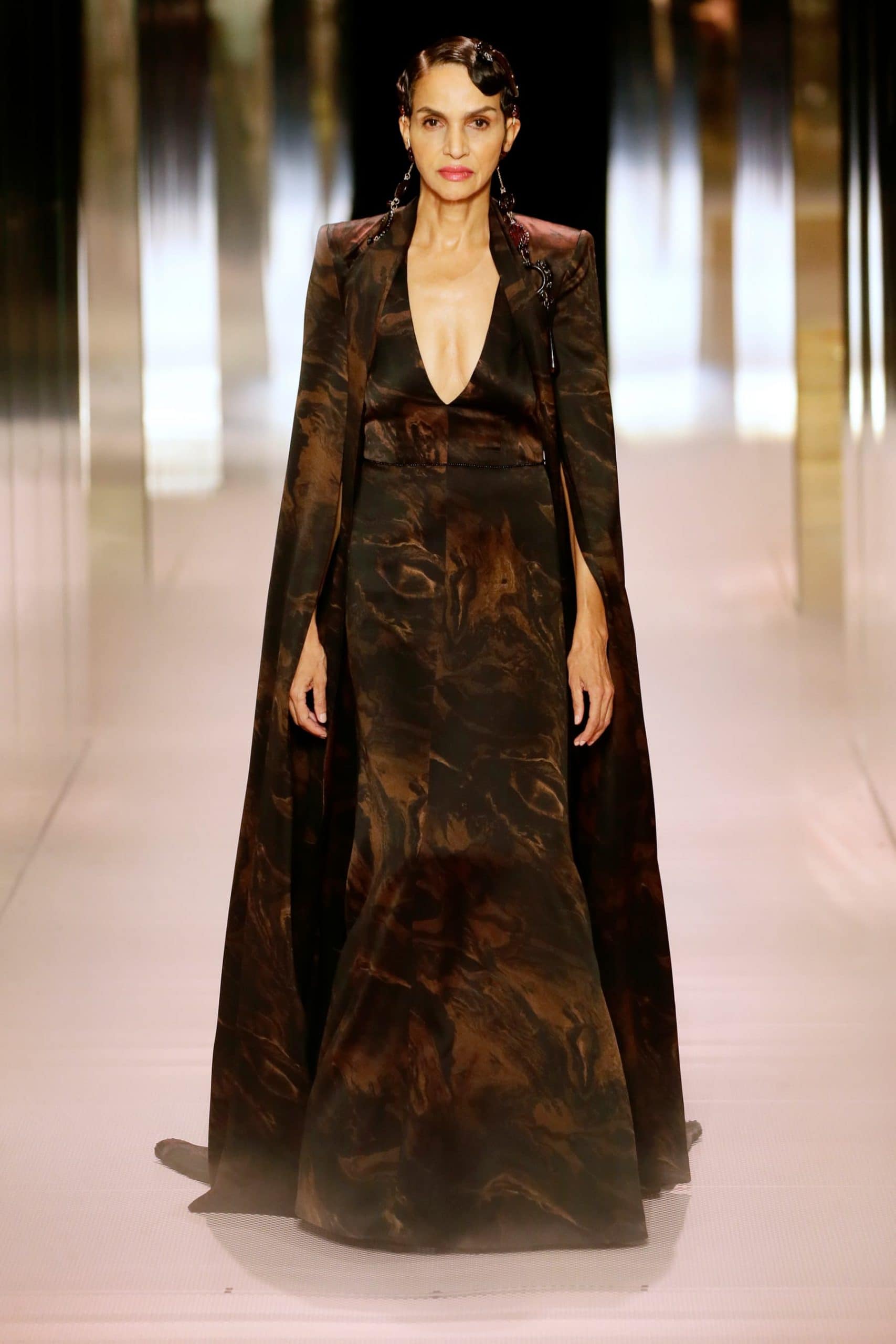 Less apparent is any new technical craftsmanship, a hallmark of the Fendi brand heritage, applied to these clothes to show the Roman house trademark savoir-faire. A long deep v-neck brown pattern dress with a bolero cape with the hands coming out of the cape is a classic Valentino haute couture look perfected by Pierpaolo Piccioli recent couture seasons. The final long dress with leafy green hand-painted silk worn by Naomi Campbell has this same dress-cape but done as a boxy rather than fitted dress. Even the pantsuit on Christy Turlington is a direct descendent of Valentino haute couture.
The show did little to advance the idea of couture, and maybe that is no longer the purpose save for providing a new selection of red carpets outings or innings remotely for now. Virginia Wolf's idea was to transcend the different boundaries – here in the show, Wolf's idea is rendered literally – the guys wearing women's black tailored double breast suit for example – rather than taking the concept much further in an imaginative way to remix genres, cultures and time eras. The results here are not the kind of shakeup, at least a sartorial way through blurring fashion binaries mixing with a distortion of time.
Couture can be a transformative fashion moment, a creation at times of otherworldliness that directly impacts and meaning upon the now.
Unlike in Wolf's novel, there are no pansexual heroes in this show, nor are there any pansexual heroines. Wolf's Orlando, for many readers who keep coming back and for so many designers who keep referencing the novel, was perhaps a piece of literature with a narrative verging on a radical vision; Jones' Fendi couture is just more of a selection of very costly clothes, clothes that are perfect and sumptuous but not new nor innovative, nor for that matter exciting.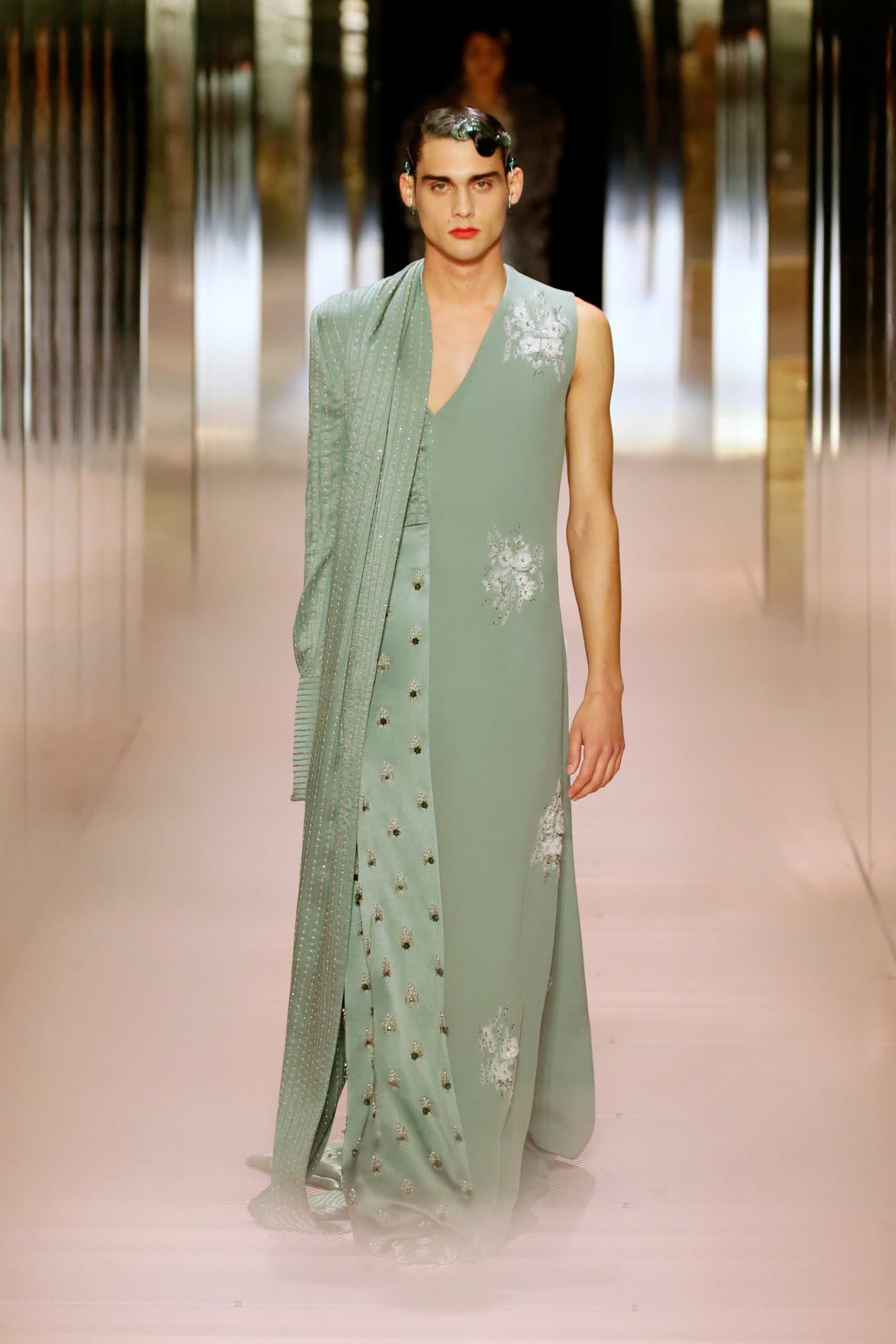 The idea of shapeshifting through boundaries of identity and sexuality – the basis of a transformative journey of the character Orlando from the late 1500s to the early 1920s – is nowhere to be found in this show, except perhaps the mundane casting of a few male models wearing 'genderless' clothes. In other words, the show – especially one surround by books and one encased within one such book – and the collection lack the imaginative 'great leap forward' to borrow the words from Chairman Mao.
Recently, Rei Kawakubo of Comme des Garçons completed a trilogy of shows based on the Virginia Wolf Orlando, a trilogy that commenced with her Homme Plus spring 2020 show and continued to the spring 2020 women show then the extraordinary costumes for the Vienna State Opera composed by Olga Neuwirth and sung by Kate Lindsey in mid-December 2019. In each of these three episodes, Kawakubo powerfully merged the idea of transformation and liberation through time into clothes that transgressed actual divisions. None of these kinds of ideas are present in this couture show.
The loftiness of literature aside, the clothes are far from being a match to the kind of imaginative leap proposed by Wolf and expounded on with great details by Jones, who has spent significant time growing up in various parts of Africa and in London and Sussex, perhaps expressed in the leafy prints on a pantsuit or a dress-cape combo. Perhaps Wolf's ideas are in the mix of the casting of models from across the 'time' horizon, but that is hardly about the clothes.
Jones deployed an army of powerful words from a powerful novel, but far less a display of ideas about the actual clothes.
Or as Virginia Wolf wrote in Orlando – "Vain trifles as they seem, clothes have, they say, more important offices than to merely keep us warm. They change our view of the world and the world's view of us."
How does launching this couture show, now on a regular seasonal basis instead of as special editions that Karl Lagerfeld had done in the past, help to harmonize the Fendi aesthetics on a supposedly grander scale? From these clothes, it is not easy to discern Jones' idea of couture for Fendi, and more importantly, for the critical upcoming women's show later this February.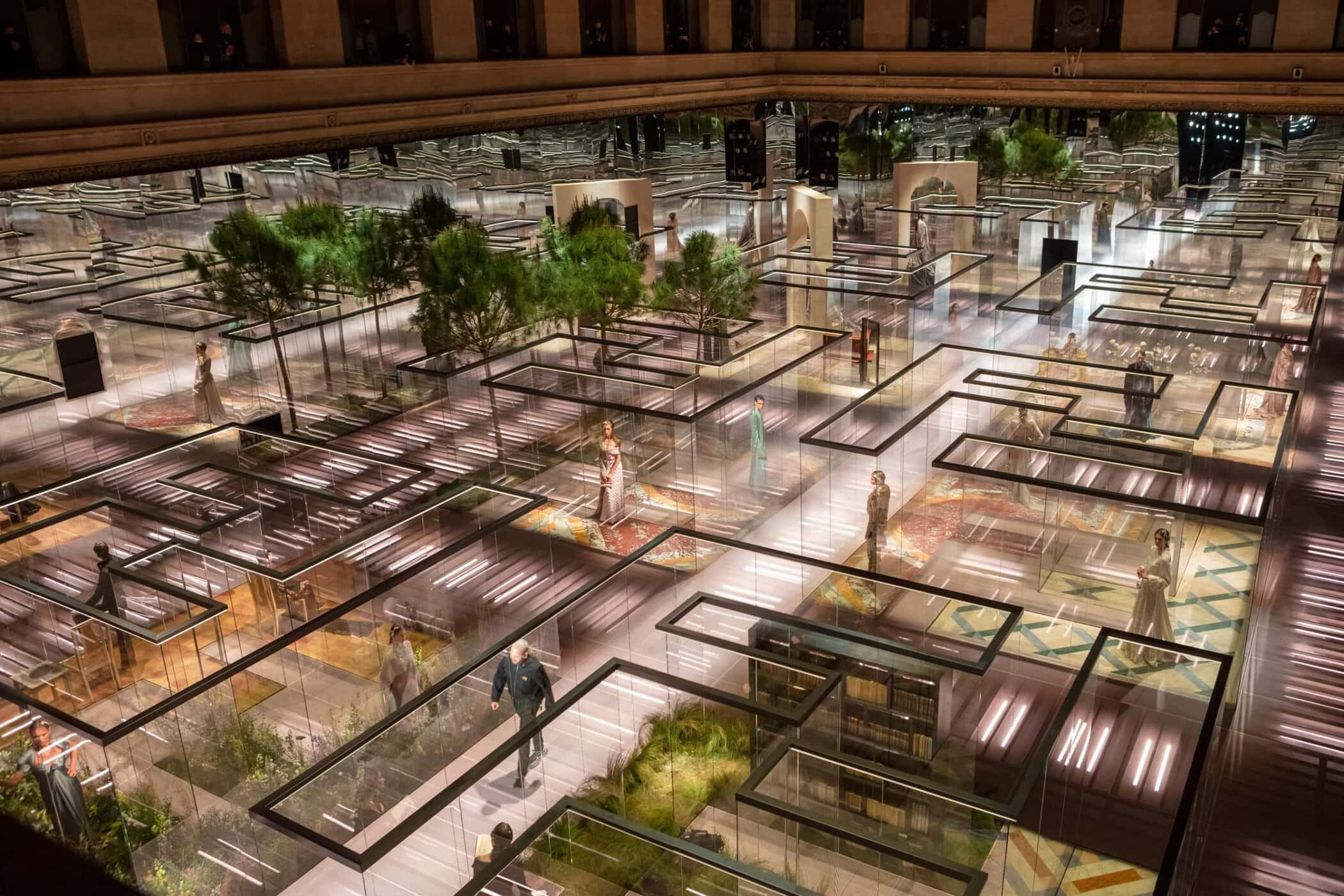 Karl Lagerfeld created many memorable shows and moments in his long history at Fendi and he created the brand double FF logo back in 1965. But the star designer never brought Fendi a fashion signature, a look that can be instantly recognizable at a fashion house, especially one with such high caliber. This may be a good thing for Jones who is starting out fresh from the burdens of heritage style.
But at his first outing, this couture show provided neither indications nor foundational ideas about Jones' take and the seeds of a vision for Fendi's womenswear – a clear indication of turbulences ahead.
---