---
Review of Fendi Spring 2023 Men's Fashion Show
Fendi's Cure for the Summertime Blues
By Angela Baidoo
If it was Silvia Venturini Fendis plan for the set of her latest Men's outing to lull us into a state of escapist bliss, then her partnership with Alexandre De Betak was a success, as the choice of blue mimicking  both the ocean and sky of a far-away destination, where Fendi Double-Fs float in the sky, sent you on a mini-break, if only for the ten minutes that the show lasted.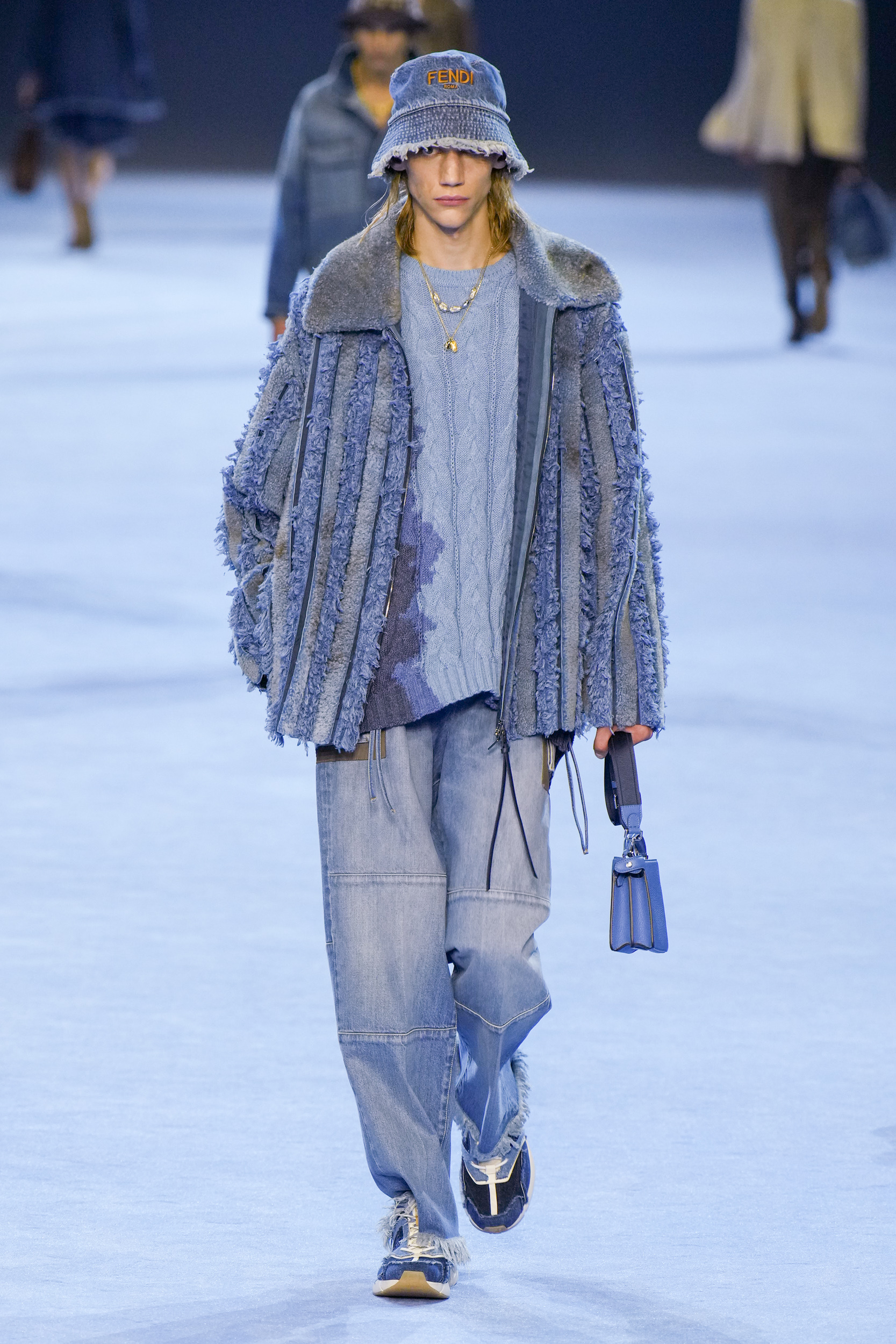 Its about..an ageless sense of freedom to play..and the luxury of free time"

– Silvia Venturini Fendi
A tightly edited collection from Venturini explored themes of escapism, and the "luxury of free time" as was outlined in her show notes. Less provocative than last summer's show – there was not a bare midriff to be found this time around – the fit focussed on a move away from the body, and instead could have been cut from the same base pattern of boxy square-like shapes, which swung around the models, but will likely work perfectly in real-world scenarios, and be welcomed by those struggling to shed those extra pounds which have gathered on bodies post-pandemic.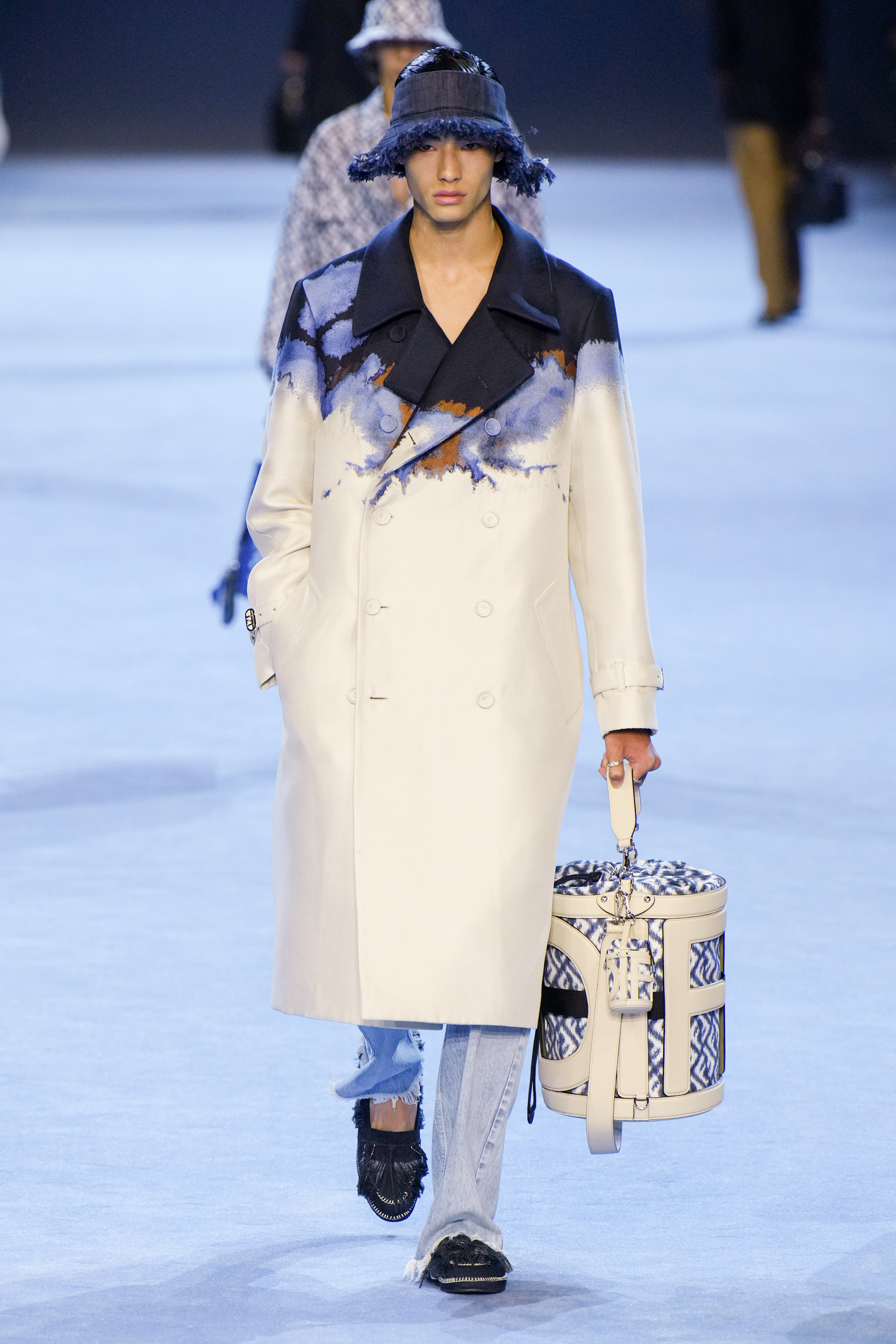 Simply because it was a summer season, Fendi saw no reason to forgo the inclusion of fur, being that it is what the brand is renowned for, it also serves to acknowledge the changing customer demands and the very global nature of the industry. Where those with the means plan the purchasing of their winter wardrobes months in advance. This season they could go with mink-coloured fur hoodies, frayed denim jackets with clipped fur inserts, or there was the choice of investing in an oversized jacquard fur that only this brand could pull off without sliding into the world of novelty. Here, the pattern revealed itself to have been created to mimic the Earths swirling weather patterns when seen through a thermographic lens. The irony being that in a decade or two coats of the furry variety may soon become obsolete, if weather patterns continue trending as they have been, towards the warmer end of the spectrum .
California once-again came calling, evident through the subtle hints at skate and surf culture – buyers can now bag a board (of the skate variety) with their bag – with bucket hats and board shorts in the brands signature logo print, which was given a glitchy FEND-ikat makeover this season, paired with cow-hide printed, terry-towelling laced skate sneakers which kept the bohemian thread going.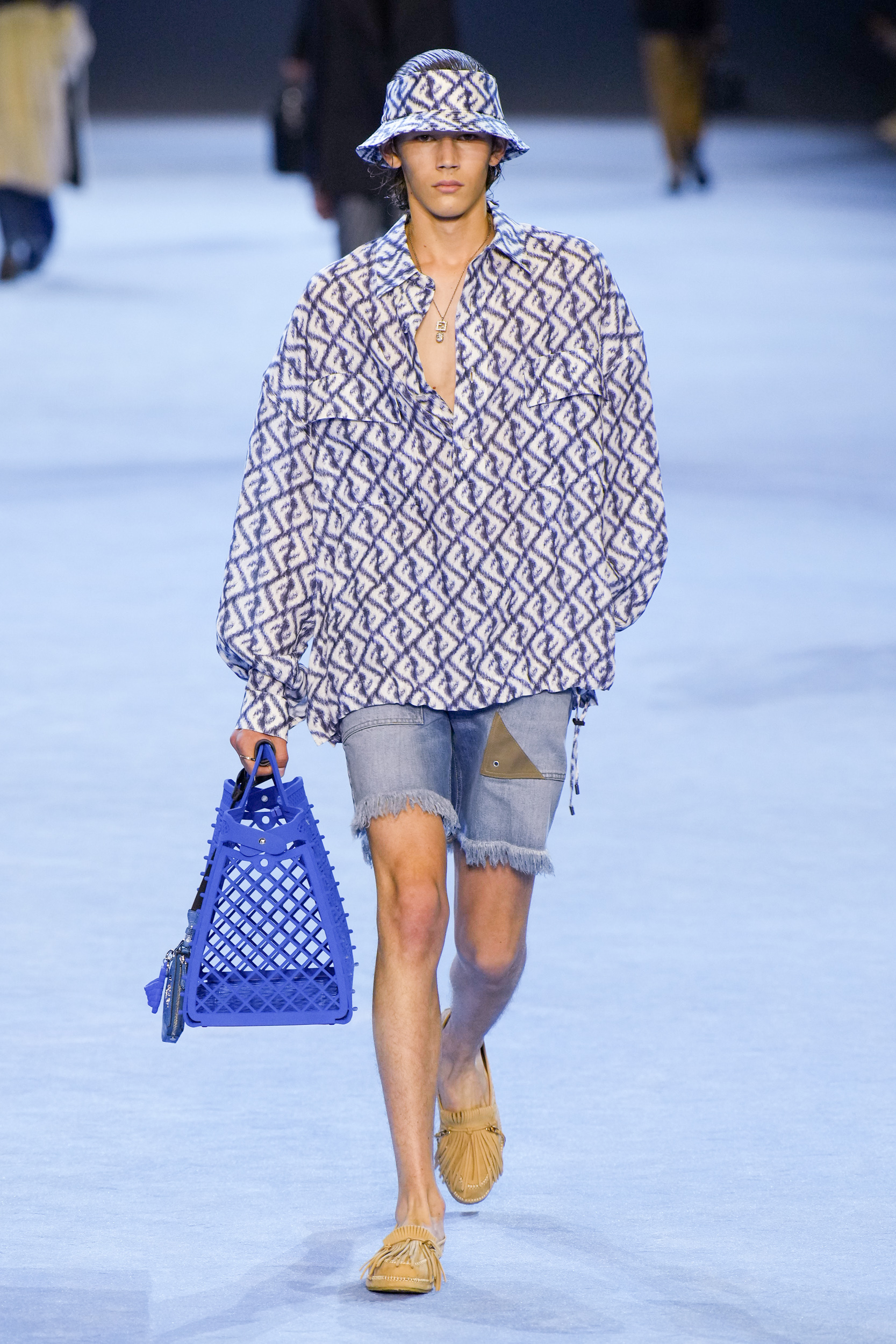 The new FEND-ikatprint moves the logo out from under the banner of logomania, and into a more bohemian era.

Angela Baidoo
Feeling the need to free herself from the constrains of traditional masculine tropes, a "Bohemian wanderlust" was imbued in raw and tasselled edges, a detail set to become next summer's major talking point – as designers move away from sharp cuts and tailoring as we once knew it and adopt a more freeing fluid ease. This concerted move away from suiting which still holds such strong connotations of the old 9-to-5 model – which no one except maybe tech billionaires want to see a return too – made room for the original workwear base of denim to be reimagined as a colour, texture, and print, creating both a "reality and fantasy" in cropped bermuda and short shorts, blotchy tie -dye effects, and logoed wide leg jeans smart enough to pair with an indigo blazer as part of the new working uniform.
In short, Fendi's menswear offer for spring summer 2023 will be appreciated for its extended edit of escapist wardrobe staples, and the repositioning of denim, back to its hardworking roots as a viable lifestyle option thats fit for any occasion.
---