Review of Gap x The Brooklyn Circus (BKc) Capsule 2023 Ad Campaign by Gap Global Creative Director Len Peltier and Photographer John Midgley with talent Alpha Diallo, Bethann Hardison, Emily May Jampel, Indya Moore, Javon "Wanna" Walton, Joy Oladokun, Mailk Tate, Ouigi Theodore, Stephen "tWitch" Boss, and Yahdon Israel
We're falling into the Gap again but this time with Ouigi Theodore, founder and creative director of Brooklyn Circus.
Gap recently launched a limited-edition capsule collection with the Haitian-owned, historically inspired prep wear brand at select Gap stores, the Brooklyn Circus flagship store in Boerum Hill, Brooklyn and both brands websites.
The different personalities in the campaign— Theodore himself and Brooklyn Circus operations manager Malik Tate, trans and non-binary model and actor Indya Moore, Euphoria actor and boxer Javon Walton, filmmaker and actress Emily May Jampel, Literary Swag Book Club founder Yahdon Israel, The Brotherhood Sister Sol youth organizer Alpha Diallo, singer-songwriter Joy Oladokun and advocate and former model and agent Bethann Hardison—bring life and energy to the collection through their own unique spin on polkadot shirts, varsity jackets and vertical striped shirts.
The campaign explores decades of Black culture through Brooklyn Circus' modern prep focus, academia, street style and individuality, and music and movement. Each portrait is minimal as well, some in color and in grayscale, to let the outfits do the speaking and express each individual's personality, much like a yearbook photo page of graduates or having fun around the school.
The campaign also features Stephen "tWitch" Boss, the late hip hop dancer, choreographer and television personality who died of suicide in December 2022. Boss, who became a star on The Ellen DeGeneres Show, best exemplifies the music and movement of the campaign. He showcases a few moves in a photo studio and staircase in a black-and-white short video set to piano that has been released in tribute to the artist and for the collection.
Meanwhile, Hardison, Walton, Moore and Theodore head to a school and studio space to share anecdotes and thoughts close to themselves. For instance, Hardison explained that most of the best models never wanted to be models, as could be said for any role model in general, for how they assume a role bestowed on them by others or a greater calling. You can't deny your gift, which could be said for Walton and his boxing prowess or Moore who said in her short how they snuck clothes from their mother's closet and wore them at school.
The campaign pulls elements from past campaigns like their late 90's holiday commercials that featured ensemble casts of dancers and models and even their iconic LL Cool J advert. When you curate an ensemble cast of interesting characters, you get much more than just a clothing campaign. You build moments that make the clothes, which was the point of the Gap to begin with. To produce a uniform that doesn't take away from the wearer. Well, here the wearers bring life to the uniform.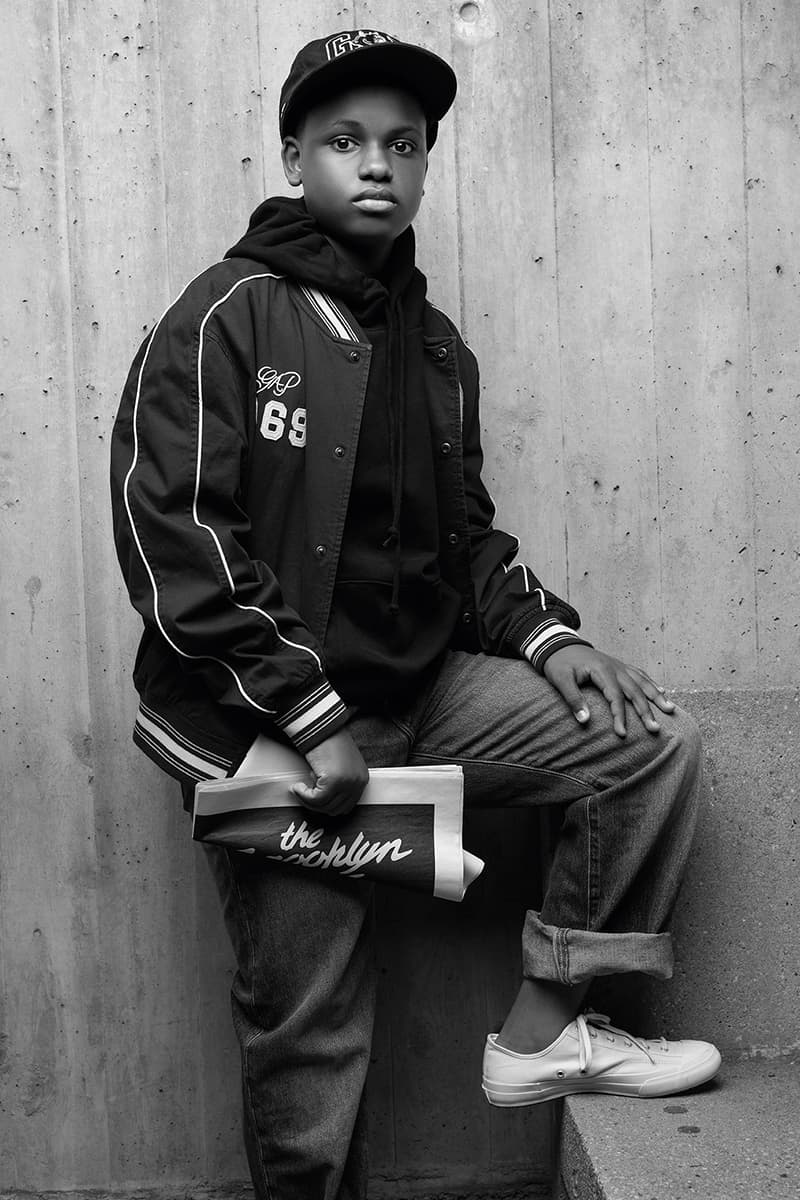 Gap Global Creative Director | Len Peltier
Photographer | John Midgley
Talent | Alpha Diallo, Bethann Hardison, Emily May Jampel, Indya Moore, Javon "Wanna" Walton, Joy Oladokun, Mailk Tate, Ouigi Theodore, Stephen "tWitch" Boss, and Yahdon Israel

---