---
GCDS creative director Giuliano Calza and film director/photographer Nadia Lee Cohen joined forces with the Italian pasta company Barilla to create an ad campaign that's campy take on 1960's technicolor extravaganzas. Simultaneously featuring film icon Sophia Loren, the GCDS capsule collection, and a pop-art-like rebranding of pasta firm Barilla, the ad campaign confection is delightfully irresistible.
Unfolding like glamorous European version of a John Water's film, with hints of Twin Peaks tossed in for good measure, the film moves through red brick streets, gritty subways, dark jazz clubs, and paradise beach highways.
"A completely white canvas was offered to me by Guido Barilla in our first meeting," says GCDS' Creative Director Giuliano Calza. "What started as a capsule collection, eventually ended up in Hollywood studios, with our teams filming for three days on Los Angeles sets transformed to dinner settings."
"I just imagined my personal dinner table, exactly like my life today with GCDS, made of enthusiastic and unexpected meetings as part of a daily routine. When I had to imagine who to choose for this cameo, from anyone in the entire world, I literally couldn't think of anyone else but her: Sophia represents THE icon of Italian history, the 'mother of Italy' that greets her different family members, with just one simple message that everyone growing up as an Italian has heard over and over: "Dinner's ready! E' pronto!"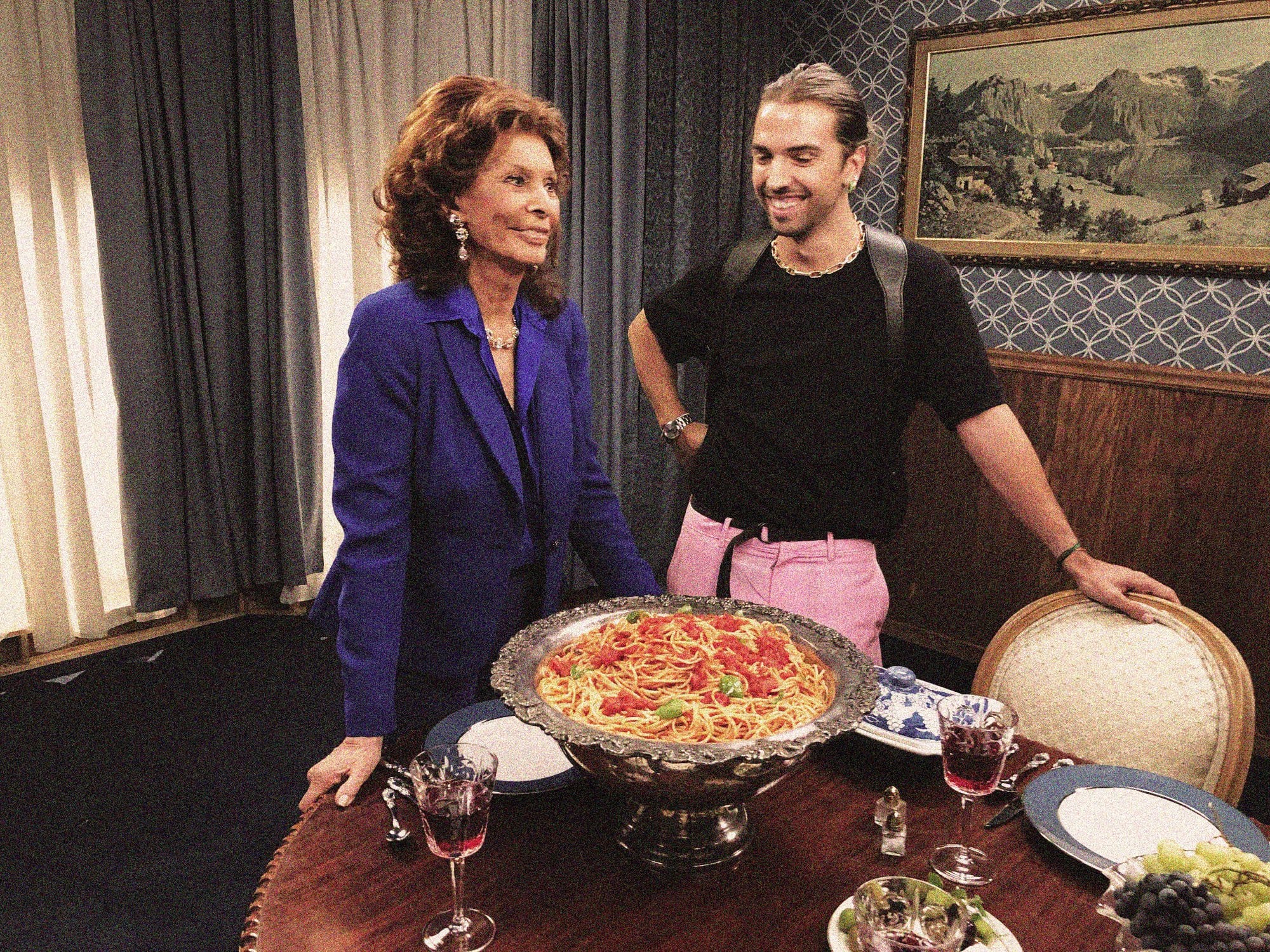 Nadia Lee Cohen offered up a slightly different take on the genesis of the film, as described in the quote below.
One Parisian night I was drinking wine with Giuliano when he turned to me and said: 'Babe! Do you want to make a pasta advert?' I thought why not, everyone loves pasta! We said, wouldn't it be great if we could get Sophia Loren? Next thing I know I'm staring into the feline eyes of the icon herself, as she spoke Italian to me, whilst I pretended to understand.

– Nadia Lee Cohen, Director
Cohen has imbued the film with cheeky visual references, such as two models driving a convertible in front of a grainy film projection of the streets of Naples circa 1960, and a salon whose walls are adorned with vintage photos of Sophia Loren at the peak of her silver screen glamour. Cumulating with an oversized bowl of spaghetti, tomato sauce, and fresh basil, the film portrays a day in the life of a cornucopia cast members all on their way to a once in a lifetime meal. Buon Appetito!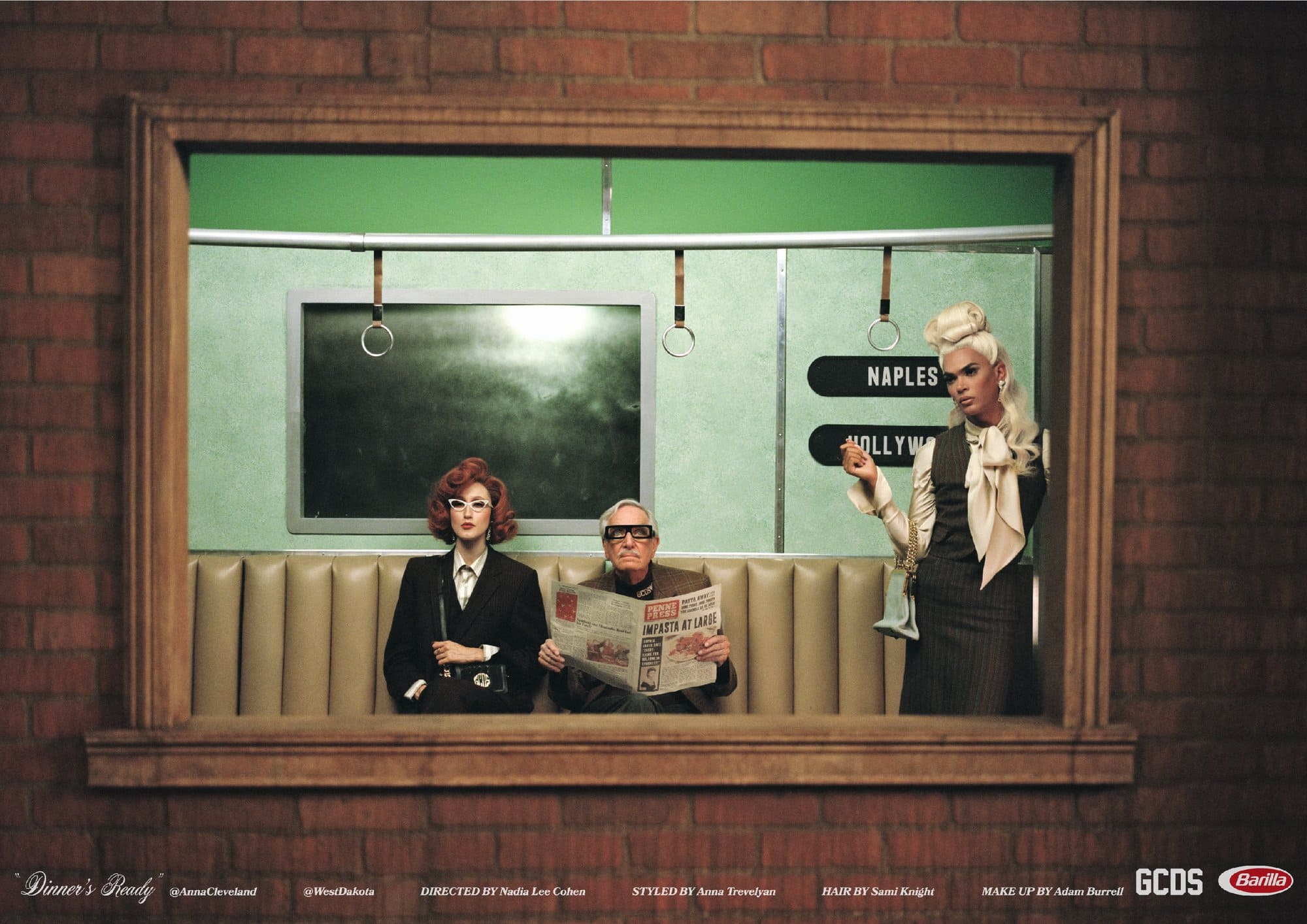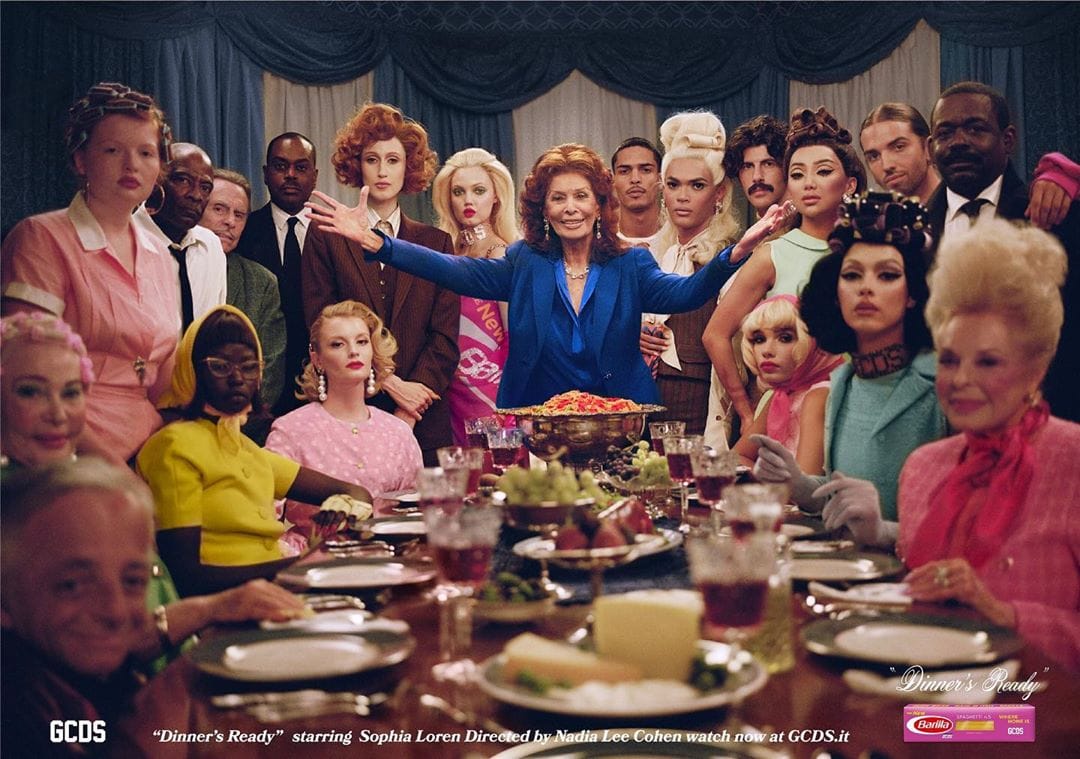 GCDS Creative Director | Giuliano Calza
Director/Photographer | Nadia Lee Cohen
Talent | Sophia Loren
Talent Brick Wall Scene | Daisy Donohoe, Geron McKinley, Josh Landau, Melissa Gilbert, Phil Ursino, Ruth Banks, Terrylee Hill, Alexander Lizotte, Marlee Ingle, Amy Sue Fall, Libby Smith, Harrison Kiernan, & Michael Farmer
Talent Subway Scene | Anna Cleveland, West Dakota, Nikita & John Robish
Talent Hair Dresser Scene | Violet Chachki, Carole Wells, Tess McMillan, Ruby Millsap & Gale Bershon
Talent Jaxx Club Scene | Lindsey Wixon & Paul Edward Ford, Michel Wilson, Andre Henry & Rahn Sargent
Talent Car Scene | Aweng Chuol & Hana Cross
Executive Producer | Carlota Ruiz de Velasco
Producers | Malcolm Duncan & Fabien Colas
Director of Photography | Simon Duggan
Stylist | Anna Trevelyan
Hair | Sami Knight
Makeup | Adam Burrell
Manicurist | Yoko Sakakura
Production Designer | Brittany Porter
Editor | Greg Scruton
VFX Supervisor | Julien Brami
Colour | Ricky Gausis
Music | Ali Helnwein
---