---
Review of Giorgio Armani Privé Spring 2021 Haute Couture Fashion Show
Consistency with a Point of View and with Clothes
By Long Nguyen
Giorgio Armani has been a proponent of a slower and perhaps a more humane fashion system in the happier times way before the pandemic that fractures the fashion industry.
The independent designer has never participated in launching fanciful resort season shows at far-flung destinations and has been very strict about the number of collections the brand espoused annually.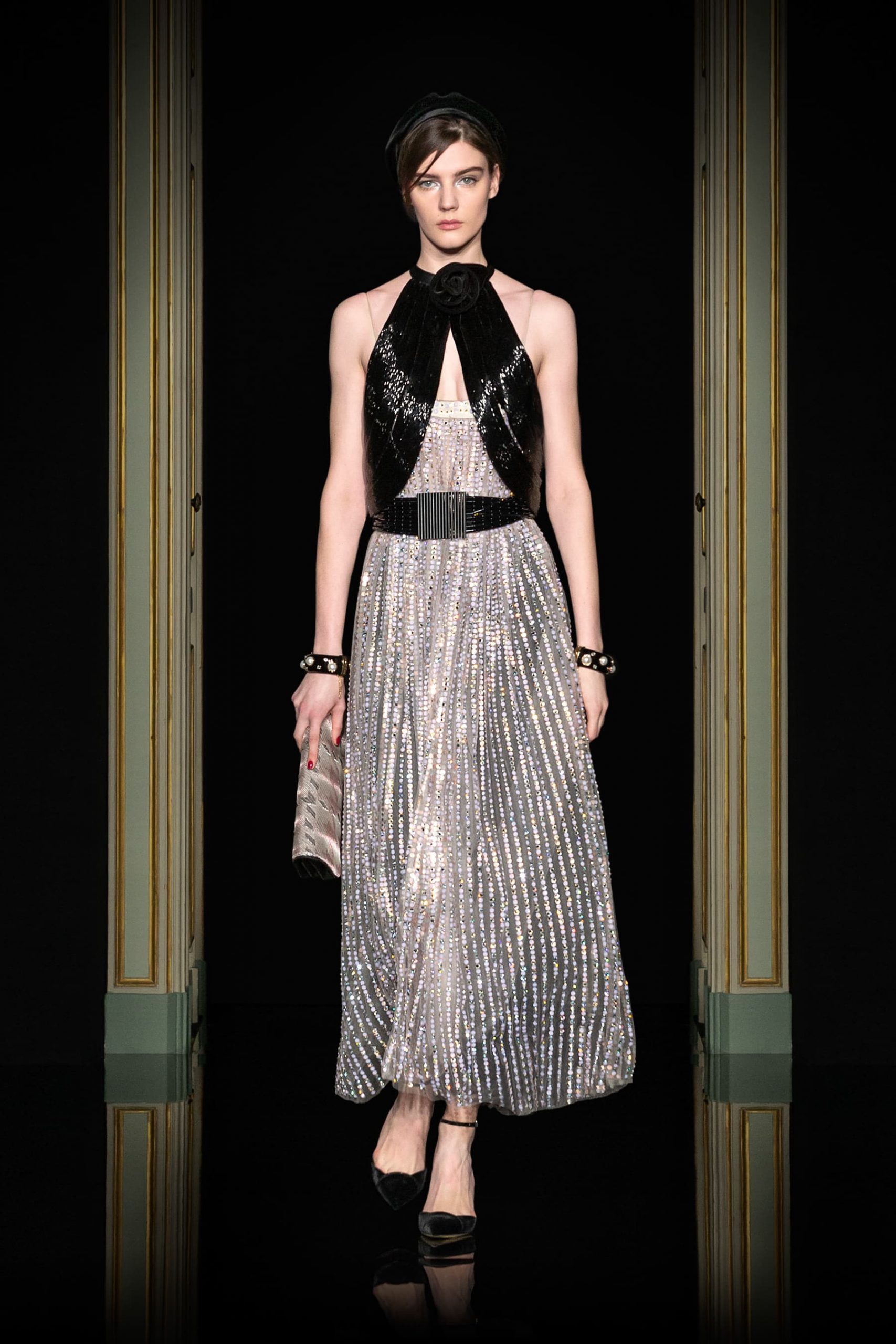 It is not a coincidence that for a designer who steadfastly refuses to be seen as trendy or to follow any waves because it might have been expedient to do so more business, that it turns out the designer has more foresight in making the kind of clothes his customers want and what he thinks his customers should have.
Over the decades, the Armani style has become so pervasive and has penetrated so deeply into the conscious aesthetics that, like the air, you don't even know it when you see it.
It isn't just the proper clothing produced by the different strata of the Armani brand – it is how this Italian fashion look has been so consistent over the decades with small alterations here and that this mode of dressing has really sunk into the fashion awareness of different generations just like a weight or distance measurement system. Armani is the first designer to stream his fall 2020 women's show without Milano's audience last February before the pandemic. Now, with plans for a small live audience show for this Privé show in Milano shelved yet again, the designer return to the live stream format beaming this spring collection from his headquarters.
Now, Armani has returned his haute couture Privé collection to live streaming at Palazzo Orsini in central Milano, for the first time for his couture line since the launch in Paris in January 2005, then with a concise showing than of just thirty-one looks that immediately established the template of his trademark elegance and pared down luxury with minimal embellishments, and clothes that are neither retro nor avant-garde.
This spring show was a concise distillation of the Armani fashion with a divide between daywear with pantsuits and evening wear with a range of dress ranging from the fanciful rose pattern fold corset red satin long dress to the less formal short midnight blue velvet sheath dress with a floral neck decoration.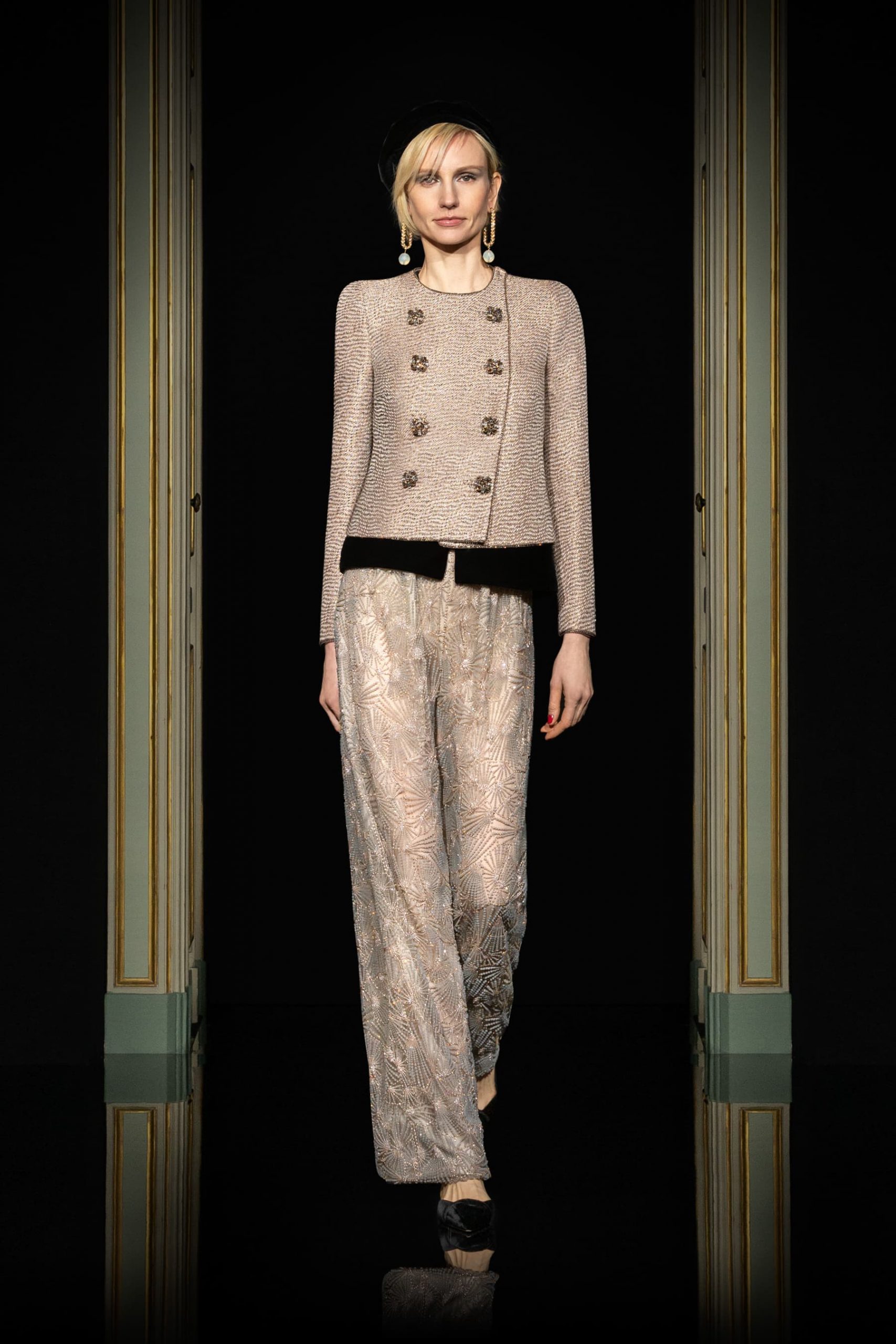 A closer look at the series of jackets reveals the incredible diversity of design often overlooked at this Privé collection with rigorously cut jackets paired with tapered straight-leg pants. At Armani, the masculine tailoring silhouettes are the house's masterpieces that permeate throughout the women's collection. Here, for example, the jackets come in a variety of shapes, mostly in single breast versions – cropped with shawl lapel, lapel-less, collarless zippered front or cut with broad and raised shoulder either as a long single breast pantsuit or as a cropped zipper front cropped jacket paired with black pants.
Surely the Armani atelier in Milano has few rivals in the intricate handiwork on the embellished long dresses in the different palette ranging from the magenta palette to aqua green in silk organza, satin, or velvet. Yet, even these intricate embroidered dresses are light in flowing shapes displaying skillful cutting techniques.
This was not the first time Armani did a live broadcast for his Privé show – in 2007; the designer broadcast his show live from Paris. "Couture is rooted in fashion history. It represents the pinnacle of creativity and sartorial skills but is a world available to only very few. Today, through the democracy of the Internet, we can offer a front-row seat to everyone," Armani said of couture and also of making couture seen by a wider Internet audience.
The designer may find that in the wider and more democratic world, his aesthetics are more pervasive.
---