The House of Givenchy is pleased to announce the opening of its Soho store, the first downtown location for the brand. Located at 94 Greene Street in the heart of Soho, the 3,500 square foot boutique is the brand's sixth freestanding location in the Americas – the first to open in four years, signaling the start of an important acceleration of retail growth in the US market. On this milestone, Givenchy CEO Renaud de Lesquen asserts: 
"We are excited to be opening our new Greene Street store and second Manhattan boutique. A key destination for luxury, SoHo's vibrant retail neighborhood will give us the opportunity to serve our ever- growing client base. This opening represents a new chapter for Givenchy as we continue to scale our business in the United States and internationally."
The store will carry the full breadth of the brand's Women's & Men's Ready-to-Wear & Accessories collections, and debut exclusive capsules & made-to-order programs. The store will open with Givenchy's Fall 2022 Pre-Collection, and a product assortment featuring Matthew M. Williams' signature sharp tailoring, standout denim, and other easy wardrobing pieces for summer. The season's statement accessories include the new TK-360, an innovative sneaker expressing Matthews' dynamic vision for the brand, and other iconic accessories such as the Antigona, 4G and Kenny bags – each with hardware featuring the house's signature 4G emblem, which also appears on key design elements throughout the store.
This location will be the first in the US to feature the brand's latest retail concept: a design which leverages contrasting tones & materials – mixing sharp and soft, matte and rough, industrial and natural. Everything from the store façade to the interior speaks to a natural stone-gray palette – alluding to the light gray and soft stone color of the streets of Soho, and the neighborhood's historical buildings.
The two-level boutique will feature a ground floor dedicated primarily to accessories. Upon entering the store guests are greeted by Women's & Men's handbags, followed by shoes. A lilac box, referencing the brand's Madison Avenue concept store on 59th Street, will house a selection of accessories, and provide a pop of color in what is otherwise a space defined by neutral, natural tones and textures. Ready-to-wear will occupy the salon at the back of the space, and transition, via stairwell, to the downstairs ready-to-wear salon and denim destination. A dramatic skylight doubles the ceiling height and amplifies the entire space with natural light.
Punctuated throughout the space, are sculptures conceived in collaboration with British artist Ewan McFarlane. Positioned like freestanding artwork in a gallery, these mannequins appear in surprising poses and positions. The use of a more conceptual display for product speaks to an ongoing desire to merge the storytelling between the art and fashion worlds.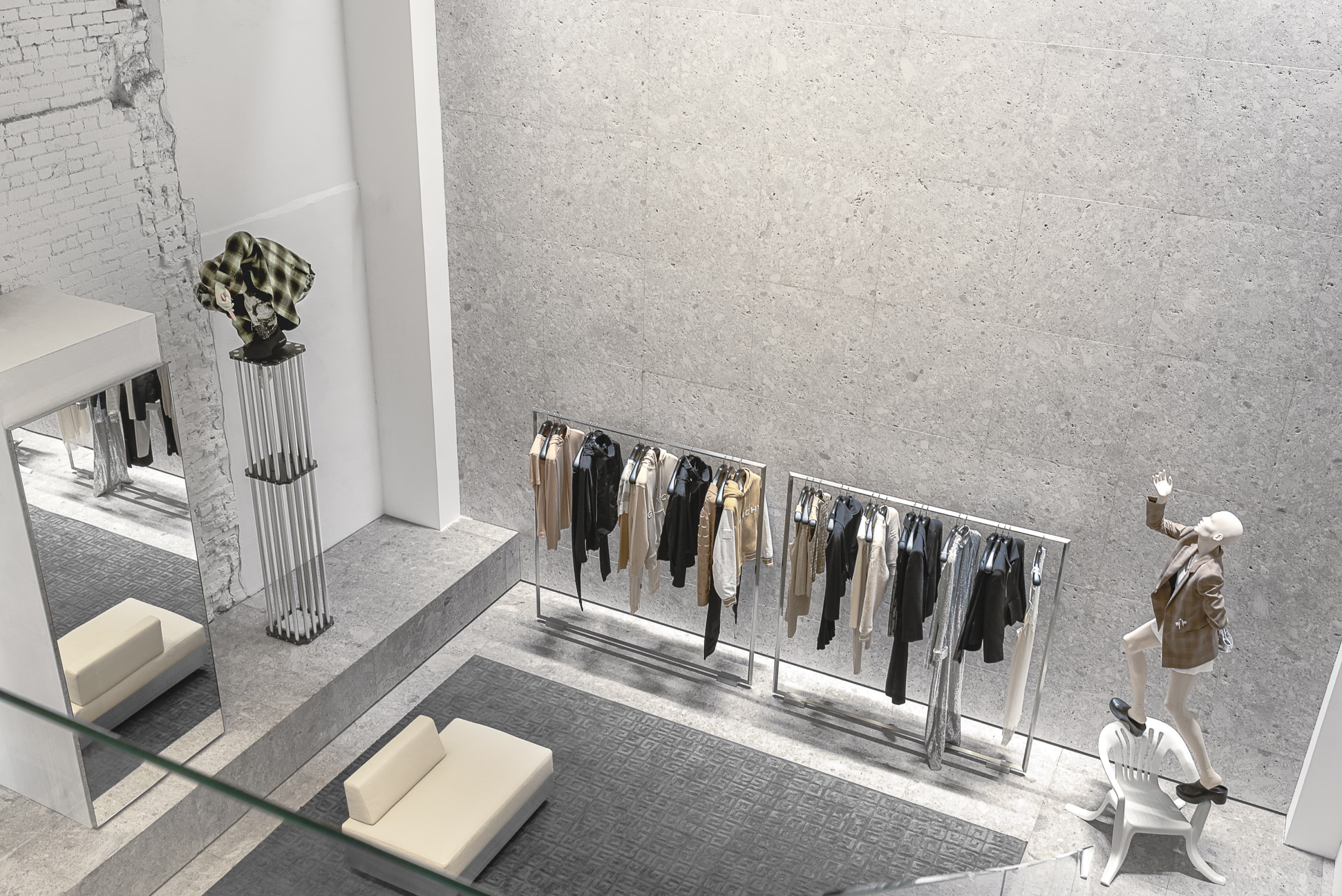 Location
94 Greene Street – Btwn Spring & Prince Streets – New York, Ny 10022
---