---
Review of Gucci Cruise 2024 Fashion Show
K-Drama
By Mark Wittmer
Heralded by spectacular production that in some ways felt superficial, Gucci's Cruise 2024 show – handled by the house's design team in lieu of a single creative director – nonetheless revealed itself to be a fitting homage to Seoul's vibrant and varied place among contemporary global culture.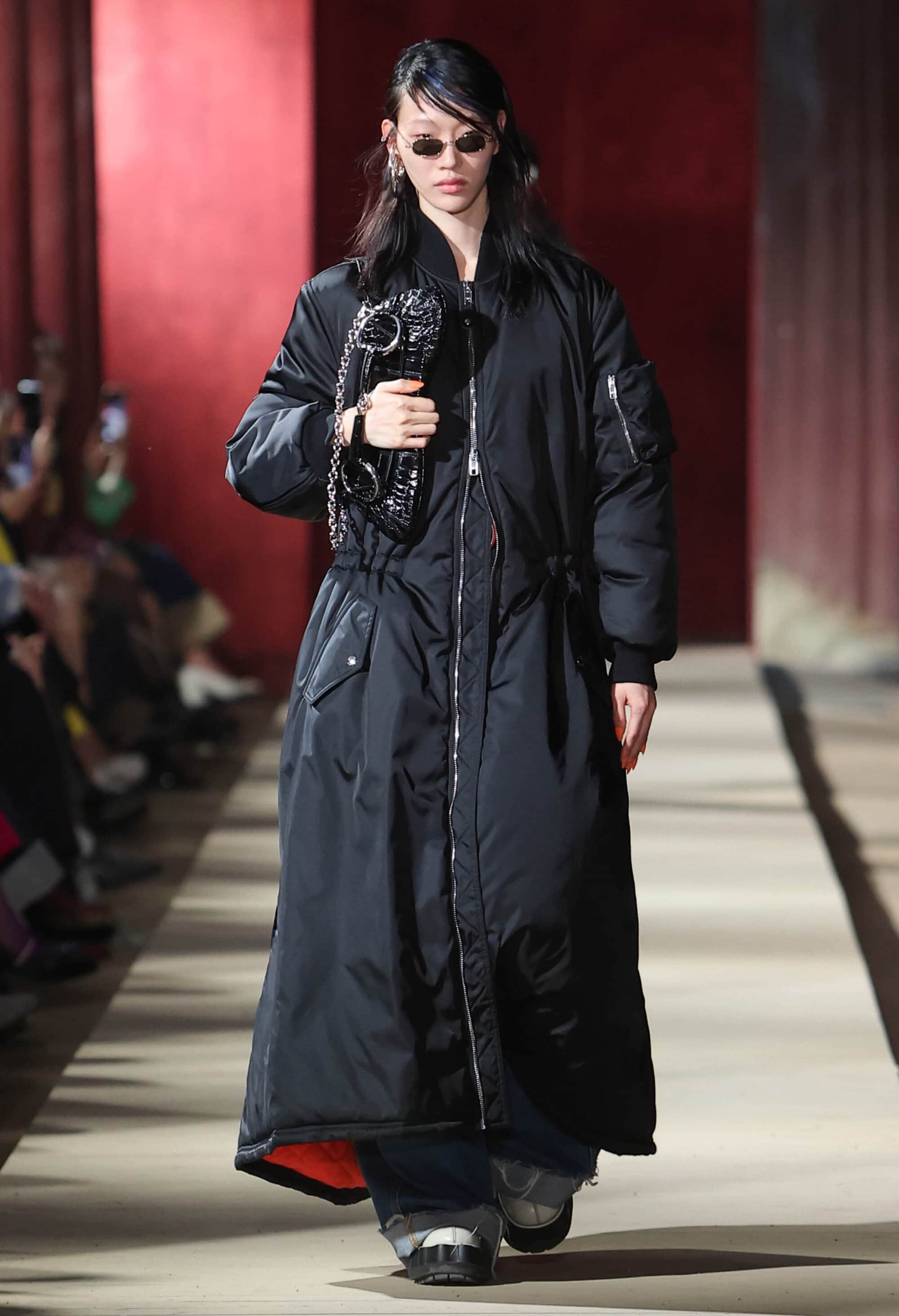 The show marks the latest – and biggest – example of the fashion industry leaning into Seoul's relatively newish status as a global cultural and economic powerhouse.
Just two weeks ago came a similar move from Louis Vuitton when the house staged its Pre-Fall 2023 runway show at the city's Jamsugyo Bridge with a set designed by the director of Squid Game.
Gucci's show was similarly maximalist in terms of making use of the city's architectural marvels and its most famous cultural exports. While hard-boiled locals may feel like a Gucci show at Gyeongbokgung palace, the city's most popular tourist destination and setting for many a postcard and Instagram shoot, is trite and obvious, there's no denying that its breathtaking architecture made for a stunning backdrop, especially when lit up by thousands of lights that twinkled in time to the music.
Speaking of which, the soundtrack formed the production's other surface-level peek into Korean culture – the song was borrowed from Park Chan-wook's Old Boy, the country's most famous film. If you've seen one Korean movie other than Parasite, it's Old Boy – a gritty tale of revenge, murder, and incest. It's an astounding and amazing film, but doesn't have any connection to what Gucci is doing here, aside from being Korean. But again, it made for a spell-binding sensory spectacle.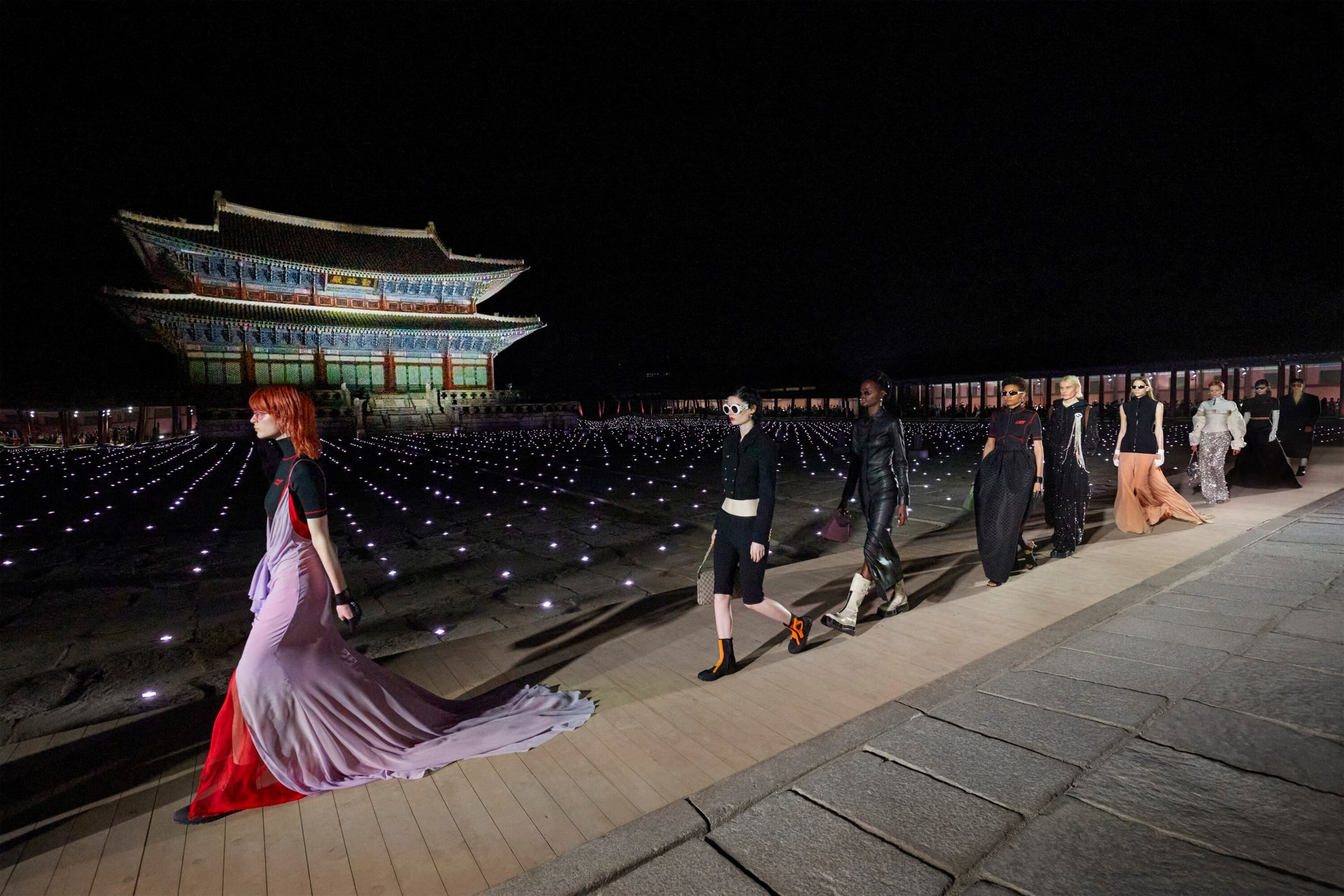 Among the front row was an impressively curated list of celebrity-ambassadors both local and international. K-Pop stars Hanni and IU and Squid Game main man Lee Jung-jae rubbed elbows with out-of-town it-girls like Dakota Johnson, Elizabeth Olsen, and Saoirse Ronan.
All of this pomp and circumstance made it easy to overlook the collection itself. But while the brand is feeling the lack of a single and distinct creative vision (we're four months out from Sabato De Sarno's big debut), it was a solid showing, particularly in the way it incorporated Seoul-isms into the Gucci vocabulary while expanding into a kind of bourgeois eclecticism.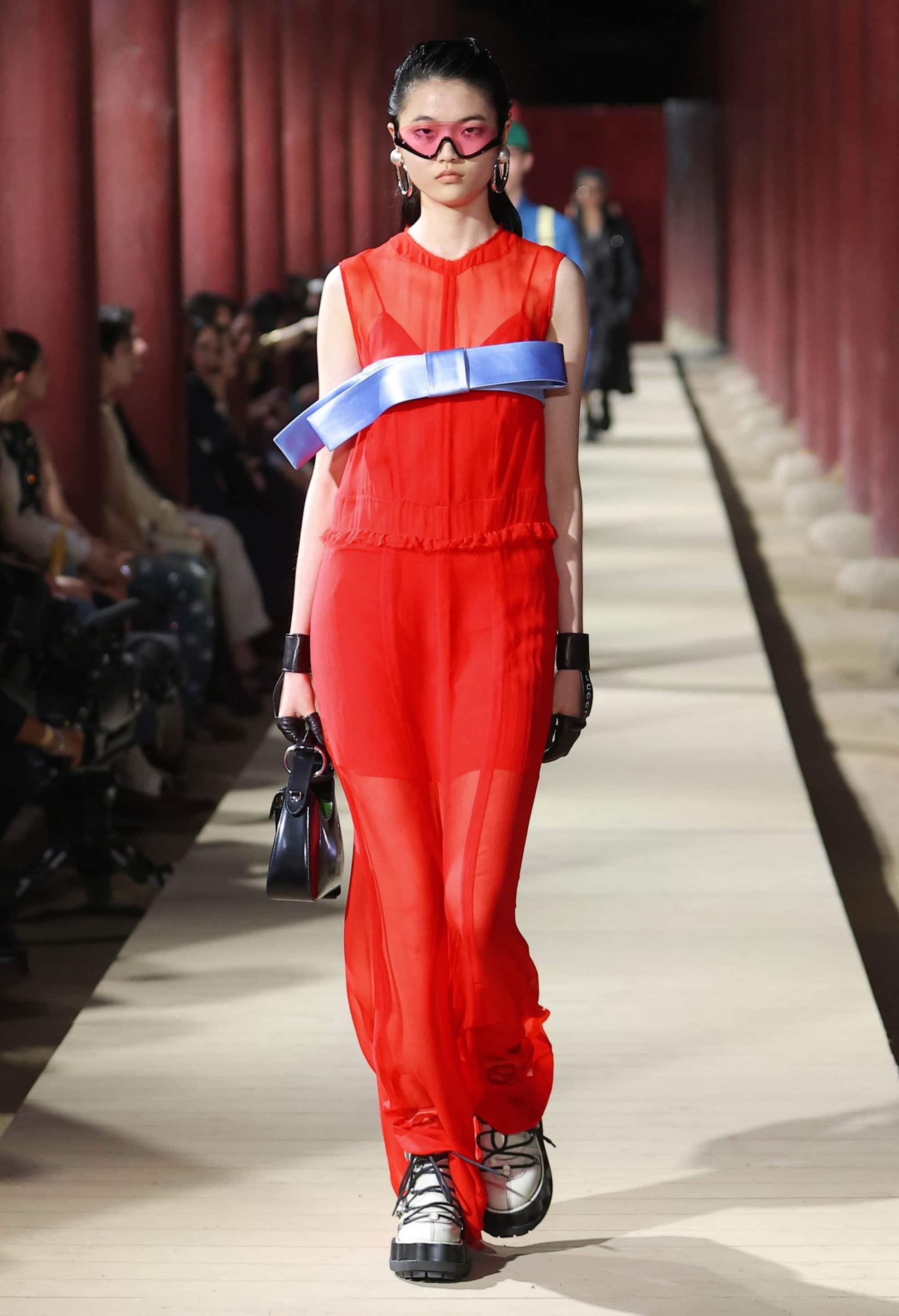 The street-style inclinations of the city's youth (we will not at all be surprised when K-chic replaces Scandi-chic, which in turn has wiggled in alongside Parisian-chic) could be detected in the long, loose silhouettes, low-slung wide pants, ballooning maxi skirts, and idiosyncratic incorporations of sportswear. Gracing a few T-shirts and hoodies and one dress, surreal pop-art illustrations by Seoul-based artist Ram Han were a welcome contemporary touch.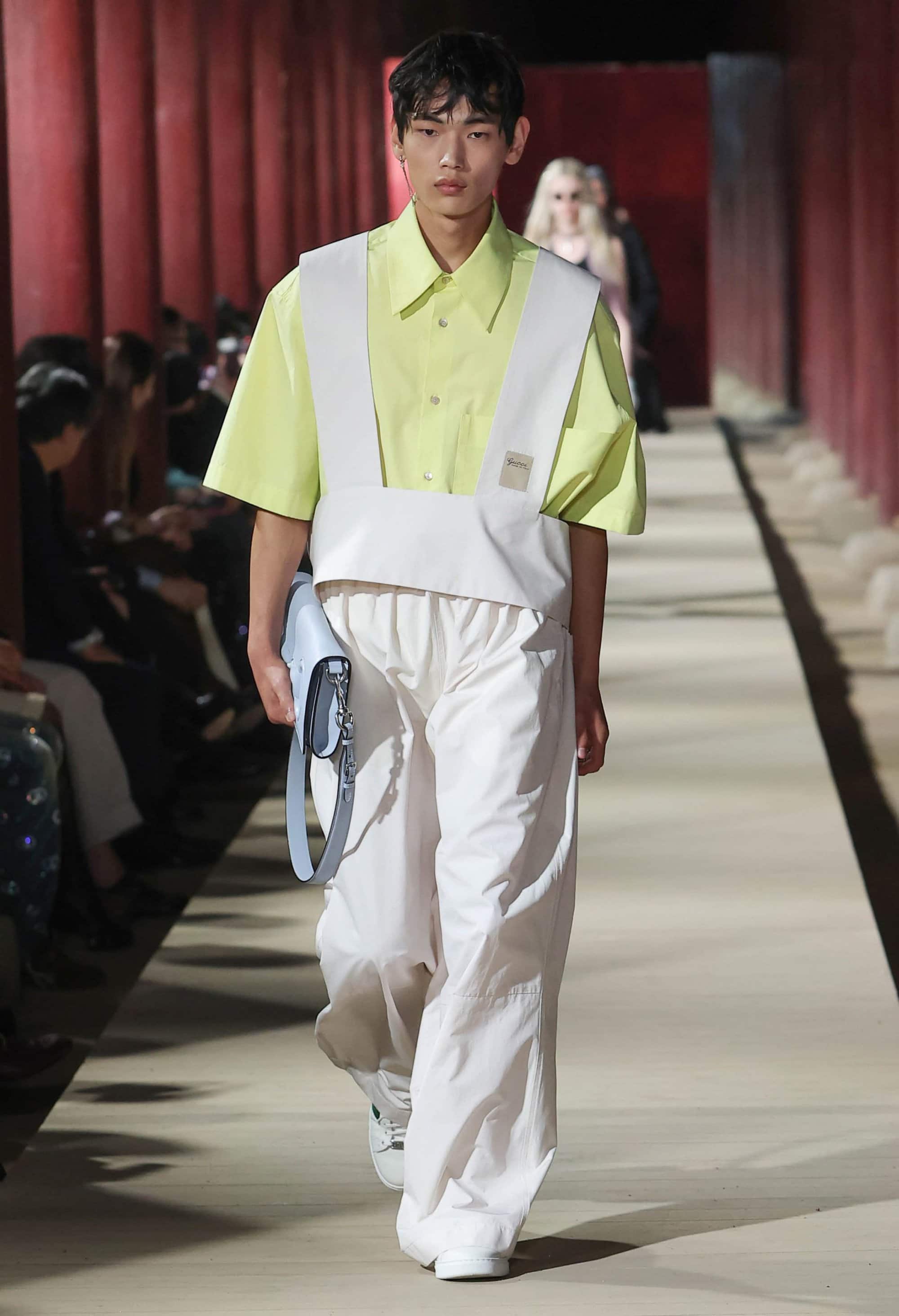 Meanwhile, a few subtle references to more historic modes of Korean dressing could be detected, like the occasional colored silks, skirts gathered and ruffled at the waist, bow closures, and wide sleeves that felt borrowed from hanbok construction.
The long baguette-like bag with oversized horsebit hardware that was a star of the Fall 2023 women's show made a return, alongside more classic Gucci bags, all realized in a range of vibrant colors, leather styles, and even encrusted with rhinestones, echoing the crystalline embellishments that ran throughout the collection as well. Shoes were an interesting mix of stompy boots, classically glam knee-highs, simple open-toed pumps, and funky guys cut from the same cloth as the surf-wear inspired pieces.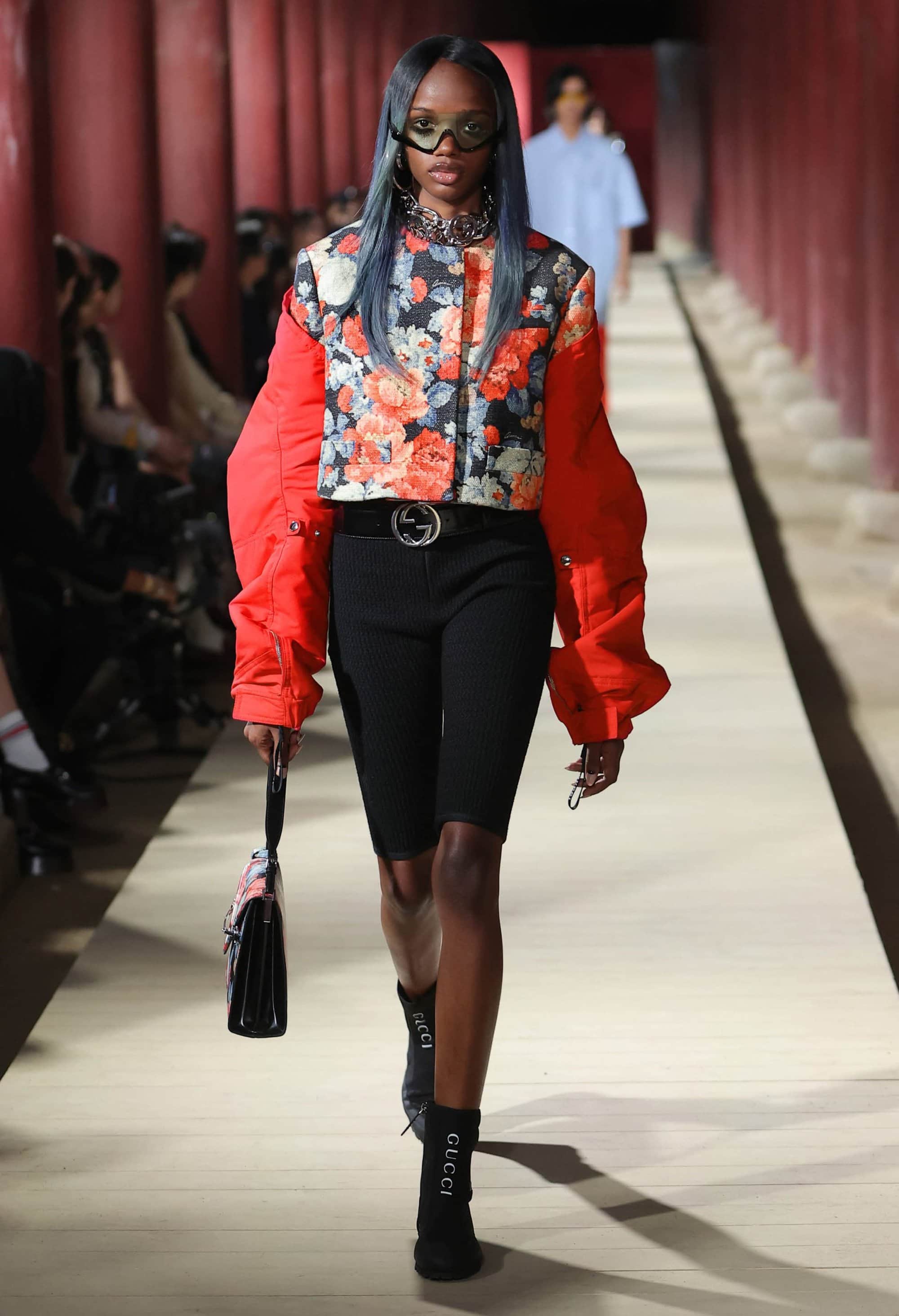 In some places it felt like the design team cast too wide of a net – the experiments with neoprene were cool, but we didn't need a whole bodysuit and surfboard; one look that paired blue overalls with a red shirt could only make us think of Mario; the beanies and flat brims didn't really have a reason to be there.
But for the most part the eclecticism worked, and felt like a fit with the dynamic and multi-faceted character of Seoul itself: rather than trying to squeeze an enormous and varied city into one fashion expression, Gucci expanded its vision to acknowledge Seoul as a complex amalgam that has not just one, but many voices to add to the fashion conversation.
---