Review of Gucci Eyewear Spring 2023 Ad Campaign by Art Director Sarah Jayne Todd and Photographer Brianna Capozzi with models Aubrey Hill, Joakim Seger, Mammina Aker, and Taja Feistner
Gucci sets its sights on the dance floor with a groovy new eyewear campaign for Spring 2023. The campaign was shot by photographer Brianna Capozzi with art direction by Sarah Jane Todd.
Lavish and energetic, Capozzi's imagery finds a cast of eclectic Gucci characters embodying the classic style paradox of wearing sunglasses inside at night. But the laser lights and disco ball – to say nothing about the slick yet glitzy styling – are bright enough that these shades are more than justified. It's a classic Gucci scene, a nightclub full of mirrored surfaces and crystal chandeliers where opulence and sleaze mingle as one.
The accompanying short film further pushed the totally liberated party energy, with an appropriate soundtrack choice in the form of "Disco Choo Choo" by Nightlife Unlimited timing the swirl of colored lights punctuated by polaroid flashes.
It's been an ongoing point of curiosity as to how Gucci would handle its campaigns and communications during the interim period between former creative Alessandro Michele and the incoming Sabato De Sarno (and how they will change after the latter officially takes over), especially since Michele had such a strong signature aesthetic to his campaigns. This campaign feels like a fitting continuation of the vintage-inspired, opulent hedonistic romance of Michele's tenure, but in its nocturnally minimal styling and sense of elevated sleaze we can also detect a strain of Tom Ford's iconic vision for the house.
It's a smart move from Gucci's creative team to move forward by distilling what is most recognizable and resonant from the two most celebrated creative directors of the house's modern era, keeping the party going reminding us that what we love about the brand isn't going anywhere.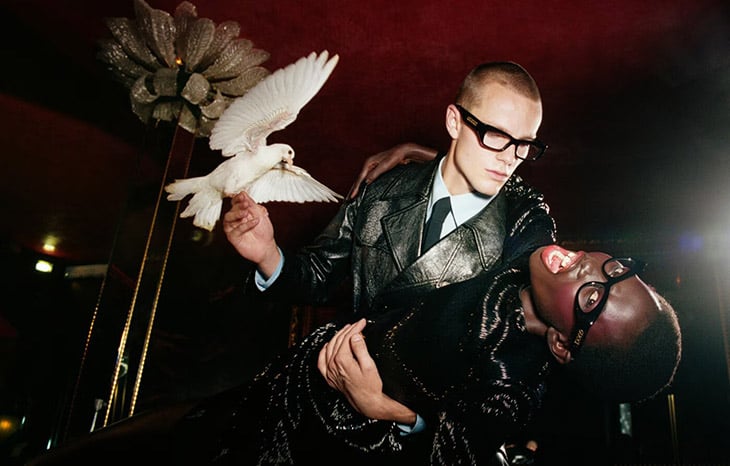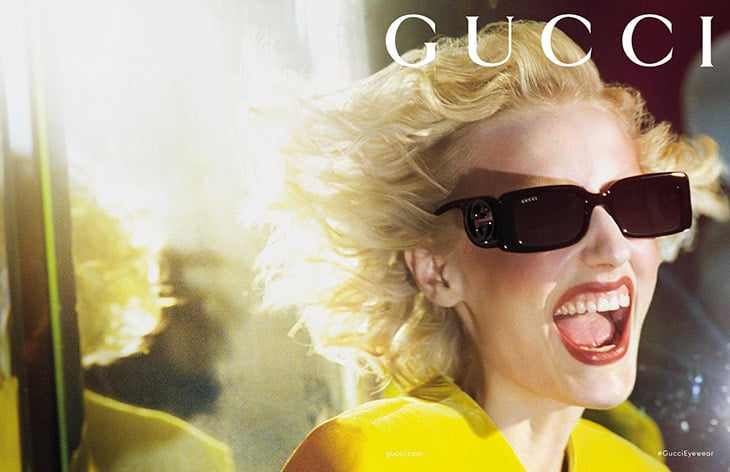 Art Director | Sarah Jayne Todd
Photographer | Brianna Capozzi
Models | Aubrey Hill, Joakim Seger, Mammina Aker, and Taja Feistner
Stylist | Mel Ottenberg
Movement Director | Nick Coutsier
Hair | Cyndia Harvey
Makeup | Thomas De Kluyver
Manicurist | Anatole Rainey
Casting Director | Marianna Rizzi
Set Designer | Emma Roach
Music | "Disco Choo Choo" by Nightlife Unlimited
---