---
Review of Gucci Fall 2023 Men's Fashion Show
Group Think
By Mark Wittmer
While it didn't exude the same moments of surprise and romance that characterized Alessandro Michele's much beloved time at Gucci, the design team that has come to fill the creative director's place since his recent departure delivered a strong collection that took a somewhat quieter approach to explore spontaneity and cooperation in men's dressing.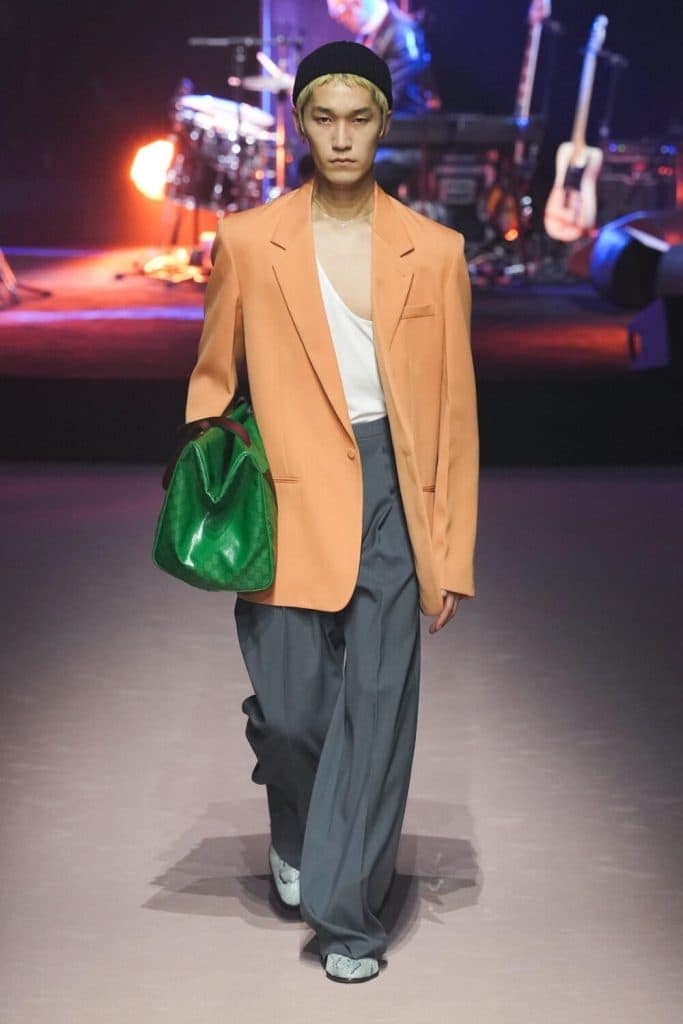 Digging into the house's archives, the team offered a subtly playful romp through the classic gentleman's wardrobe, and landed at something that felt decidedly Gucci yet more accessible and incorporable than what we're used to seeing from the brand.
Throughout the collection, tailoring silhouettes are languid and voluminous, but still pristine. The low-cut scoop-neck shirts worn underneath offer a bit of feminine flair, even as they reveal the collar bones and the curve of the pectorals. Alongside the blazers and great coats – which mix and match lapel lengths and shapes, single or double breastedness, and button style to reference tailoring trends from the 70s through the 90s – classic and casual outerwear pieces like bomber jackets and padded vests appear in delicate pastel hues, while a few statement coats are sure to delight the brand's many street-style devotees.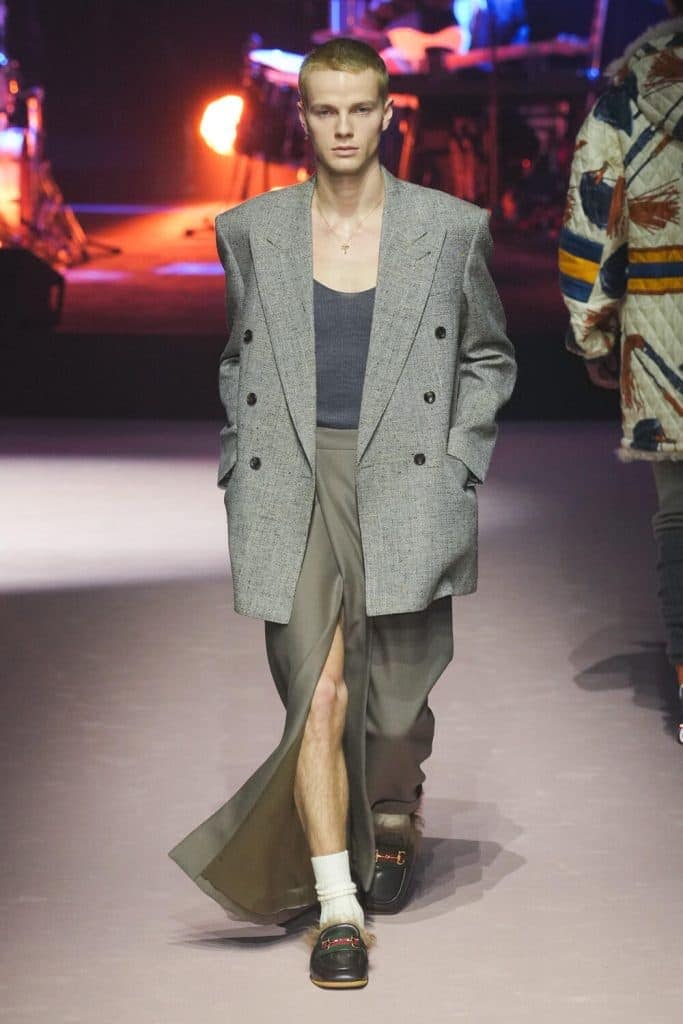 Meanwhile a consideration of moments when workwear and practical-minded pieces become style statements of their own is underway, embodied in motorcycle pants and jackets that reference 2000s archive pieces and fisherman sweaters, with this latter aesthetic being picked up by knit beanies, socks, and even pants. Another naughties revival, faded jeans are rendered in lushly magnified proportions. While these digressions might have felt out of place in a collection that was shooting for cohesion, this collection's thesis of collaboration and improvisational insight means they are a welcome addition. (In this connection, it could have been interesting to see Gucci continue its recent forays into western wear or even kink gear, but it makes sense they opt to reset and keep it clean.)
This idea takes shape within the modular details of individual pieces as well: suits with buttons at the elbows and knees invite their wearer to freestyle and shorten or lengthen their outfit on the fly. The approach reappears on a pair of dropped-crotch boiler suits, one in monogrammed leather and another in semi-sheer satin.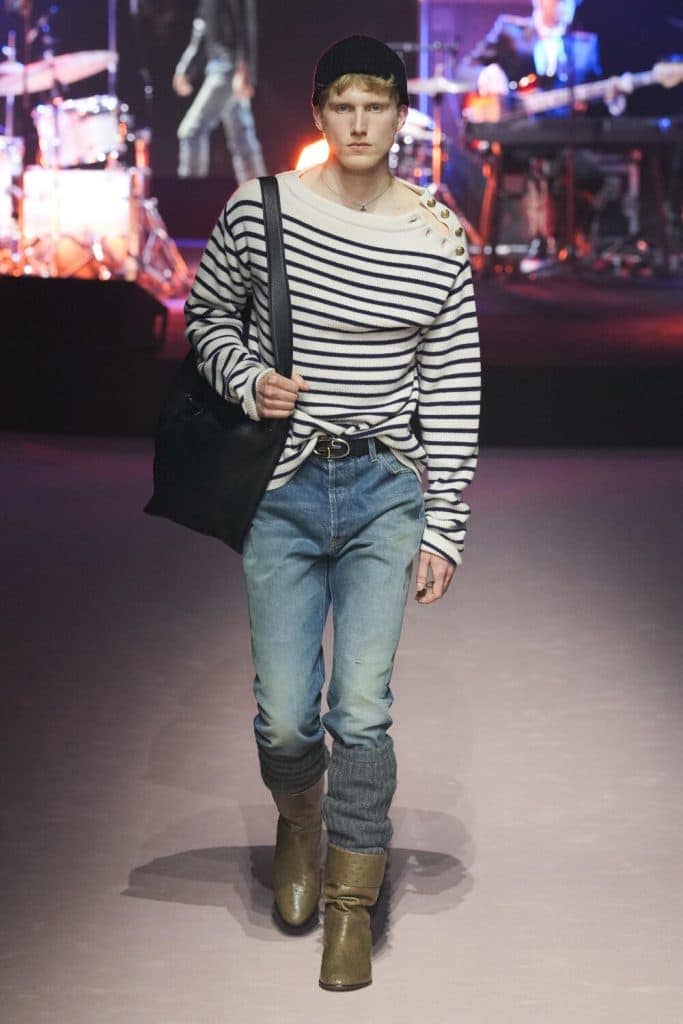 The "FIRENZE MILANO ROMA NEW YORK LONDON" wording on the back of the bomber jackets felt a bit tacky – the kind of thing you see on a souvenir tote bag or the T-shirt of a third grade fashionista. And while they do get a pass from connecting to the fisherman theme, the tiny beanies were also a bit of an eyeroll – we're already seeing guys wear those everywhere; they were a plague on Pitti; does Gucci need to do it too? Nevertheless, it's not a bad commercial play, and it does fit into what feels like a push towards appealing to a wider range of men who might have previously been put off by the flashiness of it all.
Reinterpretations of classic Jackie and Dionysus bags tend towards the slouchy and voluminous, carried with a carefree zest on the hand or over the shoulder. Here the house's latest monogram proposition plays out, a lacquered version of the coated monogram canvas introduced in the 70s and christened Crystal GG in reference to its gem-like sheen.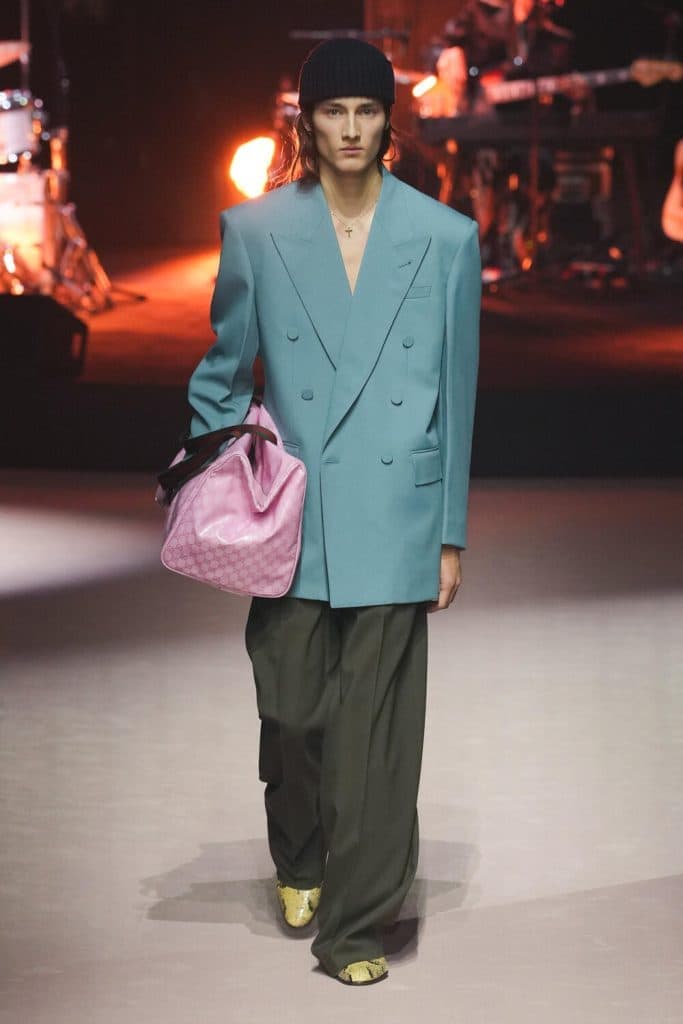 The material also features prominently on sassy round toe ankle boots. Alongside the GG, glammed-up house favorites like sparkly sequins and snakeskin assuage any doubts as to whether this is a Gucci collection.
The collection's spirit of group creativity, of harmony, improvisation, and collaboration, was excellently carried across the show's soundtrack as well, which was played live by Ceramic Dog. Led by one of today's greatest and most inventive guitarists, Marc Ribot, the trio provided a frenetic blues rock onslaught that synthesized a noisy punk spirit with avant-garde jazz chops and skittered into improvisational sections that always came close to flying off the rails, but never did.
It's not surprising that Gucci's creative team would play it safe for their first show under this model of collaborative control; they certainly had big shoes to fill. While it's fair to miss the kind of surprises and singularity of vision that characterized a Gucci collection during the time of its most celebrated creative directors Michele and Tom Ford, looking to the archives and taking a moment of reflection was a strong foundational step. We're looking forward to the next show and excited to see Gucci continue to build from here.
---