Review of Hermès Le Monde d'Hermès Spring 2021 Ad Campaign by Photographer Rafael Pavarotti with Model Amar Akway
Amar Akway stuns in a gorgeous new campaign for Hermès. Photographer Raphael Pavarotti brings his exquisite sense of color to capturing the rising Ethiopian model for the Spring 2021 campaign.
Pavarotti's highly saturated portraits situate Akway against solid blocks of bright, warm colors, emphasizing through contrast the model's striking beauty and dark skin. The effect is bolstered by Jacob K's playfully chic styling, which juxtaposes simple black dresses with gold jewelry and the joyously colorful prints of Hermès' iconic silk scarves.
Pavarotti recently created a similar campaign for Dior's spring men's campaign, where he used flowers and bright colors to celebrate the beauty of his cast of dark-skinned Black men. It's important and exciting to see that old European fashion houses are embracing the changing face of global fashion and working to support a vision of beauty that is honest and inclusive.
A native of Brazil's Amazon rainforest, Pavarotti is doing excellent work to bring Black and indigenous voices and faces into this creative space, and his results speak for themselves. Together with Amar Akway, he has created another beautiful and inspiring vision.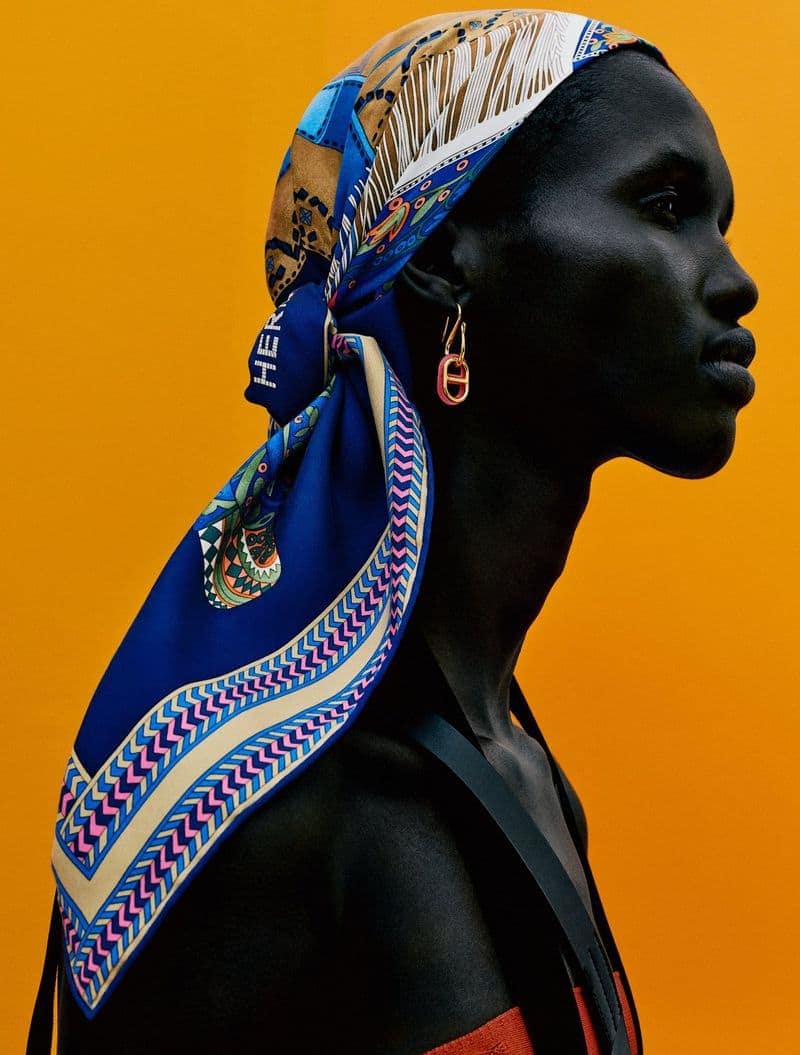 Photographer | Rafael Pavarotti
Model | Amar Akway
Stylist | Jacob K
Hair | Soichi Inagaki
Makeup | Lucy Bridge
Manicurist | Lauren Michelle Pires
Casting Director | Maxime Valentini
Set Designer | Polly Philp
---