---
Review of Hermès "L'Odyssée du Faubourg" Spring 2021 Ad Campaign by Creative Director Fabien Mouillard by Photographer Nathaniel Goldberg with models Amar Akway, Giedre Dukauskaite, and Sang Woo
Hermès unveils a new Spring 2021 campaign which celebrates the unique character of Parisian faubourgs, neighborhoods, or suburbs a little farther away from the city center, across time. Titled "L'Odyssée du Faubourg," the campaign features creative direction from Fabien Mouillard with photography by Nathaniel Goldberg.
The imagery fuses photography and collage to create colliding senses of nostalgia and expectation, stillness and motion, past and present. Goldberg captured his models in street-style photography sporting the new collection. Mouillard then combined this new work with imagery drawn from the archives of famous street photographers Nikos Economopoulos, Bruce Gilden, Valérie Jardin, and Joel Meyerowitz.
The images are masterfully layered together, creating cohesive yet eccentric scenes that have a strong sense of depth and motion. We get a feeling not just for the present existence of the faubourg, but also for all the characters and motion that have come before to make it what it is.
By combining works of the past with a strong vision of the present, Hermès pays tribute to the city and culture that became its home, while positioning itself as the inheritor to this history. It seems like this legacy is in good hands.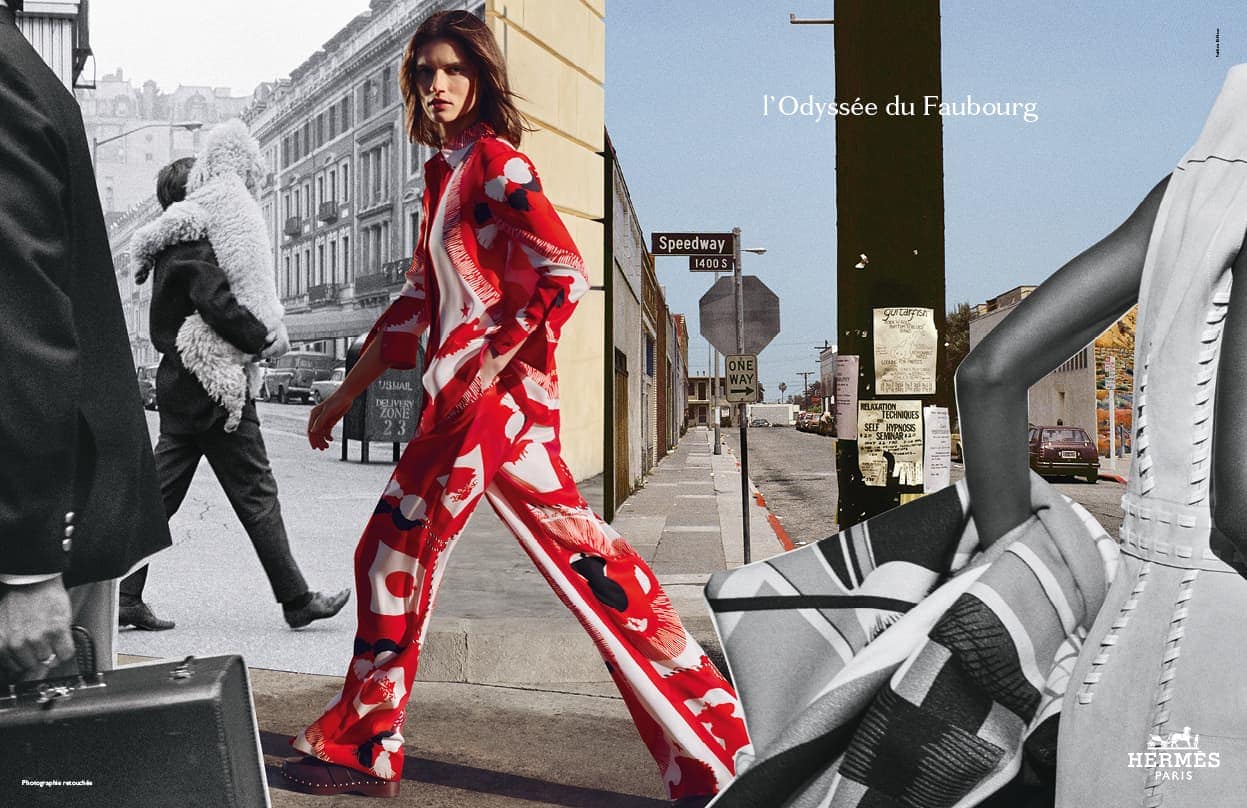 Creative Director | Fabien Mouillard
Photographer | Nathaniel Goldberg with Nikos Economopoulos, Bruce Gilden, Valérie Jardin, and Joel Meyerowitz
Models | Amar Akway, Giedre Dukauskaite, & Sang Woo
Stylist | Elodie David Touboul
Hair | Stephane Lancien
Makeup | Christelle Cocquet
Set Design | Herve Sauvage
---