---
Our interview with FRANCK DURAND, Founder Agency Atelier Franck Durand
Franck Durand is that rare breed of a refined Creative Director with bespoke mannerism who is as comfortable discussing fashion's latest opportunities as he is urban renewal. Founder of Paris-based agency Atelier Franck Durand, Franck has been responsible for developing campaigns for Balmain, Isabel Marant, Anthony Vaccarello, and Giuseppe Zanotti, to name a few, as well as reviving and overseeing Holiday Magazine. A Paris native and father of two with his wife, Emmanuelle Alt, editor-in-chief of 
French Vogue

, Franck has been involved in a diverse range of projects both in and out of fashion. The Impression sat with Franck to chat about how he started, taking on a dormant magazine, the global shopping landscape, urban revival, and cafés.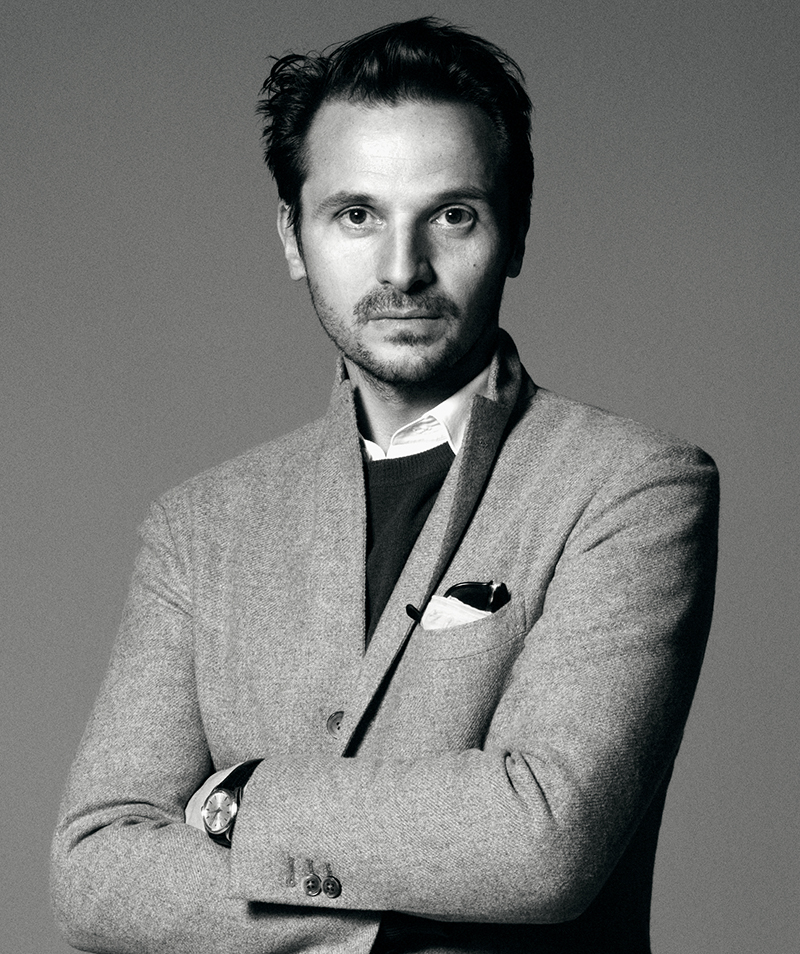 Bonjour Franck. Thank you for doing this interview in English, as my French is criminal and you sound so worldly in English. Please, can you share how you started and came to found the agency?
Thank you for inviting me, this is very nice.
To synthesize, as you say, my journey, I started as an assistant to Marc Ascoli. After that I had a partner and then in 2004 we started the Atelier in its current form. It all happened very naturally and independently and we have been functioning this way since.
As with many things in my path, I launched the Atelier because I didn't fit in any existing pattern.
You started pretty quickly working with the lovely Isabel Marant, how did that all come about?
We reached out and tried to meet for more than a year but it always ended up as rendezvous manqués (a missed opportunity). Finally, Isabel, Nathalie and Sophie were able to come to the studio, and it just started.
Ever since then we have developed a strong collaboration based on trust and regard. I like her work and she likes mine. Isabel gives me lot of space and freedom for propositions. This trust only makes me feel more responsible. I can't even think of disappointing her.
Your agency is a little broader than most, working on campaigns and publications, but also environments. How do you see the role of an agency today?
As I never worked in an agency I wouldn't really know how it works! (Laughs) As far as we are concerned, we have a rather transversal and long-term view.

[quote text_size="small"]
We almost never work just on the campaign. We try and push the brands we work with to claim who they are, in the very best way possible of course. You have to be extremely proactive, not get lost, adapt, perform and be humble at the same time.
Let's talk about publications for a minute. You've been working on Man About Town for a while but also re-launched the American magazine Holiday that ran in the US from 1946 to 1977. What drew you to Holiday and magazine work?
The idea of republishing Holiday came from 2 different ideas. First I had a lot of passion for this magazine for so long. It was so timeless, especially during Franck Zachary's years. To me, it was the most beautiful magazine in the world. Second, I was a bit frustrated by the lack of emotion I felt in front of contemporary press.
I wished to take a stand on fashion, to have it integrated in a whole. The whole being text, image, style, lifestyle with the trip being a pretext.
Ok, have to ask the global question, as the world is smaller but still quite regional in many respects. Do you see a difference in the landscape of creative direction of brands around the world?
Inevitably, this is a question that isn't just about the fashion industry. Everyone is over-connected nowadays and nothing escapes anyone. Fortunately today, we all have the same information, but with very distinct interpretations.
But the excesses are too much and need to be corrected. Sadly there has been a move toward uniformism that happened in the last decade. I'm mainly referring to stores. Now this is something I really hope will be corrected. When someone visits New York, they don't want to see the same propositions, the same row of stores that are in Paris or Tokyo. We are actually working on this idea with our project Village Boileau in Paris.
What is the Village Boileau?
It is a series of shops in sixteenth arrondissement of Paris that we are developing. It is very exciting and has a distinct feel.
So outside of shops all being the same from country to country, what do you see as the biggest changes to the industry today?
The biggest change of all is obviously how we access information. How we access it so fully and quickly. So now the question isn't how to access the information but which information we choose to privilegiate (search).
There can be, and this is my choice, a will to control this over-saturation of information. The only subscription I have is to The Worlds of Interiors.
I see a trend between interiors and the shops, outside of fashion what excites you?
Oh I am passionate about so many things! It is our nature as creatives no? I am crazy about urbanism, architecture, environment, cars, and politics… I like when things accelerate, embellish, improve… I like restoration as much as innovation.
So what is next for you and the agency?
We are working on two new big projects which are interconnected. We are opening of the first Holiday Café in the soon to be Village Boileau. The area is a bit neglected and we want to revive it. As time goes by we will have additions with different contributors, working with the exigency of a lifestyle "a la française." But we will begin with the opening of the Café, at the 192 Avenue de Versailles, which is at the moment totally squalid… And of course, there is the Holiday n°375, the 'Japan Issue,' soon to be released!
Franck, again thanks for taking the time to speak and really looking forward to visiting the café and catching the next Holiday issue.
You are welcome and thank you!
---
---