By Kenneth Richard
Ask around for the next creative fashion agency to watch and one name will be on everyone's short list, Saturday Group, promptly followed by a resounding 'I love those guys!'
'Those guys' are charming co-founders Jens Grede and Erik Torstensson, who met while cutting their teeth at Wallpaper* during the magazine's heyday. Armed with the passion and naiveté that comes with being in their early 20's, the Swedish duo set out on their own in 2003 to launch their London-based creative agency. While building their client base the pair also became editors-in-chief of fashion magazine Man About Town, which led Grede and Torstensson to become publishers themselves, launching a biannual publication geared at the fashion industry aptly titled Industrie magazine.
As the agency grew to take on clients such as Kurt Geiger and H&M, the duo found themselves looking to go further than any creative agency has before – by jumping to the other side and creating their own apparel line, Frame Denim, in 2012. 
The brand gave them an opportunity to understand the point of view of their clients firsthand and, with their marketing acumen, has turned into one of premium denim's hottest global brands.
True to their passion of building a world-class creative agency, the pair launched a New York office a few years ago and spends the lion-share of their energies devoted to servicing their agency as well as the growing roster of clients including Calvin Klein, Net-a-Porter, Cole Haan, and Theory, to name a few.
The Impression sat with the dynamic duo over coffee to chat about their days at Wallpaper*, the trials and tribulations of venturing out on their own, publishing, embracing digital, management, ads with no clothes, Tony Bennett and carving out a niche.

[hr align="center" weight="thin" style="line"]
Erik and Jens, excited to chat and catch-up. Been looking forward to hearing your tale for a while now so thanks for sitting down with me. Mid researching I stopped to think 'Wait, these guys founded Industrie Magazine!? Here we are doing industry profiles, are they going to slap me?'
Erik pulls out his iPhone and holds up as a tape recorder: So for our Industrie readers, just how did you get started? (Laughs)
Jens: (Laughs) The worst is to interview someone who likes to interview you.
Thanks for being so cool about it. So you two started working together at Tyler Brule's agency Wink Media. It was a pretty unique agency, as I recall, and it did branding as well as concepts. There was this super modern car wash in Atlanta that the agency did that really stuck with me.
Erik: Yeah, Sky Car Wash. There was a guy in Atlanta that was obsessed with Wallpaper Magazine and Tyler Brule. He wanted a car wash that looked like Wallpaper Magazine.
Jens: It was really funky.
Erik: We had a lot of those projects because a lot of people were obsessed with the magazine.
Jens: People were fans of it because Tyler had an aesthetic and a point of view that was very specific at that time. The job was to apply that look and feel to anything – whether it be a car wash, an airline, building a brand, or a fast food restaurant. People were a fan of that point of view and that's what that business was about.
So, did that Wink Media experience set a foundation for how you look at the industry?
Erik: No, because Wink was a branding agency. Their biggest claim to fame was the redesign of Swiss Air into Swiss, which doesn't necessarily have to do with the fashion industry but is a lifestyle. Wink was a short period in our lives and we were both very young. The best thing it did was bring Jens and I together.
In a sense, it gave us an entrepreneurial feeling – that as young people, you get the chance to do crazy stuff there. But it had nothing to do with the fashion industry per se. We actually left because we wanted to interact more with the fashion industry. It was quite corporate, actually.
Jens: It was amazing. It was an important time for that taste. It was an interesting era to have had a small part in, which we did for several years. What Tyler did, his point of view, today you find a bit of everywhere. That design-oriented lifestyle, you can now find it in Sunday supplements, on blogs, in a hundred magazines. But what he was really doing was he was making a design-driven urban lifestyle accessible to a wider audience. He commercialized it, I would say. I'm very glad we were a part of it.
Erik: It was amazing. It was an important time for that taste. Which wasn't necessarily our taste.
Jens: You learn things like how to treat the world like one big market. You also learn not to think, "Oh I live in London so who do I work with here?" Tyler treated the world as if Tokyo and Buenos Aires was right around the corner. Together with the entrepreneurialism that Erik mentioned, these were important things that Tyler gave us – to view the world as just one big place and that it's about finding people to work with you, wherever they are.
So then the two of you decided you wanted to get involved in fashion. What happened next?
Erik: We first decided to work together while we were at an agency, very young and not very senior. We were 23 when we decided it was time to make our next move. We knew that we had become best friends and that we worked well together because we started to do more projects together within the agency. Also, we both wanted to work in New York. So, we went to New York to look for work from all the usual suspects. We didn't get any work. So we thought if they aren't going to give it to us, then we are going to make it ourselves.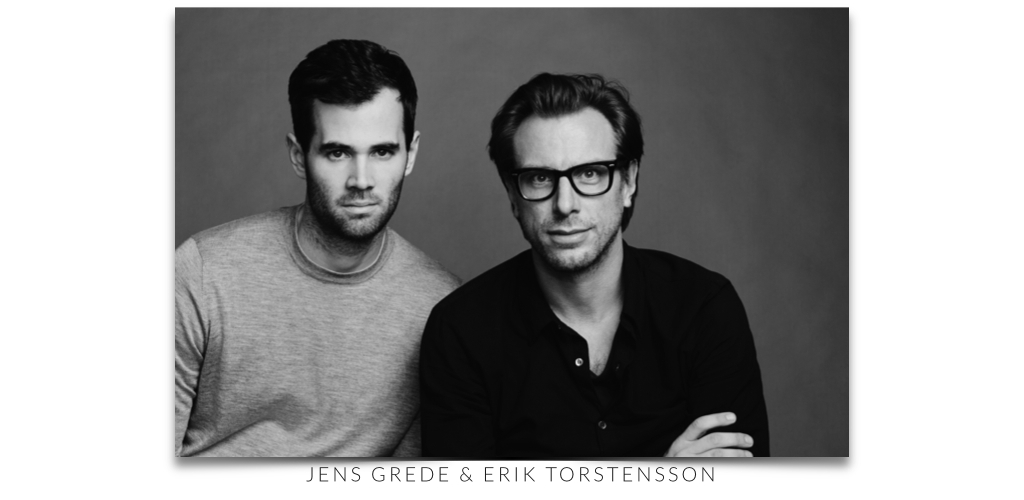 Bet they are cursing that decision now.
Erik: Maybe! (laughs) Our book went out to all the usual suspects. We didn't know that much about New York and that industry at all, but even so, we decided then to do it ourselves. We went back to London and made our plan. We didn't have a huge plan at the time, but we knew we wanted to interact in the fashion industry and do great creative work and have fun while doing it.
Jens: Yeah, we knew we wanted to be a fashion-focused advertising agency and that existed in New York predominantly. Every generation does things their own way and all the players that we looked up to and wanted to be like, they were doing very well. We admired them but over time, we realized we needed to do it our way.
Erik: We wanted to be independent and do great work. We knew we had to pay our dues and it takes time. We started and set up our agency at the age of 24. There was no magic to it. We had to work, then get better clients, then work some more, make more money, employ people, then get better work again, and off you go. It was important for us to work and pay our dues.
Who were your first clients at the Saturday Group?
Erik: Our very first client was Liberty of London.
Jens: Then it was Bally and Kurt Geiger.
Erik: Kurt Geiger ads were the concept that is still applied a lot when you have to do shoes. A face and a shoe! Two different pictures: portrait and a product. (Laughs)
Jens: Now when I look back at it, it looks very naïve. But you have to put it into the context of how young we were at the time.
Erik: And that we had the mentor in this territory. We were good at branding. We didn't work for Fabien or for Richard Avedon. We didn't have that training, our training was with Tyler and that was 'See the world, impress the world with cool branding and attract them to a lifestyle.' It was very different.
And of course this was all with very little budget, I imagine.
Erik: Of course! You have to think who would choose to work with 24-year olds. Those that made that decision did it in part because they had no money. It's the only reason to ever take that chance.
Jens: When you start a company, there are two people who attempt to work with you. The ones who have no budget or the people who like to control every aspect and need you to execute what they are thinking. You can't go off to Fabien or Trey and tell them how to do things. So being young at time, they just needed someone they can fire if it doesn't come out the way they thought it should. These are the two types and we had our fair share of them.
Jens: Yes! And you have to work harder, and be nicer. It's tough when you first set out. I have to say that Kurt Geiger was one of our very first clients and is today still our client, which we are very proud of.
Jens: They've grown for sure. In the beginning I think it was more financial driven, rather than I dream of working with these guys.
Erik: No one dreamt of that.
Jens: Now 11 or 12 years later, we have people who want to work with us for what we do and our point of view. At the time, if you had half a million to a million dollars to spend in production, you're not going to give it to us. So we had to make a lot with little money.
Let's talk about that point of view. Can you put that into words?
Jens: I think there's a multitude of answers. If I had to put it into words, I think we rarely strive to be decorative for no reason, nor do we strive to be impersonal.
Erik: We don't want a house aesthetic because we have several creative directors working in our agency with slightly different aesthetics. This means the agency is doing the best job for that individual product. I think there are two different parts to this. One is our personal aesthetic that can be seen in a sliding scale applied to the products we do like the magazine or Frame, which are our own brands. Then there are times when our personal aesthetic and the client's relevant aesthetic sync up and you can see the harmony. That's like Mr. Porter, Calvin Klein, H&M and Theory right now. Then, it's a sliding scale from what our personal aesthetic is but what's right for that project. For instance, the furniture I have in my house is probably different from the furniture in, say, Tory Burch's house. However, we appreciate her aesthetic because that's right for her world and our job is to help her make her world better if we can, within her aesthetic.
Jens: There are two things that we absolutely do but they might not sound so sexy when we say them. We are purpose driven and pragmatic.
There are two types of agencies. Normally, in fashion, you either have agencies with one aesthetic that they apply to everything. The clients that come to the door want your aesthetic on their products. That's the name of the game. Those creative directors get a fair amount of fame for it because it is identifiable. It's a touch.
On the other hand, there are the traditional ad agencies that are problem solvers and purpose driven. The name of the game is not to apply their agency's aesthetic, but to make the product more famous. To find what is true within the client's company and amplify that. Graphics and pictures are a part of that, but it's not necessarily the whole story. The best solution is not always the solution that is most rewarding from an egotistical point of view.
For instance, Cos, a part of H&M, came to us and wanted us to focus on advertising and we said we should absolutely not advertise because they were opening ten doors per country and the advertising cost will be through the roof. So they were not going to be able to see the customers coming through the door to recoup those costs.
We shifted our focus instead to convert everyone coming through the door into a fan of their brand. Then we needed to educate the staff in the store that they are not just working at H&M, they are working for a brand with a point of view.
That is symbolic of the attitude Erik and I have towards most clients we work with. We look at the purpose of the assignment and we focus on being pragmatic because aesthetically, we work with the core of the company from the beginning. What we do is amplify what's already there. We lift it up and do more of it.
You guys have grown dramatically. Were there any surprises along the way that you didn't expect?
Jens: I don't think it was predictable. For everything we got right, we got a hell of a lot wrong.
Erik and I talked about this before, how every generation has to do things their own way. The table is already full with people who did it their way and the generation older than us is still there. They are very successful and will be at the table for another 20 years. There is no room at their table, so we needed to set up our own table. In doing so, we were forced to take risks and try new things. Some of it worked out very well, which was fortunate, and some of it didn't work out all. We've never been scared of taking risks and trying things.
Where do you think it worked?
Erik: Digital. We cared about digital right away.
When you are at the table already and you are doing well, you don't necessarily have to care about things that you don't want to.
Early on, we actively decided we are going to care about digital, learn about it and get good at it. That's why we set up a separate digital agency.
At the time, the fashion industry was not ready to have one agency that did everything because in their minds, digital was only e-commerce. We set up the digital agency, Wednesday Group. Now we have put them together because the industry is ready to understand that it's all integrated. Our decision to embrace, learn and be good at digital was essential to the success of the agency. It was also the backdoor towards working with some amazing brands that we would have never been invited into usually. Many designer brands don't need a creative director to tell them which model to use in the picture as they are very good creative directors themselves. They can imagine the seasonal campaigns, but when you need to communicate in a more complex way, through a wide variety of channels, an agency is very much needed.
[quote text_size="small" author=]
Many designer brands don't need a creative director to tell them which model to use in the picture as they are very good creative directors themselves.
Through that, and through building their online flagship stores that, from a CEO'S point of view, makes money as opposed to marketing, which spends money, we managed to interact very quickly.
So around 2009 all these amazing brands, with whom we may not have been able to talk to before, invited us to talk.
Jens: Balenciaga to McQueen and so on.
Right, and Mr. Porter, which was a project we came up with. These were projects that unlocked other projects and opportunities and so forth. Digital, to the top of the food chain is important, and because digital to a lot of people meant just having an e-commerce website, digital was not thought of in a bigger way.
We saw the opportunity to do more with digital and wanted to do it all. So we did it all for a lot of people. Our mentality was that digital was just as important as billboards, which is why we were very successful.
Jens: Erik and I both learned coding HTML and Flash when we were 16 years old because of curiosity. Don't get me wrong, we aren't programmers, it is just evident of our personalities to learn new things. We also aren't digitally native, we are just more technologically savvy than the generation above us. We have more of an innate understanding of the audience.
[quote text_size="small" author=]
The last 4 years have been transformative in that we realized we have to go off the pedestal and find the audience to interact with them and give them something.
This brings us to the magic box. The generation above us used to provide the 'magic box,' putting objects on a pedestal that everyone's going to aspire to. If that object was good enough up there, the audience was going to find it and buy it. The last 4 years have been transformative in that we realized we have to go off the pedestal and find the audience to interact with them and give them something. It isn't enough to simply build a church, you now have to go down to the assembly and preach.
Even to this day, many of our competitors don't do that. But we do and I think as a result, which I'm really proud of, there hasn't been anyone from our generation that has managed to establish themselves quite in the way that we have in the last 10 years. Since I came into the business, it's the same set of guys that we compete with. If we tried to do what they did, because so many of them do phenomenal jobs, it wouldn't have worked.
We did this men's biannual magazine called Man About Town that Erik and I were the editors of. We shot with some good people. But, we knew we could never do a good enough men's magazine because men's fashion isn't that exciting.
Also there were a number of great men's bi-annuals out there. They were shooting with the biggest photographers, so we were just a 'me-too' publication. When we realized that is when we went to Net-a-Porter and pitched the idea of Mr. Porter.
Then we closed down Man About Town and we started another magazine called Industrie. I remember a conversation when conceptualizing Industrie because we are fans of the industry we are in and we said, "Why don't we just say we are for the industry? Why do this magazine and credit products that no one who reads the magazine is ever going to go out and buy?" We are fans of the industry we are in so instead of trying to do what these guys are doing, when it is only read by the industry anyway, we just did away with credits because we are not a political player and can work with anyone. So that's what we did and that was a risk. We couldn't even get someone to shoot an interesting cover, so we took a stock image of Anna Wintour and put it on the cover. We then wrote this big piece about how editors are our new cover stars. So we stuck our neck out and I think ultimately that worked out very well.
Erik: It was very 'guerilla.'

Were there surprises going into publishing that you didn't expect?
Jens: No, we were aware of how little money we would make. (Laughs)
Erik: It's not a viable business. We had been involved in publishing for a long time, consulting for Vogue, GQ Style and with Man About Town. Industrie isn't a big organization.
There must have been some perks …
Erik: The perks are the creative reward. For clients, we need to do what's best for them, but with Industrie we have this platform to explore and do whatever we want.
Sometimes it worked out to be commercially great too and we would meet someone through the publication and then we started working with them, but that was never the plan. The plan was just to stay excited and to do great work. Industrie is very personal in that sense.
Jens: I don't think you can go into anything in life thinking that this is going to be the root of something else. You have to go in thinking, "I'm going to do this because this is what I want to do and I'm going to do a really great job at it". We've been really in the forefront with the interaction between e-commerce content and advertising, that cross-section, and we helped a lot of brands in the content space. Industrie gave us credibility and showed brands that it was a good option to work with us.
[quote text_size="small" author=]
We're involved with a lot of businesses but in those cases it is really that we believed in an individual who we think is great and very talented and decided to give them the finance and the structure for them to do a good job.
Let's talk about that work. Are you ever sitting still and what does it involve?
Erik: No, we are never standing still. But we are actually doing less things than before as we have focused our attention on our day-to-day job of running the agency in New York and in London. We focus on doing the best jobs for our clients and that job is very, very exciting.
We're very excited about our agency in America because the agency here is young and still growing. The only challenge is to find enough great people to work there. We also have Frame, our denim brand that we launched a few years ago. We like to take chances and to put our money where our mouth is. We've had opportunities to work with incredible brands around the world and it has been an honor to do so, we love that. But when you have your own brand, you learn a lot and it becomes very exciting because you put everything into play that you have been preaching for so many years and see if it actually works. Luckily it does! (Laughs)
t's a very exciting time for us. It's like when we started at magazines, first we used to be art directors but then we didn't think that was enough because we couldn't get our voice across enough so we became editors-in-chief. It's the same type of thing here.
We can do the marketing campaign, marketing strategies, the e-comm and help, but what if we could also have a hand in the product, in the retail strategy and everything that goes around that could we actually impact for success.
Knock on wood, but so far, Frame has been successful creatively and business-wise. I think there's sort of a misconception out there that Erik and I run around out there doing all these things but that isn't the case.
For a lot of the different companies that we are involved in, we can actually be found as passive. Even when you look at Frame, where we are really involved creatively, these are organizations and they run themselves. People drive to work in LA every morning and work for Frame, which is their life and they do it because they love what they do, and it has to be that way. Then we can come and give direction and marketing but it's their company, they do it and we have partners in each company. That's kind of the model that we have everywhere except for the agency, where we are also the operators.
Erik: But even there we are an organization. We aren't a creative agency built around supporting the creative vision of one creative talent. We have an agency that is not just based in New York. We have a CEO, a president, creative directors, associate creative directors and have the same in London. There's a bigger organization and our ambition is to have more of them. It's our day-to-day job to run the business with them but it's not just a one-man band. We're like a football team.
[quote text_size="small" author=]
What's next and what excites us, since our agency has been growing and becoming more successful, is not to do something totally different but how we can do the same things even better.
Jens: That is what keeps me up late at night, how we do this better. It's one thing when you do a couple of jeans and another thing when you're in a thousand stores and you have a full collection and the stakes are higher and people look at you very differently. We've realized that if we want to play at this level, we have to be ready to play. That is what keeps me up at night and I think it's the same for the agency.
Erik: It is very much the same for the agency. There as you grow and you get more business and the deeper you go with the clients, you don't just do six pictures with them and then off you go. You have to perform as they work on their brand every day and when we come in we have to give them something that they can't get anywhere else. You have to be a star athlete and that means your whole team has to be full of star athletes. The term 'athletes' is a good one to use because we like to behave like athletes and we are in training everyday. Then we go to the presentation and execution phase where we have to perform and we have to have a lot of good performances with our organization. This is challenging and exciting because we need to have a lot of talent, we need to raise, train and find superstars for our organization.
Jens: There's something to be said about doing something good and there's a great amount of satisfaction in doing something different.
We were just walking up Lafayette Street around the corner here in Manhattan and we just created a new identity for Theory and also the campaign that goes with it, which is on a billboard on Lafayette. We shot with David Sims and the campaign is image driven and less about the clothes.
Erik convinced Andrew Rosen, who really respects and knows clothes, to run advertising without focusing on showing clothes. For someone who comes from such a strong product background and who doesn't believe so much in advertising, that's a tough pitch. In our view, we felt that we needed to put the personality into Theory rather than to show more clothes. All they do is show clothes, and everyone knows how great their clothes are. That was the first time that we had convinced someone to run advertising without showing clothes and we did it because it was the right thing for the brand.
I felt a sense of achievement because it is right. I also feel that satisfaction whether it's Bieber or Lady Gaga or whatever else we suggest that helps a brand make a cultural impact.
So this sense of satisfaction is when you know you are doing the right thing when selling the brand?
Jens: In this specific case, yes. Every case is different. In the case of Theory, they do so many things well, but we felt that they didn't show personality and emotion. If that's the case, the achievement isn't necessarily to become more structured. There's other clients that we have in which it would be a very bad idea to not focus on clothes and just show a face.
Erik: In order to sell a bikini you have to show it. Here, the idea was to go and show portraits and not fashion pictures, for example. Theory was lacking the emotional basics in fashion and they were lacking in emotions so we had to help them sort of reboot and start showing these emotions. Otherwise people don't care if you don't build a connection.
Jens: For example, H&M is a great example. We did the campaign with Tony Bennett and Lady Gaga and success for H&M is when two billion people in this world get excited about Christmas and they think of H&M as a destination to shop during that time. Awareness is the game. One world, one market and creating a water cooler moment that can have global impact. You can ask anyone from Cincinnati to Soho and they know Lady Gaga. That's success and an achievement.
In Theory's case, it was about emotions and is much softer so you have to measure success based on that. Lady Gaga and Tony Bennett would be a totally bad idea even if they did it for a dollar because this is not what the company needs or what their audience is looking for. There are different ways to success but when you make it, there is a great deal of satisfaction.
Well, here's to hoping you and the brands you help continue to feel satisfied. Thanks for the coffee and sitting down to chat.
Jens: You're welcome.
Erik: Thanks, Kenneth. We'll have to do it again some time.
[hr align="center" style="striped"]