JEREMY SCOTT'S Trek to the Top
BY CONSTANCE C.R. WHITE
Jeremy Scott is calling from Los Angeles. He sounds remarkably unhurried and focused for someone who has just spent several days in Milan presenting the Moschino Men's collection, then flew home to the City of Angels and, with about just three weeks total to finish his own namesake line, is working with designer Alexis Bittar on jewelry. He then has to take it all to New York for his runway show. And, as always, he said, he stands ready for any last-minute request from one of "his girls," the several musical stars he dresses on and off stage.
Because, what do you do if Madonna calls? You get busy, that's what.
Stars like Madge, Katy Perry, Miley Cyrus and male entertainers like A$AP Rocky and Jaden Smith gravitate to Scott's kaleidoscope of colors and the happy street references that are his signature. An impoverished kid from Kansas, Scott found his own ruby slippers in his affinity for pop culture. There's no one else with a brand like Scott's in high fashion. Moschino recognized this when they hired him to take the creative reins at the company created by the late Italian Franco Moschino, king of the design bon mot.
Creating a world that's a polyglot of cultures, hues and real-time references has drawn customers in. You'll know a Scott design by its cheeky, subversive upbeat-ness. It's what would happen if a 10-year-old's head was grafted onto a 30-year-old fashion school graduate's body. The cartoony vibes fly high and fast. As Scott put it, "Karl [Lagerfeld] said to me once, 'There was a world before pop culture, you know?' But I didn't know about those. The only culture I knew growing up was pop culture."
The Impression spoke exclusively with Scott about the creative process for two brands, starting out as a designer, and the role of SoulCycle in his life.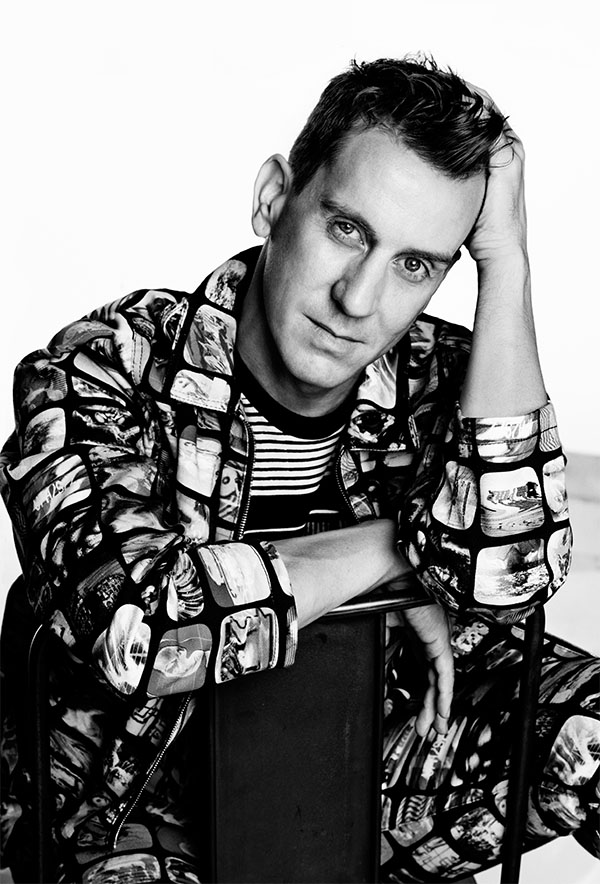 Where does design start for you? You've been successful with references to pop culture including cartoons or hip-hop. It comes through as very fresh.
I don't start with fabric. I see things in iconography, whether it's a stop sign, Madonna or Mickey Mouse. A stop sign, that's iconography we walk past every day. Sometimes something we walk past every day just starts speaking to me very loudly. Whether it's Mickey Mouse or working on something for Madonna, the approach is the same. I'm twisting that icon.
I love working on icons in all capacities because there's a familiarity when you see that icon. It's like the difference between running into a friend or walking past a stranger on the street. I'm twisting and pushing it and it's likely that I can push it more and you will accept it more because you're already familiar with it.
Where did your love of color and that ability to work with color come from?
I don't know. I never thought of it before. I love the way colors have vibrations. They're another tool to tell a story. Maybe I just have a more intense relationship with the way I express my inner emotions outward with my work.
You started showing Men's with Women's on the runway before a lot of people were doing it. Now it's becoming more popular. How did that evolve?
I really live the life I design. I love those clothes. I wear those clothes. I really have a lot of personal love invested in menswear. But I think it started because I noticed people were buying my clothes intended for women. Then I kind of thought, why don't I be full-on about it. There are also times when a girl wants to wear something more masculine. It has obviously always been easier for women to wear men's clothes, it has been more socially acceptable, at least historically. But having clothes that are not gender-specific…that's the world I imagine we should be living in.
How do you keep your collection and the Moschino brand separate in your design approach?
I don't have a formula, but I think of the Jeremy Scott girl as music. She's backstage at the concert. She's on the stage at the concert. I've dressed so many musicians for so long, it's so much a part of my career. There's the cool, tomboyish girl I like to design for, and then there's the more opulent lady.
The Moschino woman, she's Italian, she's this glamorous woman. She might be more sophisticated. Sometimes she drinks a little too much champagne, sometimes she laughs too loud, but she's still a respected woman. But come Pre-Fall or Resort, she's hanging out with the boys and is kind of maybe more casual. She might take the more couture element and toughen it up in her own personal way.
I'm one person and it processes all through me and you'll see my signature in all I do, but they are still distinct. Maybe in the Men's it gets a little more blurred.
It's interesting and may be helpful that you have these two very different muses?
I have many muses in my life. Fashion for me has always been about communicating with as many people as possible. It's why I do the Adidas line. I love having different voices in Moschino and in my own collection.
Each collection is unique and individual, Men's and Women's, Jeremy Scott, Moschino. I like to touch different notes. I'm not one thing. I'm many things, as we all are.
In terms of the boots-on-the-ground process, do you design one and then when you're done with that, you begin the other?
Oh, I wish! I wish that was how it was. What a beautiful world you imagine, Constance. That generous world where time doesn't matter and deadlines don't exist.
It's now a world of perpetual motion. I do remember that, though, I do. It's like remembering or believing in Santa Claus. But so much has changed. Part of the changes are because I took on so much more responsibility doing Adidas, Moschino and other things. And part of it, on top of that, is the way fashion has changed with Pre-Fall and Resort and Capsules. Maybe part of it is good because you are constantly moving, but I wouldn't be human if I didn't tell you that sometimes I would like to just sit and read a book.
Maybe part of it is adult life? We busy people, we have lots of things to do.
How do you develop and communicate your message in your ads, in your lookbooks?
It's really unique each time. I might be in a sample fitting and get an idea and think this is something I'd like to propose to Mr. Steven Meisel or it might be that the show is over and I then have an idea. It's instinctual. I try to make sure things are not formulaic. If it's a formula, that's a surefire way to not have the most creative output you can. Even going in a reverse situation sometimes is good. For example, I don't usually start with fabric so I might do that one time. How can I alter the route that I take? If I feel uncertain or insecure I think, 'Well, this is good. I'm on my toes. I'm feeling and processing.' It's not just second nature. I find it's important to do that.
How do you work on the ads? You've worked with some pretty special people. Who are some of your favorite photographers/collaborators?
It was a dream come true to be able to work with Mr. Steven Meisel. He's given so much to fashion. He's also shaped it, influenced it. He's done such amazing imagery, I feel so excited every time I get to go in the studio and work with him. I'm always sending him ideas for a shoot and it's so exciting because he really is one of my heroes.
The first fashion show I went to [as a student at Pratt University] was an Isaac Mizrahi show. Andre Leon Tally was next to me doing the bump. And I looked over and saw where he [Meisel] was sitting. He was in row B-1. As soon as the show was over I ran over, grabbed the card and asked him to autograph it. And he was generous and so sweet. I brought it and showed it to him two years ago when he did the first ad campaign for Moschino. He gave me a big hug. He's just as generous today as he was then. Sometimes, dreams take a little time to come true.
Olivier Toscani. When I was in high school and seeing the ads that he did for Benetton, I was so moved. He obviously, now I know, has all these other high fashion ads he did for Fiorucci and so on, but for me at that time, what he was creating and shaping, the mix of ethnicities and cultures, I was so enthralled. When I was 14 there was a contest by Benetton where the winner would be shot by him and I tried so hard to win it with my Benetton sweaters. I didn't, but again, some dreams do come true. When I asked him to do the campaign, he said yes, but only if I was in it.
I had Inez and Vinoodh shoot me for my book that was put out last year by Rizzoli. And then I had them shoot my collaboration fragrance with Adidas.
I've been really fortunate to work with some of the greatest photographers and tastemakers.
I worked with Jean Paul-Goude. I love to style and sometimes I'll even shoot something myself and create imagery.
You created great imagery at the Superbowl last year working with Katy Perry.
You have to know that Katy was a girl who came up to me at an event before her album came out, before anyone knew who she was. She came up to me at the event and said, 'I love your clothes and I want you to dress me.' And then she skyrocketed and I've been so grateful I've been part of the journey in many different ways. I'm so proud of her to have this career-defining moment in front of millions of people. And I was so proud to be part of it.
I saw you on television, you were seated at a show…
The VMAs. Yes, they asked me to redesign the moon man and I designed the pre-show red carpet.
Why do you think the VMAs asked you to do that? It's so outside of fashion.
I think it's the pop culture we talked about. I agree with you, it's outside of what I do. It was an honor I couldn't have dreamed up. I grew up watching the VMAs. It's music and fashion and was so much a part of my world. I literally cried when they called me to do that because it means so much to me as a person. I remember watching En Vogue wearing Gaultier, growing up and seeing these wonderful visions of fashion before it was so terrifically available as it is today.
You and I know how different it is. I remember having to wait to see what Amy Spindler [the late and lauded New York Times fashion editor] wrote, watching Elsa Klensch [trailblazing style host on CNN] covering the collections. I've always loved the way you can share so much of this fashion through mainstream methods.
What we don't hear enough about is the inner workings of designers on the biz side. You definitely worked your way up. How did you start, were you self-financed, what were some of the touchpoints early on?
I sold pieces from my student show at Pratt to pay for fabrics for my very first [professional] show and had to put everything together. My sister bought me a sewing machine and I sold pieces from my little apartment in Paris. Obviously, there were a lot of wonderful people who would pitch in and help which was always really appreciated. But there wasn't some big thing that was handed to me.
What about getting investors to help with financing? You must have been tempted when it was tough?
I own my own name and it's owned only by me. It was tempting at some point to take this or that person up on an offer, but I was wary of losing my own name after reading those books, like on Halston, you know, and kind of knowing how things sometimes take a twist or a turn and what's great today is like handcuffs tomorrow.
I decided to always keep forging on and building my brand on my own terms. I know there are people I went to school with who were bought up by a conglomerate and I feel a bit sad, the compromises you have to sometimes make. I've made compromises, too, but on my own terms. I've been able to feel very pure and learn on my own terms. Now, there are people who maybe don't have that as their goal and that's ok for them…
I don't feel I would be ready for what I've been able to do today if I weren't so lucky as to be able to learn on my own terms. I feel very lucky to have had all the opportunities I've been given in my career up till now.
Was there a moment in which you made a business plan?
I don't think I ever did. It goes back to I always feel very intuitive about things. I've probably made a business plan by focusing on something and planning how to get there. I'm not a very good businessman in some ways, but in other ways, I've been able to have my own company and my own name and been able to have my own legacy. We'll soon be coming up on my 20th anniversary, so I think that's quite an accomplishment.
It is. Do you have a CEO, a partner?
No, I do not. I have a business manager who takes care of all those kinds of deals that I have, but as far as guiding the company in any kind of way, it's still me and my intuitiveness.
Right now I have six employees. Oh yes, my sister Barbara – she's older than me, I'm 10 years younger, the baby of the family [Scott has an older brother] – she is the seventh employee. She works for me from her home satellite (in Kansas) or she travels when she needs to. She's a lawyer, Barbara Scott, she's very much a part of what I do.
Jeremy, what kind of advice would you give to designers starting out or in the first three to five years?
Hmm, I would say to be genuine to your heart. When you're authentic and genuine you will always move forward. Follow that. Your destiny is there for you. You have to put one foot in front of the other and it will appear for you. I feel like it will always come together. Maybe in an unexpected way. The mysteries of the world. But you have to do the work, though, you have to put the work in. That's very important.
You have to be very authentic and you have to be earnest.
That's the second time I've heard the word earnest in a few days and it's not a word you hear often. Have you heard of Randy Pausch, who wrote The Last Lecture? He said I'd rather someone be earnest than cool because cool is something rooted in time. When someone is earnest, that's timeless. You can always draw upon being earnest no matter the task. So, earnest, maybe that's my word for the week.
That's really beautiful and kind of profound and inspiring.
Who are some of the people that you look to as inspirational and would recommend?
Honestly, I always think about Madonna. There was this woman or this girl who wanted to dance. She wanted to dance so bad that she became a singer so she could have the stage to dance on. And she came from NOTHING and she had this huge desire to perform for people and she became this huge success, an American success story and that altered our culture.
I find that fascinating and I'm constantly inspired by that part of her and I feel very lucky to be part of her life and to create with her and design for her. And I find her to be so inspiring.
I can really relate to her. I grew up on a farm, with nothing pointing in the direction, logically, where I would be today. There's nothing about my birthright, my family relations, nothing that would indicate this. Born dirt poor, the church had to buy groceries for my family when I was born because there was no food in the cupboard. For the life that I live today, the success that I've had, the notoriety that I've had, I feel very, very humbled. It's also an American success story. Maybe that's why I relate so strongly to her in that respect.
There are people I admire professionally, but I don't really know their journey as much. Obviously I love her in an artistic way just as much, too.
You could be an inspirational speaker. That's why you're happy – because you're grateful.
There are a lot of people doing amazing things and they're not happy.
Yes, I am happy, even if that means I just went to the movies twice in one day. I'm grateful. I say, 'Today was a good day,' – just to throw an Ice Cube quote in there to keep it real. Today was a good day.
You've often mentioned the idea of wanting to reach a lot of people. What are some of the things that five months from now or five years from now you would love to be doing?
Hmm, I don't know. I mean, I do know that five years from now I would love to be doing costumes for a film. That's something that's on my list of things; if there's the right film that made sense to me, I'd like to do a long feature one day, perhaps. You can reach so many people and it has posterity. The imagery and the posterity of it. That's one of the reasons I agreed for them to do the documentary on me last year. That ability to keep something forever and have people communicate with it… that's seductive to me. And I like doing things I haven't thought of doing.
How do you relax, take time off?
I love going to the movies. I love losing myself in cinema, that's one of my favorite things to do. And I love going to SoulCycle. It's getting lost in the music as well. Sadly, I don't go to the movies as often as I'd wish. SoulCycle I go at least three times a week. That's a must.
SCOTT'S BUSY LIFE
Jeremy Scott Womenswear
Jeremy Scott Menswear
Moschino Womenswear
Moschino Menswear
Adidas shoe collection
Celebrity custom business includes Madonna, Katy Perry, Miley Cyrus
Book by Rizzoli
Documentary film
Upcoming collaboration with European retailer will debut in 2016
Fragrance