While many seek to own a look, designer JOHN VARVATOS has transcended the fashion genre to do something more . . . capture a spirit. That catch was a byproduct of mastering the craft of his trade with an eye for product as well as having a respect for his heritage and an ear for what is next. The impression spoke with the quintessential rock-n-roll gentleman and his lead advertising drummer, STEPHEN NIEDZWIECKI, founder and Chief Creative Director of agency Yard, about being the consummate rebel, those rocking ad campaigns, and what his ear is tuned to now.

BY KENNETH RICHARD
KENNETH RICHARD: John, thanks for carving out the time. Stephen will join us in a bit, but beforehand, I'd love to hear how you got into the field. 
JOHN VARVATOS: When I was in my first year of high school, I started working in a men's store for a couple of reasons. Most importantly, I wanted to make my own money. My parents had five kids to take care of and I didn't want to burden them by asking for money to buy clothes for school. I figured if I get a job at a men's store, I would get a discount and I'd have the cash to buy the clothes I wanted. That really was it. I fell in love with the whole style thing. I didn't even call it fashion, so much as style. I grew up in Detroit with Motown artists, but they were all wearing uniforms, and to me, it felt like they were costumes. I was much more captivated by all the British invasion bands, like the Rolling Stones, who didn't wear uniforms. I was always intrigued by the individuality and style of those groups.
Eventually, I went away to college in Ann Arbor. I stayed with the company that I had been working for because they had stores in the Midwest and across Michigan. I worked there 30 hours a week while going to school full time to earn a degree in education.
When I graduated, I got a job teaching at the university's science and chemistry lab. I was actually making more money working at the retail store than I was making as a teacher, so eventually I went into retail.
When I was 24, I partnered with some people in Grand Rapids, Michigan and opened up a men's store, which is still there. I did that for four years. It was a very unique store, even in today's world. When I first started the store, a brand like Ralph Lauren wasn't a department store brand at all. There was only one shop in America. We were one of the first stores that kind of created a world with Ralph Lauren, but we mixed it up with other things, too. The people from Ralph Lauren would come out to look at our store because they always heard so much about it from the sales reps who would talk about us. So, they came in, and were enamored, and I became friendly with them.
Very quickly, I made a decision to make a change into wholesale and took over the Midwest for Ralph Lauren, where I oversaw 10 states, like Ohio, Indiana, Michigan, all the way to Nebraska. It was 1984 and at that time Polo was really starting to happen. I took over the territory with the same passion I had put in my store, and it just blew up. The timing was great. Ralph was doing well and so was I. I was the youngest person in the organization and they moved me to New York to head up sales for the menswear company. Very shortly after I moved to Manhattan, I was given merchandising as well, so I was VP of Sales and Merchandising for menswear. It was a very different company then, than it is now. When I joined the business, it was 150 million. When I left, four years later, it was a billion plus. It grew very quickly. So, while heading the merchandising piece, I began sitting with Ralph and the design team. That's when I woke up and had the realization, 'this is what I want to do.' So I started taking classes, pattern making and illustration.
KENNETH RICHARD: Where did you take classes?
JOHN VARVATOS: At FIT. It was just a couple of classes. I was leaving at six o'clock to make the seven o'clock class. When Ralph found out, he said, "You don't have to go to school to be a designer. What you have to have is the taste level, the eye, and the vision. Work here in design."
That's how I got my start in design. A couple of years later, I was contacted by Calvin Klein, who wanted me to come to talk to him about being a designer there. After our meeting, Calvin asked me to head up design for the whole men's company. At that time they had Calvin Klein women's collection, underwear and Calvin Klein Sport, but everything else was a license and he wanted to shut them down and revamp things. He wanted to start a men's collection business.
So I started designing Calvin Klein collection and I said to him, "We should start another brand. Why don't we try to do a diffusion kind of thing with its own point of view?" So, CK was started at the same time and it grew quickly. I definitely was in the right place at the right time, but I had a very strong point of view and was confident about what I could do for these brands, both in sales and design.
I enjoyed Calvin, but eventually I went back to Ralph in 1994 to take over design for all of menswear. It was a big opportunity. I wanted to be at Ralph Lauren. I wanted to design lifestyle. I wanted to be able to design from head to toe. I wanted to be able to understand how to finish the shoes and construct them. I wanted to know how to build bags. I was voracious. I still am, but I was voracious at the time for knowledge. I made sure I knew everything there was to know about shoes, about underwear, or about socks. I didn't want to be one of those people that touched a lot of things, but was an expert at none. I didn't want to be a jack-of-all-trades. I wanted to be an expert in everything.
KENNETH RICHARD: That time at Calvin was Sam Shahid, Fabien Baron and some other greats. You were really building brands. What did you pick up about marketing?
JOHN VARVATOS: Neil Kraft was there, too.
Well, before Calvin, I was at Ralph. I learned more in the first month there than I've learned in my entire career. That was a company that broke the rules. There weren't any shop-n-shops before Ralph Lauren. There wasn't true lifestyle design before Ralph Lauren. There was couture, and then, there were brands. He was the first at doing a lifestyle and I learned about advertising and creating a dream and creating the excitement that people wanted to be part of.
When I went to Calvin, it was the complete opposite. It was about sex, drugs, maybe not rock-n-roll, but it was definitely about sex and drugs. I don't want to make the drugs thing sound like a big thing, but it was about irreverence and sex, and creating things that were rebellious and shocking at times.
It was very different at Ralph's. Ralph was very pure about everything. The girls looked very pure, everybody was buttoned up. At Calvin, we did a whole film with Bruce Weber. Mickey Rourke was dating a really beautiful actress for a time, and we shot her nude in the shower. It was crazy. I can't remember her name.
KENNETH RICHARD: Shower, motorcycles… Carré Otis?
JOHN VARVATOS: Carré Otis! Yes. So, we did that kind of thing. I was so fortunate. I couldn't have been at two better brands. I really saw how to push the envelope. I also learned that marketing sells. Beyond the dream that Ralph was creating, I learned that sex sells, and that shocking sells, too. But it is not always easy to know what is right and when it is right!
I remember when we met Kate Moss. We were working on a men's runway show in the early 90's. Somebody wanted Calvin to see Kate, maybe it was Bruce or Sam. We're styling the show, and in walks this 15- or 16-year-old girl. At that moment, I didn't get it.
I always think back to that moment, to think that someone had the vision to see in her that sensuality, something so special. Because, what I saw was her coming in at 10 in the morning, just out of bed and kind of a mess. At the moment there wasn't a lot of sensuality. I also didn't look at her pictures until later. When I saw those pictures that David Sims took, I got it.
It was an amazing time to be around all of that. And Ralph was pushing the envelope in a different way. It was, in his way, groundbreaking, in terms of how you brand yourself and how you create a lifestyle, how you create the dream and all those things. Calvin was about constantly changing and shaking shit up. I connected very much with it.
I've used that term for seven years now, we talk about it all the time. I like the idea of "shaking shit up," because I'm very antsy. I don't like to stay too much in one particular direction because I love change.
KENNETH RICHARD: So how did the change come about to open John Varvatos?
JOHN VARVATOS: When I went back to Ralph, we changed from being in a brownstone with everybody running up and down the stairs, to an office building on Madison Avenue. When I left it was a billion dollar company, when I came back it was four and a half billion. My first meeting back, there were 20 people in the meeting, to talk about the new shirt body. I was there for another four and a half years. It was great, I had a super relationship with Ralph and I still do. But the company had gotten very big and I was a product guy.
There was this spark that hit me one day. I was at Barneys, it was a fall day in 1988 and I was looking at Helmut Lang, Jil Sander, Gucci, Prada and such. They were all doing black nylon, with their own point of view, but very similar in a lot of ways.
KENNETH RICHARD: Utilitarian. 
JOHN VARVATOS: Very utilitarian. I guess I was in my early 40's. And I thought, "It is time to do something different."
And on that day, I decided, "I'm definitely going to do it."
When I was at Calvin there was a guy by the name of Harvey Sanders, who was the President of Nautica. He had reached out to me when Calvin got a lot of buzz and CK was doing extremely well. He called and said, "You guys are the talk of the town. I'd love to have you join us, but not Nautica, we'd love to start another brand. It could be your name, whatever you want to do, but we'd like to do something more contemporary." I explored that with him before I rejoined Ralph, but I decided that I didn't really think it was something I needed to do at the time.
However, that fall day in Barneys, I thought, "I should call Harvey and see if he's still interested." That was a Sunday. Monday morning, when I came into my office, the message light on my phone was blinking and there was a message from Harvey Sanders. "Hey, good morning, John! It's been a long time! Just thinking about you over the weekend. Still interested if you ever want to do anything." I called him back, it's 7:45, and said, "Harvey, you're not going to believe this, but I was going to call you today. This sounds like a story. I was thinking about you yesterday and I think I'm ready to do something here." Within one week we put a deal together and that was the start of John Varvatos.
I was too late to actually launch for Fall '99, so I started slowly working on my collection by myself, in addition to helping Nautica. I launched Nautica jeans for Harvey, and created some other things, and I launched officially for Fall 2000. Then long story short, a few years later, Nautica was bought by VF. I decided to stay with VF for a period of time and then we took the company private two or three years ago.
KENNETH RICHARD: Big difference going from a billion dollar company to a start up?
JOHN VARVATOS: Harvey was hugely supportive. But, there were learnings. Now we were dealing with a finance department.
But I have to say, when people asked me how we launched in 2000, followed almost immediately by 9/11, and how we navigated our way through it all,  I say it really boiled down to the fact that I was 43 years old, and I had a lot of experience and I knew how to execute. I also hired other people on the team who had the experience and knew how to execute. Even though we started the company with seven people and the second year I think we had 12 people, we all knew how to get things done.
KENNETH RICHARD: And sales?
JOHN VARVATOS: I was selling in the first season. I was in the showroom. I had another person working with me, but I was in every single appointment working with the accountants. I sat down with Tom Kalenderian at Barneys and Peter Rizzo at Bergdorf's and Wayne Michael at Saks, and the guys at Neiman Marcus. They might have known me a little bit from my background at Polo, but they didn't really know me. I helped to give them confidence with my ability to talk about retail, price-point, fit, finish, delivery and all the things that we were going to do correctly, right out of the gate.
[Stephen Niedzwiecki of Yard joins us]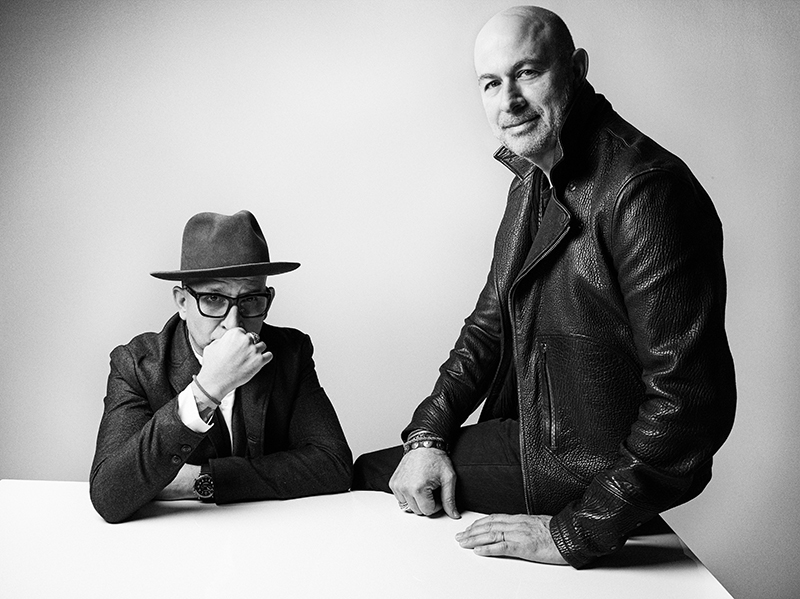 KENNETH RICHARD: Played well to your foundation in sales and retail. Stephen, good timing, we are about to chat about advertising. John, what was the first campaign you did as John Varvatos?
JOHN VARVATOS: At the time I was working with Mike Toth. I had known Mike from a previous life and we had even talked about going into business together at one time, because he loved what I did and I loved what he did. He used to do the Chaps at Ralph Lauren line and some advertising at Polo as well. He really understood what I wanted to say, and we conceived a shoot with Richard Phibbs as photographer. They were a great team, and Mike really got what I was about.
KENNETH RICHARD: He was a great DNA expert.
JOHN VARVATOS: Totally. That's why he wanted me to partner with him and help reinvigorate both brands and really get to their DNA.
So the first campaign was really a point of differentiation in 2000. We shot a good-looking guy with long hair in a suit with a shirt and tie and full trousers. Everything was a spread. On one page we had the suit and tie and his long hair, and on the other page were wide trousers with the big cuff on the bottom. That drove more people into the store than anything we've ever done in our history. Why? I can't tell you exactly. But it was something – the silhouette of the pant, the boot with it, the jacket, the guy with the long hair. I remember Harry Rosen up in Canada coming to our showroom and going, "Your product is beautiful. Why do you have a long-haired guy?" Because nobody was doing that kind of thing, especially in an elegant way. Well, a year later Harry Rosen used that guy in their ads, too!
[Laughter]
JOHN VARVATOS: That was the beginning of it. It was really an interesting time. Back then we didn't have all the west coast jeans brands and the premium denim thing hadn't happened yet.
KENNETH RICHARD: You kicked off a USA badge back then that was a little hand-crafted that was also a little bit ahead of its time.
JOHN VARVATOS: I remember when we did it. We shot the back of the jean with the guy's hand in the pocket. Mike loved that patch more than anything because he felt it was so artisanal and so American. He really wanted us to talk about that at the time, and it worked. It worked around the world when we did it, too. People used to say, "Well, I don't think this is going to work in the Middle East because they don't like Americans," but most people want USA.
Actually, I found a vintage belt in Italy that someone had done hand-tooled. In the back of the belt it said USA and I thought, "Wow, I don't know if I would wear it as a belt, but that's a cool idea."
KENNETH RICHARD: So, how did you two meet?
JOHN VARVATOS: We had been working with Mike for five years and I just felt like we needed to do something different. I loved Mike. Mike was a great one, one of my close friends, too, really close friends. Big loss last year.
But, what I wanted to project was something different and I just felt like I needed someone else that wasn't as close to me at the time. So we talked to a bunch of different creative people. Stephen was one of them. I don't even remember the presentation. We didn't do an agency review. It was more about a connection. We have worked with other people on fragrance, like Doug Lloyd, who's also a great guy. But I was looking for someone to really encompass the entire brand and that's when I met Stephen.
KENNETH RICHARD: What was that first season like?
STEPHEN NIEDZWIECKI: John and I spent quite a bit of time together before we landed on the rock-n-roll gentleman muse, we actually worked together on a campaign right before it which used models.
JOHN VARVATOS: It was what I call 'romantic advertising.' The first five years is what I would call beautiful, elegant, romantic ad campaigns. We won some awards and those ads were beautiful, but when I opened up a Vanity Fair or GQ, there were a lot of beautiful campaigns that featured 'romantic advertising.'
STEPHEN NIEDZWIECKI: It was a time, especially in men's, where it was all looking pretty similar. I think it was during that time hanging out with John, one-on-one and really seeing who he was as a man and as a designer that the whole rock-n-roll thing started to bubble to the top.
JOHN VARVATOS: Our path wasn't as obvious back then as it is today. We didn't have the Bowery store. We didn't have a record label. Everybody didn't equate us with music back then. We had a big following in the music industry where people connected with us and being from Detroit, Stephen knew where my soul was. But it just wasn't obvious. Stephen sat in this exact room along with Donna Faircloth, our SVP of Marketing. We came to talk about the next campaign, which was going to be one more beautiful 'romantic advertising' campaign, and I said, "I don't want to do this." And they both said, "Good." That was when we started the whole conversation about what we could be. I started talking about breaking the rules and creating something that was our own. In general, shaking shit up!
STEPHEN NIEDZWIECKI: Part of 'breaking the rules' was not using the same ingredients that had made other fashion campaigns at the time. It was all about going against the grain and that was where the idea of shooting, not with a fashion photographer, but with a rock documentarian, came from. Also, at the time, it's not like we had big budgets to pay artists, so using someone with credibility in the world of music and having musicians feel comfortable with who was going to take their photo was a big deal. That talented photographer with credibility was Danny Clinch. That was the way we approached it, and it worked.
JOHN VARVATOS: The first step was coming up with a concept, because when we first talked about it, I wanted to do a musician but Stephen had done music and musicians for the GAP. Then we thought about how we could do it like nobody else has done it – so we own it and it really becomes part of the DNA.
When we started thinking about the guy, that's when it really got interesting. We all agreed that the guys needed to be bad boys, they needed to be in the genre of either leading or breaking, like Alice Cooper, the godfather of shock rock, for example, or Iggy Pop, the godfather of punk. In the beginning we threw out all the names of artists we wanted that were the bad boys. That's when we came up with Ryan Adams. Ryan's a bad boy who's always in trouble and he's also a total genius. He's not a commercial guy, either. He had this band called "The Cardinals" that he was starting with and he liked the idea of it being Ryan Adams and The Cardinals so it wasn't just about him.
STEPHEN NIEDZWIECKI: Also, Ryan had a relationship with Danny. So he felt confident doing it.
JOHN VARVATOS: Let's go back to Danny Clinch. So, we had talked about all the photographers that we could use and Stephen brought up Danny.
STEPHEN NIEDZWIECKI: I knew Danny from the early nineties. I met him on a personal level and we had stayed in touch even when I left New York to go work for GAP's in-house agency, mid 90's, a true heyday for the brand! The night we all went to Danny's studio and I introduced John, I knew right then and there it was love at first sight.
JOHN VARVATOS: There were lots of rock photographers we loved, but we were looking for something that was going to be shot very differently. Danny was a guy that was about all capturing "a moment."
STEPHEN NIEDZWIECKI: And at the time, he wasn't doing many ads.
JOHN VARVATOS: I don't think he wasn't doing any ads. He was doing album artwork and stuff like that.
STEPHEN NIEDZWIECKI: So, with Danny, you might have to worry about where the guy fell on the page, or if his face was going to be right in the middle of the gutter, but not having that experience was also a blessing because Danny had real freedom in his style.
JOHN VARVATOS: He allowed us to capture the moments and in any given season, we had 20 pictures we could have run.
STEPHEN NIEDZWIECKI: So, we go to shoot the first rock campaign and I'm nervous as shit because we're stepping out of the comfort zone of fashion, where the agents make sure the models show. We're on location and Ryan's band members, The Cardinals, all show up on time. It was eight o'clock in the morning and they were there all there on time.
JOHN VARVATOS: Ryan's supposed to be there at nine.
STEPHEN NIEDZWIECKI: First location, we were shooting at Pete's Candy Store, a little Brooklyn bar, and then we were going to go to Manhattan. We had this plan of going to three locations. Ten o'clock passes, 11 o'clock passes, and noon passes, and his manager's trying to get in touch with him. Six hours later!?
JOHN VARVATOS: Yeah. Ryan's like six hours late. His band was so pissed off at him. But we got him dressed and we started shooting. We're not even shooting for 15 minutes before in the middle of shooting, he just gets up and he leaves the Candy Store. He walks down the street. We're like, "Where the f*** is he going?" Ten minutes later he comes walking back with a can of sardines and a bag of peanuts and he sits down at the table, opens up the can of sardines with the plastic forks and the peanuts and he goes, "I needed a little energy." And that was our first rock shoot…
[Laughter]
KENNETH RICHARD: The sophomore effort to stay the course. That was brave.
JOHN VARVATOS: Well, now we have some pictures to show people and so we make our list of who we're going to ask, and the first person we go out to after Ryan is Joe Perry. Joe said, "I like the idea, the pictures are beautiful, but can I bring my son along, he is a musician as well?" We thought it sounded cool! His son Tony was a young guy, a good-looking kid, and it was that quick. It wasn't a big negotiation.
JOHN VARVATOS: We had some great shoots, but I have to say, when we shot Iggy, the whole world changed for us.
STEPHEN NIEDZWIECKI: That was definitely the turning point. We had a two-tiered day planned for Iggy, the idea was that we were going to do Central Park and then we were going to do some stuff at his hotel late at night.
JOHN VARVATOS: We're leaving the bus on 57th Street parked in front of like the Helmsley or something, and we're crossing the street on 57th Street and he starts spinning around and dancing and Danny's taking these pictures. We're not into the park more than a couple of minutes and we know we already have it. I mean, it was obvious it was going to be incredible.
STEPHEN NIEDZWIECKI: The thing that was amazing is how excited Iggy was. He was a fan of John's, but also, he was excited by the fact that we actually wanted him dressed. He said that no one ever actually wanted to shoot him with clothes on and John had him in a 3-piece suit! So we finally get into the park and the weather's terrible, but we start shooting. We start with this park bench shot. Then just as it's going, we're all looking at each other.
JOHN VARVATOS: Danny grabs our arms and goes, "This is epic!" And Danny, who shoots all this amazing stuff during his career, says this is one of the most epic moments that he's ever had.
STEPHEN NIEDZWIECKI: After we got that umbrella shot in the rain, we stopped. We felt like we had it, but we still had this amazing evening planned so we went back to the hotel and shot more and hung out. It was such an amazing time and truly a life-changing point for us.
JOHN VARVATOS: Iggy was one of the most gracious people that we've ever worked with and he became a friend from that point on.
STEPHEN NIEDZWIECKI: He kept asking Danny, "Do you want to keep going?" Finally, we went back up to the room at 2AM and had tea and listened to stories of him and Bowie. That was also the most incredible thing, to hear him tell stories.
JOHN VARVATOS: That was the beginning of almost a ten-year friendship with him. He did a Chrysler ad with me; he's done charity stuff with us. He's just been a super friend. That's the one thing I also think is really interesting – every artist we've worked with, we're still very connected to. Christmas time, New Year's, birthdays, they play at our charity events. It's really amazing. Even bands like KISS.
KENNETH RICHARD: How did KISS happen?
JOHN VARVATOS: Nick Simmons, Gene Simmons' son, came to our charity event in West Hollywood all dressed up and he said, "I love your stuff. You should shoot KISS." I'm like, "Okay. But it costs a lot to work with your dad and we don't have big fees," and he goes, "Leave it to me." That was on a Sunday.
Tuesday I'm in Toronto at the airport, and my phone rings. "John? It's Gene Simmons, you handsome fellow," you know how Gene's always very courteous and complimentary. He goes, "My son said we should talk. He says your brand is cool and we should be involved." That was another shoot that could have been a nightmare, but it was one of the most amazing experiences we've ever had in our lives. And I don't just mean the shooting. I mean the experience of working with Gene, Paul and the band. It was just an amazing experience. From the day we fit them, to the day we shot, they were unbelievably gracious and incredibly funny.
We had planned a video to shoot in the Bowery, one song shot four different ways. We invited 150 to 200 people to a secret show, made them sign an NDA, leave their cellphones in Ziploc bags. We never told them who was playing. Even in their sound check they played Zeppelin because they didn't want anybody to know it was KISS.
But that afternoon, we were on the bus heading to the show and they said to me, "It's been so great. You know, we haven't played a club in 40 years. How about if we just play off the first three albums and f*** that one song video thing. We don't want to play that song anyway." So we have all these people in this club and the place goes dark, except for one little pin-light on the stage, so no-one knew who was going to come out and then, all of a sudden, through the lights you see a flash of makeup. The hair on our arms stood up because of the screams. It wasn't like we had invited the KISS army. We just put a message on our website saying, "Do you want to be part of a music video?" but we didn't say who. Even if you weren't a KISS fan before that night, you left being one of the biggest KISS fans on the planet.
They played for over two hours, something like 28 songs. They'd started in dressed to kill suits, and makeup. They played through with the makeup, but the jackets came off and then the vests came off. They had so much fun. They gave the audience a show like they were playing at an arena.
STEPHEN NIEDZWIECKI: To see a band that usually performs arena rock in a venue like CBGB's was just incredible!
JOHN VARVATOS: We shot them in October and we were doing our runway show in January in Milan and they suggested, "We should come to the runway show." We were like, "Well, that's frigging cool." So they flew over and walked the runway in Milan.
KENNETH RICHARD: We have pictures of them walking through Milan to the show; it was a scene.
JOHN VARVATOS: We're in an industry where people can be so jaded at the shows. They tend to rush out at the end. When KISS came down that runway, people were jumping up to take pictures! The best thing is to watch our video of the retailers and press, the look on their faces is priceless. They were genuinely happy and excited and smiling when KISS came out, it was great. That evening, we had an after party with the band, the press and the buyers. They were so generous with everyone. We've been so fortunate. We've just had so many of those moments.
We shot Jimmy Page with Gary Clark Jr. back in Spring 2013. We shot Paul Weller with Miles Kane in Fall 2012. When we did the opening party for our London store in September of 2014, it was a real homecoming – Iggy was there, Jimmy Page was there, Ringo Starr was there, Paul Weller and Miles were there. All these people who had been in our campaigns came out to celebrate with us. And they brought their friends like Jeff Lynne, Adam Ant and all these other crazy people. We all had such a good time together. It was fantastic!
STEPHEN NIEDZWIECKI: Even when we were doing the Ringo modern drum circle, the people that joined were new and old friends of the brand, Steven Tyler, Chad Smith, and Tre Cool from Green Day.
JOHN VARVATOS: At the time, we had talked about shooting Ringo for more than three years but we thought he's a Beatle, he's never going to do it. But then, the week that we were deciding what artist to shoot for that season, he was on the Grammy's salute to the Beatles and every outfit he had on was John Varvatos. I had known that he was a good customer of ours. He'd even played drums in our Bowery store with some of our sales guys when he was in shopping, so I knew he was a fan. So Stephen, Donna and I agreed, "We've got to ask him now." We go out to him and he immediately responded, "What took you so long to ask?"
[Smiles]
JOHN VARVATOS: When we saw him in LA for the shoot, he greeted us with big hugs and he goes, "What took you so long? I'm finally a male model now! At 70 years old!" I responded, "It's a f***ing Beatle! It's Ringo!" He is such a warm and kind person, another gem of a human being!
We've just had so many of those great moments. We could sit here for hours and talk about the unbelievable moments that we've had with so many of the iconic artists. When we asked the Roots, the first thing they said was, "Are you sure that you have the right Roots?" Because they're thinking of the JV campaigns as a total rock-n-roll thing and we go and change it up and ask someone out of the rap/soul genre. We put them in all rock-n-roll and they loved it. They are another band that became our really close friends. We love those guys!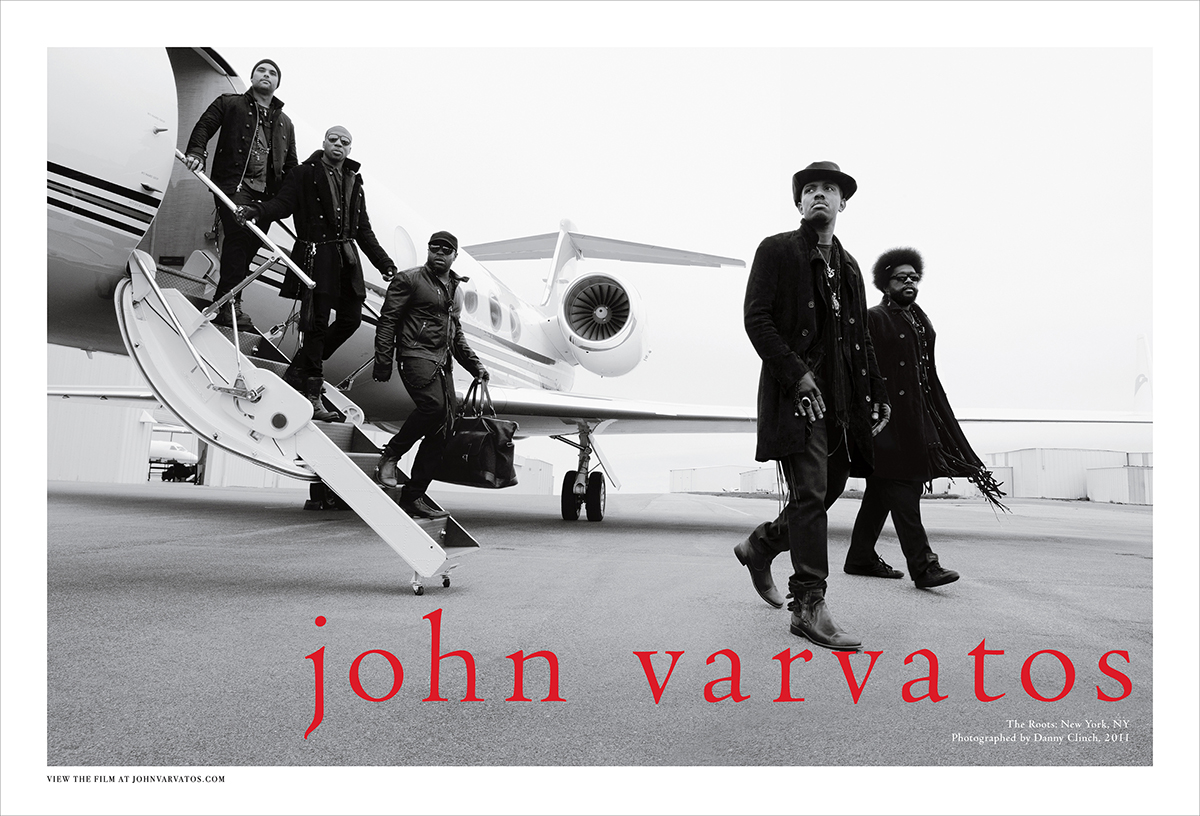 STEPHEN NIEDZWIECKI: The beauty of it all was always the artists' feedback. They always say how much fun the shoots were. Every artist has said that. Even Willie Nelson, who doesn't always love a photoshoot!
KENNETH RICHARD: What is next?
JOHN VARVATOS: We're evolving that "Rock-N-Roll Gentleman." He's going to come in and out of what we do, but in different ways. Our past campaigns really zeroed in on rock, not rock-n-roll, but "rock" as a spirit, the spirit of rebelliousness.
I've been working with Converse for 15 years. They were just here yesterday and they were talking about how ours is the longest collaboration, maybe in the fashion industry, but for sure in the footwear industry. They were talking about how we first got together and I was saying, "My connection with you was always the rebelliousness of what Converse stood for." So we're zeroing in on the spirit of rock and what rock stands for. Being a rebel is being an individual and having your own voice.
Back when I was in college, people had a voice. They were talking strongly about what the government was doing, they were talking strongly about the war, whatever it was that was happening, they were talking strongly about it. People today just complain that nobody does anything. Very few people have voices today and it's a time for people to use their voice, raise it, and take that spirit of rebelliousness to get things done.
So now we are talking about who the rebels of today are. The interesting thing about the rebels today is that they're not just men. There are more women out there that are the rebels today. They're Miley Cyrus, they're Taylor Swift, they're in the music industry and they're women who are having a big voice today. We're really zeroing in on everything we do now, including my Fall '16 show, thinking about it from the perspective of what the "spirit" of what rock represents. It's a soul kind of thing. It's something that runs in your blood. That isn't necessarily about a music genre, it's more about a way of life.
STEPHEN NIEDZWIECKI: It's not about a genre, it's not about even being in a band. It's truly more about a spirit and a lifestyle. I also think the world has changed and the way brands communicate has changed. There is more of an opportunity for deeper storytelling and a bit more risk-taking. You create content that can be on for shorter hits; if it doesn't work, you move on, do something else. There's an opportunity to keep the conversation fresh and alive with the consumer. I also think it's about creating desire. It's desire for product, but it's also desire for feeling 'this is a brand I can be a part of. A brand where I can be part of the conversation. They're not just talking at me, or just creating for me, but they're creating with me.'
JOHN VARVATOS: It's an interesting time to evolve the same spirit and take a look at the way we market ourselves, the way we communicate with our customers. We built a lot of fans with our campaigns, so we don't want to walk away from it. But it's also, to some degree, a very poignant type of thing and we're much more than that poignant type of thing as a total brand.
I'm not looking to take over the world, meaning that I don't need it to be a ten billion dollar company, I don't want to be that commercial, but you still want to grow. I think there's another thing that is really important that we do, it's called product.
We have a huge shoe business, especially when you look at the penetration to our total brand, over 20% of our business is in shoes. Nobody, but the few companies that started with shoes like Gucci and Prada, have that kind of penetration. However, there are a lot of people who still don't even know that we do shoes.
So one of the things we want to do going forward is zero in on showing how we have the attitude AND the product. Because, before when you have KISS, it almost didn't matter which suits they were wearing because they were so powerful. They got your attention.
But the reality is that you want people to know that you do the greatest boots, or that you do great bags, or that you do great suits. Our goal now is to incorporate both the past of the "Rock-N-Roll Gentlemen" and to also incorporate the "Rebel Spirit" and show our product as well. Still very powerful, still in your face, but we are evolving and sharing more of ourselves today.
KENNETH RICHARD: Thanks for taking the time to share your story.
STEPHEN NIEDZWIECKI: It was good to catch up.
JOHN VARVATOS: Really great. I enjoyed it. I love that you're wearing our clothes. Thank you.