JR's 'Retour à la Caverne' Act II: A Prehistoric Tale Unfolds at Palais Garnier's Facade
A work by JR on the facade of the Palais Garnier in reference to Plato's cave, a place of knowledge and transmission.
Free access to performances on the Place de l'Opéra on 12 November at 7:00 pm and 9:00 pm.
After presenting Act I of his "Retour à la caverne" project in September on the facade of the Palais Garnier, which is covered by scaffolding for restoration, JR invites the public to discover the second part of the project throughout November.
With Act II, the architecture of the building fades away to make way for the entire cavern. The vast cave entrance is framed by jutting rock formations, marked with a constellation of human handprints.
Establishing the cavern as the birthplace of cave art, the handprints were collected thanks to the participation of hundreds of visitors to the "Mano Habilis" workshop offered by le19M and run for two months by Atelier Montex, le19M's resident embroidery house. Participants learned how to embroider their own handprints, which were then placed on the cavern walls alongside hundreds of others.
On 12 November at 7:00 pm and 9:00 pm, the public is invited to attend the opening of the cave, which will reveal its secrets for an exceptional evening. Two free performances will be held on the Place de l'Opéra, which will be closed to traffic for the occasion.
Upon JR's invitation, choreographer Damien Jalet presents "CHIROPTERA ", a performance of 153 dancers from all over Europe, with the exceptional participation of Amandine Albisson, an Étoile of the Paris National Opera, wearing a costume designed by CHANEL: a little dress in black knit embellished with crystals under a long black sequinned tweed coat with a velvet collar. The House also supported the design and fabrication of costumes for the 153 dancers. The performance will last about twenty minutes and features music composed by Thomas Bangalter. The cavern, now a stage curtain for the evening, will open, allowing spectators to catch a glimpse of its allegorical purpose.
While the first Act of JR's "Retour à la caverne" referred to the origins of ballet and opera, blending the classical architecture of the building's colonnades with the archaic structure of a geological opening, Act II invites us to go even further back in time. The cavern becomes a protective place, sheltering its residents from the violence of the world. The darkness reveals light.
With Act II, the facade is prehistoric, and the discovery of the cave becomes speleological: on 12 November, spectators are encouraged to equip themselves with headlamps in order to catch a glimpse of the treasures the cavern conceals.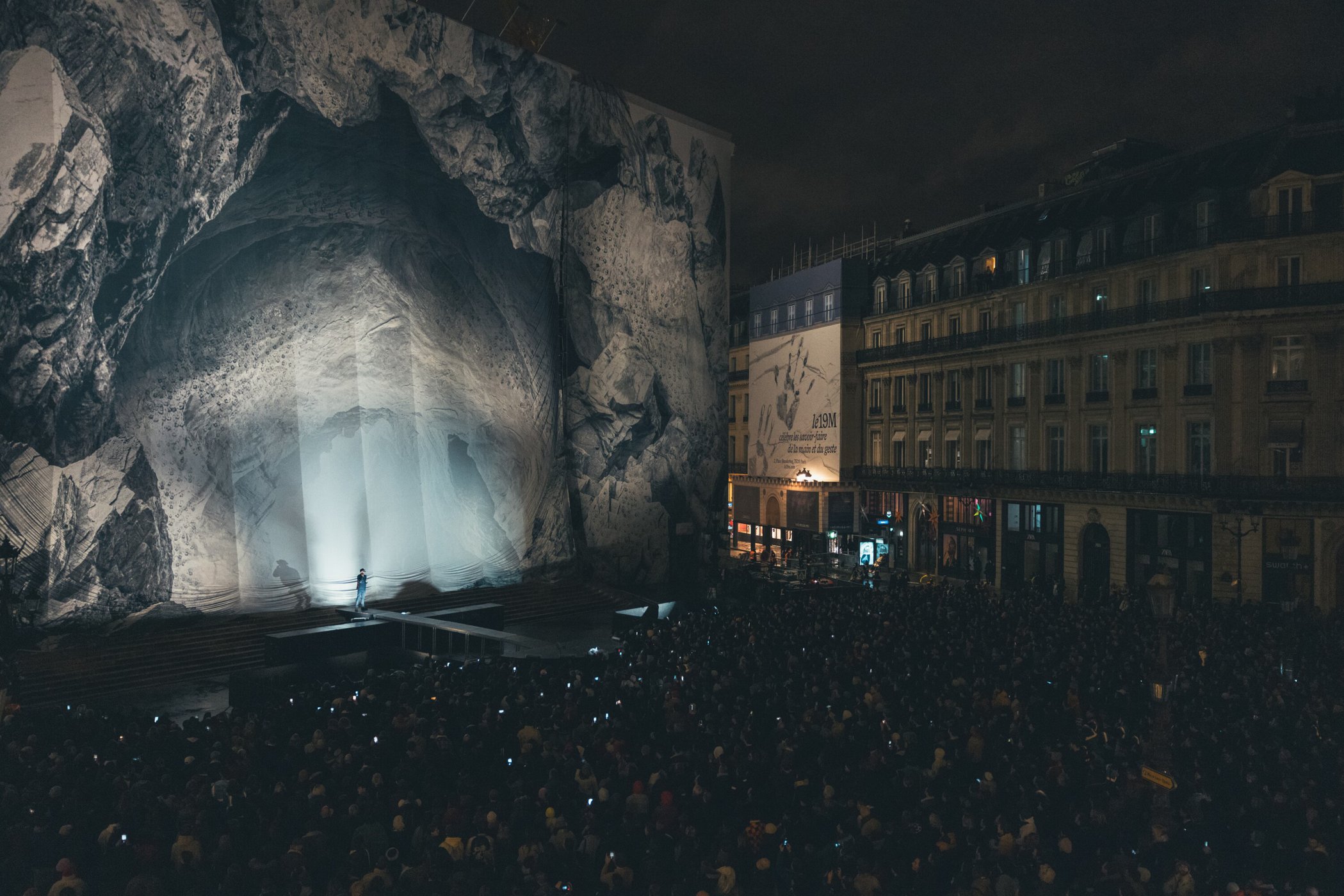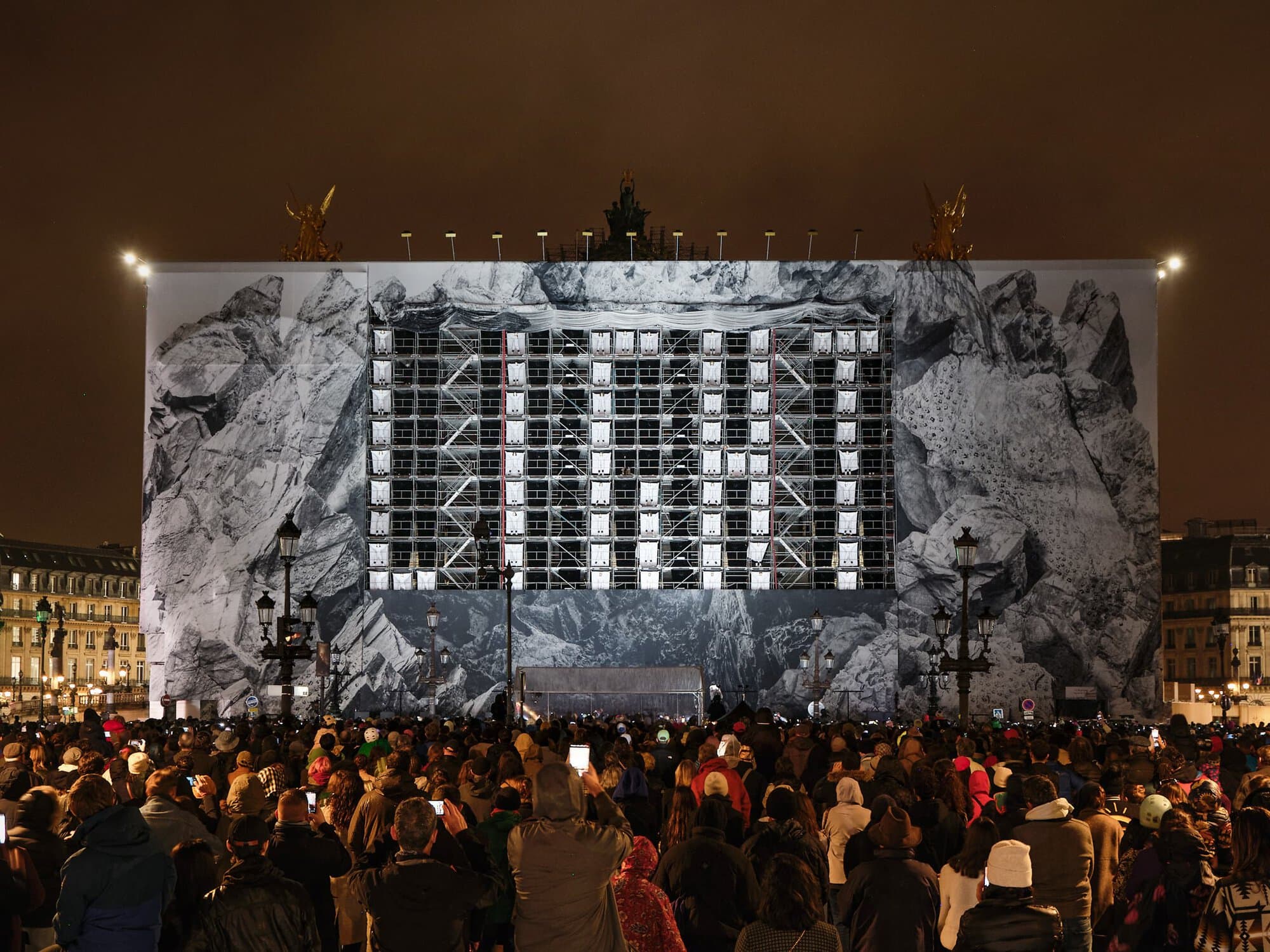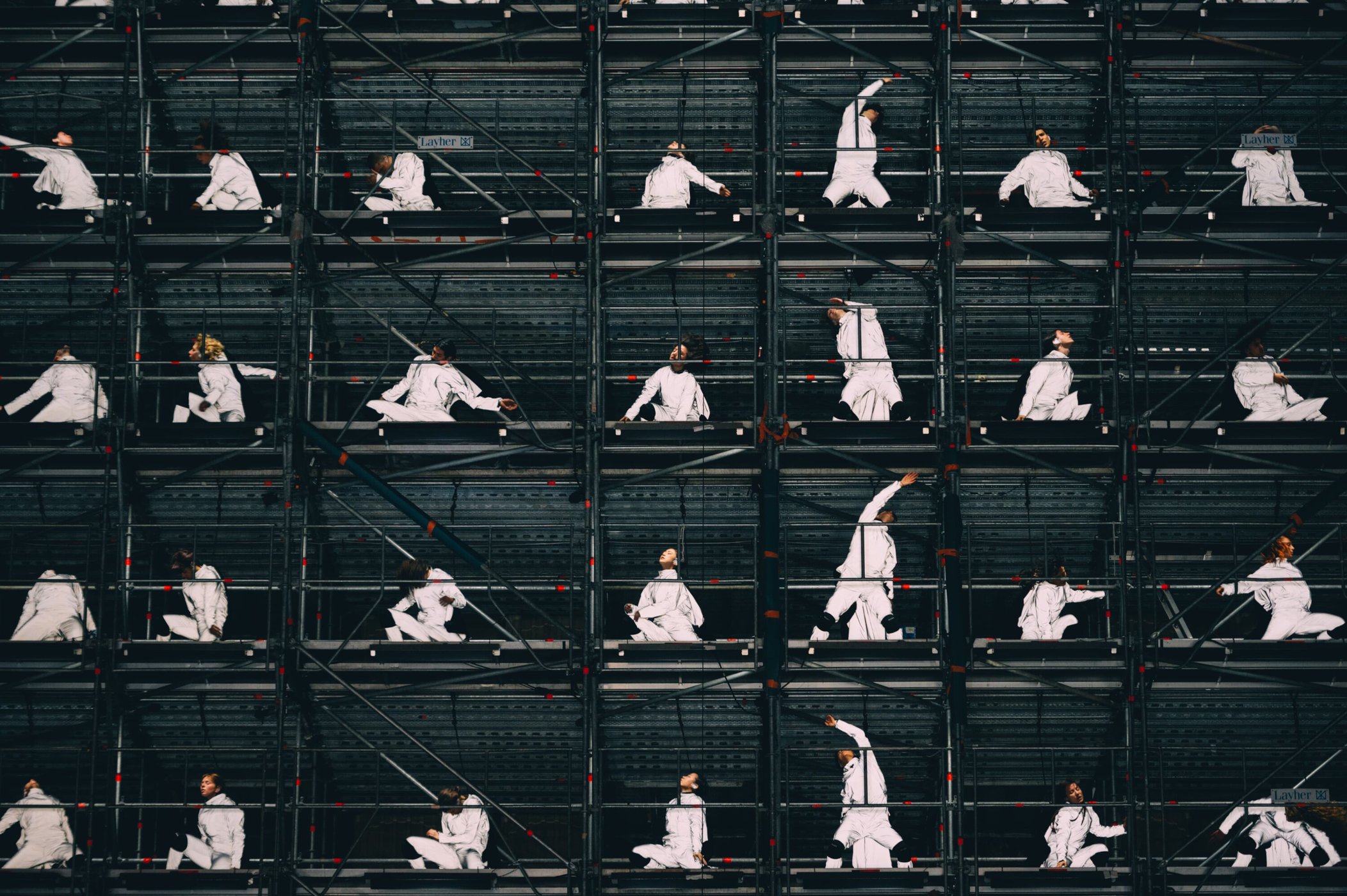 ---