As we all know, people are the sum of their parts. But more often than not, the parts that are public facing are but a small representative of the whole. Such is the case of photographer Kelly Klein, whose recently launched retrospective of her work, Photographs by Kelly Klein, expands upon her public perception as a 'fashion photographer' and into that of a curious traveler, documentarian, nature lover, friend, mother, and observer of life's beautiful spectacle. Her recent book moves beyond the runway, and while respecting the confines of fashion, paints a broad perspective of a warm person who takes inspiration in the everyday.
The Impression sat with Klein to discuss how she got into photography from design, the transition from film to digital, looking back, partnering with Sam Shahid, her subconscious narrative, Warren Betty, family, and photography.
Kenneth Richard: Kelly, congratulations on your latest book. As a retrospective of your work, we couldn't help but wonder how you became interested in photography?
Kelly Klein: I guess I started taking pictures in the 80s, after my first job working for Ralph Lauren, I was working in the design studio. I was working with fashion models and photographers around, and I think my first camera was given to me by Gilles Bensimon, who was a photographer for Elle magazine at the time. I played around by taking pictures since then and I photographed whatever – weekends, travel, still life, just in general learning how to use a camera. I think that's where it first started. Then I really didn't concentrate on professional photography until much later in my life. I spent about 15-20 years working in the fashion business as a designer working with Ralph and Calvin. I always carried a camera but it was for my own personal work, shooting whatever I thought was beautiful or interesting.
Kenneth Richard: You obviously had an aptitude for it as the book has some amazing early work.
Kelly Klein: I think if you have an eye as a designer, architect, interior designer, fashion designer or painter, you sort of have a creative eye, use the creative side of the brain – those sort of melt into one another for me. My eye was for fashion and design since I graduated from FIT. Over time, I ended up being a fashion designer, but I picked up the camera and started shooting professionally for a magazine here and there 20 years after I got my first camera.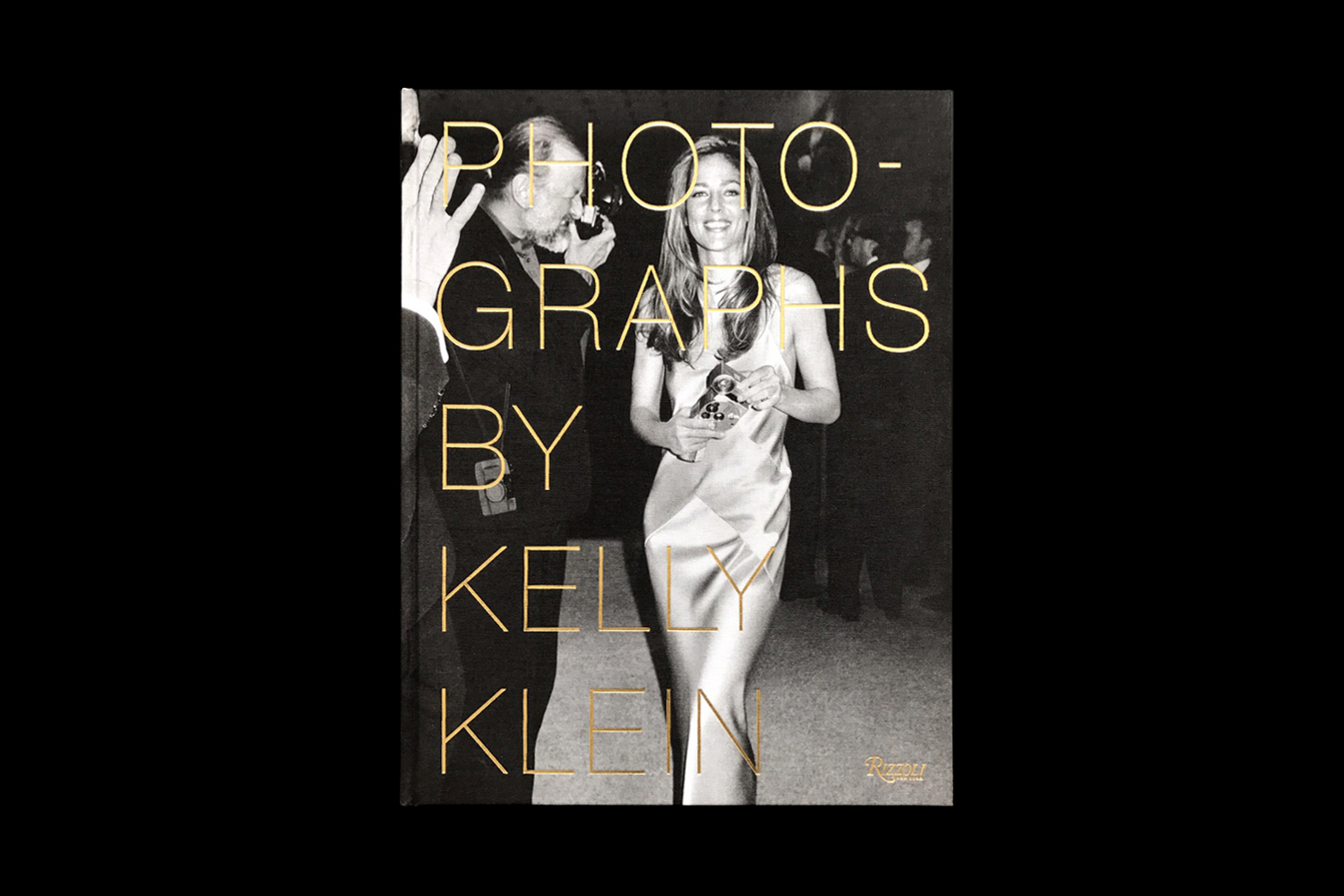 Kenneth Richard: What camera did Gilles give you?
Kelly Klein: He gave me a 30mm film camera, which was very difficult and not very forgiving. I am not a trained photographer; I never studied photography or worked as an assistant with photographers to learn all the technical side of it. I learned by making a lot of mistakes and slowly learned how to technically take a picture. It was a little bit complicated for me, so I ended up buying a little easier camera for myself, which was more a snap type camera. There were mainly film cameras back in the day – there was no digital but they were a lot easier to use.
Kenneth Richard: Easier to use?
Kelly Klein: The one that Gilles gave me was a really professional camera, and at the time, I was really a beginner so it was complicated for me, but as I started working with it, it got easier. But I ended up buying myself a film camera that was a little bit easier to manage than the Leica.
Kenneth Richard: You kept the Leica, though, right?
Kelly Klein: Oh, yes!
Kenneth Richard: Thought so! What can you tell us about your transition from digital to film?
Kelly Klein: I used to shoot film when I started professionally for the different magazines. Back then it was shooting all kinds of film and Polaroid and getting contact sheets and editing your contact sheets. I really resisted it for many years when the digital movement started to happen, I really resisted it. I don't know why I started getting comfortable with film. I really loved shooting Polaroid, even when I first started taking professional pictures. There's really nothing like film, with the quality and color that it gives you. But eventually, as time went on, magazines really wanted the digital, they really preferred working with digital and so I switched over. It actually made my life easier.
Kenneth Richard: That's good to hear. So there have been a lot of advantages?
Kelly Klein: Yeah. I was always insecure about my technical side of lighting, model, or whatever I'm shooting. When you're shooting film, you never know what you got – you only get it back from the developer the next day. Whereas when you shoot digital, you can see right away what you're shooting. It gives a sense of freedom and relief to be able to see my light and see how to tweak it with the lighting or the clothing if it wasn't looking right. It gives me a sense of security that I didn't have with the film camera.
Kenneth Richard: I understand. You mentioned shooting for magazines, who was the first paying client?
Kelly Klein: The first paying client was a cover of a magazine called Mirabella magazine.
Kenneth Richard: Grace.
Kelly Klein: Yes. Grace was always a big supporter of mine, she hired me to shoot some covers with her art director at the time, who was Sam Shahid. Sam has been my favorite designer of all the photography jobs that I've done. I've worked with him at Calvin Klein for years back in the 80s and he's been the designer and creative director for all my books. At the time, he was the creator for Grace's Mirabella magazine, so Sam has known my work behind the scenes and has seen my pictures at the company; he has developed a lot of my film for me.
So he had asked me to shoot Warren Beatty. I was like, okay, not the easiest first assignment, but I hired really good photo assistants and shot photos of Warren for the cover and they ran. Then I got another job at Mirabella shooting Woody Harrelson and then I got another job shooting Brooke Shields. Just sort of started that way and just kept going from there.
Kenneth Richard:That's quite an intro to professional photography. How nervous were you on that first shoot having Warren Beatty as the subject?
Kelly Klein: I was quite intimidated. I knew Warren personally, so that was helpful, but I was so very nervous. I took my friend Carolyn Bessette, who helped me style him, and he was super cool and very understanding.
Kenneth Richard: Knowing what I know of Warren, he probably loved it.
Kelly Klein: I think he did and I think it came out okay. I am a better photographer today than I was back then, but it was a great first experience – I really enjoyed it! Woody Harrelson was amazing to shoot also, and so was Brooke, and then I did Carré Otis.
I did Christy Turlington, and this is the really interesting thing: I shot Christy for the cover of Mirabella with Dick Page and Guido, who did hair and make up and the pictures, I thought, were beautiful. But the magazine closed down that day. The day I delivered the images to Grace was the day the magazine closed. It was a sad day, I had these beautiful pictures of Christy and they were just sort of sitting in my archives for a couple of weeks and I really didn't know what to do. I called Guido or Dick up and said I have these beautiful pictures of Christy Turlington, maybe you want to show them to an editor who you work with a lot because they should run somewhere. So they showed them to British Vogue, and they ended up running on the cover of British Vogue. That was a really big break for me. Then I started working for Condé Nast, and I started shooting covers and fashion stories and my career sort of took off as a fashion photographer.
Kenneth Richard: You have such a beautiful image of Christy in the book. Was that from that shoot?
Kelly Klein: No, that was for a magazine years later in Napa Valley. We went out there to shoot for American Marie Claire and it was a fashion story and then I took some portraits of her by myself. Just her. I never ran those pictures. I just thought she looked so amazing and I'm pretty much a naturalist, I love shooting the girls as they are – of course I put hair and make up on them, but I always like not to digitally retouch so much or digitally manipulate so much. These girls are really beautiful as they are, and I tried to keep that in mind as I was shooting. Fashion or beauty or whatever it is, where it was just her, I mean that's her with not much make up or hair or anything, you know?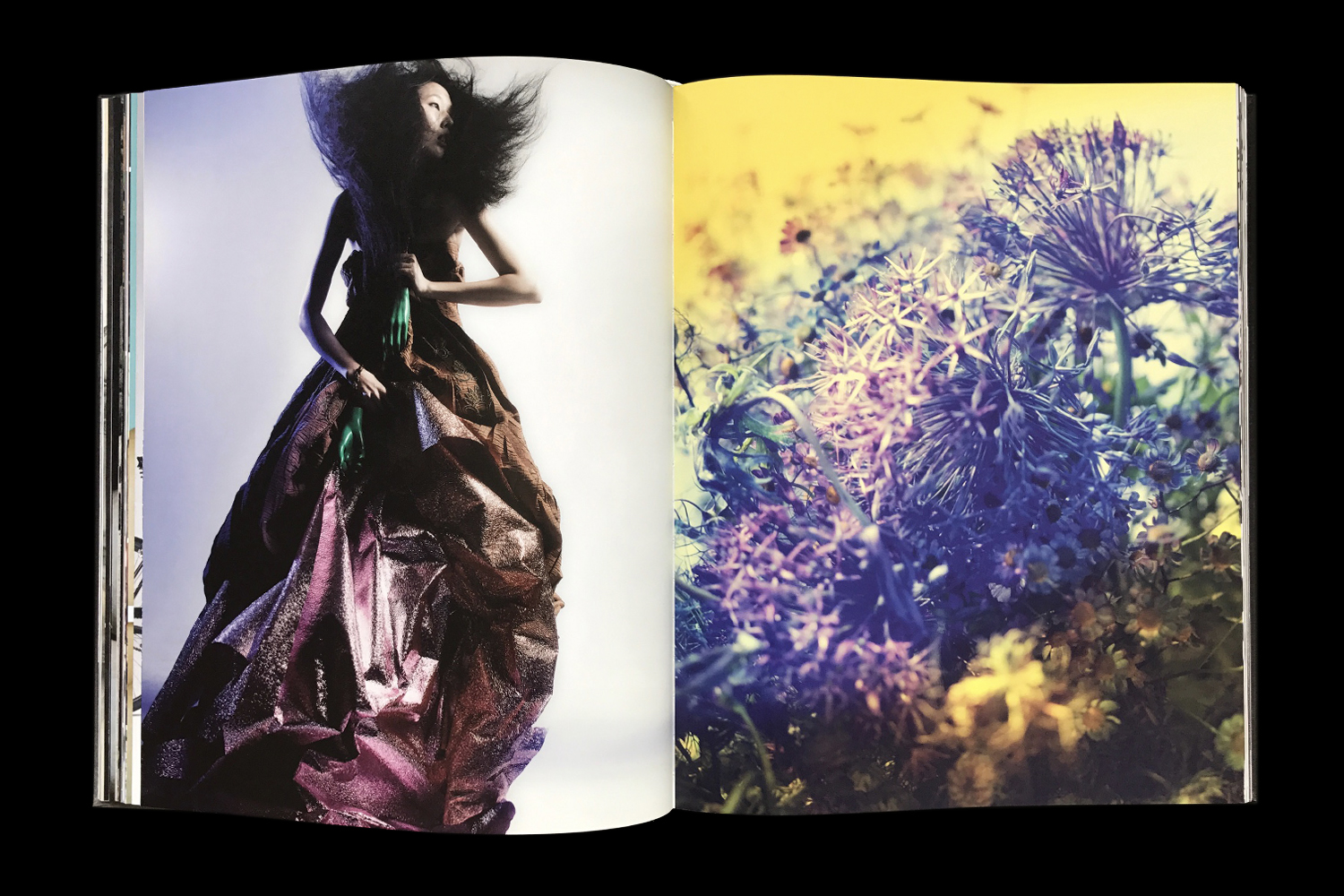 Kenneth Richard:It's breathtaking. Your work overall is organic and natural.
Kelly Klein: It's very easy with digital to get carried away with all the things that you can do, believe me. There's a picture at the end of the book of a guy who has tattoos all over his body and he's almost naked. He's got some jewelry on and I digitally embossed across the background, that was all digitally manipulated – not his tattoos or his skin, the jewelry he's wearing was actually the jewelry he was wearing that day. But anything to do with the photograph, the crops or the colors of the image were manipulated. So I get carried away with the incredible things you can do with color and skin and with the clothing; it's very addicting, but I still go back to my natural ways – that's just sort of my DNA, my character is quite natural. So that's where this book sort of represents that in me.
Kenneth Richard: What was is it like going back to the well and taking a look at the history of your work?
Kelly Klein: It's a very tedious process; you have to really want to do it. It's not fun, it's going back to looking at negatives that don't have any contact sheet, and then you have contact sheets that don't have negatives, and you've got Polaroids that have been faded or scratched, and all different types of cameras back in the day, from large format to 8×10, 4×5 to all kinds of different cameras.
It took a long time; it took me about a year to look over the parts and go through the negatives. What was fascinating about that was really exploring all the places I have been, the people that I've met, the things I've been looking at and places I've been lucky enough to see in real life. I captured them on film, yet there were moments I didn't remember and that was fascinating to me.

Kenneth Richard: Were there a few of them that stood out to you?
Kelly Klein: Yeah, some of the personal work. Towards the back of the book, there's a collage section, which is more personal, my trips that I took with friends, or lunches with friends or a party or a breakfast. Most of those were on film so I kind of just put the film and contact sheets away in the archives. After I had been to that lunch or whatever, I never saw those pictures again, and it's been 20 years. So I was reminded of this beautiful lunch with Lee Radziwill, or that breakfast with Henry Kissinger. These were moments in my life that I had not thought about because all of our lives go by and we live every day as it comes and we forget. Not totally, maybe moments or memories will come up, but basically we forget and time flies by. So that was very interesting to find so much work where I'm happy that I carried my camera, and I still carry my camera, I take pictures every day.
I'm not known as a fashion photographer or an art photographer per se, but I love taking pictures. When I work in fashion – I love it. When I'm just shooting as I'm traveling through the Monument Valley, the West Coast, or wherever – I love shooting – it's a part of me. It's about being inspired, whether I'm working in the fashion business, I love that as well. I love designing fabric, I love finding fabric, designing silhouettes, doing fashion shows, fitting the models, fitting the clothes, shooting the girls and working behind the scenes with Bruce Weber, Richard Avedon, Irving Penn, and all those people I was lucky enough to sit behind the scenes and watch for years. These are memories of my life and moments in my life that have inspired me and the people that I was lucky to have met or watch them work or listen to them talk, so this is sort of a representation of a little journey of my life.

Kenneth Richard:Along the journey, were some of those people more influential on your work?
Kelly Klein: To watch Penn work and Bruce Weber, two very different points of view, but two genius great photographers, or Steven Meisel, who photographed me. I was also lucky enough to be photographed by very talented people. Whether I was being photographed or watched them from working behind the scenes or as an assistant stylist or whatever, it was very inspiring to watch them.
Kenneth Richard: What inspired you about Irving Penn and his method?
Kelly Klein: Well, Penn worked in a very quiet manner, it was a very dark room, very quiet room – it almost felt as if you were in a very, very serious environment. I remember he shot a portrait of Calvin and me for Vogue, everything was black out, black walls, and you never really saw him, he was behind there somewhere, I didn't even know where he was or where the camera was. It was a very interesting experience, very different from the way Bruce worked or Steven Meisel or Patrick Demarchelier.

Kenneth Richard: Which was what?
Kelly Klein: With Penn it was more of a study, more of a study of someone's face, where someone's face becomes a still life. And for Steven or for Bruce and Patrick, it's your body, your personality, it's the whole experience where you're sitting, where you're standing, there's a lot of people of around, there's a lot of assistants, there's a lot of commotion, cameras everywhere, you got a real sense of what cameras they were using and lighting. With Penn, well at least from the one experience I had with him, I couldn't tell you the camera that he used, very behind the scenes, very secret.
Kenneth Richard: How do you work?
Kelly Klein: I like having a small group around me, I don't like too many people, but I need my team, I cannot do it without my team. The team is 100% a part of it and I need everybody's opinion, I like them to push me, I like them to make me do better, to try harder, take it again, try again. I expect the editor, the stylist, the hair and make up to push me, push the picture, push the girls to get it better than it is and get me to be better than I am. That's what I love, people who can help me and inspire me to take a better picture, that's how I work.
Kenneth Richard: When you're working to capture someone, how do you capture that essence?
Kelly Klein: Whether it's a brand new model or a new face that I'm photographing or a supermodel, I think I'm a very relaxed person and I'm a very easy person to talk to and people feel comfortable. I don't know how I do that, I'm a friendly person, so maybe that helps?
Kenneth Richard: I would say so. Sam art directed your recent book, right?
Kelly Klein: Yes, I did my first book in 1992 and he's done all seven of my books. I really work well with Sam. We have a really nice friendship and really good working relationship, we work off each other by pushing each other to do better, to make the layout stronger or edit the pictures better, we've worked together since the mid 80s, I guess.
To tell you the truth, I had a really hard time figuring out how to design this book and how to lay this book out because I didn't want it to be just fashion photography, I didn't want it to be portraits of celebrities or supermodels, and I didn't want it to be travel and still life, so the challenge was how to lay out this book and compile the images so that they played off each other and made sense. I would say Sam did a really great job – it wasn't easy.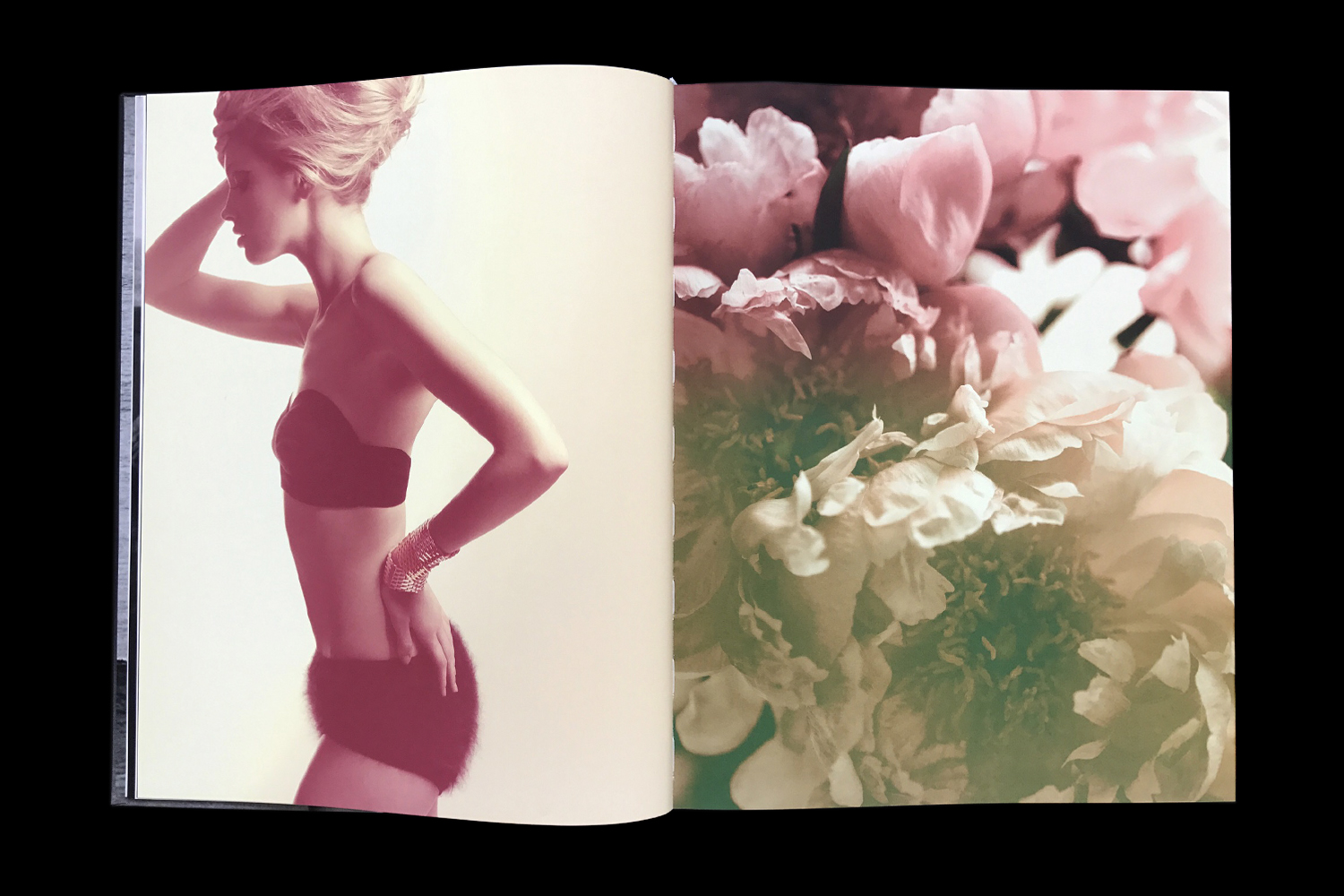 Kenneth Richard: It looked as though the work was conceptualized at the same time. The juxtaposition of the images and the way they flow and bounce off of each other was storytelling, and it looked as though it was planned, frankly, from the onset.
Kelly Klein: Well, it's interesting, because that's where Sam is a genius, right? For instance, he took an amazing looking rock that I took somewhere out west and put it opposite some girl in a very, very stiff black coat. Something I never would have thought about. But subconsciously, I wondered to myself if some of my still life and some of my portraits, or the travels through the back streets of Cuba or Kyoto is sort of inspired by the way I shoot fashion. The way Sam laid out the book, it kind of looks like one thing inspired the other, but it was taken years apart from each other.
It's brilliant, the way he compiled these images, I really love the way he did it and it's made for an interesting book. You see books on flowers, on news, fashion, or people do books on models or whatever, but this book is a book of everything – from the backstreets of South America to fashion supermodel Gisele – it's a little bit of everything.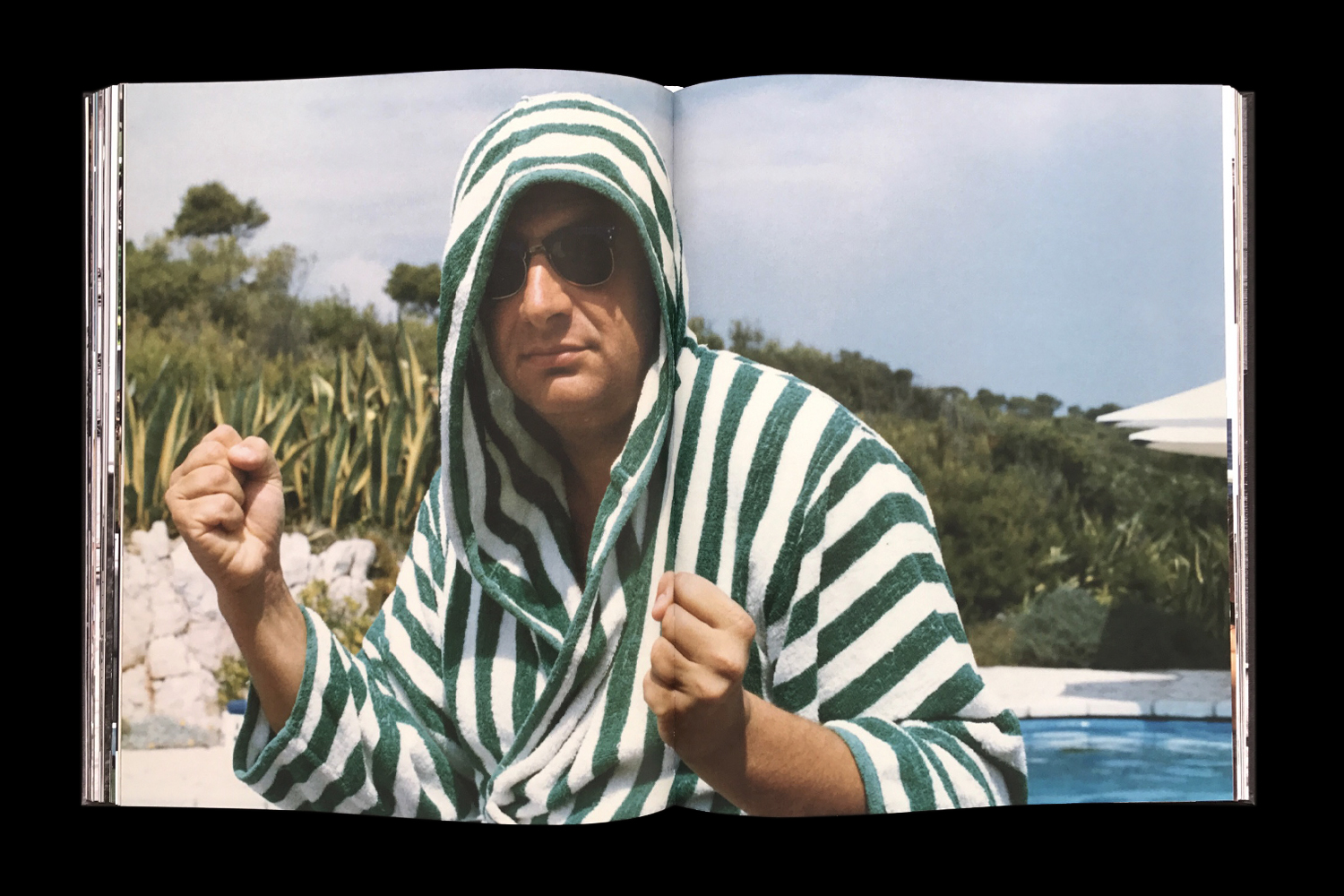 Kenneth Richard: What is it that you're interested in exploring? Do you have a wish list?
Kelly Klein: You know, I just became a mother 8 years ago. I've been concentrating on being a mother; it's a later time in my life. I spend a lot of time with my son. But with that being said, I still love working and traveling. I'd love to go to India, I've never been to Africa, I've never been to Egypt – these are places that hopefully one day I can take him. I'm still working but I don't work nearly as much as when I worked as a fashion photographer. I still work and shoot for Vanity Fair – maybe 12 stories a year. I mean, right now, I'm not working as much because I'm a mom so that sort of takes up your time and that's a whole other job, too. It's a whole other experience.
Kenneth Richard: Your father was related to the image business. Did he have an influence on you becoming a photographer?
Kelly Klein: My father passed away last year but he lived to his 90s. He was a film director; he started a company called Reproductions in the late 50s in Detroit, which is where I'm from. He was the first person, or one of the first, really, to dabble in animation to sell a product. He was an animated film director that eventually turned to film in the 60s, and he used to show me all of his commercials for Coca-Cola or Ravioli pasta, or all these candy commercials and Ford car commercials and stuff like that. I was 5-6 years old, watching these commercials, and he put me in some of them and I hated it so much, so that didn't last long. But he was a really big inspiration for me; I dedicated this book to him.
Kenneth Richard: I recall a few pictures in the book as well, as a young man. Is that him?
Kelly Klein: There are a couple of pictures of him in the book, but much later in his life in his 80s and on the book's Instagram pages. I have a picture of my son and my nephew in the book that you might be referring to. My father was a really big inspiration and his work is in the Museum of Modern Art in the archives – way back there, in some box somewhere. You know, it's interesting, I'd maybe love to do film one day.
Kenneth Richard: We'll have to talk to the people at Vanity Fair, I'm sure you have some connections.
Kelly Klein: Maybe.
Kenneth Richard: Thank you so much for taking the time today, I'm grateful. It's a stunning book and the combination of your photography mixed by Sam makes for a really great story.
Kelly Klein: I am honored that you wanted to talk to me. Thank you.
---