---
Loewe Creative Director Jonathan Anderson teamed up once again with Gray Sorrenti to create the newest ad campaign for the brand's capsule collection Loewe Paula's Ibiza. Shot in New Delhi, the photoshoot captures scooter and tuk-tuk riding in the streets, BMX acrobatics on the rooftops, a private party with the young models and members of the local B-Boy subculture, and much more.
The first Loewe Paula's Ibiza capsule collection launched in 2017, and has since been an annual collaboration between Anderson and Armin Heinemann and Stuart Rudnick, who co-founded the iconic clothing store Paula in Ibiza, Spain in 1972 and created a treasure-trove of psychedelic prints inspired by the natural world. Anderson incorporated archival Paula patterns into the new collection including goldfish surrounded by water lilies, and mermaids in coral, and then added tie-dyes, summer leisurewear, and clubwear flourishes such as cyberdog-inspired neons. The brightly-coloured pastiche is well suited to the vibrant urban metropolis of India's capital city, a rich backdrop for the photoshoot and video that gives the young protagonists all sorts of kaleidoscopic situations to interact with and bounce off of.
Touchingly, Anderson released the campaign with a heartfelt letter addressing the global health crisis which he states, "I know this is not exactly the ideal time to launch products, but this is a project all the craftspeople at LOEWE have been lovingly working on for some time, giving life to objects that are exquisitely lively and optimistic—as craft always is. This is a happy, undeniably escapist collection, conveyed through colorful and energetic images, and I thought it might cheer you up. As a visual feast, probably, or an aide-mémoire of better times to come. I'll be happy for you to enjoy it, quite simply and very spontaneously."
Mission accomplished!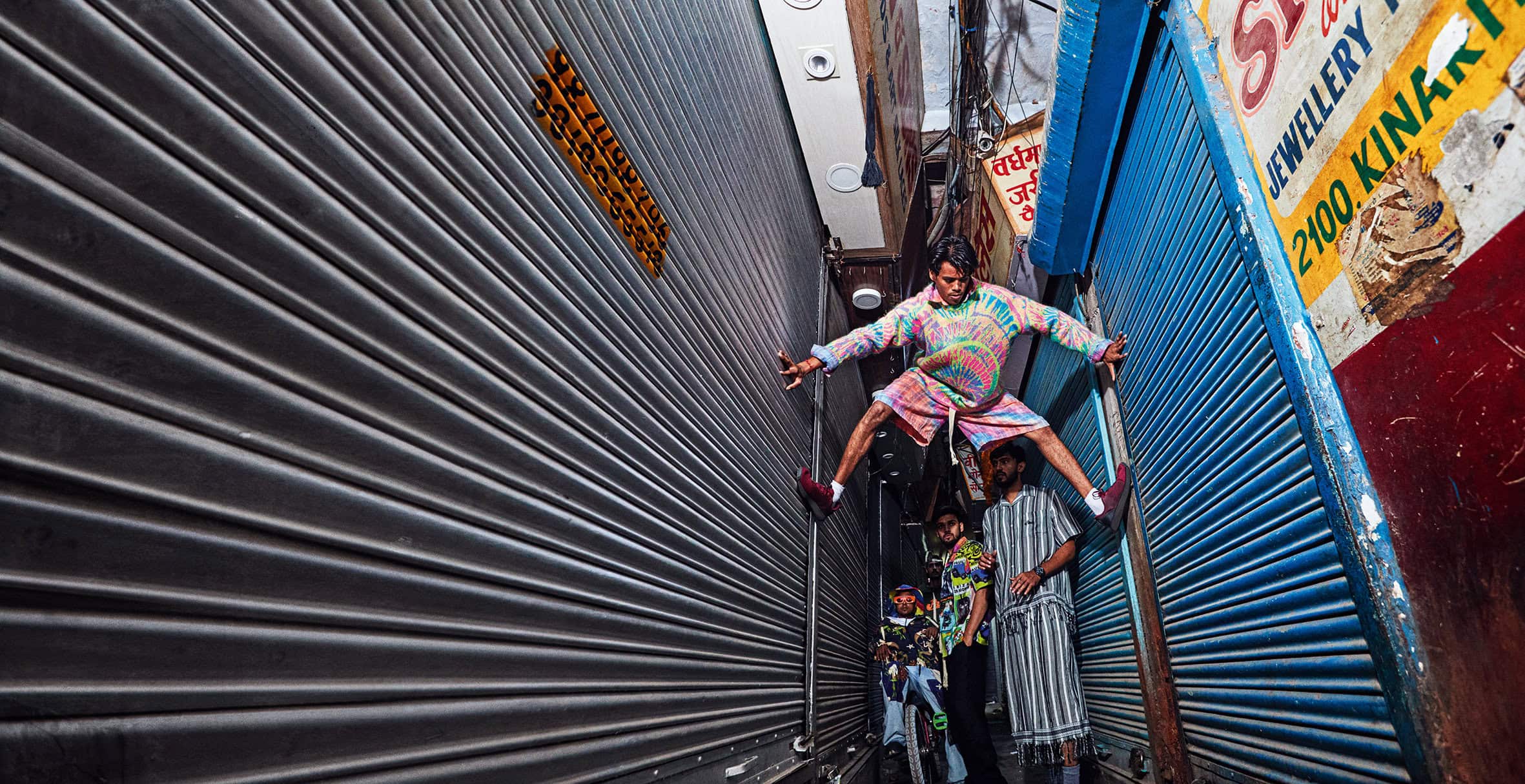 Loewe Creative Director | Jonathan Anderson
Agency | M/M (Paris)
Creative Director | Jonathan Anderson
Photographer | Gray Sorrenti
Videographer | Matt Jones
Talent | Ajay Kumar, Alisha Solanki, Brandon Hartley, Charlie Cherian, Deepak Rawat, Erin Eliopulos, Faraz Nabi, Fisher Smith, Harman Singh, Indu, Jai Khangval, Kapish Sirohi, Kunal Gera, Mujahid Habib, Preeti Kumari, Princy Cherian, Shubham Tyagi, Tamanna Sirohi, Tushar S., Vipul Jain
---