---
Review of Art School, Matty Bovan, Ahluwalia, Parnell Mooney, Linus Leonardsson, Olubiyi Thomas, Labrum London Fall 2021 Fashion Shows
THE VANGUARDS
Fashion, First Seeded in Poetry, Imagination, and Multiculturalism, then in Some Clothes
By Long Nguyen
"I have watched stars become lit on runways, have learned how to take the runway off of the stage. You can make a stage anywhere if you believe the city belongs to you, even if it does not … I have watched us redefine style in stillness while we have a while. Remind our selves of the power of what sits on skin for those who have had to learn to dim what lays within, but not here, and not now," recite Kai-Isaiah Jamal of an original poem he has written in his notebook.
In the poem, Jamal's verses celebrate the need to overcome all the hardships in life and how fashion can be a life-changer.
Only in London does a poet official open fashion week. The London fall 2021 shows/presentations and video premiers started with a simple black and white performance piece by the poet, model, and trans visibility activist Kai-Isaiah Jamal titled "We Applaud Here" rather than any actual presentations of garments.
"We platform those who are brave and bursting at hems and seams; those who have stitched dreams into sleeves alongside their hearts and their hope; we boast for those that bring patterns from home, silhouettes that are yet to be known, and those who are saving and making things that last longer than the flashing of cameras do."
"Who take old and make it new, break tradition and honor it too, who grew themselves into brands, moulded themselves into not only models but role models too, who pull up seats for the new and the naughty and the daring and the destiny of design. Changing the world one thread at a time. We are changing the runway to also a microphone stand, less single file, more hand in hand. Sometimes a runway be a protest more than an end destination. And there at the end we see the light …" Jamal continued to read from his handwritten notebook.
It fits that of all the fashion capitals – Paris, Milano, Shanghai, and New York – that only in London that poetry would lead and serve as a springboard for this coming season, where the young British designers grew up in a very diversified metropolitan city. These young designers proudly wear their multicultural backgrounds to synthesis a new way to think about fashion. They craft their clothes not just with the skills acquired at Central Saint Martins, the Royal College of Arts, London College of Fashion, or the University of Westminster BA Fashion but with the ingrained poetry and imagination that come directly from their lives.  
Here and in the next couple of days, the works of these new and new and leaders of the next generation of influential designers will feature, as a few will be presenting their debut work on this London fashion stage. These are the new vanguards, they are leading with ideas, innovations, and emotions, and they are wrapping their collections with intense personal poetry.
At the end of the second day of this digital London Fashion Week, Eden Loweth wrote as a note to his Art School fall show, the last show on Saturday night, that "my whole heart is in this for you."
ART SCHOOL
This fall season, which is presented today in a short-taped fashion show titled Ascension, is a first for Art School, with only Eden Loweth at the brand's helm. As a label founded in 2016 by Eden Loweth and Tom Barratt with a debut appearance for fall 2017 as guests of Fashion East, Loweth is now the sole creative at Art School of this new era.
Loweth showed his last spring collection as a live stream show he called Therapy on the London digital platform as his catharsis experiment. He gathered everything the label has done since the beginning, put it together in the show, and then moved on to the next chapter.
This new chapter for the brand, though, rests upon its founding mission.
"Art School was created to convey a message, to create a dialogue of our lives and those of our friends, our loved ones who are never represented. We are here, and we stand proud of who we are and where we're going." The community around Art School had supported the brand in various ways, friends from the late-night clubbing around London who provided the inspirations and often appeared in person to wear the clothes when it came to showtime.
Kinship is fundamental at Art School.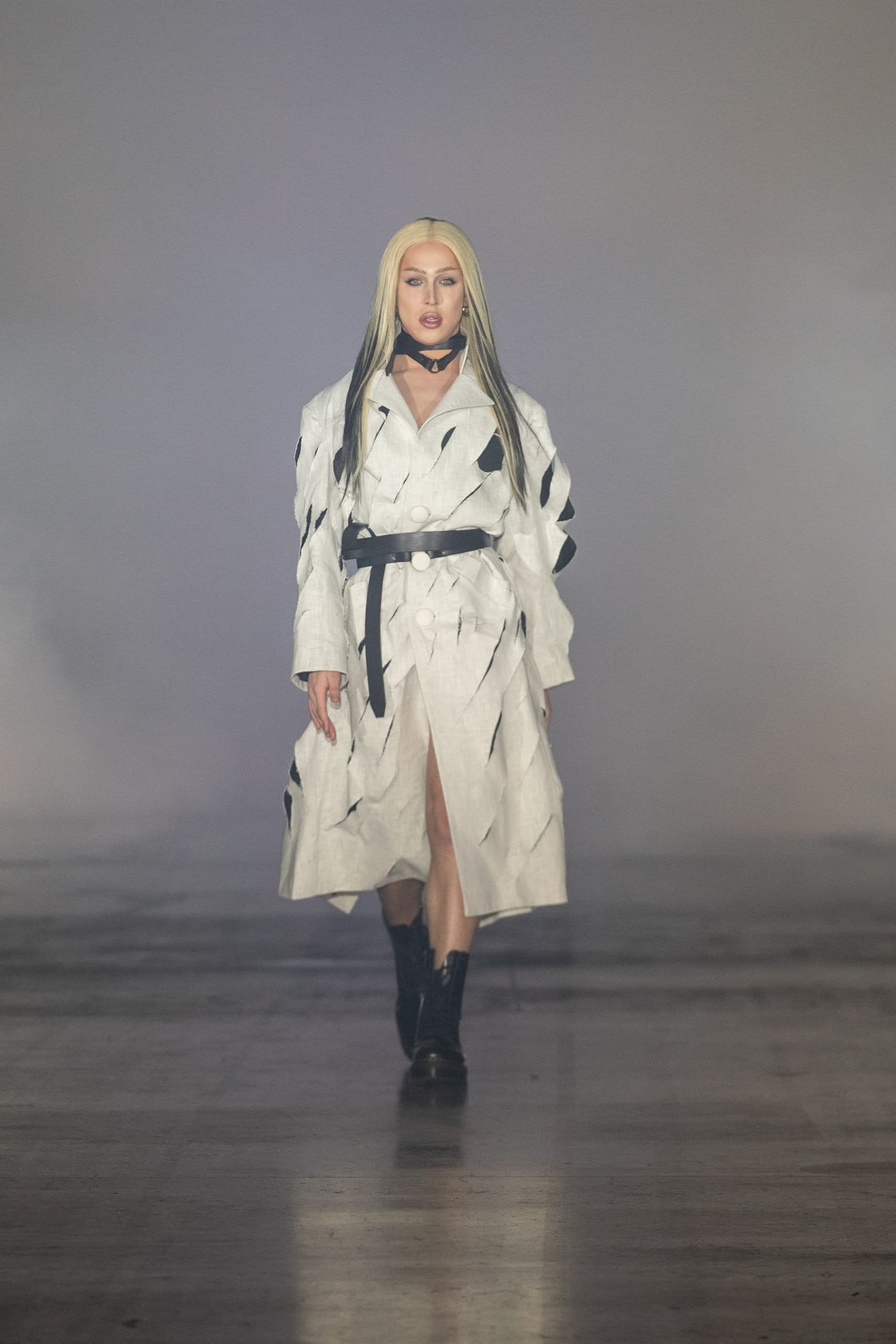 Art School has been London's torch-bearer for diversity and inclusion before these words became the 'thing.' The young brand featured models of all ethnicities, of all sizes from tall to short to fat to thin to young to old, and of all sexualities. They all have walked in Art School's shows, making this young brand the go-to for the community of like-minded kids assembling around a brand that is their identity in the open.
For a fashion brand, people identify Art School with and about the people wearing the clothes before it is about the beautifully tailored cut dresses often taking a backseat to whoever wore them. Few brands in fashion today achieve this level of community commitment in the way Art School has established itself.
The clothes are a remarkable demonstration of dressmaking techniques, of the crafts skills required to make a bias cut silk satin one-shoulder short asymmetrical cut dress. This dress has pieces of satin hanging at the bottom, brushing against the air. There are no strange or weird-looking clothes, only just great constructions and made entirely with solid wool and silk fabrics in black, rust, ecru, or red.
That said, the white short sleeve satin dress with slashes across the entire body of the dress and at times with fringe pieces hand-tied together on the side seems an allegory of the current times, torn and frayed but still walking. The fragility of the white silk satin fabrics with its
"The collection itself builds on the core values I have instilled in Art School's clothes from our first season. The use of the bias cut to make our clothes tolerant and easy to wear for all bodies and genders and my personal skillset in tailoring. From these foundations, the collection is built with new interpretations of our signature drape dress, this season constructed from a delicate sparkle knit, a new introduction of tailored smock coats and dresses designed for all ages," Loweth said of the new range of new cloths that include those satin bias cuts in ecru satin or in red sparkle silk and black double breast coats tighten with a leather belt.
At times, the movements and stillness of the clothes feel majestic. The flowing movements of a long black open sleeve dress or a similar version in rust where the volume of the dress captures the space and suck in all the air in the room as the models casually strode by the camera, or even in the rigors of the black corset with black fur trims worn with black pants. Even well-cut clothes can at times provoke an emotion.
MATTY BOVAN
Facing the real challenges to the intensifying second lockdown late in the fall and the start of a third lockdown right after the New Year, the York-based designer Matty Bovan – a Central Saint Martins Fashion Masters graduate 2015 – specialized in knitwear as his major of the subject of study. Like many English fashion college graduates, Bovan followed many of his classmates' footsteps and launched his line after presenting his twelve looks for his graduation thesis with inventive sculptural and decorative knits that earned him the LVMH Graduate Prize in 2015.
Bovan showed for the first time for fall 2018; then, with BFC NEWGEN platforms in succeeding seasons, his shows were precisely the kind of fearless fashion CSM students known. This time, Bovan produced a film that he made locally at his studio in York titled Odyssey with models from the surrounding areas.
The surrealist video is fast-paced and often out of focus moving images with the interplay of psychedelic colors and camera angles. As the designer explained, this video is set in three parts with characters supposedly at sea, albeit an imaginary sea, where they partially drowned and were brought back to the surface in a sort of resurrection. The video felt handmade and, in a sense, almost of the VHS or Betamax era before the high gloss of digital technology. In this same way, Bovan's actual clothes are almost pre-high tech, where each garment is made by hand by the designer, often by himself.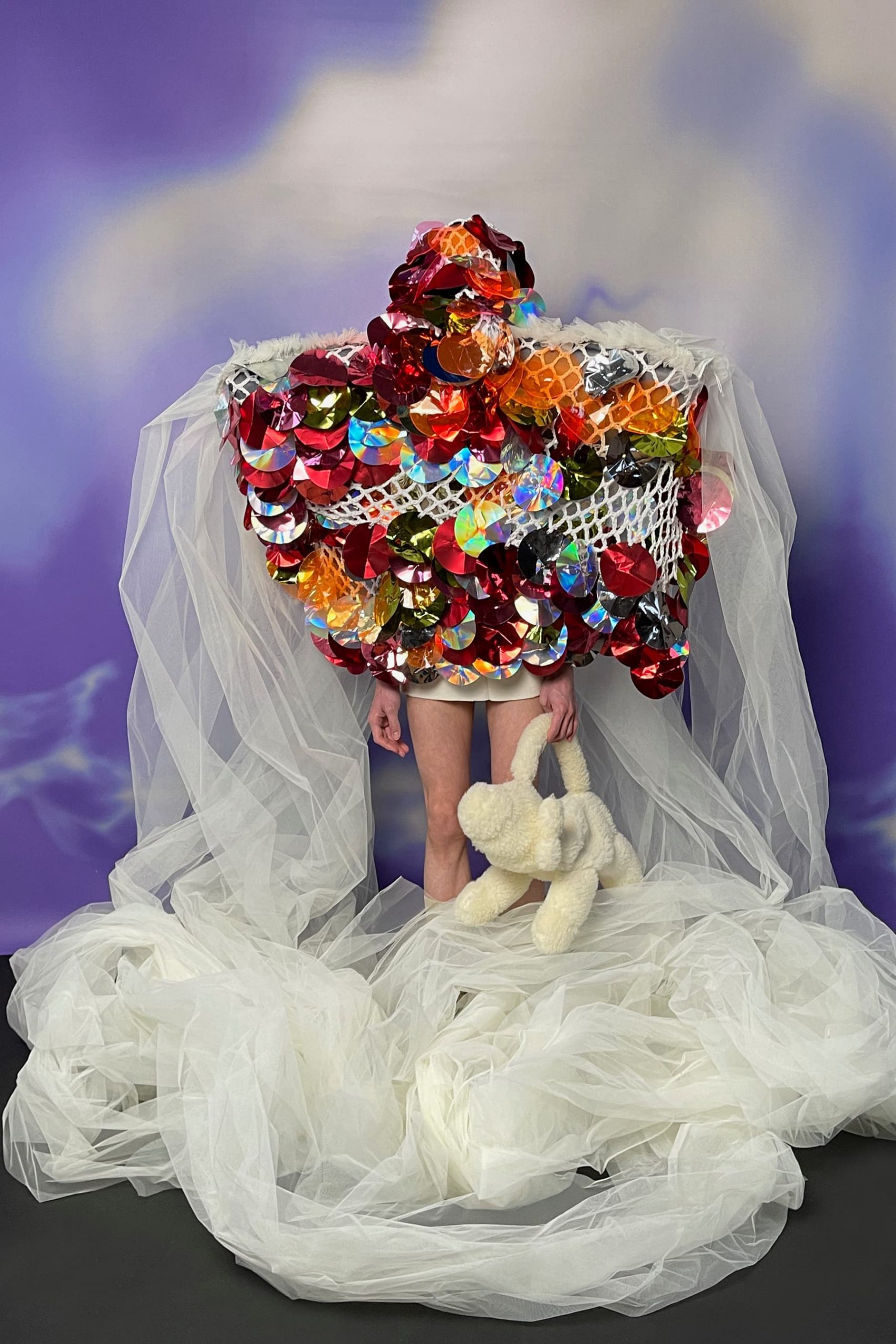 It is less of an actual shipwreck but imaginative wreckage of traditional fashion silhouettes that allowed Bovan to construct this collection with little restrictions.
In a remarkably creative way, the designer started with a series of abstract shapes bordering clothing boundaries. Here is a rectangular shape hand-knit white crochet 'sweater top' decorated with colorful circular disks like giant sequins made by The Sustainable Sequin Company with a long ecru tulle train running on both sides from the shoulders. Another abstract shape is the crochet knit ecru dress with the top of the dress entirely covered the head and a sculptural tree trunk upright rectangular box right leg fully decorated with sequins.
Bovan's approach to fashion exposes one of the most complicated issues currently rampant in the fashion industry: sustainability. The designer's work suggests a way for less consumption, not on the grand scale but as choices any individual can make – consuming less and less to achieve the kind of balance necessary to stave off further adverse climate changes.
The designer used primarily deadstock fabrics, end of line materials, and yarns to limit waste at any stage of making the clothes, mostly by locals around York and Sheffield.
Being in a young millennial generation, Bovan is an exception in that he does not wear his social-political voice with words inscribed on any of his clothes. However, Bovan ethos is written not with slogans in capital letters and an exclamation point but in the vernacular of the materials and how he makes the actual garments. The recycled Swarovski crystals, the sustainable sequins, the hand knitting, and the handmade crafted locally with fabrics from English mills like Hainsmworth, wools from Yorkshire, and ISKO denim from Wales.
There is total freedom here that makes this collection an oddity or outlier in the sea of collections that emphasize what to wear rather than fashion. Bovan knit together this collection using the utmost creative solutions, working with what he has.
Look carefully beyond the abstractions, and there are plenty of ideas for clothes that can sell commercially. The multiple folds denim pants with crystals, the white merino wool sleeveless dress, the reworked vintage fisherman print, texts coat, or the Aran and cable knit skirts and twisted dresses are examples of possible adaptations from the runway. The few woolen looks prototypes that Bovan submitted to this year's finalist International Woolmark Prize. The patchwork wool mélange boat neck sweater worn with multiple belts and the hand spray paint wool 'fur' coat is both exceptional conceptual and actual fashion.
Bovan's exemplary work to make this collection a reality should be an example to other fashion designers bogged down by the immediacy of the current crisis to think in such short-term manners like what kind of leisure clothes to make for the real world. That's probably why the Spring 2021 shows were so mediocre, as so few designers even bother with creating fashion beyond the e-commerce garments.
AHLUWALIA
In collaboration with the musician Cktrl and the film director Stephen Isaac Wilson, Priya Ahluwalia made a short film titled Traces that captures her fall collection foundation. Her fashion sensibility comes from her own experiences, "the spirit of migration, brotherhood, and unity," as described by her Instagram page featuring the three minutes short.
"It showed how we move around the world and that the things from the past always follow us around," Ahluwalia said of Yaa Gyasi's novel Home Going, a story of two sisters separated at birth in the 1700s and through generations still enshrine experiences from their ancestors. The designer looked at migration as a societal process and one leading to merging new ideas and new ways of thinking, especially from her personal life growing up in a multicultural household with a father from Nigeria and a mother from India step-dad from Jamaica.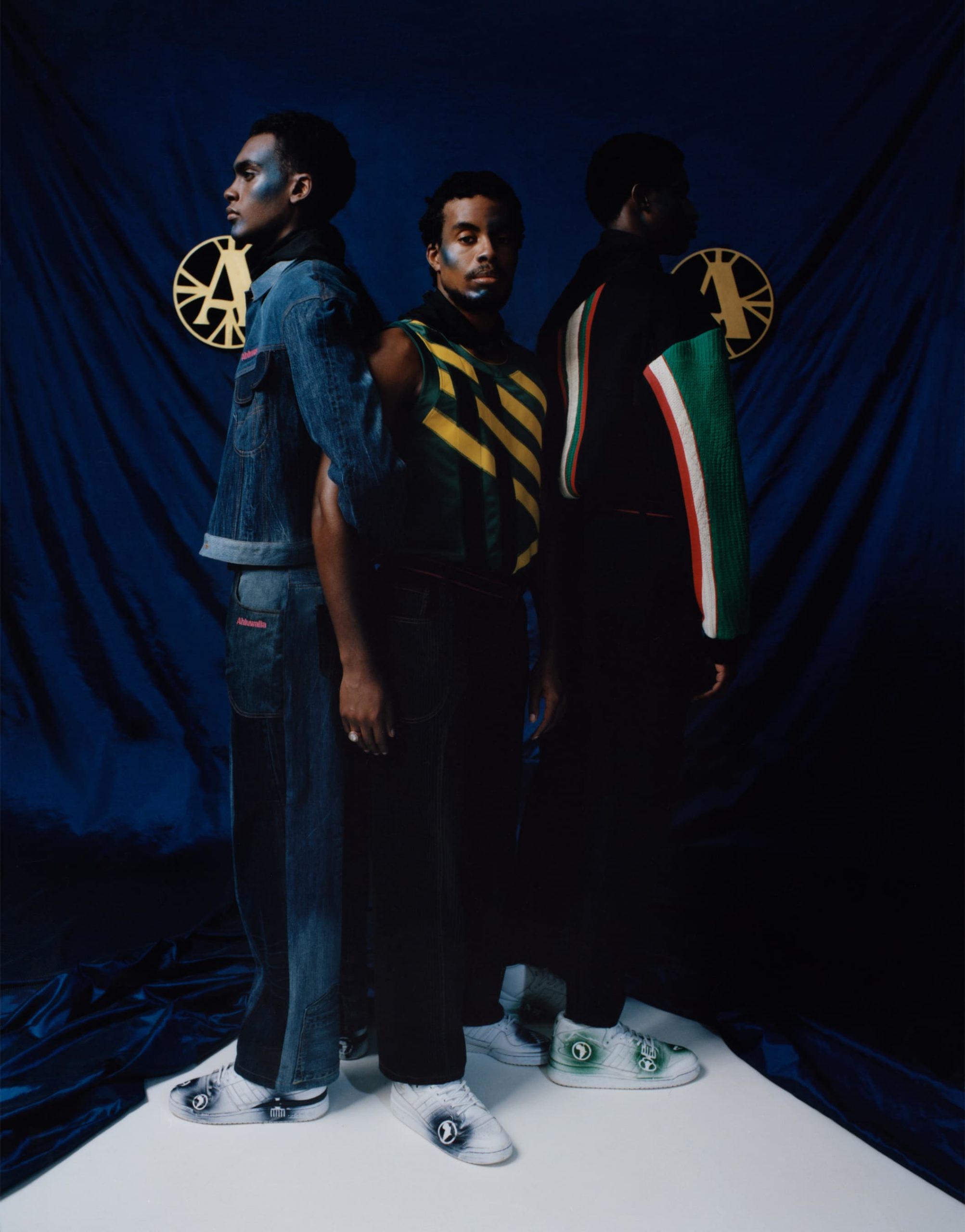 A graduate of the University of Westminster MA Fashion in 2018, Ahluwalia incepted her label with the exclusive use of dead stock and vintage fabrics available rather than creating her clothes from new materials to more waste. It's sustainable in a natural way.
This season, Ahluwalia looked at the Harlem Renaissance era in terms of the long history of migration to reinterpret any history and assimilate the idea of syncretism, merging different elements with a statement at the core of the designer's work and her brand's prime ethos.
There's actual hybridization through the physical clothes such as a reversible colored stripes puffer coat with different materials on each side, or contrasting textiles combine in a brown plaid and navy wool coat and a blouson of white, brown, and plaid shirting fabrics. An ecru and the light print classic shirt is a patchwork bamboo silk dead stock shirting, and a black sweater with a graphic motif is a mix of repurposed knits and old sweatshirts.
The collection eschews the boundary between the formal and the casual.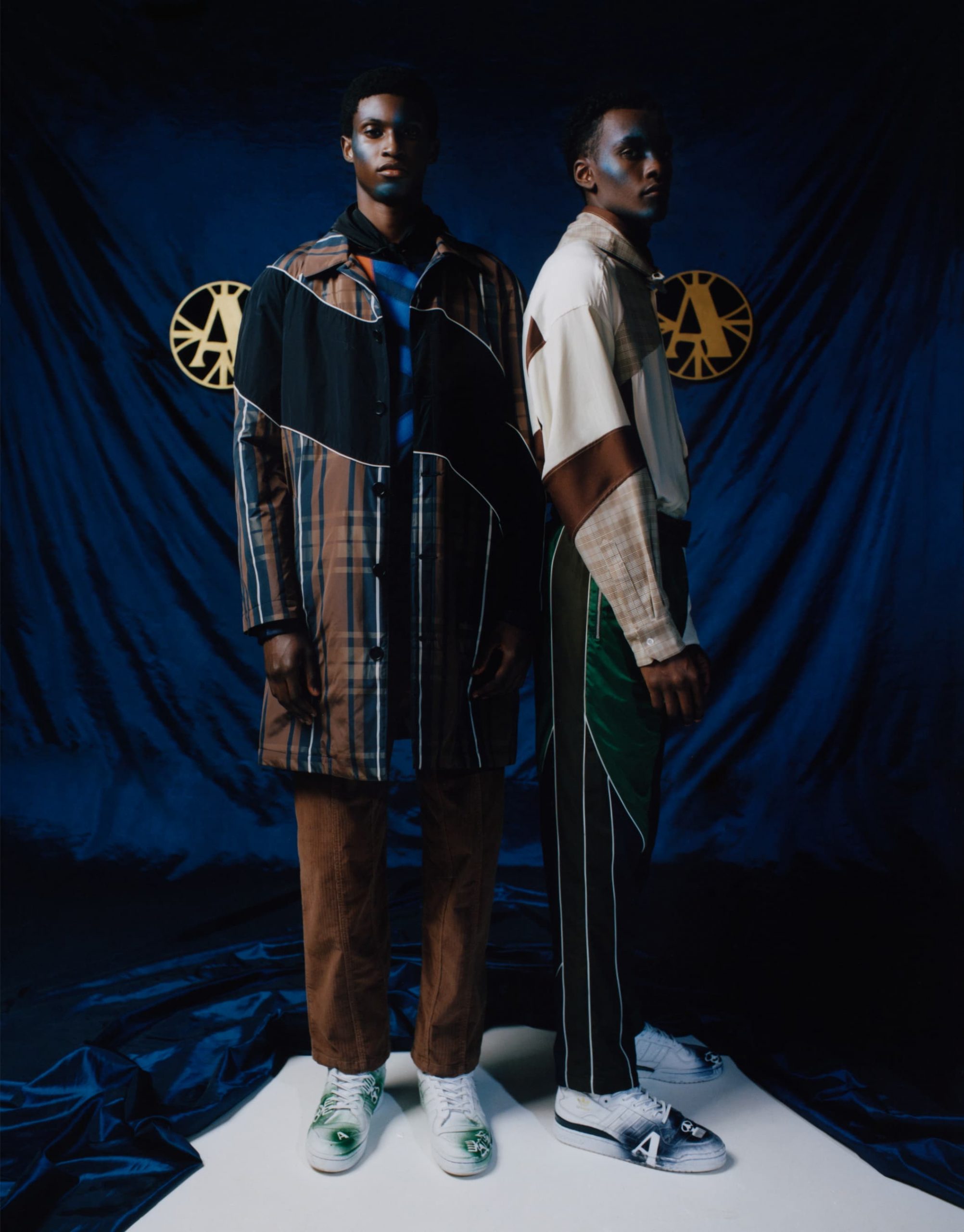 The light stripe denim boxy jacket and matching denim pants look a bit formal,' and a red shirt and pants feel more like casual pajamas. But a brown cropped blouson and matching pants do have that suit look.
With nineteen looks, this fall collection marks Ahluwalia's most expansive collection she has shown to date – a note to the careful course of not doing too many looks and remaining very focused in this niche menswear market. Her fall 2020 had just thirteen total looks, while Spring 2021 had only twelve. Slow and organic growth is the way for this small independent brand in its third full season, but she has already recognized her work and devotion to the specific ideas.
By adding her experiences of cultures to the clothes and taking a stand firmly on responsible production and consumption, Ahluwalia sets the next stage for slow growth rather than embarking on unnecessary and, worse, unsustainable.
PARNELL MOONEY
As part of the new program DiscoveryLAB sponsored by the hair product brand TONI&GUY, Rory Parnell Mooney is not exactly a newcomer to the London fashion scene, having shown with Fashion East in 2015-2016 after his graduation from Central Saint Martins Fashion Masters at the time in 2014. After taking time off and teaching fashion at schools in London, the Irish designer starts in a brand new direction with a short film featuring a laptop printing out color prints of his new fall men's clothes.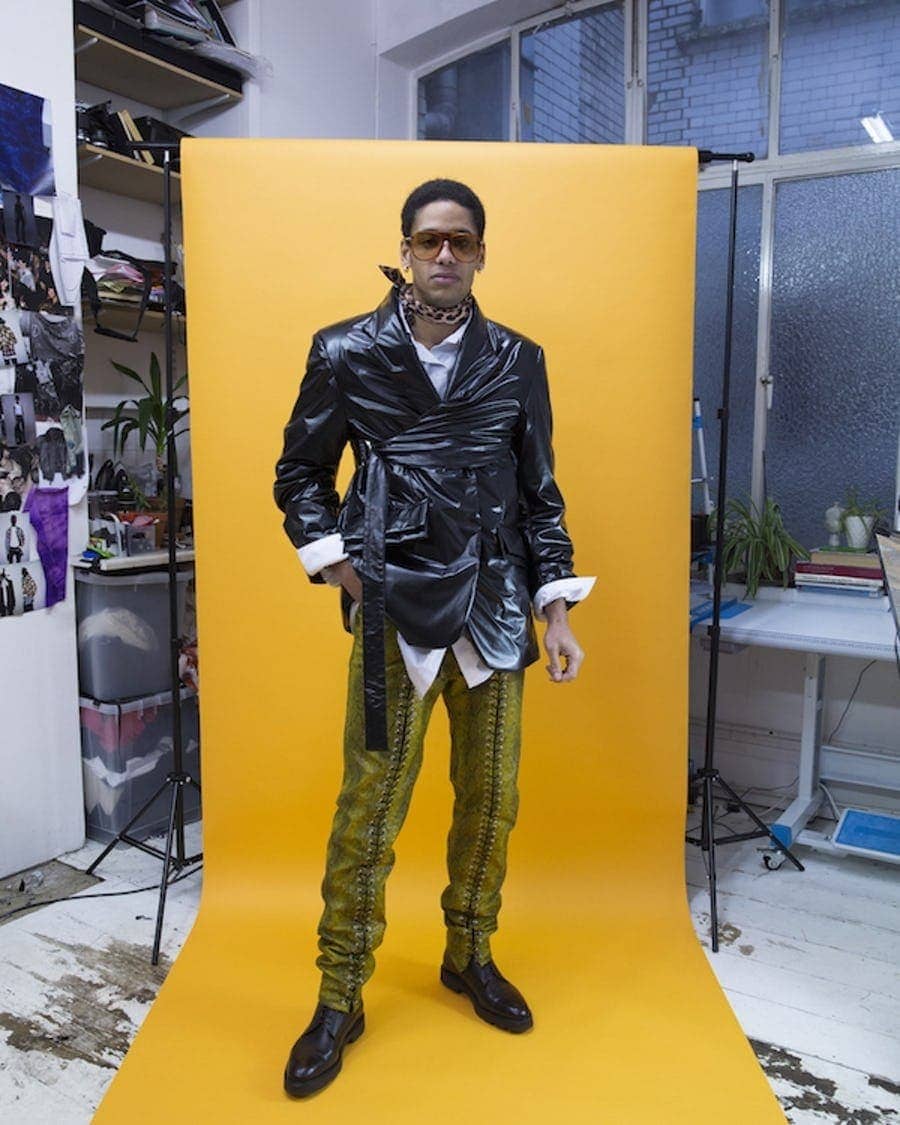 "The inspiration is a dragnet of things I've been consuming over the last six months – which means more film, more music, and more stuff online than I normally would. There are many film references this season: Beau Travail, Wild at Heart, Working Girl. As odd as that combination, I think it works," Rory Parnell Mooney said of his new collection under the Parnell Mooney label he launched in 2019. The mechanical and automated jettison color prints from the computer reflect the meditation on the ritual of getting dressed, an obsession since his early start.
With imaginary places to go, the clothes are more realistic than fantasy, even with a light green off-shoulder boat neck long sleeve tee-shirt top paired with shiny black leather pants – maybe an outfit to the local supermarket. This boat neck shoulder-neck line is a classic of Parnell Mooney, seen from this spring season and nowhere repeated in a dark olive square-cut long sleeve tee-shirt paired with black fitted pants with lacing on the front legs or in black with tie-dyed washed black denim lace-up pants.
A lot of the clothes are about elevating the every day, like taking a pair of jeans and turning up the volume, let's say. It's like – how I can take the everyday wardrobe and make it more powerful, more confident?

– Rory Parnell Mooney
By turning up the volume, he meant taking a classic blue cotton dress shirt. He created an extra swatch of fabric in the front panel to tie the two front sides of the shirt together or transforming a basic white short sleeve tee-shirt into a possible light evening top by ruching the center to form a wave pattern on each side.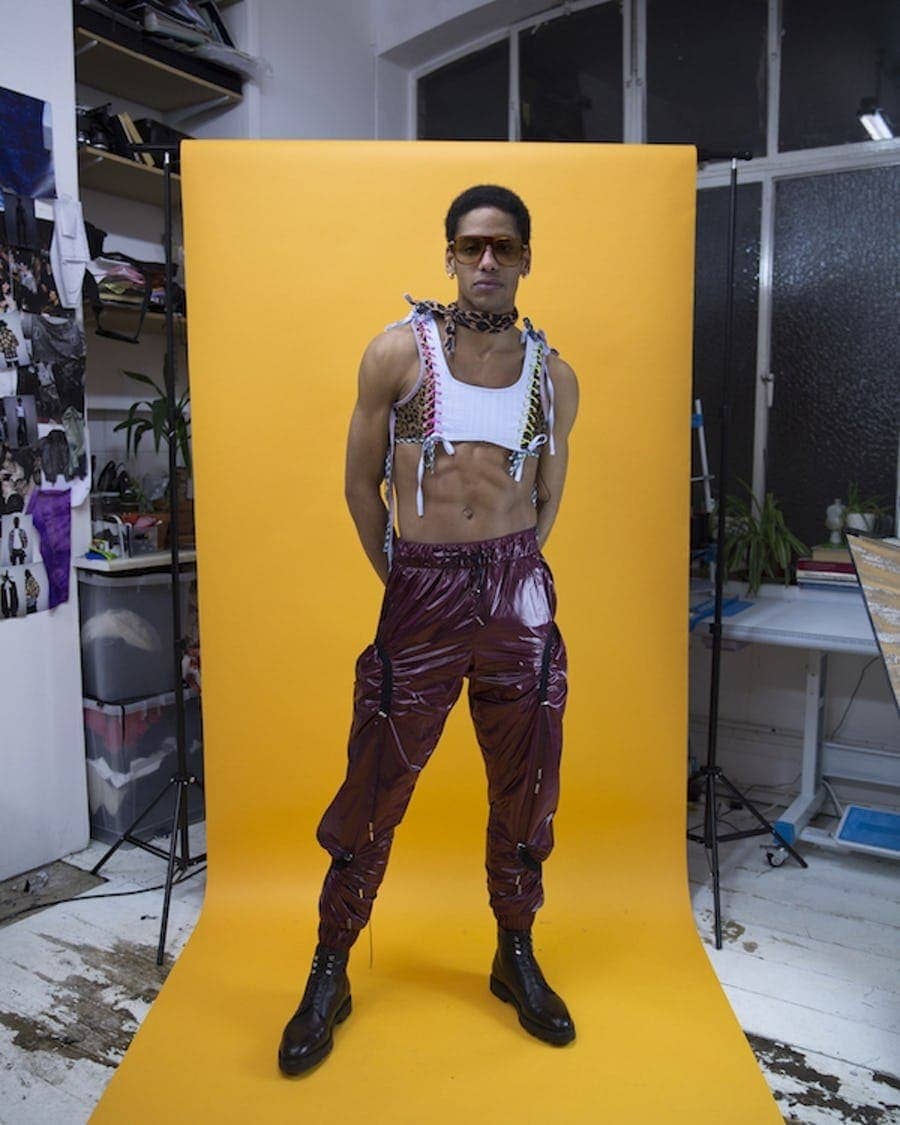 These clothes are for sure not the kind of short wardrobe staples. Still, the designer works each garment meticulously where he juxtaposed different elements onto, say, a shirt or a pair of jeans transformed into tailored pants with lace-up front details.
A suit jacket or a plain tee shirt are merely starting points in the design process, resulting in the same coat into one with an attached scarf and the same tee-shirt into a boat neck 'corset' like a top. A shirt is cut only to leave behind the bottom below the waist, becoming a cumberbund tie with a cotton string worn under a sheer black polo.
Remember, these clothes are from a designer who started his fashion career with a graduation collection based on his childhood memories of ecclesiastical vestments of nuns merged with protest movements' ritualistic dress codes. That graduation show earned him his place in the talent incubation machine of Fashion East.
But the designer is also turning his focus on giving the clothes a maximum of sex appeal, just baring enough flesh or fitted over enough flesh to show off a bit of skin or a feel of skin. In an era of genderless clothes, this collection stands out for its contrarian idea – making some clothes that should have no gender for men.
"It is all driven by instinct. I'm not over-thinking," Mooney said as a prime directive of his design approach pairing the utilitarian and eroticism in one garment.
LINUS LEONARDSSON
In a surrealist short video directed by Lineta Liduma with a voice poet Caroline Krager reading existential verses 'Storm before the Calm or Utopia Scent', the Swedish Linus Leonardsson presented a kaleidoscope moving imagery in a video with a combination of rapid moving images of distortions and exaggerated movements.
The designer intended to portray the mixtures of digital utopia, everyday domesticity, and escapist dreamscapes as the grey clouds surrounded the characters at the end of his London debut.
Based in London, the Stockholm-born Leonardsson began his gender non-conforming collection following his graduation in 2019 from the Royal Academy of Fine Arts in Antwerp, first in Moscow showing there in 2019 invitation of the Russian Fashion Council. He moved to London with a particular focus in creating vivid print and colorful garments with exciting shapes that defy gender classifications in his fourth collection with a bit of the 1960s space-age edged into the dripping bust seams 'dresses.'
As a designer of the 2020s, Leonardsson pushes forward the responsible fashion as a mode of operation, not a concept. All his clothes are made from recycling, up-cycle, deadstock, biodegradable materials, and fabrics. Besides, the productions of commercial clothes are in London and Europe to control the products' sustainable sourcing.
Here in this new collection, light green and pink print pattern coat is made from old tableware cloth, a pale orange print shiny asymmetrical cropped puffer wrap shawl-coat or a dark green and white print wrap puffer skirt is made from deadstock bed coverings, or a patchwork of crochets sleeveless sheath dress is made from old yarns and reprocessed polyester cords crocheted and woven the fringe dress loosely. The print one-shoulder bodysuit or tight turtleneck and leggings are made from surplus cotton print bedsheets. And a bright yellow cut-out dress is made from synthetic jerseys.
Fun optics aside, there are some creative clothes here like a wool plaid vest with origami folds, or a print-cropped cowboys spread collar jacket, or, for that matter, the sleeveless diamond shape cut-out sleeveless cotton tank tops.
"Call it daydreaming or escapism, but envisioning a better world is a necessity to bring ourselves and our communities forward. Within utopias exists dystopia," Leonardsson said of the needs this season for a digital-based realm of creating a fashion collection, a letting the mind wonders when the body is confined at home.
It is not yet the time for Leonardsson to get too serious about making more 'adult', aka more commercial clothes. Already he is working with Komono on eyewear and the German knitwear platform The GuestList, sponsored by the Woolmark Company. Better yet, stick to what he does best, be more inventive, and have some fun with the fashion. His niche audience would not expect anything less than just utter creation and perhaps also responsible products.
OLUBIYI THOMAS
As a new addition to the shortlisted finalist of the BFC/VOGUE Designer Fashion Fund 2021 just a few days ago, the London-based, Lagos born, and Glasgow-raised Olubiyi Thomas continued the quest for his fashion brand founded in 2015 with a maiden collection for spring 2016. Thomas aims to balance artisanal crafts, organic and sustainable fabrics, and a mixture of historical references and multiculturalist points of view with clothes all handmade around London.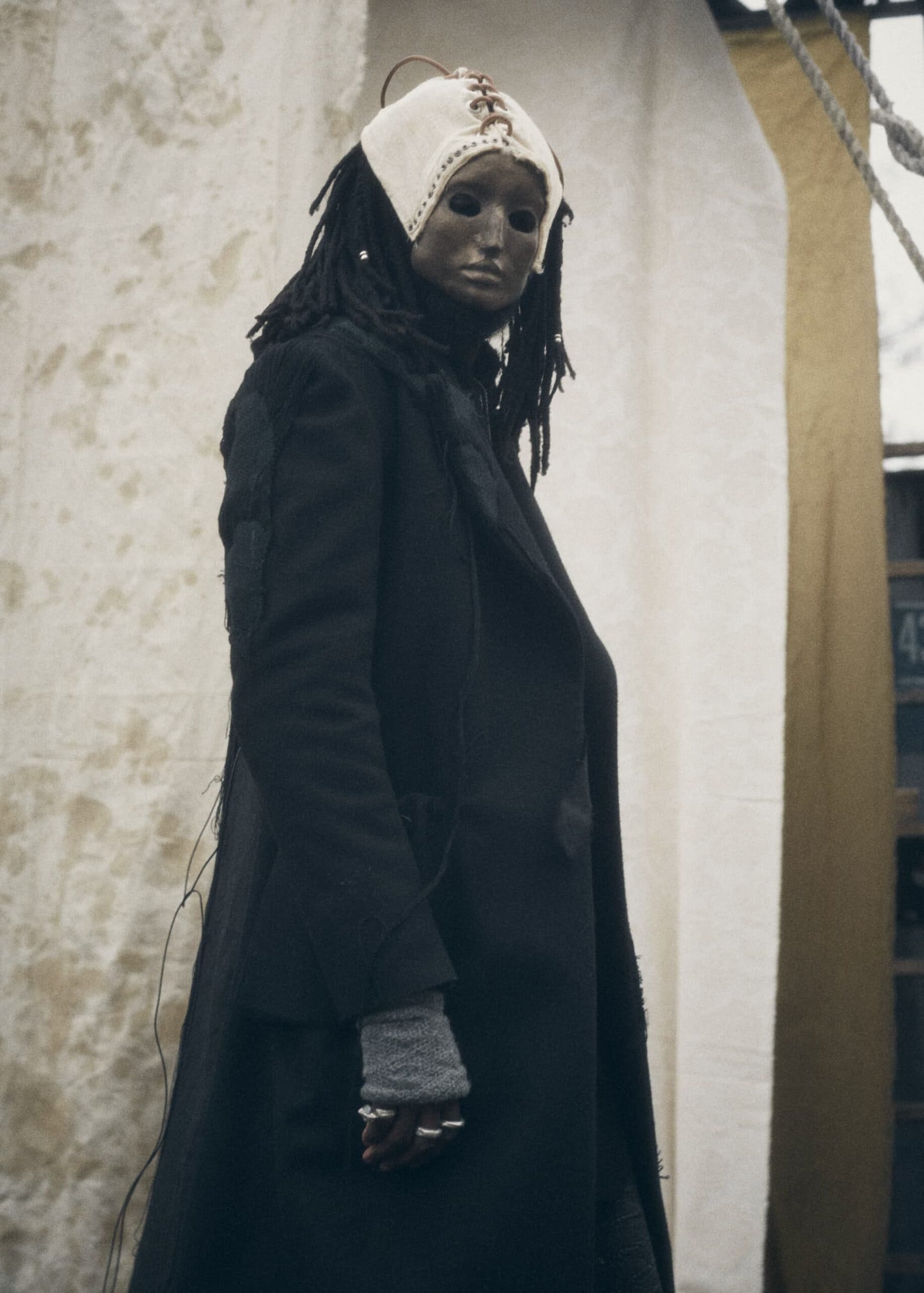 A graduate of Central Saint Martins BA Fashion in 2013 with a specialty in fine arts, Thomas made connecting his dual cultural heritage a central departure point and a point of meeting his fashion work's aesthetics. The Nigerian-British designer imaginatively linked the British tailoring heritage and post-colonial history with his Nigerian background.
The designer skillfully made his clothes in a way to show the hidden beauty of structured garments that are slightly unstructured on purpose to show the intricate construction.
The details say of a black single breast long wool coat with a deep fold in, and with attached fabrics forming different layers in the back in this new fall collection are hidden from plain sight.
Shown as a short film titled Future Highlander, the film, directed by filmmaker Toby Buchan, explored the adventure in a lightly wooded forest of an individual lost in the wilderness after touching some wild mushrooms, then saved by a group of similarly dressed strangers, then in a kind of dream-like sequence ended up at a space with full of strange floral greeneries, ending in a sort of mystical harmonization with nature.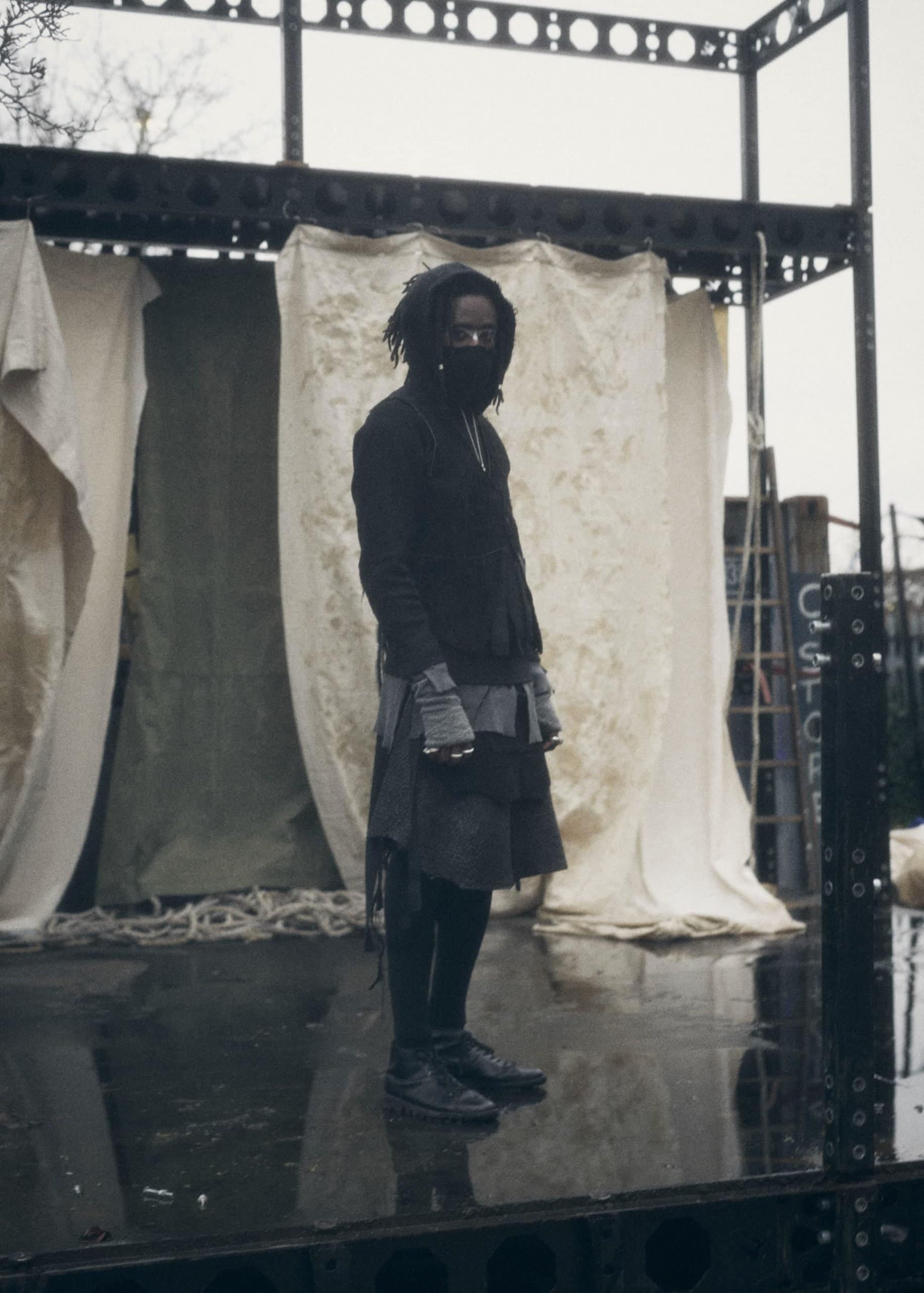 Thomas has imagined his clothes in previous seasons on the Black Dutchmen – the group of West African soldiers recruited by the Royal Netherlands East Indies Army in the mid-nineteenth century deployed to suppress rebellions in Indonesia. So this trip to the woods isn't unusual, but it serves as a solid backdrop for the different fall outfits, like the long red fitted wool coat sliced to the waist in the back paired with wool pants, the layered brown wool coat, or the wool plaid coat with black sweater and pants.
The fashion here isn't about anything new or anything seasonal must-buys. The clothes are a continuation of the conversations Thomas continues to have and the ideas of the meshing of cultures that can result in clothes sharply cut and looked deconstructed roughly.
LABRUM LONDON
Founded in 2015, Labrum London is a menswear fashion label by Foday Dumbuya, who grew up partly in Sierra Leone and London, with the mission of telling the stories of West Africa with the mission to the divide between western and West African cultures with clothes that encompass quality, design, and sophistication. Dumbuya grew up seeing his parents dressed in clothes tailored to the British know-how but with a touch of West African textiles and prints.
For the brand's first debut on the London Fashion Week platform, the new fall Labrum London collection revolves around the heroes of St. Giles Blackbirds, a community of sailors, soldiers, and former slaves settled in England in the 1700s living in the impoverished area of St Giles-in-the-Fields of London.
Many were repatriated to Sierra Leone at the time. Among the heroes, Dumbuya cited was a young man named Olaudah Equiano, who the 1700s flamboyant dressing with bridging the divide between stereotypical womenswear details on modern men's attires. Bought his freedom in 1776 and became integral in the abolitionist fight.
In this fall collection in a film shot at a church with a small choir singing as models emerged from the entrance door, Dumbuya crafted a generous mesh of lattices of diverse elements combing together eras and cultures into clothes that seem utterly now without being labeled as trendy.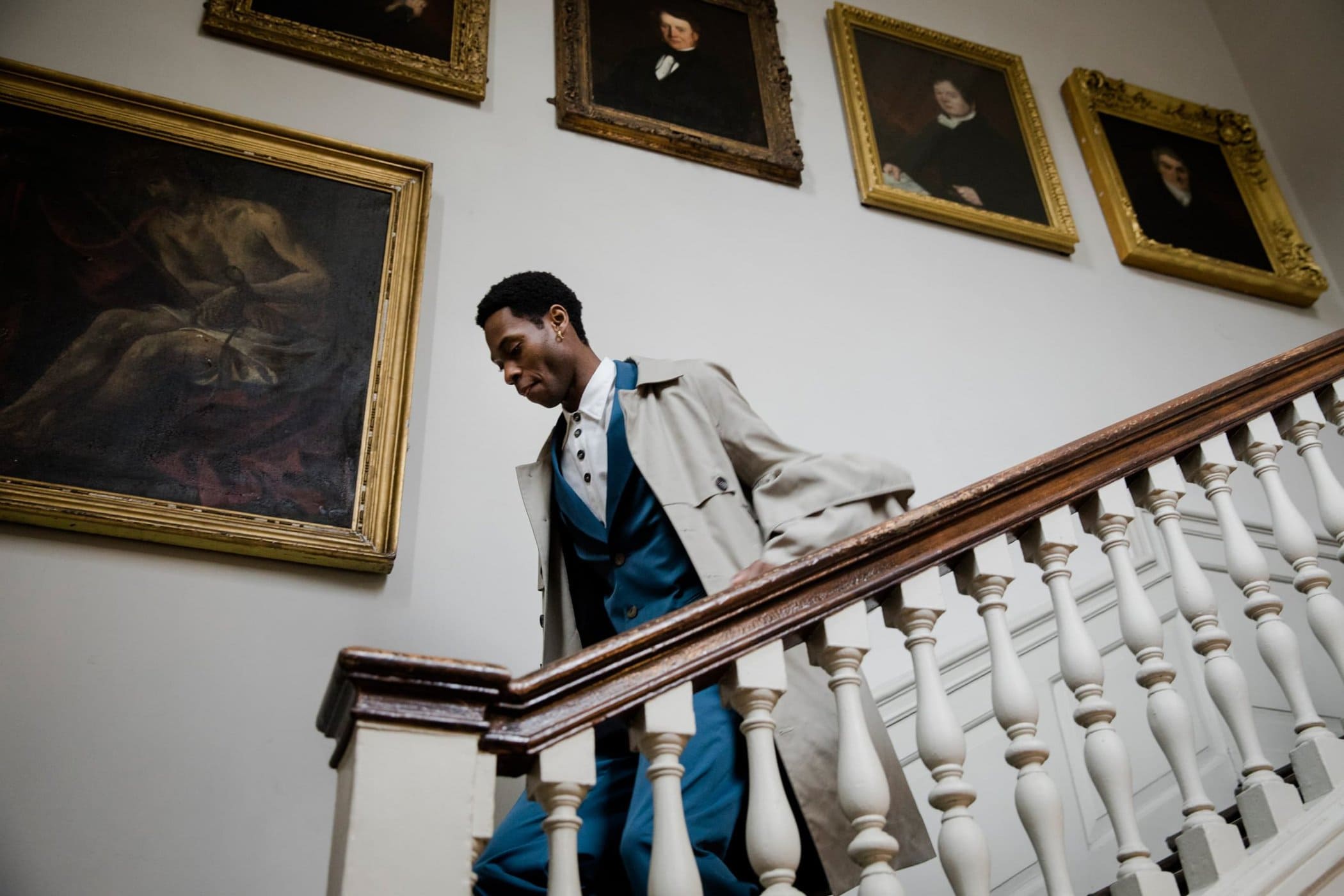 As a centerpiece of Equiano's sartorial choice, Dumbuya incorporates the West African two-steps tradition onto the sleeves of a khaki trench with double ruffle sleeves paired with boxy blue wool three buttons suit.
Meshing the 1700s flamboyant dressing with bridging the divide between stereotypical womenswear details on modern men's attires. The volume of the yellow ruffle blouse top is another reference to the West African agbada dress forms, now meshing the
Sharp tailoring here features boxier shapes with large shoulders and cinched waist that includes the fitted light brown pattern suit or a lightweight charcoal wool six buttons double breast suit with a black wool turtleneck and cigarette pleated pants. Or even a wool plaid boxy single breast suit. The oversize shirts The matching denim jacket and pants, the khaki cotton short sleeves patch pockets shirt and pants, or the yellow print coat are manifestations of the more sporty looks.
With the nod to sustainability, about 70% of the clothes' production will be made from deadstock fabrics and factory surplus from the previous seasons, including the denim pieces made from reintroduced denim. Besides, continuing collaboration with Converse sees the All-Star Project program of community-focused eco-system of mentorship and cultural funding in London like the various football charities sponsored by the brand. For this fall, the Chuck Taylor 70s is in a dark soba colorway. The brand also offers bespoke tailoring service at the studio in East London, creating handcrafted garments from scratch that allows customers to choose the fabric, trims, and linings all made in London.
---