Review of Louis Vuitton Fall 2021 Ad Campaign by Creative Director Nicolas Ghesquière with Photographer David Sims with models Clementine Balcaen, Evie Saunders, Ida Heiner, Jade Nguyen, Kris DeGirolamo, & Mona Tougaard
Louis Vuitton shares a new Women's campaign for Fall 2021 that brilliantly embodies Nicolas Ghesquière's contemporary vision of historical art movements.
The film was shot on location at the beaches of Normandy, France, which of course makes the aspect of human history, forever present in the sands of these beaches since the D-Day landing, immediately spring to mind. An eye on history has always been an essential element of Louis Vuitton, but Nicolas Ghesquière's Fall 2021 collection uses history as its basis, making it feel present, relevant, and alive. As if he traveled back through time and collaged together a moodboard of favorite aesthetic moments, his pieces attest to a beautiful coexistence of Baroque, Renaissance, and ancient Greco-Roman references.
But nothing about the clothing feels old or stuffy; Ghesquière expertly translates these historical elements into pieces that feel distinctly contemporary, that could only exist today.
The film also captures this duality of present moment and remembered past. The historic sands of these beaches are temporary home to a futuristic art installation, a cluster of glossy white obelisks that rise angularly from the ground, suggesting an abstract and unfinished structure that pays geometric homage to the sky – perhaps a contemporary, minimalist version of an Ancient Greek temple to Athena.
Deploying swirling, energetic cinematography, the film sees its cast of models stand confidently among this structure. Expert editing stitches these quick shots together so that, as one pillar passes across our field of view, a new scene emerges on the other side of it: past and future coexisting for one brief moment. The intentionally anachronistic musical choice – Daft Punk's legendary club banger "Around the World" – seems to confirm the idea of a harmonious unity of space and time.
Picking up on the spirit of Ghesquière's masterful project, the campaign presents a focused and immersive vision of time and culture, synthesizing history for a beautiful present.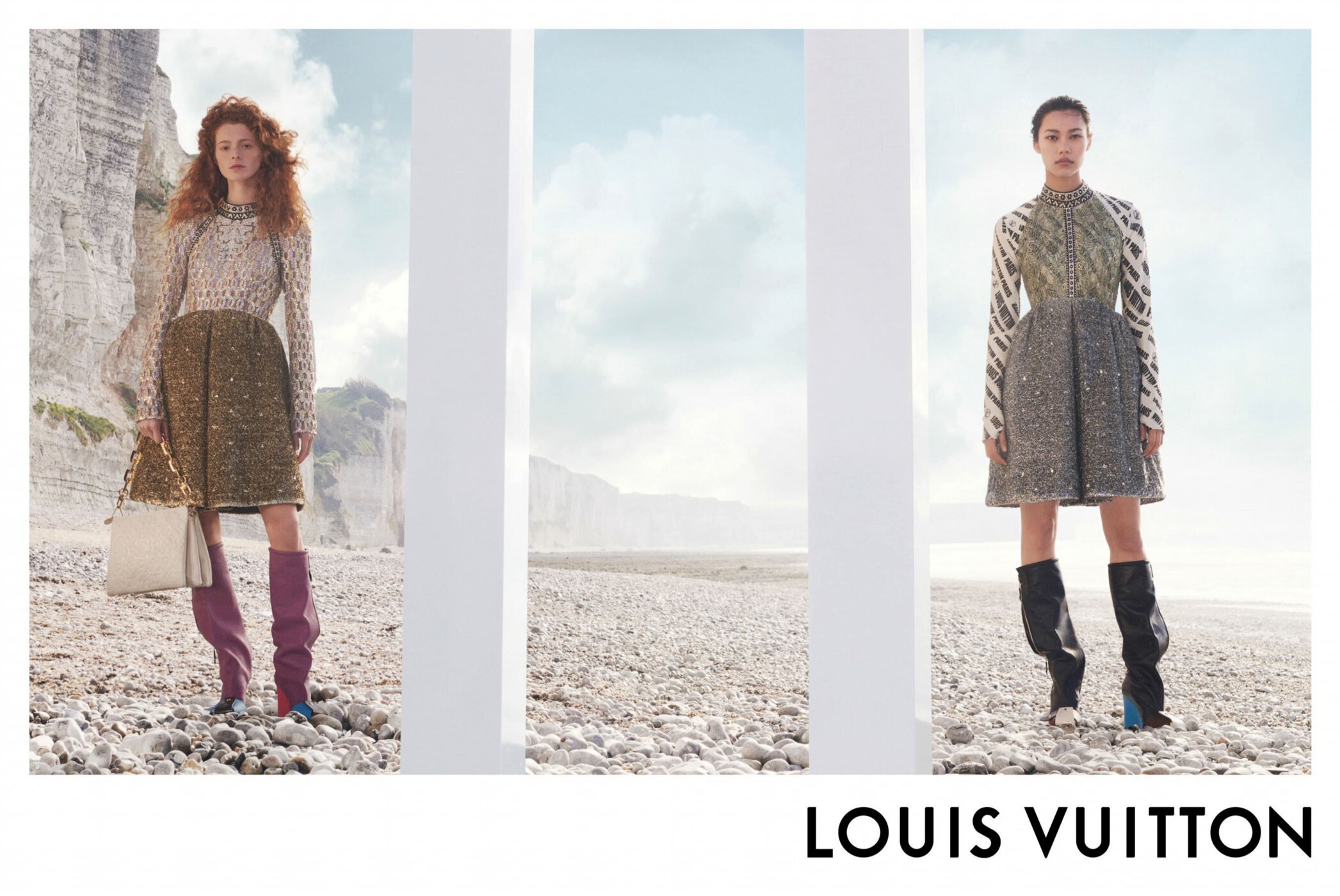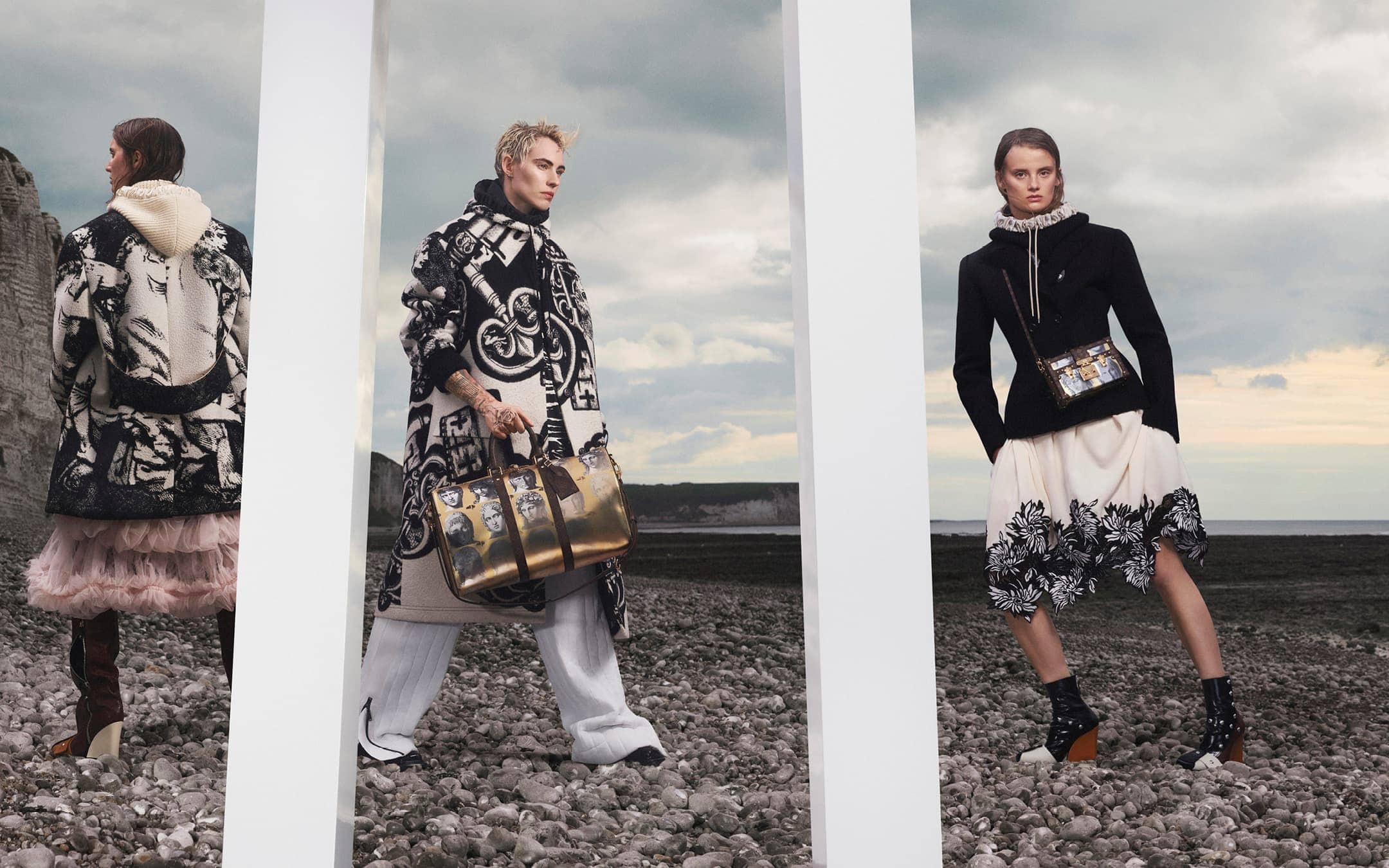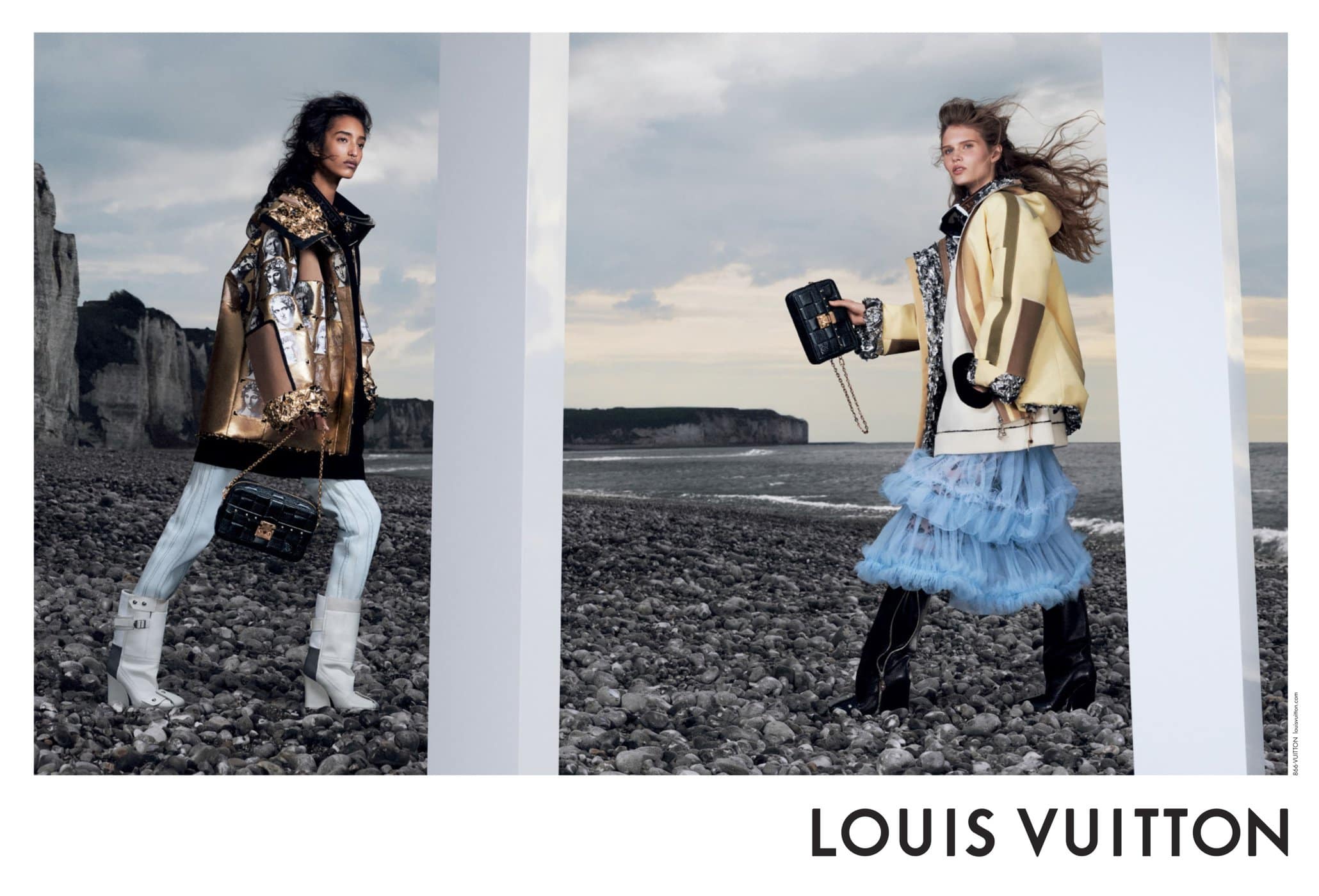 Louis Vuitton Women's Artistic Director | Nicolas Ghesquière
Photographer | David Sims
Models | Clementine Balcaen, Evie Saunders, Ida Heiner, Jade Nguyen, Kris DeGirolamo, & Mona Tougaard
Casting Director | Ashley Brokaw
Location | Normandy, France
---