---
Artist Urs Fischer Has Reworked the Louis Vuitton's Signature Monogram in New Hand-Drawn Version
Louis Vuitton has teamed up with acclaimed Swiss contemporary artist Urs Fischer on a multifaceted collaboration that highlights his playfully audacious creative vision across a wide range of leather goods, ready-to-wear, shoes and accessories, as well as eye-catching window displays, instore installations and digital content.
The starting point for this complete collaboration, entitled "Louis Vuitton x Urs Fischer", is Urs Fischer's reworking of Louis Vuitton's signature Monogram. As one of the few artists to refashion the house's iconic pattern completely since its creation in 1896 by Georges Vuitton, Fischer has reappropriated the Monogram's flowers and LV initials in new hand-drawn versions that he calls "memory sketches". The resulting motifs have been adapted to suit each specific product across this comprehensive collection, changing in size, perspective, colour and application technique.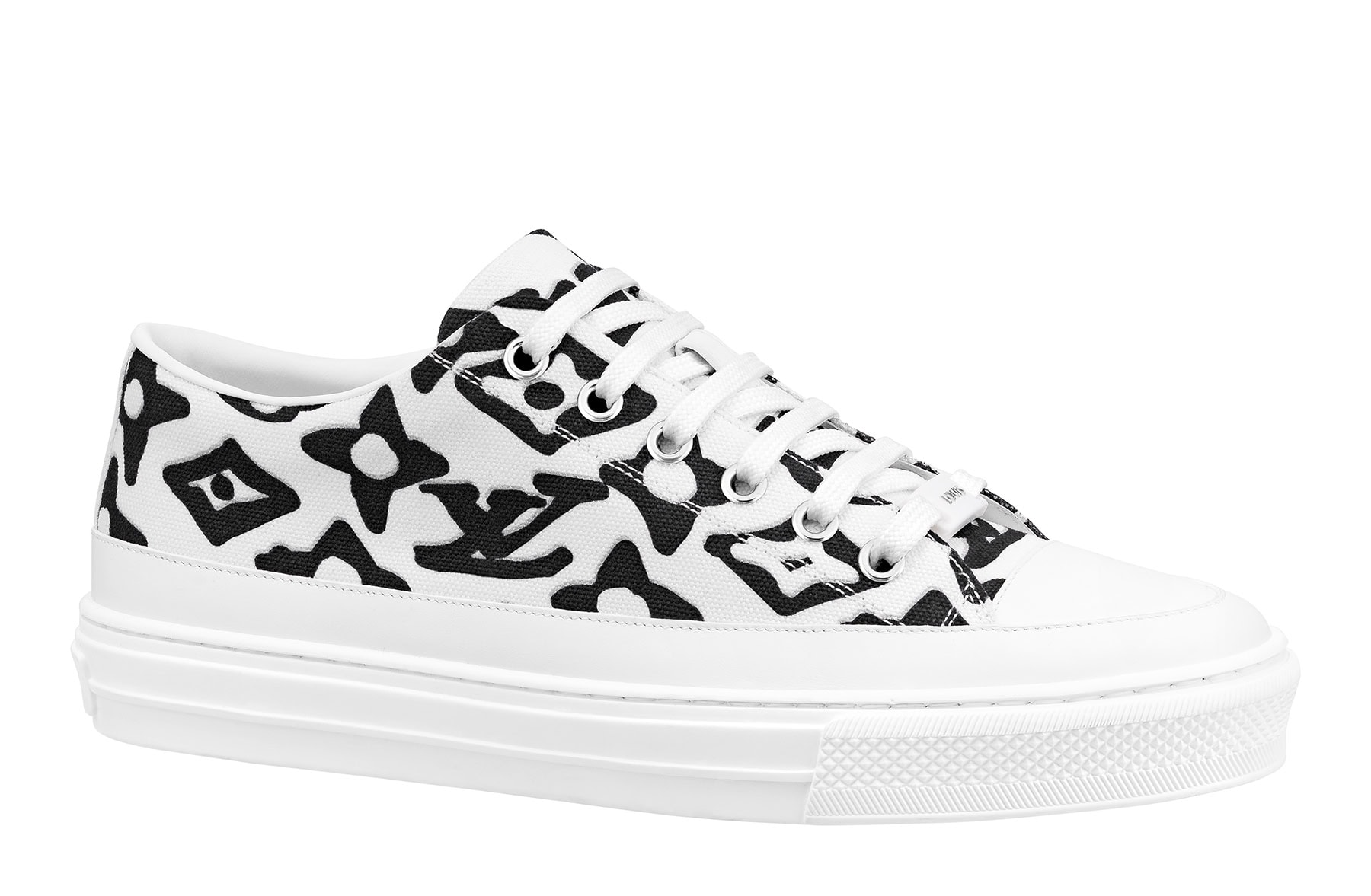 Available in two colourways, black and red and black and white, this new Monogram is the collaboration's key decorative motif, and features throughout the collection designs: on two sporty models of low- and high-top sneakers, and accessories including two silk-wool shawls, a wool stole, two silk squares, a double-sided padded scarf and a unique padded hood. When printed on sporty ready-to-wear – a T-shirt, zipped jackets, trousers, dresses and a top – it is resized and twisted in new directions that follow the body's contours.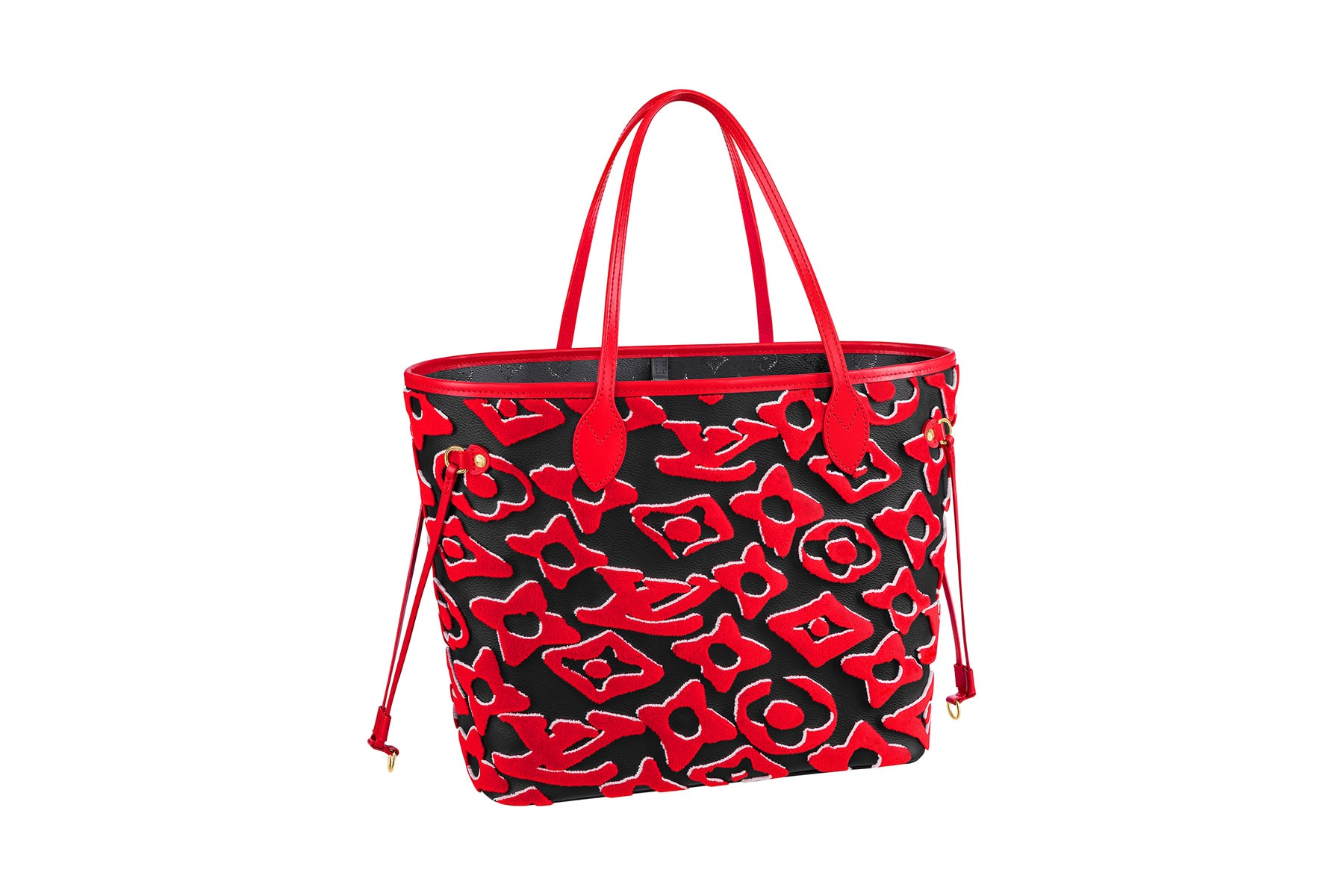 Seven special-edition bags – a Keepall, Cabas, Onthego, two Neverfulls, Speedys, Pochettes Accessoires, and hard-sided beauty case – use the Urs Fischer Monogram with an exquisite tuffetage treatment that uses velvet-like material to create extra texture and tactile relief.
The collaboration also features a series of whimsical characters created by Urs Fischer. The enchanting animals and objects are united in a playful print that fills a colourful silk square. Four of the characters – a cat asleep in a banana skin, an avocado meeting an egg, a cat holding a lightbulb, and a bird carrying a peach – also grace window displays.
To illustrate the sheer scale and creative ambition of the collaboration – the artist's second with the house after an Artycapucines bag in 2019 – Urs Fischer has devised a complete visual universe for Louis Vuitton's stores. Specially developed with the house's creative experts and featuring both his Monogram and the entire "family" of characters, the different pieces – from high-tech displays to sculptural elements – will transform the many stores carrying the collection around the world. The launch of the collaboration will also be marked by a brand-new digital and social-media content cycle that brings the characters, the collections, and this landmark collaboration further to life.
"Louis Vuitton x Urs Fischer" is both a perfect, large-scale showcase for Urs Fischer's creative world and the latest exciting chapter in Louis Vuitton's longstanding commitment to the arts. The collection will launch in Louis Vuitton stores worldwide in January 2021.
Photos | Pierre-Ange Carlotti
---