---
Review of Ludovic de Saint Sernin Spring 2021 Fashion Collection
Fashioning A Community
By Long Nguyen
"This is a celebration of my community, a celebration of love, freedom, and growth," Ludovic de Saint Sernin said about finally releasing his spring-summer 2021 collection as a dedication to "each and every one of you guys inspire me so much" – the online groupies around his brand – after showing a short summer romance film at the seaside for the July official Paris Digital Fashion Week for men's spring season.  
It's a reflection of how boys and girls create their own online persona and the aesthetic world, how they portray themselves, what they choose to share, and how they choose to share it.
This spring garments named E-Boy – olive strapless stretch cotton tank, elbow gloves, and olive nylon jeans; grey cotton tank and pale blue suede lace-up hot pants; light pink bandage 'bra' wrap top or black bandage boat neck tank and lace-up metal rivets jeans; midriff cropped multicolor stripe Swarovski crystals short sleeve tee shirt or an orange cropped logo Swarovski crystals tank and white lace-up jean; or a rainbow knit shirt and flat pantsuit – are clearly the kind of now-familiar looks and shapes that Saint Sernin has established as his signature style since he launched his brand in early 2017 and presented for the first time in Paris in late June 2017 for the spring 2018 debut collection that culminated in his first big show for Spring 2020 on the roof of the Beaubourg art center.
These clothes are once probably in the 1960's and 1970's stuff of underground catalogs of those yesteryears of specialty mail-order rather than coming from a Parisian based 'designer' embraced and supported by the fashion system.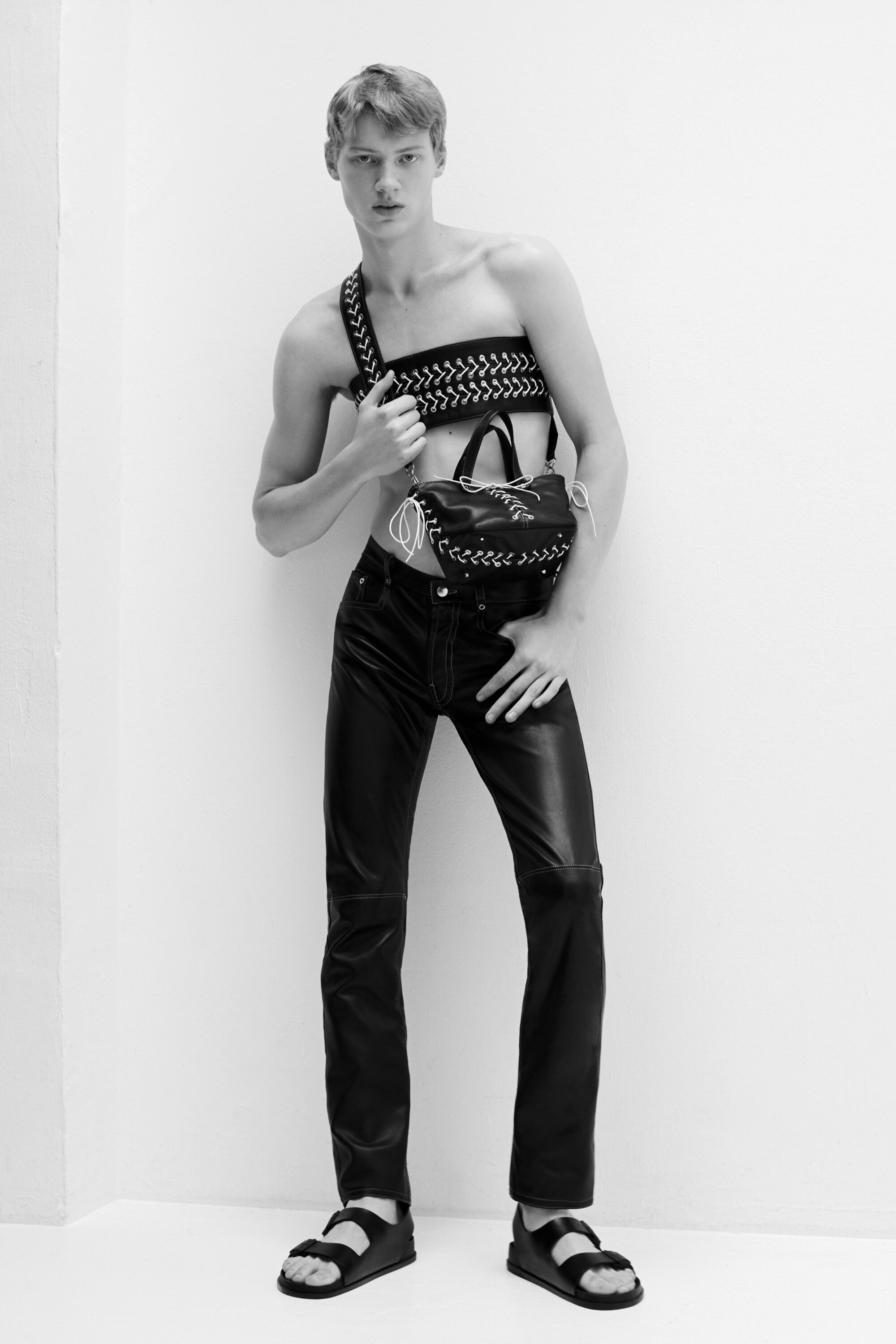 These are not the kind of clothes – a black silk tie front bravest or a stretch bandage corset tee shirt with crossover neckline – that conventional and mainstream or even luxury fashion would show or produce or sell.
Still, it is the kind of fashion that a small niche community can adopt as their own with a specific language and a specific code of aesthetic shared far beyond the clothes. Or as the designer puts it, 'vintage stripes polos are cut into the cropped top.'
But commerce does not come at the expense of authenticity. The new LdSS denim comes in four colors – white, light blue, classic blue denim, and black, and each features the lace up crotch that the designer used for all his pants and swimwear pieces. It is not just another pair of denim but a pair of LdSS jeans. The silk pajamas in light green and light purple are the perfect at home or on the go leisurewear appropriate for now, and the new suit in the forms of matching silk rayon soft shirt and lightly flare pants in olive or rainbow stripes.
Saint Sernin has constructed his independent business on fostering a personal aesthetic to foment the idea of this community, one that has an item of his or sending a picture wearing a pair of pant, or tank tops or a bikini to build a collection of photographs of like-mindedness, even from a picture of someone wearing nothing to promote the sale of a bathing suit.
Saint Sernin has been built his own community in a very organic way since he started in 2017 with his first spring summer 2018 collection launched in late June 2017 during the Paris men's show that season. Instantly and since then, the designer has garnered a steady stream of especially with his constant shares on his Instagram, sharing both ideas and new products in a still very intimate and personal way that most of the luxury brands, large or small, have been unable to accomplish especially within this short time frame.
With currently more than 108,000 followers, his Instagram posts are filled with photographs of models, friends, and 'family' wearing their LdSS products with the accompanying anecdotes telling the audience about the particulars of each of the images, each word sound as sincere as the images. In one, a friend name Jaoven Ricoeur wore eyelet cargo pants in vintage pink from look 10 of the spring 2020 collection; in another, the actor Timothy Chalamet wore look 28 also from this spring with a comment from the designer – "DREAM DO COME TRUE! This one is for you guys! For those who have been following me since the beginning, you know how much I love him, and we all have been dreaming of this moment since forever!" The exuberant remark is not so much of a PR coup but the expression of the simple joy of accomplishing a giant task and surely not a press release type of affair either.
At ludovicdesaintsernin.com, the designer's e-commerce site, there is an entire section devoted to 'community,' which is a collection of 'Your Favorite LdSS Boys & Girls' as stated in the headline at the top of the page with an image of a model couple, he wore a black leather coat and gold mask, and she wore a sheer chiffon blouse-robe posing under a streak of sunlight – a photograph from the fall-winter 2020 Heartbreak collection shown in Paris in late January. Within this 'COMMUNITY' section are pictures of other models like Alton Mason, Diego Villareal, Page Reifler, and Malick Bodian or the musician entertainer Steve Lacy and Kim Petras in their LdSS gears, some with possible purchase choices right below.
Elsewhere on his Instagram page, the designer has also been fondly collecting personal photographs of nude males taken by photographers, both professionals, and amateurs, for what he described as an X anthology of photographs, perhaps for a near-future publication. While this is seemingly at first more of a personal than a brand project, at close range, there is really no distinction between what he considered personal and what is his brand ethos as both the person and the brand share the same aesthetics. This kind of commonality is what made this brand special for their audience and their potential customers alike. All these images have now been uploaded into a special account, ludovicdesaintserninX with an X at the end, so that all future submissions can be grouped as a community art endeavor.
Even the launch of a black cotton tank top is an event, a personalized one as always in the Saint Sernin world. "If you know me, you know I absolutely love Astrology, and I wanted to create a collection to celebrate each and every one of you guys," he wrote of the Horoscope Birthday Collection of black tank tops with a drawn figure within a circle that represents each of the signs. Saint Sernin selected twelve guys wearing these tank tops for each of the horoscope signs, such as Ignacio as a Taurus with a birthday on 28th of April, Ottawa, as an Aries with a birthday on 25th of March, and Yann as a Cancer with his birthday on 17th of July.
On a day in early July, there was a post of a friend wearing look 17 – a light fuschia silk running shorts with a matching shirt from the spring-summer 2020 collection – with two selfies of Pat Boguslawski at home with the notification that both items were on sales at the e-commerce site by entering a special code 'LdSS30' for a 30% discount. The post had over 10,430 likes and all the comments on the side range of smile and triple heart emojis to one that said 'so pretty in pink.' A week prior, the designer posted an image of Nicolas Wright – a male model who posed for the first-ever swimwear campaign running over the early part of this summer that featured Wright wearing the signature front and side lace-up bikini in red and light khaki along with several images of him naked – taking an outdoor shower naked to announce the restocking of swimsuits that have been sold out.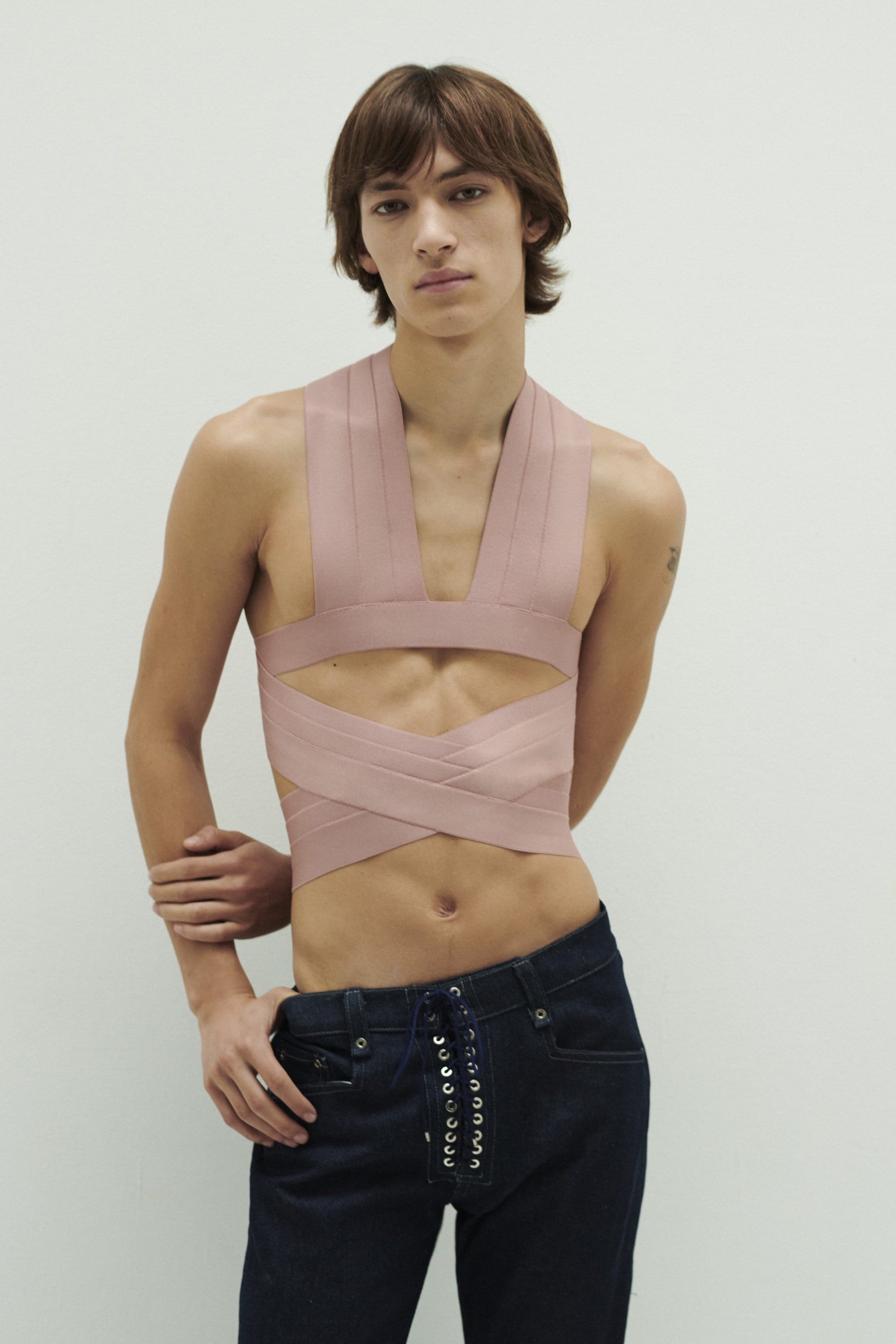 This is what luxury brands are desperate to construct – an army of loyal fan club, a real community of like-minded people who share more than just affinities for certain fashion products.
One of the real problems with the outreach of the luxury brands is that their brand messages are done in such an impersonal manner and perhaps done in such calculated ways that the loyalty is short-lived or, to put it succinctly – ephemeral – and running campaigns season to season with just the brand's logo in commonality.
That's probably one of the reasons why so many of the large luxury brands are working on these non-stop collaboration projects with artists, athletes, and other brands to deliver temporary products for a temporary boost to striking existing and new consumer loyalty in the drop marketing structures. These types of luxury brand collaborations also pointed to the brand's inability to stand on their own without a bit of outside push – and they are becoming more quaint now than ever as many of these collaborations are based on marketing metrics rather than creative ones. Power, money, and resources abound but less so are the personal messages.
In this spring collection, Saint Sernin worked with the young British artist Jack Taylor Lovatt to make a couple of pieces with handwritten messages like a white tee shirt with 'Don't ruin my fantasy' and a pair of white jeans with drawn figures dancing around a red heart. The coloration came about not because of any sort of marketing drives or imperatives; rather the designer wanted to do something together with the artist upon receiving artwork as a birthday gift. This is a huge difference.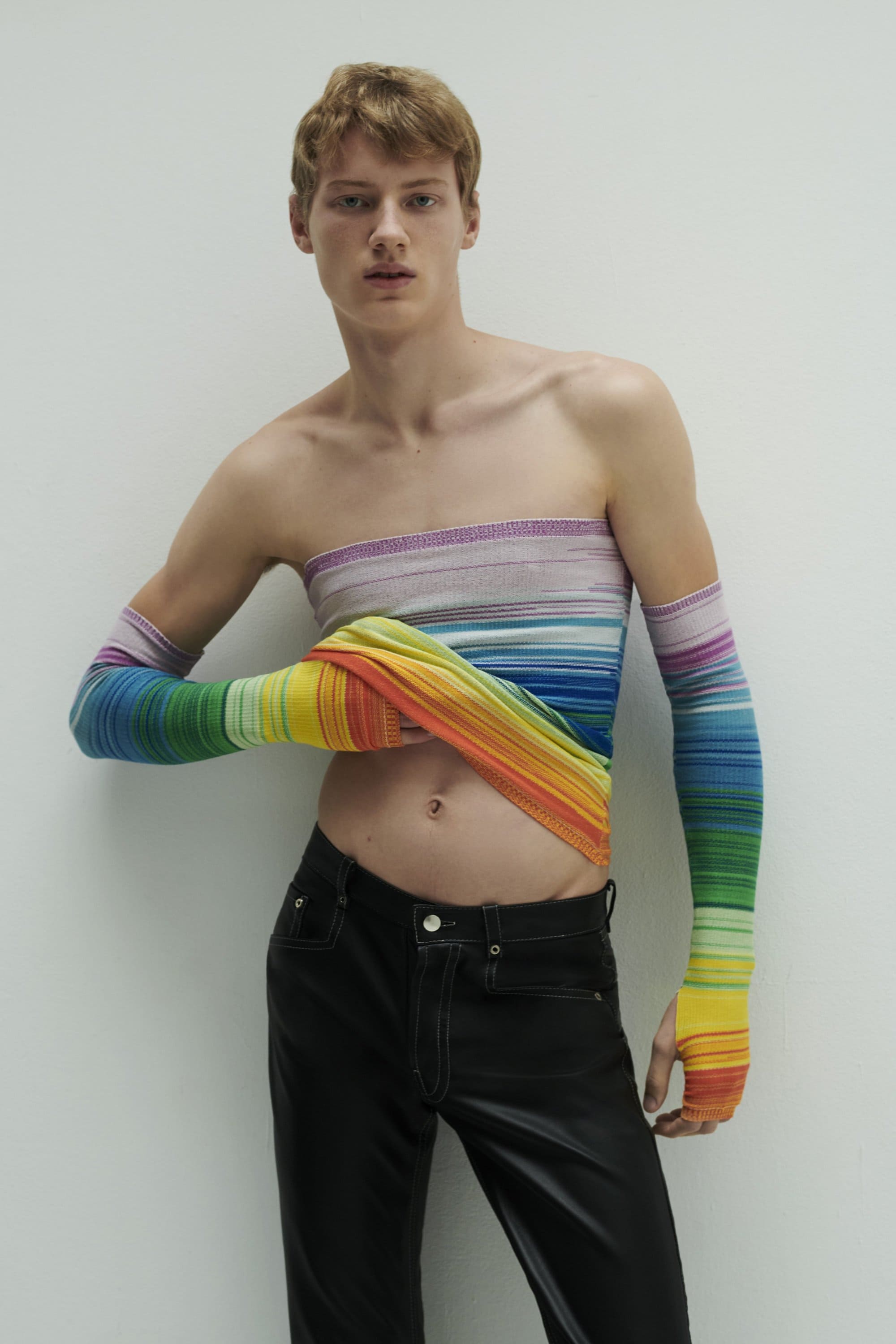 Years ago, in the age of antiquity back in 2012, I remember when Burberry launched the Burberry Tumblr 'Upload Your Trench' project to allow their consumers to share their own pictures with the brand's platform. The project evolved in the following year into the 'Art of the Trench' campaign where it became a library to document people in all walks of life wearing the classic trench that they themselves photographed and sent to the British brand, an internet campaign in that early era of digital marketing where 'organic' rather than too much planning was the buzzword. This kind of personalization has been replaced by celebrity endorsements, some obvious and a natural match but most seemed forceful.
Saint Sernin is unique in his ability to grow his business in a crowded environment at a very difficult time using principally his own personal aesthetic in very creative ways as the ethos for the brand as well as all the products. His fashion language is a patois of his colorful Instagram posts.
---