---
Review of Maison Margiela Fall 2022 Couture Fashion Show
All the World's a Stage
By Mark Wittmer
Continuing to eschew traditional notions of what a fashion show is and can be, Maison Margiela and creative director John Galliano use the language of couture craftsmanship to develop a momentous and groundbreaking creative spectacle.
Fall 2022 couture marks the first in-person show for Maison Margiela since before the pandemic, during which time Galliano opted for artistic and intricately produced film presentations, allowing him to explore a wider creative world than the runway alone by incorporating disciplines of dance, poetry, music, and more. The ostensibly inevitable return to the runway thus seems to present both a challenge and an opportunity, forcing the designer to rein in his expansive artistic ambitions while allowing them to form a more sharply honed fashion statement than ever before.
And yet, the runway still hasn't returned.
Instead, Galliano translated his synthesis of film and fashion into a sort of experimental live theater production: not a runway, but a stage. Not a collection, but a story.
On a stage space decked with film screens that abstractly set the scene and mood through thematic imagery, models-cum-actors who lip-sync to pre-recorded dialogue embody a classic story of the American west: a pair of star-crossed lovers on the run from disapproving families and bloodthirsty outlaws. The melodramatic overacting of soapy cinema is offset by the intellectual yet fractured staging and storytelling techniques of avant-garde theater, making for an immersive yet impenetrable narrative experience.
Among all this overstimulating experimentalism, it can be easy to lose track of the ostensible purpose of the production as a showcase for fashion design, or to let the looks fade into the background as costumes. But if we do manage to focus in on the looks, we can recognize Galliano's masterful hand as he twists, exaggerates, and deconstructs the Americana staples of his archetypal antiheroes: workwear and western wear, leather jackets of outlaws and drunken sailors, gossamer gowns of fallen southern belles.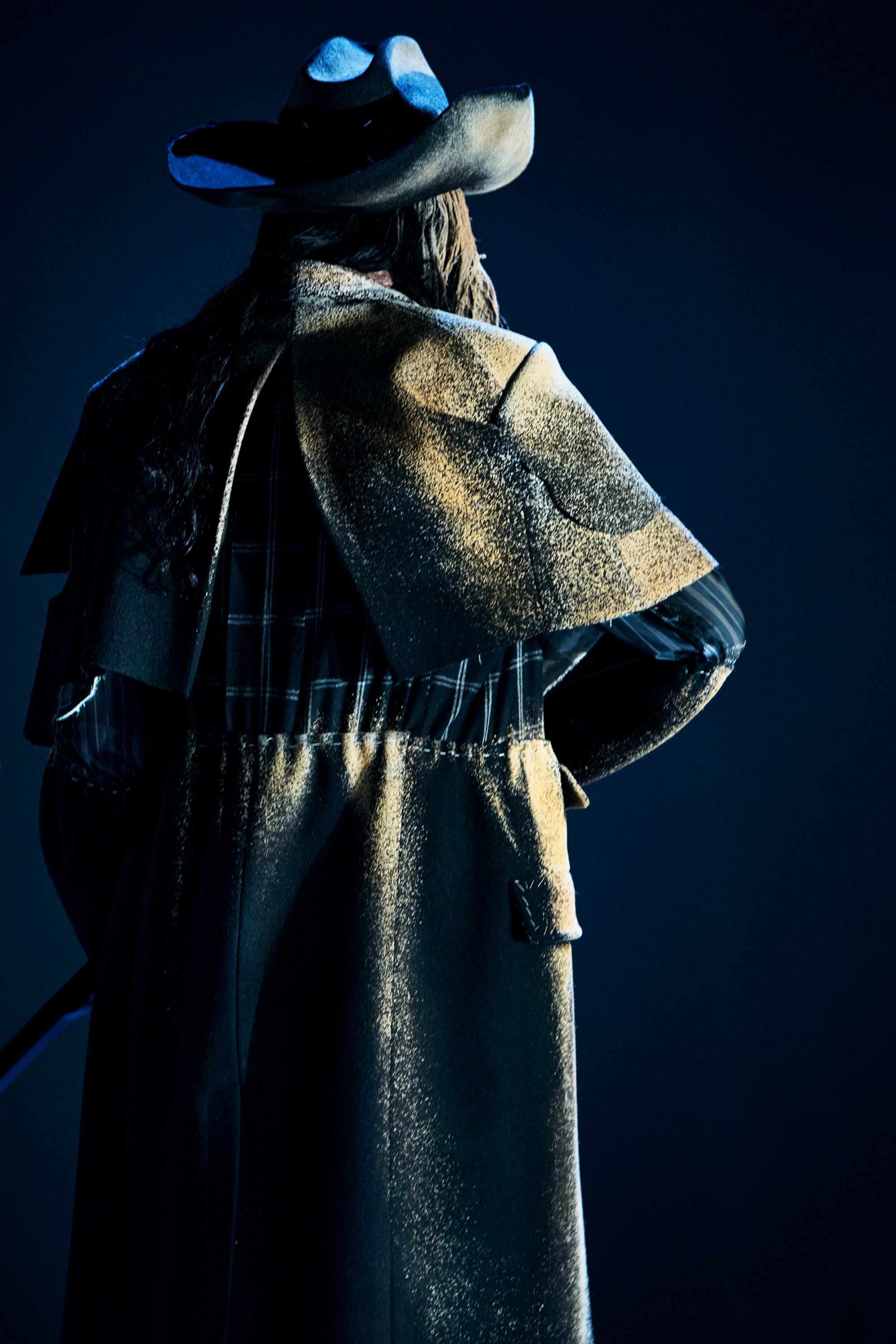 As the walls of the narrative reality begin to tear – a creative opportunity afforded by the nearly unlimited imaginative possibilities of theater – and further vignettes unfold, other characters creep in as if through the seams of other dimensions: elegant yet ominous hospital matrons, a Halloween gathering of witches.
Though the collection and its points of reference are broad, it's not incohesive, with the narrative-based movements of the collection as a whole becoming more apparent in the final walk as the credits roll. In a sense, it is certainly frustrating that it's difficult to see the clothing – especially when it's so beautifully crafted – but this mentality is a holdover from being familiar with fashion shows and expecting to see another fashion show.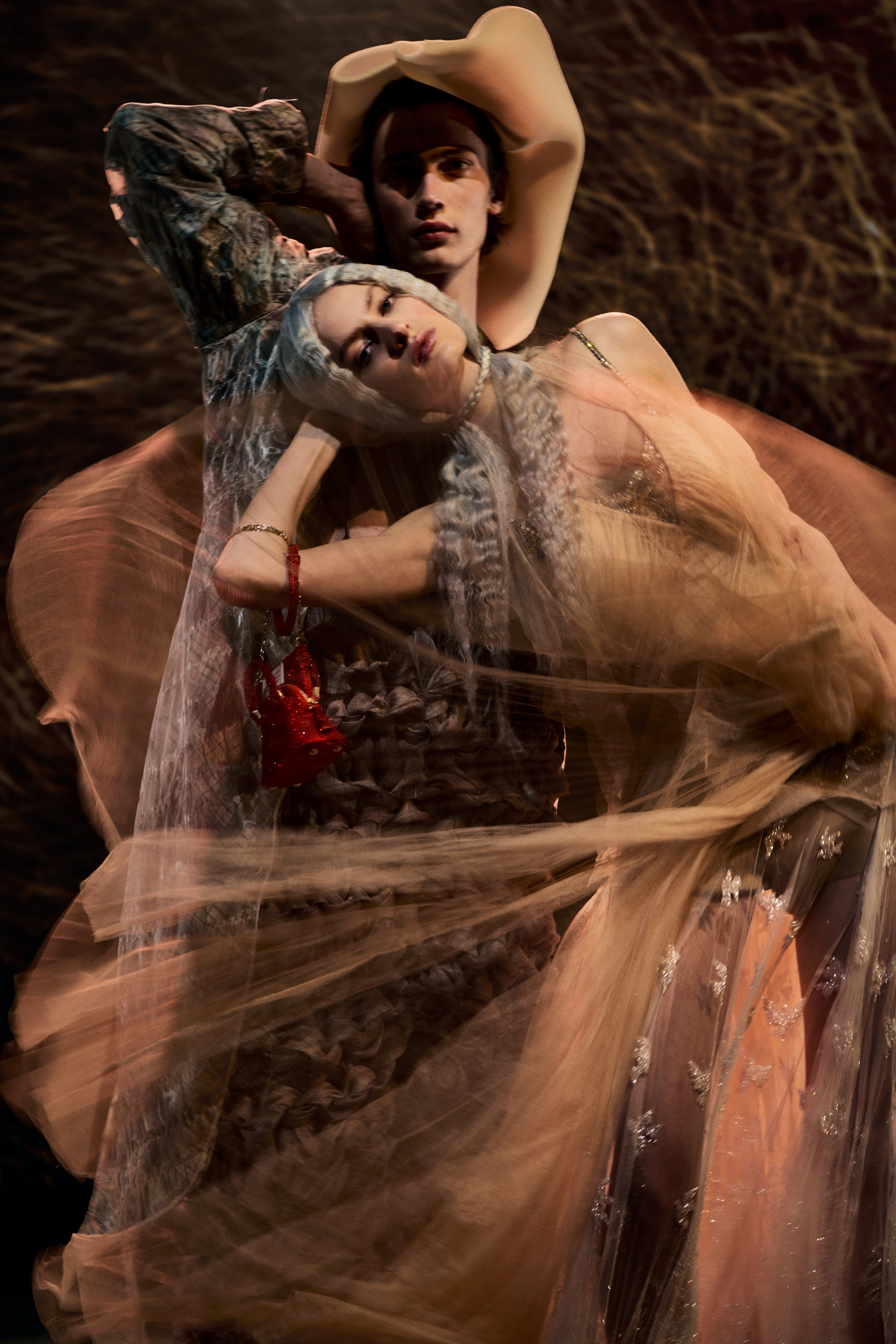 This is not a fashion show – it's something new.
John Galliano affirms himself here as neither fashion designer nor film director, but as wholly inhabiting the designation of "creative director." He is concerned with art, with creation, and his mastery of fashion design – even if a part of us longs to focus on the clothing alone – exists to serve his wider creative vision.
That being said, this kind of narrative, artisanal presentation isn't wholly divorced from Margiela's history. The founding designer's early shows famously rebuffed the ostentatious and operatic events of his time with presentations that were inscrutably artistic – recall, for example, 1998's show that replaced models with giant marionettes.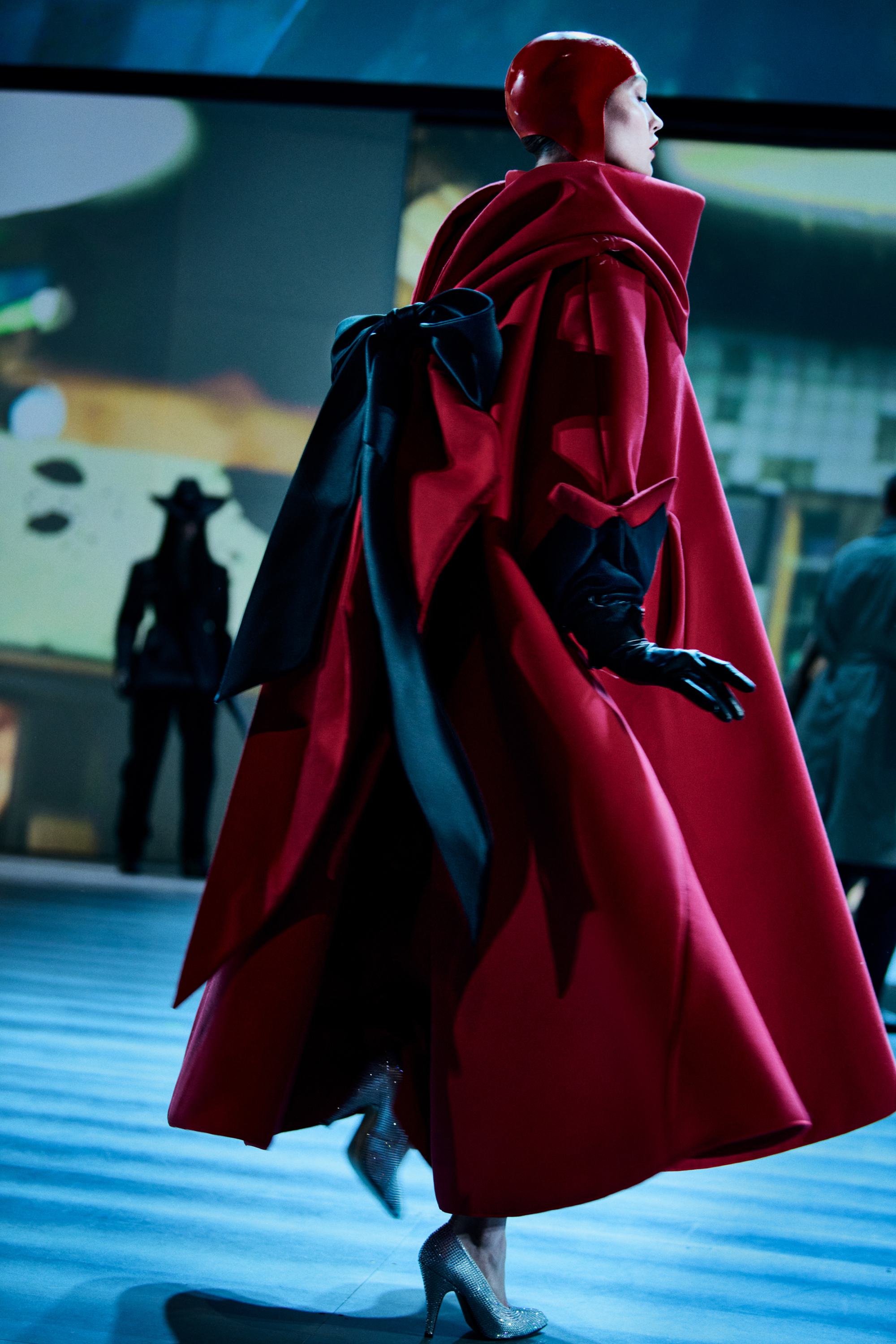 Carrying on and reconfiguring this legacy in a way that no one else in fashion has, Galliano arrives at something that feels postmodern, eschewing categories, distinctions of sincerity and irony, and even sense for something spectacular and expressive that could not exist in any other format.
This is a huge moment – one for which people will brag about having been there – and perhaps an inflection point in the history of fashion. Maison Margiela and Galliano are on another level. If it seems strange and difficult to square with our understanding of what a fashion show is, it's because we haven't caught up to them yet.
---