---
In just under two years as the first female Creative Director of Dior, Maria Grazia Chiuri has transcended the role of designer to become a fashion champion for gender equality, diversity and inclusion. The talent to inspire, to bring forth change, to use a platform to confront wrongs and steer towards rights is not to be taken lightly, and neither is she. In an exclusive for The Impression biannual, Chief Impressionist, Kenneth Richard, talks with fashion's fierce feminist about the importance of support, fashion as a vehicle for individual expression, and how artists can help us understand our times by providing different points of view.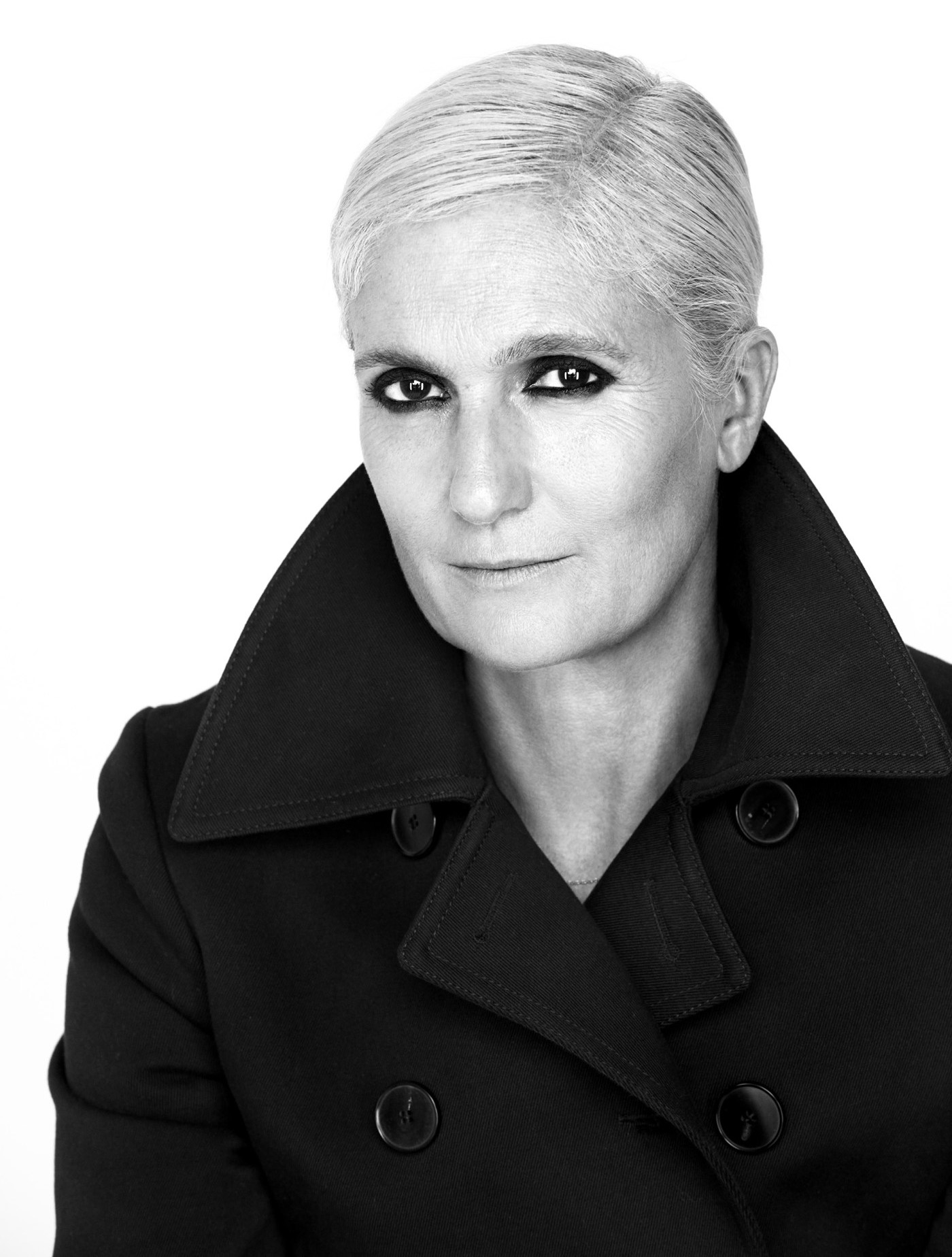 Kenneth Richard:It's been a whirlwind of a few years – congrats on all the recognition, both in terms of creative direction as well as driving positive social change. Excited to dive in, but beforehand, how did you get started in fashion?
Maria Grazia Chiuri: Oh, I started many years ago, honestly. My first job was at Fendi, but we are speaking about a long time ago, and after that I moved to Valentino. I worked on Fendi for ten years and for seventeen years at Valentino.
I was so lucky to have started at each working with the founders of the company; that was a very good experience for me, at Fendi with the Fendi sisters and after that with Mr. Valentino Garavani for ten years at Valentino. That was, for me, a very good school. In some ways, more than school itself. In any case, if you can work with those founding talents, you can learn a lot.
Kenneth Richard:How did you discover fashion as a calling?
Maria Grazia Chiuri: My passion was drawing, and then I realized my passion was in fashion. At the same time, my mother had a little atelier, so in some way I grew up in fashion, but fashion was not like now, it was another thing, more about craftsmanship with a different point of view. The other passion that I had very young was for accessories. I remember going to the flea market to buy old vintage bags, vintage shoes and vintage dresses very early on. After, when I decided to go to a fashion school, I understood more about fashion and how it all was a part of my passion.
Kenneth Richard: When you say, 'Fashion was not the same as now,' how so?
Maria Grazia Chiuri: When I was younger, fashion was something to express yourself, but in the simplest of ways. My mother liked to dress me like a doll and I remember at twelve years old saying, 'No, I don't feel like a doll, I want to be more – "Cool Girl!"' I remember falling completely in love with military jackets and denim pants and going to the flea market to find them. So, my initial entry into fashion was a way to express myself, to help me feel like myself. Afterwards, I realized that in some way, fashion helps to express personality. Was going into fashion a kind of reaction, initially? In some ways, it was probably a reaction to too much tradition.
Kenneth Richard: Makes sense to counter being dressed like a doll.
Maria Grazia Chiuri: Yes, because in Italy, my mother was very traditional and she believed that a girl has to be pretty, but I didn't feel the need to be pretty. I was more about rock and roll. It depends what your attitude is.
Kenneth Richard: Do you still find yourself 'reacting' to fashion as a means of definition?
Maria Grazia Chiuri: I think it's normal to want to define oneself and, in some way, fashion helps to define oneself. Sometimes it is the reaction to how others want to define you versus how you wish to define yourself. So, yes, still reacting.
Kenneth Richard: So, with a touch of rock and roll, and sketchpad in hand, let's talk about your experiences at the Fendi and Valentino camps. Outside of design skills, what else did you learn there
Maria Grazia Chiuri: Oh, Fendi was unbelievable in some ways because the Fendi family was really open-minded. I worked with five sisters who really worked as a team and appreciated if you gave your point of view. I was so young and yet they would ask me, 'So, what do you think about this?' and you could say your opinion or try to design what you really liked. They supported me to believe in myself and made me realize that it could be possible to work in the industry.
This was something that I was unsure about because when I started in Italy, the designer was normally also the owner of the company. Now it is completely different, but when I first entered fashion, especially in Italy, the designer and the owner of the company were the same person. At Fendi, with this family, with these five unbelievable women, they gave me a big opportunity to start to design, to make sketches.
I remember going to the factory to surprise them with my ideas and they never said to me, 'Oh no, you are not supposed to do that.' They told me all the time, 'Okay, Maria, try to do that. Why not?! It's cool. Good.' That is very important, to find people that are supportive, and at the same time, they made it possible for me to have a family because I was married at the time.
After, when I decided to move to Valentino to launch the accessory division, I thought to myself, 'Okay, now I can try another experience.' Mister Valentino at the time said, 'I know Prêt-à–Porter very well, but I don't feel so strong in accessories. I know that you are very strong in accessories, so please do accessories for me.' He was also very supportive.
It was a phenomenal experience and we were very free to do what we really liked to do for Valentino. Afterwards, they proposed to us to design a younger, secondary Prêt-à–Porter line. That was unbelievable for me and Pierpaolo, because we could try to make a new Prêt-à–Porter line that was only for young people. It was the fourth line, but it was a big experience that showed us what it takes to make a Prêt-à–Porter collection. That made it possible for us to work with Mr. Valentino on the Couture Atelier. I think this kind of experience is very important because you can really learn a lot and your eye evolves. It was an unbelievable opportunity.
Kenneth Richard: How did you and Pierpaolo meet?
Maria Grazia Chiuri: Oh, we met many years ago when we were really young. He and I were both friends with Jean Baptiste Mondino and we met in Florence because they had worked together for their final school project. So, I met him in a very casual way, and after a year or so, he went to work with me at Fendi.
Kenneth Richard: You worked with him for a good thirty years, right?
Maria Grazia Chiuri: Twenty-seven.
Kenneth Richard: Who's counting?
Maria Grazia Chiuri: Twenty-seven. Not bad. We grew up together, in some ways.
Kenneth Richard: And here the kids are now leading the families. Do you find yourself building teams around you that are like a family?
Maria Grazia Chiuri: Well, it's a nice family at Christian Dior, but also it's a big team! It's a big team because fashion today is another game – it is a huge game – and it is impossible for the designer to do everything alone. You have to work with big teams, not just the design team, as now you have to work with merchandising, press, marketing, with the entire company. Now fashion is another thing – especially at Dior, because Dior is a huge company in another dimension.

Kenneth Richard: Was that scale something that excited you?
Maria Grazia Chiuri: Yes, absolutely. I decided to change my life, to go outside my comfort zone. I found it very exciting to come from Rome to Paris and work at Dior. You can't do this job if it's not exciting for you. It's necessary to have a passion for what you do. I was very happy at Valentino and I would have been very happy to stay in Rome. But I decided to move because I found in this new company and this new city a whole new challenge that was very exciting for me because I was ready to start a new life, a new trip, and I'm very happy I went on it.
Kenneth Richard: What are some of those challenges that you love?
Maria Grazia Chiuri: I am Italian and I think is very important to understand the DNA of the company, to understand the heritage at Christian Dior, so it's been very exciting for me to work with the archive to learn more about Dior history.
Now I think that I can give more my point of view, step-by-step, but I want to mix my point of view with the history of the house because when you work at a brand like a Dior, you have to respect and remember it. This is a French brand, you have to maintain the value of this brand, so I am studying a lot about Mister Dior, about his time, about French culture. So, I don't only have just work to do, but I also have to study.
Kenneth Richard: Do you like to study?
Maria Grazia Chiuri: Yes, absolutely. It's very exciting to discover something new. I'm so curious about it all. I love this city and I really appreciate that after all my time in Rome, I can discover another city. I can get to know new people that give me a different point of view and that is kind of exciting. It is the best thing that you can do in your life.
Kenneth Richard: Glad you enjoy the exploration. Love to explore more about your marketing foundation because today, leading a house is as much about managing the image as creating product. What did you learn about marketing in your early career that you carry with you today?
Maria Grazia Chiuri: I think that fashion is about building a dream, but at the same time, that dream has to be sellable. Both the Fendi family and Mr. Valentino Garavani loved creating dreams, and also making sure they sold. What do I mean by sellable? People have to desire it; it can't be an idea that only you think is beautiful.
Kenneth Richard: Like the idea of equal opportunity, which you are helping shape into a reality. Love how you married the product with the message in your first collection for Dior. What sparked that 'We Should All Be Feminists' graphic tee inspired by Chimamanda Ngozi Adichie's book?
Maria Grazia Chiuri: When I started to study fashion, I never dreamt that it would be possible for me to arrive at this position because, at the time, the designer was also the founder of the company. My dream was to work in fashion, but not specifically to be a creative director because that was not done.
When I did the T-shirt, it was not only about my new role at Christian Dior, it was more personal. I saw my journey and how it is still very difficult for everyone to have an equal opportunity, and how we now have to work to give all the same opportunity.
I never imagined when I did it that it would cause such a reaction because for me, it was something very personal. I was so lucky to be born into a feminist family, where my father and my mother supported me and said to me, 'You have to be independent. You have to find a job. You have to do what you really like.' I'm afraid not everyone is so lucky.
It came about in a very instinctive way because I was completely in love with Chimamanda Ngozi Adichie's book and the speech that she did for TED. When I arrived at Dior and everybody said to me, 'Oh, Dior is a feminine brand. Dior is the brand that represents femininity.' Then I said, 'Yes. Okay. But if we are to speak about the feminine, let's speak about women now, not women of the past.' And so, I used my language to speak about women now and I think the message that women now want is to be offered the same opportunity. So, I did the T-shirt.
It's very difficult to describe the moment, but I did that first collection in three weeks, a very short time. I did what my instincts said were right for the collection. That's it. It was a reaction to this idea that if you have to speak about women and femininity now, in my point of view, you have to use another language.
Kenneth Richard: And you did use language, literally, which was new for the house, right?
Maria Grazia Chiuri: Absolutely! They left me completely free. No one said anything.
Same as when I did the Dior Revolution Evolution. Before coming to the house, when I met Sidney Toledano and Mr Arnault, I was very clear about my vision for the brand. It was so bold of them to choose me. They accepted my point of view and left me free to do what I believe is right for this brand. I really appreciate that.
Kenneth Richard: Smart hiring decision. So how do you see the vision?
Maria Grazia Chiuri: I think we are now at another moment in fashion. I think we have to reflect on it and open a dialogue with women because women now are different, they want to define themselves. I think of fashion not as imposing a point of view, but proposing several points of view, where each woman can choose some piece and wear it in an individual way, give it her own personal style.
In the past, a designer's approach was: 'I give you my point of view and this is the point of view for everybody. This is the right point of view.' I think it would be very pretentious to work this way now. I feel that my job is providing a service for women. I want to provide a service. I don't want to impose anything.
Kenneth Richard: You've taken it a step further, to opening a dialogue. Your spring collection opened with model/artist Sasha Pivovarova wearing a 'Why Have There Been No Great Women Artists?' tee based on Linda Nochlin's 1961 essay. She was speaking about how intuitions have suppressed women artists. Smart choice on having an actual artist wear it. But that statement can be easily misinterpreted.
Maria Grazia Chiuri: It wasn't easy to make the point; in fact, many didn't understand. If you haven't read the book, you wouldn't know that it's a provocative title.
It is a way to bring attention to the fact that regarding women artists, you don't have many Caravaggios or many Raffaellos because in the past, it was impossible for women to study the naked body. The social mores of the time denied them the opportunity. We have to be aware about that because now, we are lucky. You live in the US, I live in Europe, but in many places around the world, there's not the same opportunity for women.
Kenneth Richard: Saudi Arabia just legalized women's right to drive this year.
Maria Grazia Chiuri: Exactly. So, we have to reflect upon that and discuss the patriarchal vision of society. When women in Rome, or Paris, or Europe, go to school, the culture becomes ingrained in us. We have to react to this culture and need to question why it is so patriarchal. Myself included.
There is also a part of this education that teaches us to be passive, to accept that not everything is possible for us. I want to give a message that it is. Everything is possible, for men and for women.
I really worry sometimes when I see the new generation with this passive attitude, accepting that they have to choose between a career or family. Why? You can do both! It's not easy; it's hard, but it's possible!
I want to give a positive message that you can do what you want in your life. It may not be easy and sometimes you can be tired, but it's important that you try to do what you really love.
Kenneth Richard: Are those the types of conversations you have with your son and daughter?
Maria Grazia Chiuri: I spend a lot of time speaking with them about this because I want that for my family, and for my daughter. They are young, and often the young can be afraid about the future. They care about their future. But you need to do what you really love, because it is the only way to be happy. It's very important, I think, that you realize that yourself.
Kenneth Richard: You walk the walk and talk the talk. Nice. You've also formed bonds with some phenomenal partners like Fabien Baron and Alexander de Betak, strong leads to team with.
Maria Grazia Chiuri: It's very easy to work with them because they are all talented people and it's a pleasure to work with talent. I also love Stephen Jones. I found Stephen here and it's not only about work. He's really a nice friend, and we love to speak about fashion. Betak, Baron. Peter Philips, too. All these people are really talented. It's easy to work with these people because not only are they really talented, but they also understand teamwork.
Kenneth Richard: How have you teamed with Fabien on creating the last couple of campaigns?
Maria Grazia Chiuri: I love to work on the advertising, of course. I think it's important because now image is all-encompassing. The collection, the show, is very important and the campaign has to give the same idea of the show around the world. It's completely different today than in the past.
You have to be coherent. If you do a show, you have to find the same image in the campaign, in the store, on your website, on your Instagram. Now, everything is connected. It's not like in the past. When I started to work in fashion, there was only the collection. There was no phone, no internet. You wait for the magazine to see the campaign after three, four months. Now, you see the collection immediately, around the world. Everybody knows everything about the show. It's very important that the image is coherent because now, fashion is about image. Image is everything – the show, the windows, the campaign, the Instagram, the website, the boutique, the visual merchandising – everything. You have to speak the same language. Everything is connected.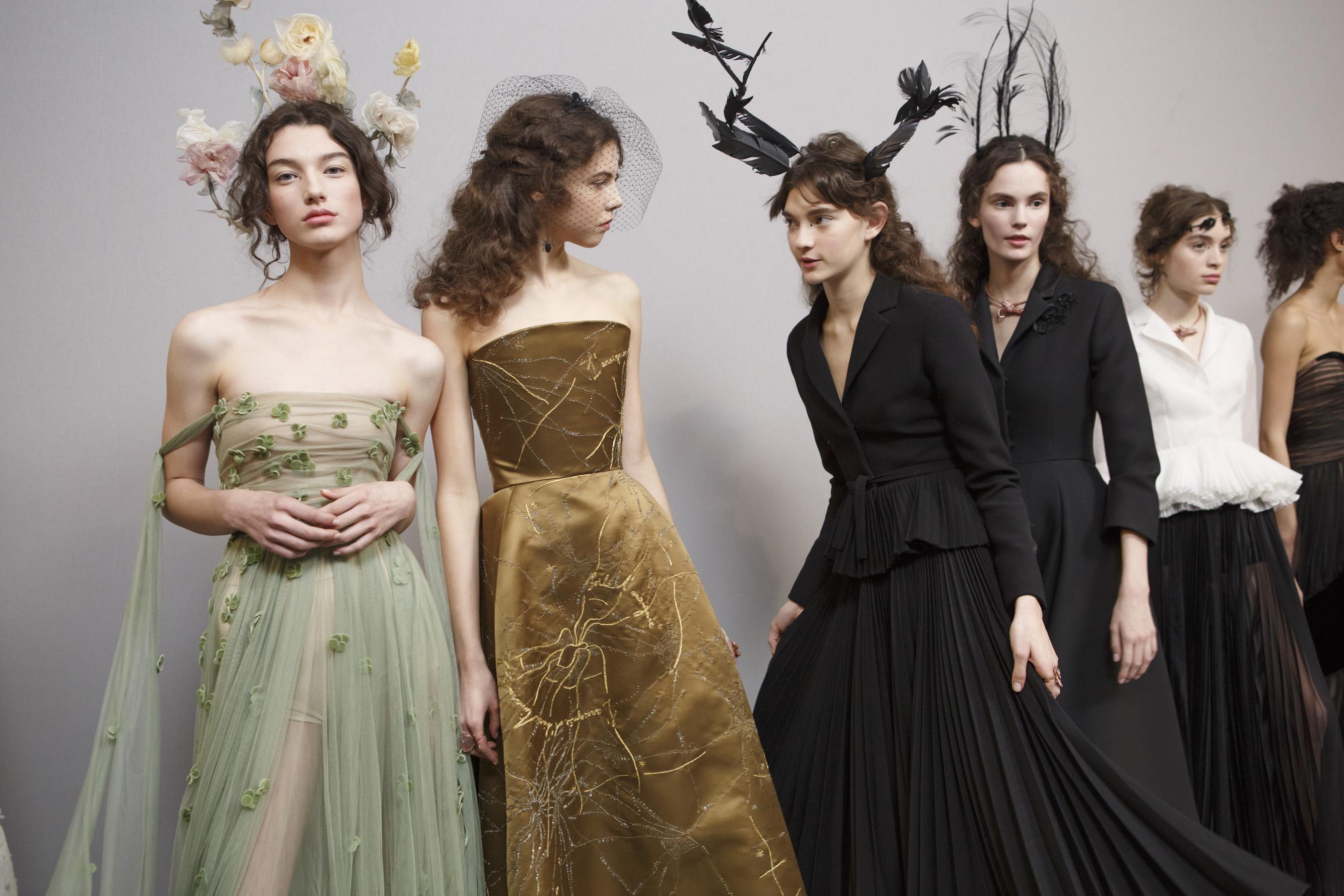 Kenneth Richard: Your fall campaign had a large group of powerful-looking women. What was it you were trying to convey?
Maria Grazia Chiuri: What I really wanted was to give the idea that we are a worldwide global brand and that there is not just one kind of Dior woman. We have a big audience, so we have to speak to this audience and show them that the Dior house values diversity and inclusion. I think, at this moment, that everybody wants to be unique but, at the same time, also part of a community. The message we want to send is that you can come into the Dior house and you can find one piece for you. It is not necessary to buy the total look, but you can find something that could be right for you and your personal style. I think that's very important.
I was very happy to start working with Brigitte Lacombe because she's an unbelievable photographer. She gave a feminine point of view and she supported me. We also did a beautiful job for Dior Mag with different women photographers. I think it's very important to use other talented artists like Sarah Moon and Nan Goldin, who shoot and communicate their points of view about Dior women. It's a beautiful thing to show that women are different, unique, and all appreciated.
Kenneth Richard: Not unlike your runway show sets.
Maria Grazia Chiuri: That's part of the language, that's part of the collection. For me, making a collection is like making a film. You have to decide what story you want to tell. You have to write a story, find the setup and location of the story. You cast the actor, or the model. You design the outfits like the costumes of a film.
Kenneth Richard: What are you looking forward to?
Maria Grazia Chiuri: I'm studying a lot about French history at the turn of the century in Paris because I'm love with all the work of artists like Claude Cahun, Jean Cocteau and all these artists who were in Paris between 1920 and 1940, because it was the same time that Mister Dior started to work in Paris. Initially, he was a gallerist, and that influenced him to open a couture house. I really love discovering all his friends and the kind of life he had. That fascinates me a lot.
Kenneth Richard: Do you find yourself also seeking to be surrounded by artists?
Maria Grazia Chiuri: If I can, yes! I am always fascinated to meet talented people. Artists, in particular. Art is very important because I think art, in some way, helps us to understand our times more. So, I really appreciate speaking with artists because they give me good energy and a different point of view about our times and I really love it.
Kenneth Richard: Maria Grazia, I appreciate you being an arbiter of our times as well as helping to address cultural issues. Looking forward to the next chapter.
Maria Grazia Chiuri: Thank you, Kenneth. Wonderful to speak with you and I'm looking forward to that chapter, too – now I just need to rush off to write it!
---