---
Review of Marine Serre Fall 2023 Fashion Show
Upcycled Alchemy
By Mark Wittmer
At Marine Serre's Fall 2023 show, a set of towering blocks comprised of discarded T-shirts, denim, and other fabric scraps sent a chillingly monolithic reminder of the sheer amount of waste that is filling our precious Earth – but an open invite showed a faith in community to restore our future. With this humble and hopeful show format as her backdrop, the designer presented one of the sharpest visions yet of her upcycled alchemy that transforms deadstock and waste fabrics into thrilling, futuristic fashion creations.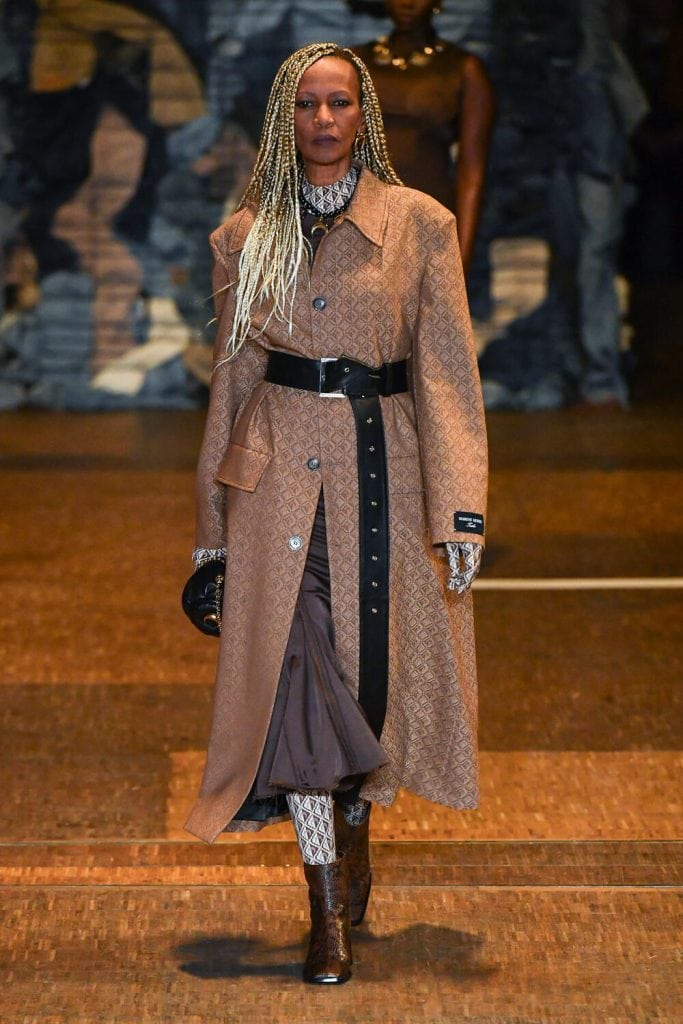 The collection took shape across distinct yet mutually fluid chapters, each of which investigated a different aesthetic or technical direction of its overarching themes of engagement, rebellion, and rebirth.
The first grouping of looks features coats, dresses, and skirts crafted from a small selection of the familiar off-white, beige, and cream tote bags that now inhabit our world. It's estimated that each "earth-friendly" cotton tote actually needs to be used 20,000 times to offset its overall impact of production – or, roughly, 54 years of daily use; these slick, graphical looks seem to suggest that it's time to look for other uses for these once-necessary pieces while daring us to imagine a different kind of future.
From here Marine Serre dips back into the regenerated denim and cotton pieces that have become cult-favorite pieces, before applying her own brand of savoir-faire to the motorcycle attire trend we've been seeing recently. While the muscular and technical graphic language is familiar, the way she twists protective gear into powerful shapes and silhouettes feels fresh and futuristic.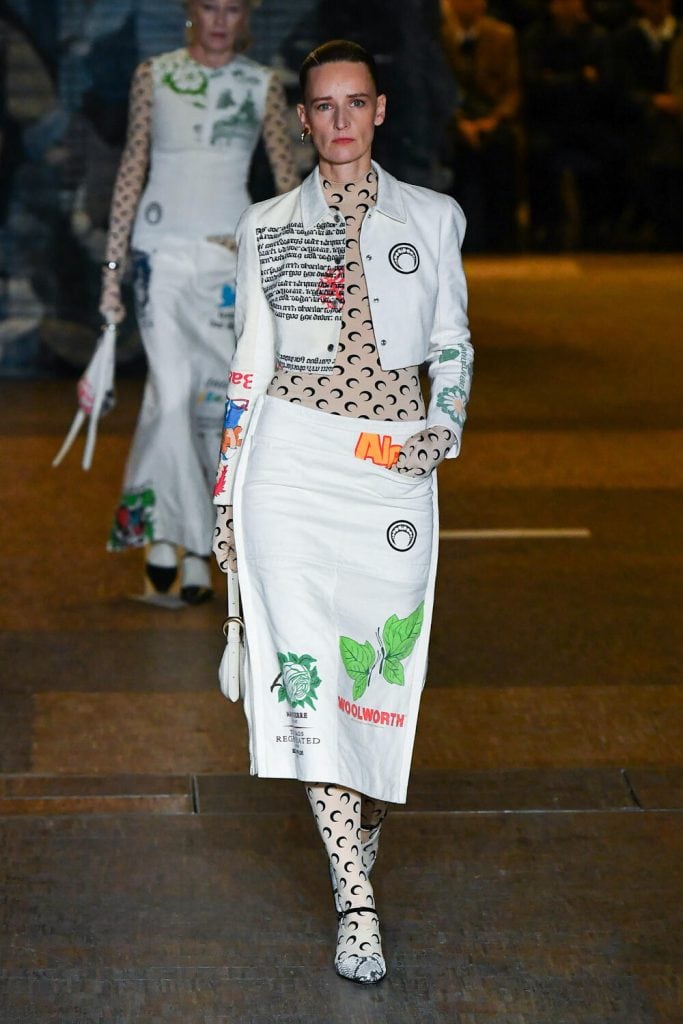 Next, sleek and chic leather with contrast stitching gets paired with some playfully fluffy knits for a high-contrast cozy but cool statement, which also keeps the punctuating color of hazard orange going across the collection. Then Marine Serre's signature half-moon print comes into play, as well as a lovely wood grain print, which dance across elongated outerwear silhouettes.
Deadstock fabric drawn from seems to be old-lady sitting-room furnishings – ornate claw-foot couches with baroque upholstery and dusty brocaded curtains – takes on a surprisingly futuristic character as it's worked through the later moments of the collection, almost feeling like a sort of heraldic symbolism for these stylish eco-warriors of the future. The collection ends with sultry, slinky bodycon dresses made from repurposed silk scarves and worn over the half-moon second skin suits, a look that we've seen Marine Serre play with before but that reached its greatest potential here.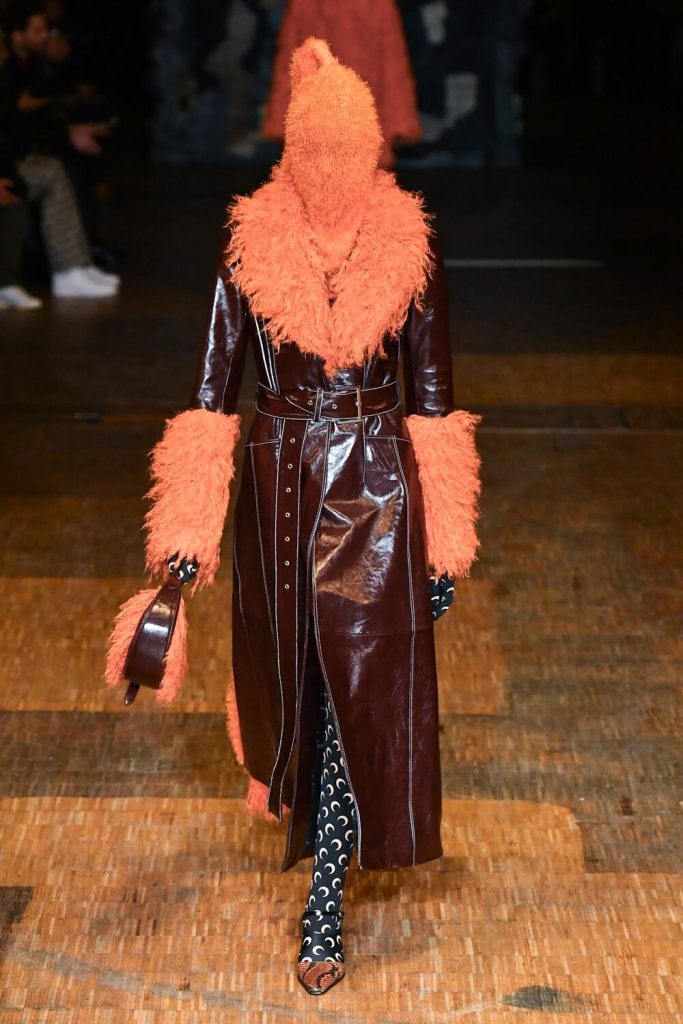 While Marine Serre's designs form the starting point of the collection's impact (at least as much as there can be a starting point in a work that is so much about cyclicality and regeneration), the layered styling and diverse cast also do important work to convey the house's values of putting imagination and inclusion to work in transforming what is given to us today into a better future.
Not only does Marine Serre use imagination, skill, and a keen creative vision to transform problems into gorgeous and new works of wearable art, but she also inspires us to recognize that we have the power to do the same and to shape a better tomorrow.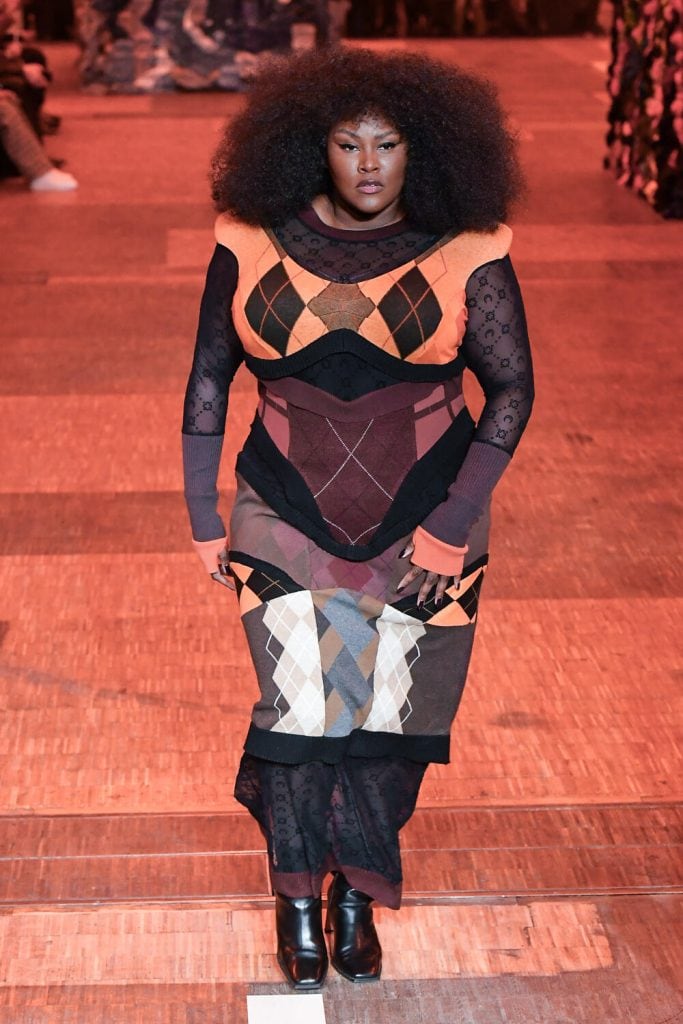 ---