---
Review of Mark Fast Spring 2022 Fashion Show
Fast pays homage to the Nineties with subversive demi-couture
By Lizzy Bowring
Well, maybe it was the last show of the day for me, but this latest collection from Mark Fast was not a winner, in my estimation. On the contrary, today, the A/W 21 collection seems a far cry from his recent presentation at the top of a multi-story parking garage in Soho.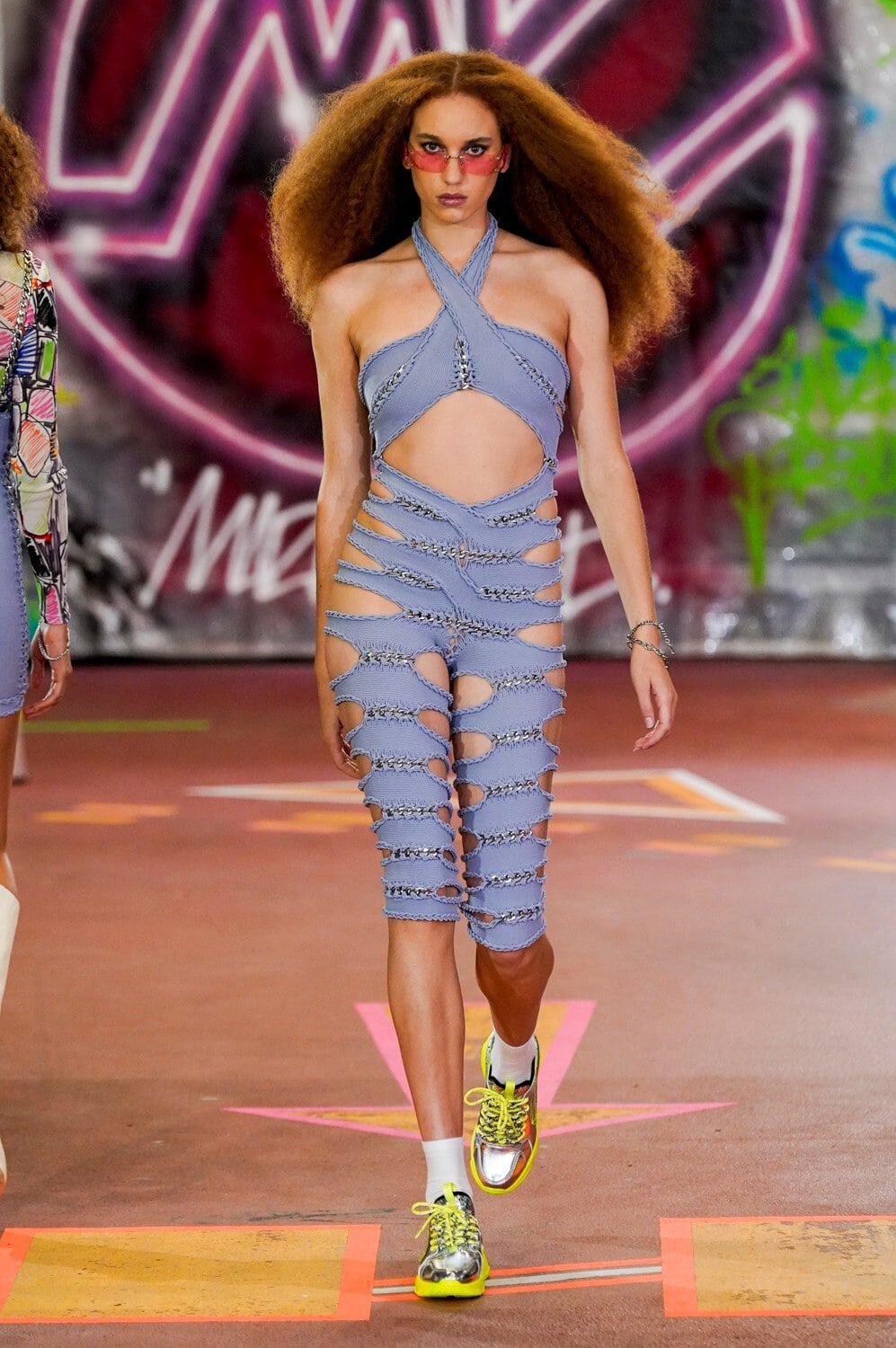 Gone were the cohesive layers that proffered a little discretion; in their place, he expanded on his demi-couture, body revealing knitted pieces that came exaggerated with interlocking chains. That is a great calling card for a sixteen something body, but these little somethings were created with a very late night party in mind, leaving very little to the imagination.
As the show notes describe, this simple silhouette is a one-banded knitted dress made in a range of pastel colours. So now, how do you get into it? Azzedine Alaia could well comment on this.
The nineties is a recurring theme in several collections to date, and Mark Fast paid homage to this era, adding a distinct toughness throughout with high heeled shiny boots and chain adornments.
The colour palette also played into these subversive pieces in bold neon hues, grounded with blue and forest green. Unique as they are, I wondered at the hand-painted graffiti denim pieces and tried to consider how these might translate when it comes to production.
I just felt there was not enough depth in this collection. Will a demi-couture dress be his bread and butter?
Still, maybe I missed the point; Mark Fast sees considerable growth in Beijing, Chongqing and Hong Kong and with this presentation, he demonstrates quite clearly that he knows who his customer is. But then that's a smart move.
---