---
Review of Marni Fall 2021 Fashion Show
Invitation To Dinner
Fashion's Superb Low Tech Connection to Community
By Long Nguyen
Francesco Risso, this season, opted for the intimacy of a dinner invitation via Zoom, where he showed a low-tech film of a group of friends and artists gathered for dinner and for hanging out.

In place of the pioneering day-long Youtube global broadcast last September that coalesced the Marni community worldwide, Risso guests separated small gatherings at home.
Three different film versions were stream in other regions – a breakfast version in Asia, a lunch version in Europe, and a dinner version in the US market.
Wu Tsang, the 2018 MacArthur genius grant filmmaker, artist, and performer based in New York and Berlin who specialized in marginalized narratives, directed the film that is in its way a breakthrough for fashion film in its unique approach.
'Dinner' is the latest manifestation of Marni's on-going strategic efforts to connect to the young generation via innovative ways and pursuing different techniques and formats.
Marni and Risso have undoubtedly used this pandemic period to rethink how they and the brand can connect to people. First, by going outside of the traditional fashion format. Second, by involving people in the community to create the creative like this dinner party, Mykki Blanco, Szela, and Steff Stover featured an at-home performance in impromptu outbursts.
A love letter, actually: blatant, at times even proudly banal, so intense and overwhelming is our collective urge to feel, touch, and feel some more. We keep asking ourselves – what is romantic and what is romanticism nowadays? Back in the day, as a movement, romanticism was born as a reaction against the rational, opposition to social norms. It legitimized the individual imagination as a critical authority … finding another meaning to everyday life.

– Francesco Risso, on his thinking behind the fall collection and point of departure for the Tsang film
The short film isn't exactly transparent about what the fall collection looks like, but that sure fashion was not the purpose of this film endeavor. Wu Tsang's film isn't about fashion. It is about giving these kids the performance space where performing itself is an artistic endeavor.
The short fashion film where the fall fashion is not the central focus, and perhaps more strikingly, the clothes do not matter here. What few fashion items do stick around in memory after the film ended, if one can try to remember, is the colorful striped knit long sleeve dress and the burgundy knit dress worn by two girls sitting in the bathtub playing hand tic-tac-toe. There was one girl in a black floral dress standing next to another in a sort of patchwork giant cape coat. One guy in a sweatsuit made of rectangular patches of fabrics of all colors in the scene where they looked at someone painting, well painting himself.
I remembered seeing a girl in a dark oversized wool coat standing between the doorway, leaving one room, or entering another. It was hard to figure what the kids dancing and singing around the couch were wearing.
What do those kids around the dinner table wear? Does it even matter here? No is the exact answer. I do, though, remember Mykki Blanco singing. I also get how actual this film is, perhaps veering towards documentary rather than fiction or, for that matter, fashion fiction.
In choosing Tsang to direct this fall film presentation, it is clear that Risso has no intention of showing fashion conventionally any longer. The hybrid film that sits between a documentary of a few hours in these kids' daily lives and some narrative film telling interconnecting stories between these tribes has little room for fashion.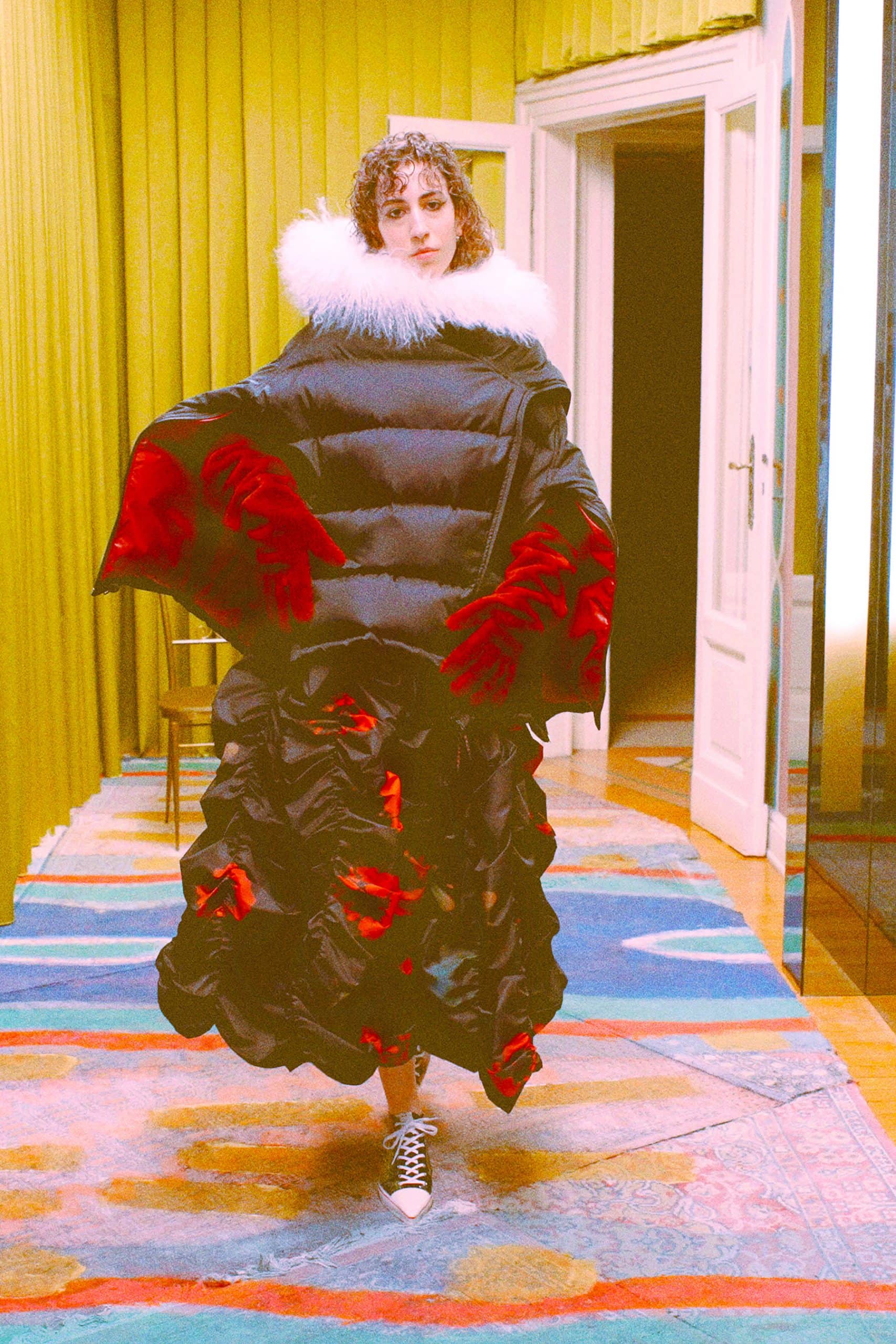 Oh, and what about fall fashion?
Risso spoke about 'color, shape, tactile, volume, dart, construction, deconstruction, ruffles, zippers, morph.' These words mean the seemingly intentional haphazard reorganization of garments that make for an intriguing set of fall clothes like a black puffer satin coat with flare sleeved and a ruched black satin floral skirt, or a red and black lace and ruffle combination dress.
A violet satin broad shoulder coat with a knit zippered top and a curtain ruched satin long skirt or an oversize sweat dress with matching pants are a few of these meshing of eras and dressmaking techniques.
There's a great red tie-dyed zipper cardigan with flare drawstring pants and a tie-dyed ruffle front shirt – it's the new tuxedo.
The patchwork of garments and techniques is just like how the different life experiences live on these clothes' surfaces.
The clothes in daylight do not have that feel of preciousness that is so prevalent in how luxury brands present their fashion. These aren't the kinds of clothes for a grand gala but a grand entrance to your friend's home in Greenpoint or even a bit further out in Crown Heights or even East New York.
Marni, under Francesco Risso's direction, has mastered the art of community building. With the kind of fomentation of kinship not by expending huge budgets to acquire needed short-term digital hit metrics but in the longer-term way of entangling the brand into young people's lives, precisely like those who took part in the film and their peers. Risso's meaning of romanticism here is just the idea of feeling and intimacy of human-to-human connections, which these three 'unfashion' episodes portrayed.
This home-bound film's intimacy with its grainy visual imagery in a low-tech production is a world and a half away from those high budgets stage set, like what Fendi had spent on its logo double FF transparent glass structures. Then there are the superstar cast models.
But that shiny world is so far removed from what matters most now in fashion – breaking the barriers to young people and getting them to rally around the brand by showing how the brand understands them, their lives, and their values.
The question to ask is this – what kind of values is Marni portraying itself to its audience with this homemade film, and what kind of value is Fendi displaying itself to this same audience with its high gloss fall show?
It's not just the intimacy here but also the interconnectedness between the people who populate this dinner party.
One can see how Blanco and Stover relate to Precious Kevin and Lin Lin, for example. One can see how the young audience can perceive this relationship on screen and in their lives.
This is how to build loyalty today, one niche community at a time. And one dinner party at a time.
---