---
Review of Marni Spring 2022 Fashion Show
A Testament to the Individuality of the Body, Then Clothes for Individuals
By Long Nguyen
So much of Francesco Risso's work at Marni since his 2016 arrival as creative director has been about creating an idea of fashion.  An ethos and aesthetic feel for the community of young people globally who can identify themselves in the brand's sentiments and who can then see themselves and their self-portraits in these kinds of clothes expressing more of their individuality than the kind of clothes expressing about the brand.
Marni is that fashion brand rising in the late 1990s as a champion of experimentation in design forms and tactile fabrications, setting the brand apart from the usual on-going of Milanese fashion fortified well fortress of establishment fashion of either pole avant-garde or classical. 
In this digital age, this capacity to create this notion of personal visual identification with the brand from the community of fans and customers is just as critical as making the clothes to dress that community of youths. 
During the pandemic years, the designer harnessed the power of community in various projects. For the massive Youtube initiative for Spring 2021 named 'Marnifesto,' Risso gathered bands of fans around the globe for a multi-screen simulcast worldwide.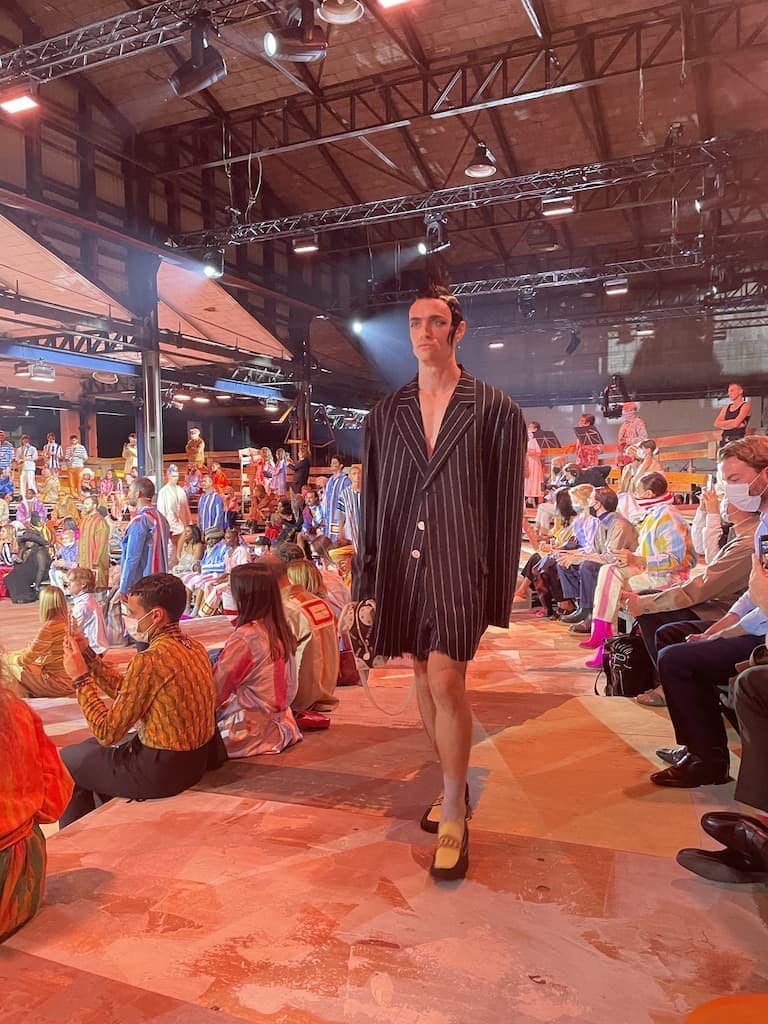 That was less about the new spring clothes than about how seamless the connections between people were. And, these new clothes seemed to have already penetrated the realities of these lives now broadcasted worldwide.
Risso is less concerned with the ideals of modern Italian fashion or at least in the duality of Milanese industry scene – on one side the manifestations of different versions the Italian tailoring altering a neckline here for one season then tightening the body for another and on the other, the louder screams and tendencies of maximalist fashion.  
The natural bend of this broadcast was far more effective in terms of communion with targeted audiences than, say, the many high-budget films or high-level production taped fashion shows common during the lockdown era. And, more than fomenting loyal fans, it is about dialogues and exchanges to involve its public with the brand.
Creating a new fashion language is just as critical today as making suitable clothes.
Words once common in the fashion vocabulary like eccentric, over-the-top, weird, and something like avant-garde are no longer applicable in today's world, real or digital.
Risso's Marni clothes are not sexy, bucking the trends towards more body exposure either elegantly or crassly, because that isn't what is his fashion aesthetic. The prime directive at Marni is the focus on the person, and then the clothes come later to aid and enhance the person. Individuality comes first.
Inside an industrial warehouse on the eastern outskirt of Milano late on a Saturday night, the audience, the performers, the singers, the poets, and all the models all wore Marni. It was a final act of communion on a scale never before imagined or happened in fashion – an actual moment of religious ecstasy or even more poignant holy orgasm. 
The audience, models, and hundreds of performers were the show, all partaking in this ultimate sharing that was beyond even the creation of the local community. Gosh, the word community now is being overused, but here it is just that – community.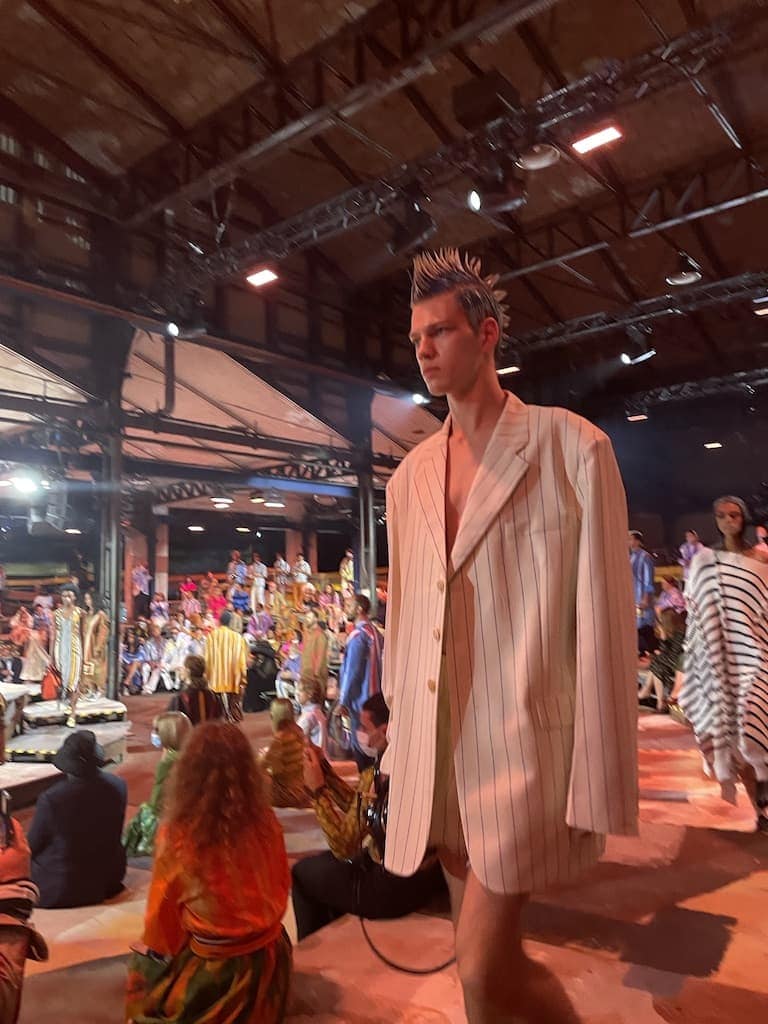 The 'show' titled Wear We Are was like experiencing the entirety of Wagner's Der Ring des Nibelungen all in thirty minutes instead of fifteen hours.
"Here we are.
Where we are.
What we are.
Ear we are.
Are we here?
Where are we?
What are we?
Are we ear?
Here, where we are and ear, what we wear is what we are.
Where we are, one we are, for what we wear.
Here we ear as one.
Here we are as one, and each one is one.
Here we are, where we are for what we wear and who we are," said the verse in imagined haiku provided by Marni that expressed the thinking behind the performance and the clothes. 
The set, built-in raw wood in concentric circles with social distancing seating with a circular stage in the center, was meant for continuous entrances and exits and entrances of the models and the performers as they walked the clothes or stood still. In contrast, other performers sang and played musical instruments. The act of getting dressed to be together, figuratively, and an act of communion, or 'clothing for the team.'
It is an extraordinary act that the physical clothes never got drowned out by the commotions and the conundrum all around. 
The clothes and the people wearing them stood out so much apart. You can see each one in their comfort zone. They wore clothes as different as they were to each other. The deep blue short sleeve floral loose dress with cut out fringes, oversized leather motorcycle jackets and hot shorts, blue polka dots one piece swim/jumpsuit and blue/white stripe leggings, long yellow hand-knit cardigan with floral daisy shorts, giant double breast blazer in blue and white stripes and hand-knit white giant naval stripe sweater-dress.
There were bits and pieces of clothes and complete outfits for anyone and everyone. 
Giant oversized blazers, big hoodies, triple XXL tee shirts, tank tops, wrap skirts and long skirts, bra tops, and loose dresses. Shapes range from a fitted long sinuous dress to an oversized blue daisy or diagonal blue and white stripe jersey long dress. Tailored jackets are slouchy and very boxy in navy pinstripes, white wool black stripe, or multicolor stripes. The fabrics of the clothes add a surface of three-dimensional feels like the daisy sown onto the blue or in the silk blue and yellow stripe pantsuit with white daisies.
There is something else too.
At the show, I could feel the presence of each of the models that wore each of the outfits. Indeed they weren't the typical models culled from agencies but all walks of life like the Marni customers. It felt like these 'models' just weren't in a fashion show at all but wearing these clothes somewhere else at home or at play. 
You can feel how the slight movements of the fitted long black and white when the long blond long hair guy who wore it walked by; you can feel how the model with a midriff knit stripe bra tank and stripe pants owned his look, and you can feel how each and everyone in the room including the audience owned what they wore.
Perhaps this is what Risso meant by 'the individuality of the body is intensely present."  The body is each of us. 
Once in a blue moon and only very, very rare, a fashion moment happens as it did that this Milanese industrial warehouse.
It is never anything any designer can plan or hope to accomplish. It just happened when everything synched in ways beyond expectations and beyond planning. This night was indeed a fashion moment, for me for sure, and I would venture to say for everyone in that entire industrial compound.
---