[hr style="striped"] By Kenneth Richard | The Impressionist
Mazdack Rassi has a unique window at Milk Studios in the Meatpacking District. A window that has witnessed the cities' most dramatic evolution with its streets converting from a bevy of butchers to a bevy of brands in under 15 years. At first that window provided light for fashion's finest creators to use first as a photo studio, witnessing countless creatives walk through its doors to create and build brand images. A window like that can pick up a few things, see all of fashion, understand its needs, channel its energy, and eventually expand to create on its own.
Mazdack Rassi has leveraged that window to transform Milk Studios from a photo studio and events location to a creative hub and community with a media arm (MilkMade), film and commercial production company (Legs), a casting agency, a gallery, a digital agency (Milk Digital), a sister site in Los Angeles, and its own fashion week (Made Fashion Week). Along the way Rassi has supported, nurtured, and championed nascent talent, providing a hand up to the next generation of creatives. He has all the characteristics of a leading creative director in that he listens well, forms his own opinions, has a vision, and knows how to lead others in executing against it. But beyond that he has a passion and understanding for people that is evident in everything he touches. As another Made Fashion Week is upon us, The Impression sat with Rassi to talk about brands, community, films, cold medicine, and the future of fashion.
Rassi, excited to hear about you and the business.
Hi Kenneth, how are you?
Whoa! You've quite the cold! Should we put in a clause that this was under the influence?
Yes! In case I say anything off I want to be like 'I was totally medicated'! (Laughs)
Medicated interviews are our favorite! Let's ease in with Milk Studios to start?
Fitting as next year we celebrate our 20th year! We started when my partners bought this building, which was 450 15th Street in January of '96. Originally it was a Saks Fifth Avenue warehouse and the neighborhood was crazy. I joined them a little after as a young kid and helped come up with different ideas with what we could do with the building. One idea we came up with was to create a photography studio because of the all the space and the high ceilings. Everything worked for that. We became partners and they allowed me to create Milk and in '98 we opened.
It took about a year and a half to build it out; instantly we became the home of Calvin Klein because at the time they were looking for alternative show spaces. At the time there was a young gentlemen, who later became my partner in Made Fashion week, Keith Baptista, who used to work at KCD. He was looking for show spaces for Calvin and one day he was scouring the neighborhood and stumbled upon this building. I met him and he said he was working for a really big designer and he's looking for a space. I was like 'I'm opening a photography studio' and he came upstairs and asked what I was doing with this big space. I said 'I'm going to chop it up into a bunch of photo studios' and he said 'no, no, no can you just leave this one part just open?' I said I didn't know because I wanted more studios but he said 'I promise I could bring you a great show!' That ended up being Calvin Klein and we did their shows here for eight years. So sixteen shows in a row with Calvin and we became joined at the hip, he became a mentor of mine, really helped put Milk on the map.
Obviously the photography part really grew fast. We were known for our show spaces and for our photography studios. We grew and grew and grew and we started to create content ourselves about five or six years ago. So Milk Studios today is ten companies, with half of the companies being facilities and equipment. They create the hardware part of the studios. The other side is the software, which is our creative side: our digital agency, our photographers and our filmmaker and the other parts. Milk has gone from a fashion photography studio event space to a media content company where we happen to have our own facilities and studios. But really what we do today is make stuff. We've expanded out of fashion into music and technology and film, a lot of different things. That's where we are today.
Why become a creator?
Well, I think it's happened because we were home to creators in the beginning. We were a studio or a space where people came and they made stuff. That was wonderful. But at some point they get up and leave, and you're like 'Woah, I wasn't really part of the creative process.' We were the home of it but they came, they made stuff, they left. And we needed to be part of it. We wanted to make stuff.
We have everything here to do that so we turned to the young generation, that's why you hear a lot of people describe Milk as a place that harvests and is a platform for the next generation of creators. Because all the big creators were using us as space, we realized we needed to connect ourselves to this young generation that were currently working as assistants to the great ones. So, we started to help cultivate them and say 'we have a studio and we're not using it for a big campaign, let's all get in there and make stuff'. I know everyone today in technology talks about a 'maker space,' but we were the original maker space back in the early 2000s. We didn't differentiate between photographers, filmmakers, and musicians. We looked at them all the same, they were all artists and they were all creators.
[quote text_size="small"]
I think what you'll see today with the new generation of creators and artists are that they don't differentiate anymore. Even if you look at young designers, they're not just fashion designers. They are architects, filmmakers, musicians, and a little bit of everything.
That renaissance that existed in the 60s and 70s I believe has come back to New York. I think this new wave of cultural relevant creators, regardless if they are in fashion or music, touch each other. So these are the tribes that we talk about.
So like to hear about one of those tribes you did something original with. Congrats on all the changes going on with Made and know it is too early to talk about the partnership with IMG, but can you share how Made came about?
Sure! So our mentality with Milk was to not do things to the status quo. Early on when we did eight years of Calvin Klein and we worked at the highest level, we saw what a big show was. After Calvin moved on we had an opportunity to be the runway home of a brand like Ralph Lauren or Armani or we could turn it kind of upside down and allow young designers to create. We felt like that was the more fun choice and what we should do.
I used to let a lot of young designers start to cultivate and let them show at Milk but in 08' when the economy crashed, all of those guys got hit hard. So one of the ideas was, 'what could we do to help them so they don't have to pay', it would be free of charge for them to show here. We looked at what was going on at the time, and I realized that I didn't understand why designers would ever have to pay for the space. If there is an organization that benefits from them being there and are making money from sponsorship and things like that, why tax the creator? It should always be the people who want to be around the creator who should pay for that ability.
Made actually started as Mac and Milk because we had a great partnership with Mac Cosmetics and we were doing really cool events with them. One idea I shared with Mac was, 'if there is an opportunity for you guys to help us then why don't we give all these spaces free, stock that week with all these presentation and shows. We can produce it on a very high level that doesn't look like a college runway show'. That's when Mac helped us by becoming that partner and sponsor. Within 48 hours we had a roster of young designers we wanted in the program. They all knew us and were so happy to be part of it and kept asking if it was really completely free. We told them to just come here and thank Mac and the people who helped put this together. And what ended up happening was really great because it was a great balance between the creative process and people, both need brands because brands are the ones who give these wonderful partnerships. So that's how Made came about.

And I have great partners like Lombardo and Keith Baptista who came on board to be our partners to help grow that project. It was really a passion project and it became something really important to this new generation of artists. It obviously became a development program for American fashion and we are very proud of it. It came from the right place, it didn't come from how much money we can make on this but how can we help the artist. And at the end of the day it was a big success.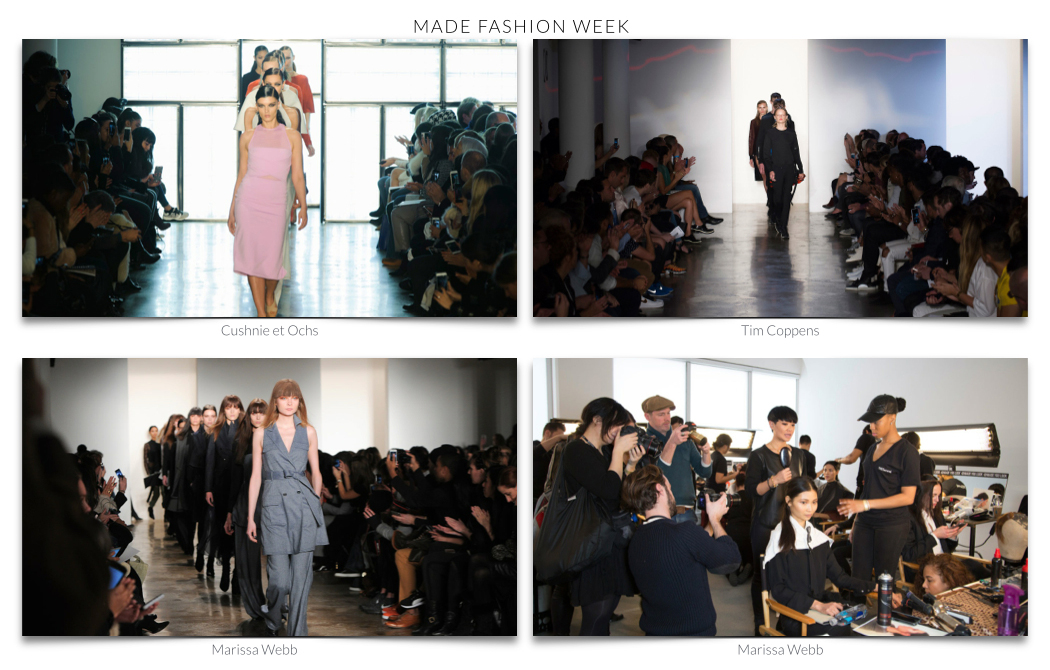 You have a broad window on the industry with lots of interesting people coming through your doors. So what do you think is next for the industry?
Very good question. There are a few things. One is obviously the digital revolution and that means how brands communicate, how they sell things and how they manufacture things. I think all of that is going through a renaissance right now. I do believe the fashion industry is about five years late to the party so there's a lot of catching up to do and it's a little bit unfortunate because we tend to spend so much time perfecting an image rather than telling a story.
[quote text_size="small"]
I think fashion has always been this place where you have other people telling your story instead of you telling your own story. So today, brands have to tell their own stories and build their own communities. Customers are a thing of the past; community is what's important. Customers will go somewhere else for twenty dollars less or more, but community will always be there for you.
They don't really care about your price point because they understand what your brand represents.
So that whole transition how fashion companies have to think is a revolution. The new fashion brands, the new younger, cooler companies are attaching themselves to that understanding and are taking advantage of it and growing quickly. The more established brands and bigger companies have a lot of politics so it's going to take them a while to turn these big ships around and start coasting them in the right direction. But it's happening so I think innovation and technology is at its infancy stage right now with fashion.
I think the wearables market is going to make an impact as well. It's going to make things smarter. We talked a little about this renaissance idea, which works well with digital, where it's not just fashion companies but music, art, photography, film, architecture, and design and all of these things are important to figure out who you are. Big fashion companies have to make sure they aren't just a brand and they are still innovators. It can't just be big brands and relevant brands; it all needs to come together.
I think another thing that's happening is the idea of collaboration. In fashion everything was very closed. It was an industry with very few people in it, and they were the only ones who got it, but I think the lid has been taken off of this due to blogs and fashion people who live outside of the fashion industry who are relevant. The industry has to open up. I think a lot of people in this industry have a problem with that because the idea of power was something that was very important.
[quote text_size="small"]
Exclusivity is going to disappear and democracy is going to be a big deal; the ones who can create brands that allow that are going to be the future brands, otherwise, it's just six people sitting in a room talking to themselves thinking about how great they are. You don't need to be a successful brand because five people think you are; you have to be a successful brand because a million people think you are.
This idea of the lid coming off our industry is going to help change it, for the better good I believe.
Also, the borders are disappearing. You're not just an American brand anymore, you're global. You have to think globally. It's an amazing revolution that's happening, but it's really funny, I don't think fifty percent of the industry realize there's a revolution going on. They're still applying old mechanics and ideas on how to be successful and I think it's only a matter of time before they realize that it doesn't work that way anymore.
What excites you outside of the industry right now?
I think what's really wonderful is what's happening in the music industry. We launched a wonderful new program with Intel called Muse, which is a wearable technology. The concept is that we built an Intel lab at Milk where we do incredible workshops at Milk from music and film. It's all about culture. We have friends from Intel who come here and we talk about execution of technology, so we are very lucky.
We were just at CES where we helped Intel create a lot of beautiful visuals and conversation pieces for their booth and we are proud that Time Magazine voted Intel's booth the best of CES because it was our first time being a part of it. We love what's happening in the tech world around wearables. I know that's a word everyone's throwing around but many don't know what it means. But we just look at it as advancement in what we do now, in any industry. What I mean is instead of finding a new fabric that works better, we have the ability to use technology to make it better. That's all wearables really is.
The greatest tool created in fashion was the button. It was so technologically advanced. When it was created you could put two pieces of fabric together, button it or unbutton it. It was amazing because you didn't have to sew it together or rip it apart. Back then that was a wearable technology phenomenon; same for zippers and velcro. So our Intel idea is that we show advancements have been happening for a long time and now there's going to be a new revolution because we have new tools to work with. These tools can be batteries, sensors, or other things, but ultimately in this industry we will be embracing it just like every other industry. Two worlds are coming together and I think that's where the most interesting ideas that are being thrown around outside our industry will effect our industry whether we like it or not.
That's engaging, and reminded me of something else I should ask you about. One of the challenges I see in the industry is that everyone knows they need to create moving images, but they don't really know, outside of YouTube and their own website, what to do with them.
That's a great point. So about seven years ago at Milk we started a film division called Legs and it was completely a different group of people. A bunch of young directors out of MTV and they went to film school, they were really skilled kids. They were on the second floor, we were on the eighth; we called them the "film guys", with messy offices who did their own thing. They would just come upstairs to Milk to use our studios, make stuff, and go back down, nothing to do with fashion, nothing to do with what Milk does. But they started to do all this incredible work and started winning a lot of awards. And the fashion industry we worked with upstairs was all still photography, big names, big budgets, big things.
As you know, in our industry everyone uses the same people over and over again because no one wants to really experiment because they are so afraid it's going to mess up their brand, that was their mentality. All of a sudden upstairs went digital. One day we had film, chemicals, refrigerators filled with film. People don't remember it because it was such a weird thing, that people would come in to get Polaroids and films. We would use chemicals and paper. It wasn't really green. But instantly within two years our entire industry of photography went from all of those chemicals, all of the processing, to basically digital. Zeros and ones. We were probably one of the greenest industries over night. People never talk about how photography became so green and actually so good for the environment. Then when the iPad came out, all of a sudden it was a digital revolution they were like 'Oh my god, you can put it on a screen instead of printing it on paper.' When that happened people started saying 'If its on a digital screen why can't it move, it doesn't have to be still.'
People tried to experiment, but what ended up happening was that they went to the same photographers that they used to use to shoot their stills to start to do motion. This was the birth of what we call fashion film, which was the worst thing in the world! (laughs) It had no beginning, it had no end, it was just great photographers creating photos that would move. So the first thirty seconds as the most beautiful pan you've ever seen then after that, it just hit a wall.
So fashion started to celebrate fashion film, but it was really bad. It wasn't engaging and nobody watched it. All these websites started popping up and started having their own awards for celebrating fashion films. But at the end of the day film people would look at it and say this makes no sense. But they were outsiders of the fashion industry; they had opportunities to meet fashion people to say will you give me a shot to make a film? We do story boards, sounds, beginning, and ends so what ended up happening in the last few years, finally companies like Legs are starting to make films for fashion companies and real directors are now involved, and this new generation of photographers that are coming up are also going to film school too because the medias are merging.
I don't know anyone who watched a fashion film and actually finished it, it's like one of those things no one did in the past few years, it was like a bad music video. So I think it's course correcting, self-correcting. There are real directors now getting involved.
[quote text_size="small"]
And I think finally brands are realizing that just because someone does incredible photography for you doesn't mean they'll do incredible film for you, it's a different skill set.
That is happening naturally and I think it's all coming together. So I do believe motion will be the voice of fashion in the future, it will be much more robust, and there will be real people who work on it.
Where do you think all of these videos are going to live?
Well I think when fashion companies start thinking of this digital presence as a place where you engage people, that's where it will ultimately live. Where it will be shareable. So that's another concept, creating this stuff to be shareable. Not exclusive to one place but to go out and live on. As the mentalities change it will live in multiple places, it will live wherever people want. It lives nowhere but their needs to be a launch pad for that, and that I think would be a brand that wants to be on their own, because you want people to come to you and take things from it. I think content is going to be king in the next ten years. The people who create content and have the sensibility to work in the fashion industry will be on the top of the food chain.
So what's next for you and the company?
So exactly that, keep going on content. Opportunities keep building Milk as a media and content company and at the same time build out from Milk Made, our platform company, as distribution. You really will see a lot from us in the next few years when it comes to media.
Rassi, not too shabby of a medicated interview! Looking forward to watching you and Milk be at the crossroads of all that content.
Thanks, Kenneth, and looking forward to seeing yours grow too!