By Long Nguyen
Meta-Fashion, The Final Frontier
Children visiting the giant luxury mall Harbour City, which contains over 450 shops, in Hong Kong from this week until the end of June can enjoy a new feature project, 'My Virtual Closet.' Instead of visiting the various children's shops at the mall, they can now experience real-time fittings for different clothes on their digital avatars, which they create by downloading their selfies and stats like height and weight, to generate avatars with their faces and measurements.
The project is developed by Quantum Matrix Limited, the Hong Kong-based leading digital humanoid technology company. The mall operator and several leading children's stores at Harbour City – including Burberry Children, Petit Bateaux, Stella McCartney Kids, Kenzo Kids, Fila Kids, Monnalisa, Nanös, Kids 21, Dolce & Gabbana Children, and Mothercare – collaborated with the tech firm to make use of their new proprietary Quantum Fit (QFit) – a patented real-time personalized "auto-fit virtual try-on system" with individualized avatars.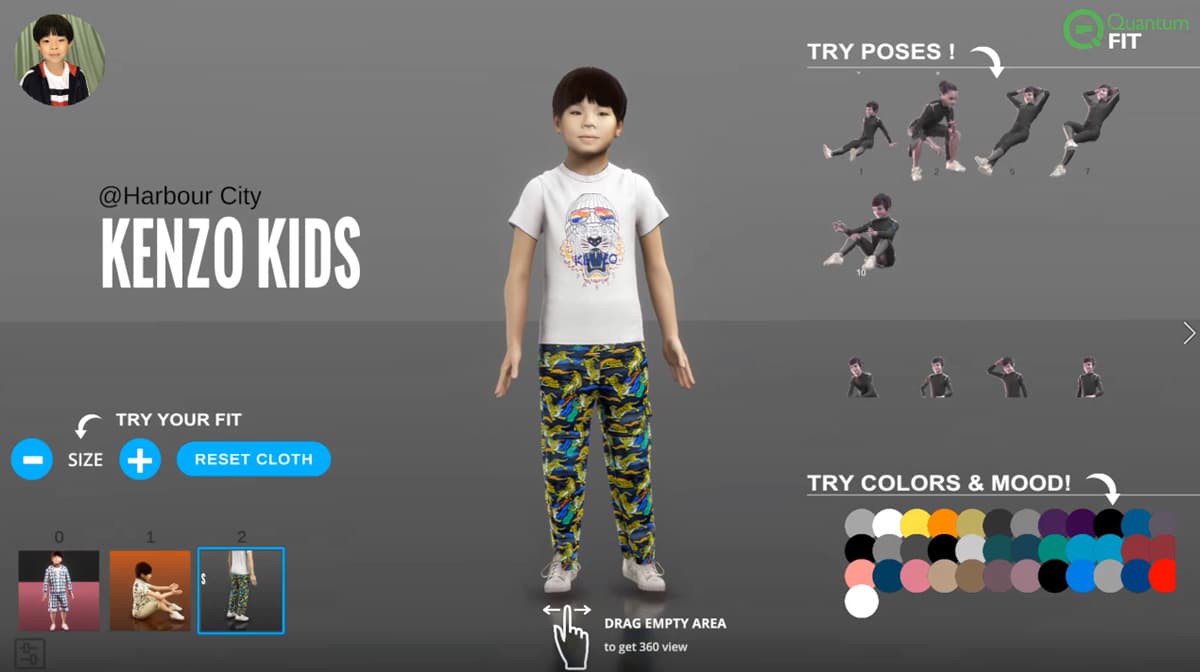 Imbedded in Quantum Matrix's new technology is AI, which can analyze the children's body shape, or soon that of adult consumers. Cameras take 100 plus photographs per second of each person to induce a realistic digital human figure in a process using technology patented by Quantum Matrix as QHuman.
As shared on their website, the company's mission statement is "To provide mass-scale realistic avatar technology in bridging digital and physical worlds across different industries by facilitating user connection, sharing, and personalization." Since the company's founding in 2013, the brand's motto remains "virtual identity is possible for everyone."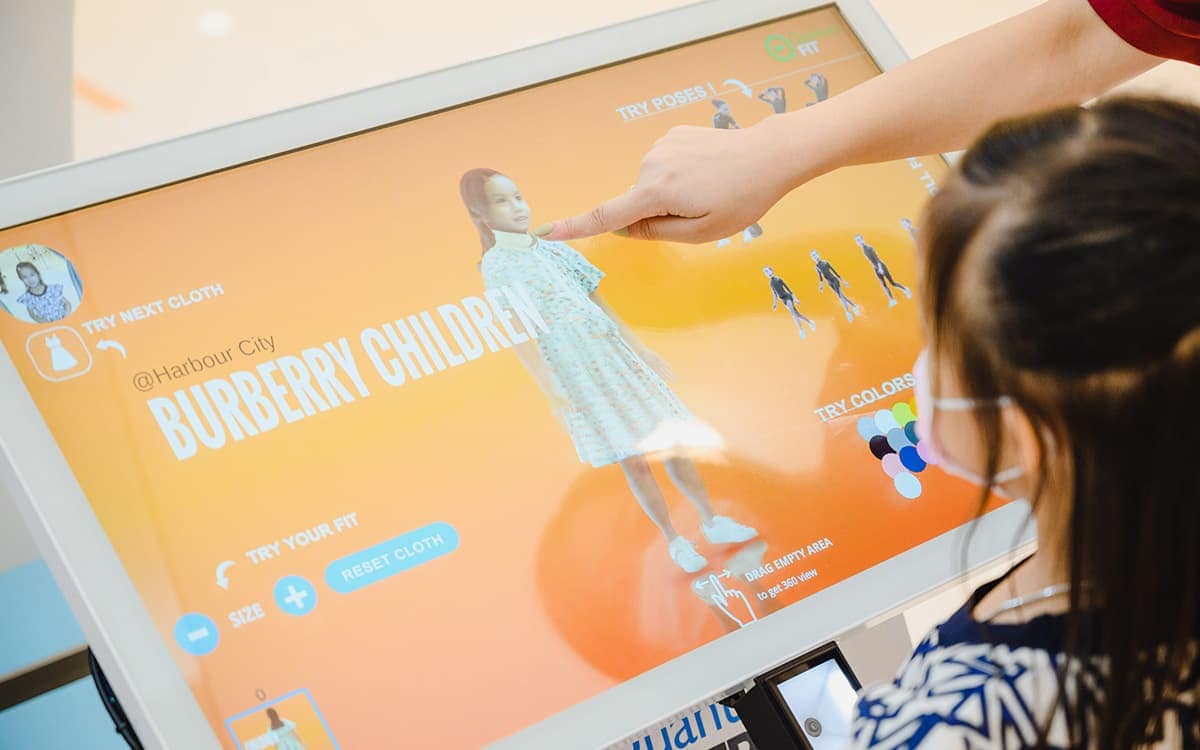 As the latest application of virtual technology to retail, Quantum Matrix's Real-time Auto-fit Virtual Try-on System is just another manifestation of the penetration of virtual reality technology into the many aspects of the fashion industry, verging on the cusp of rapid evolution. For example, the giant Chinese e-tailer Tmall and Shanghai-based marketing group DFO and Labelhood worked to advance 3D design, manufacturing, and live stream selling. The Fall 2020 Shanghai Fashion Week was the first to go full digital, with 3D and AI sale presentations in the first month of the global lockdown in late March 2020.
Snap Inc. is building a new version of Spectacles. This futuristic eye gear interacts seamlessly with the Snapchat app, factoring in artificial reality as an added layer in the real world. Since the initial introduction of Spectacles in 2016, this is the first time the glasses embrace augmented reality, extending the ability of Snapchat users to try on clothes, shoes, and makeup in the AR format.
With these new Spectacles features, Snap is looking to increase the augmented reality that the company had started a year earlier with just shoe try-on to embrace more AR shopping tools to facilitate the online shopping experience for luxury fashion and beauty brands. Last December, Gucci released a series of AR-friendly eyewear with Snap.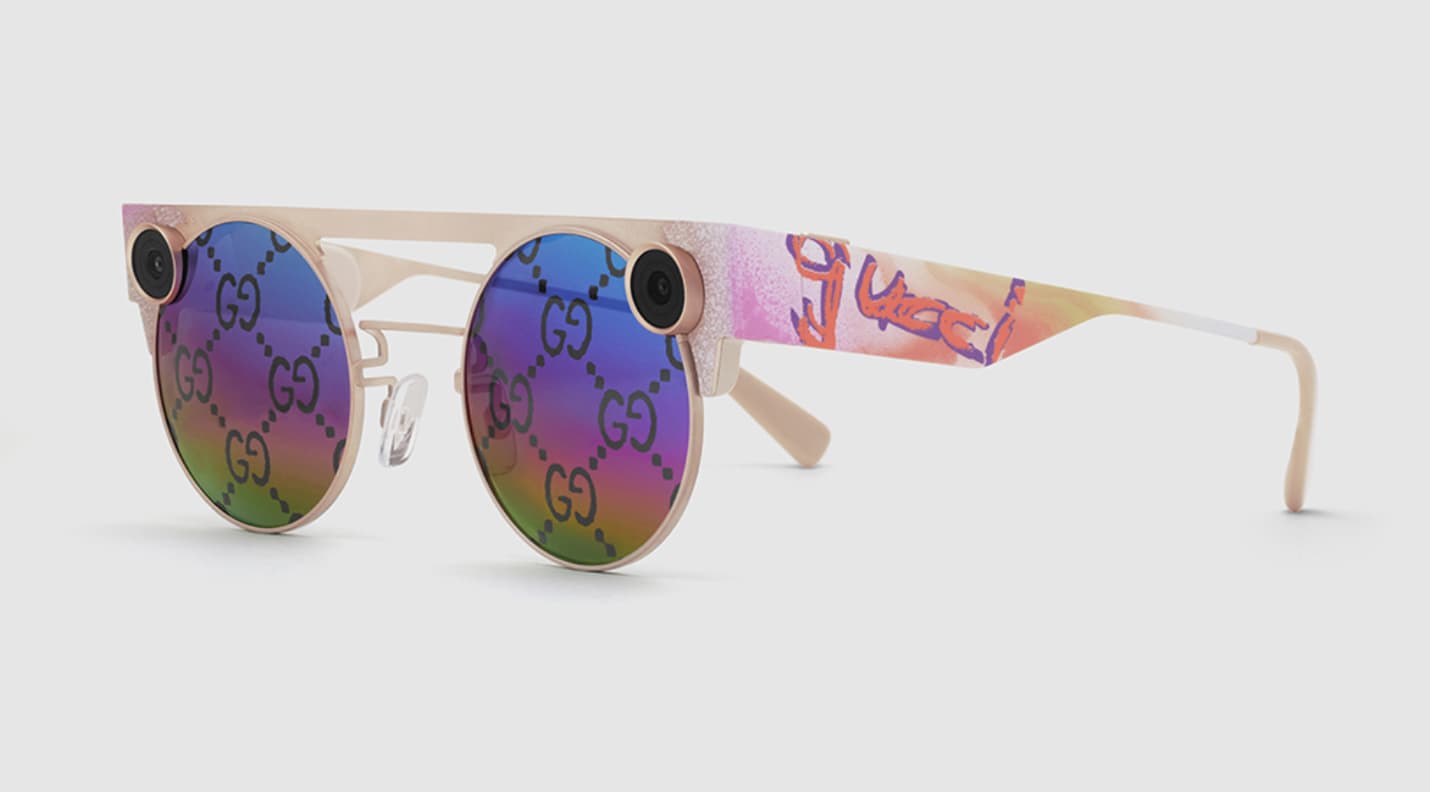 Now, Snapchat users can try on apparel, eyewear, handbags, and jewelry accessories virtually within the new tech framework that can detect and measure the body by movements called 3D Body Mesh and voice filters called Lenses. Snapchat shoppers can now search for images and then seamlessly shop these items. Prada and Farfetch are already using these new technologies to reach new audiences for online shopping, especially in the realm of social shopping.
Today, the intense intersection of technology and the fashion world spawns new mindsets, inventive ideas, and innovative fashion design, production, and consumption.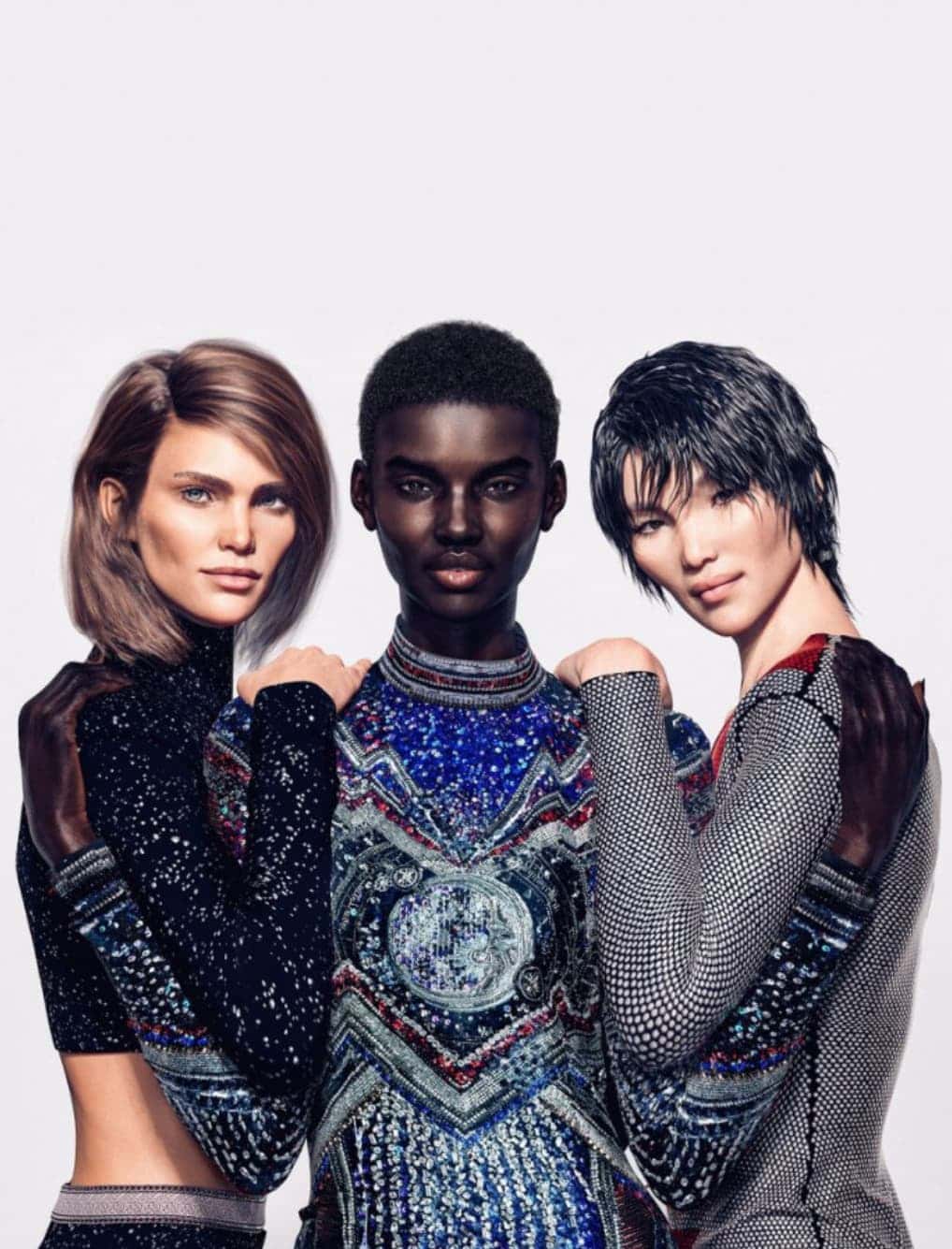 "We need to change. We need to push boundaries. We need to talk to the new generation. We need to make fashion relevant," Olivier Rousteing of Balmain said in a video in 2017, revealing "My City of Lights" virtual reality experience detailing his creative processes at the French house.
For the Balmain Fall 2018 campaign, Rousteing dipped into virtual models featuring three new icons – Margot, Shudu, and Zhi – as part of the brand's virtual Balmain army created with the photographer Cameron-James Wilson. The French brand also ventured into the virtual showroom in July 2020 with a 3D replica of Rousteing in addition to the Paris headquarters digital visit.
Bridging the gap between new high technology and fashion is part of Rousteing's aim to align the forefront of the digital realm with the younger generation.
CLO Virtual Fashion – a podium for true-to-life 3D garment simulation – created the lifelike 3D Balmain clothing worn by these virtual models in 2017. CLO Fashion Design Software allows faster visualization from 2D to true 3D of the actual garment, thus trimming the design time frame and reducing the waste of making samples in stages.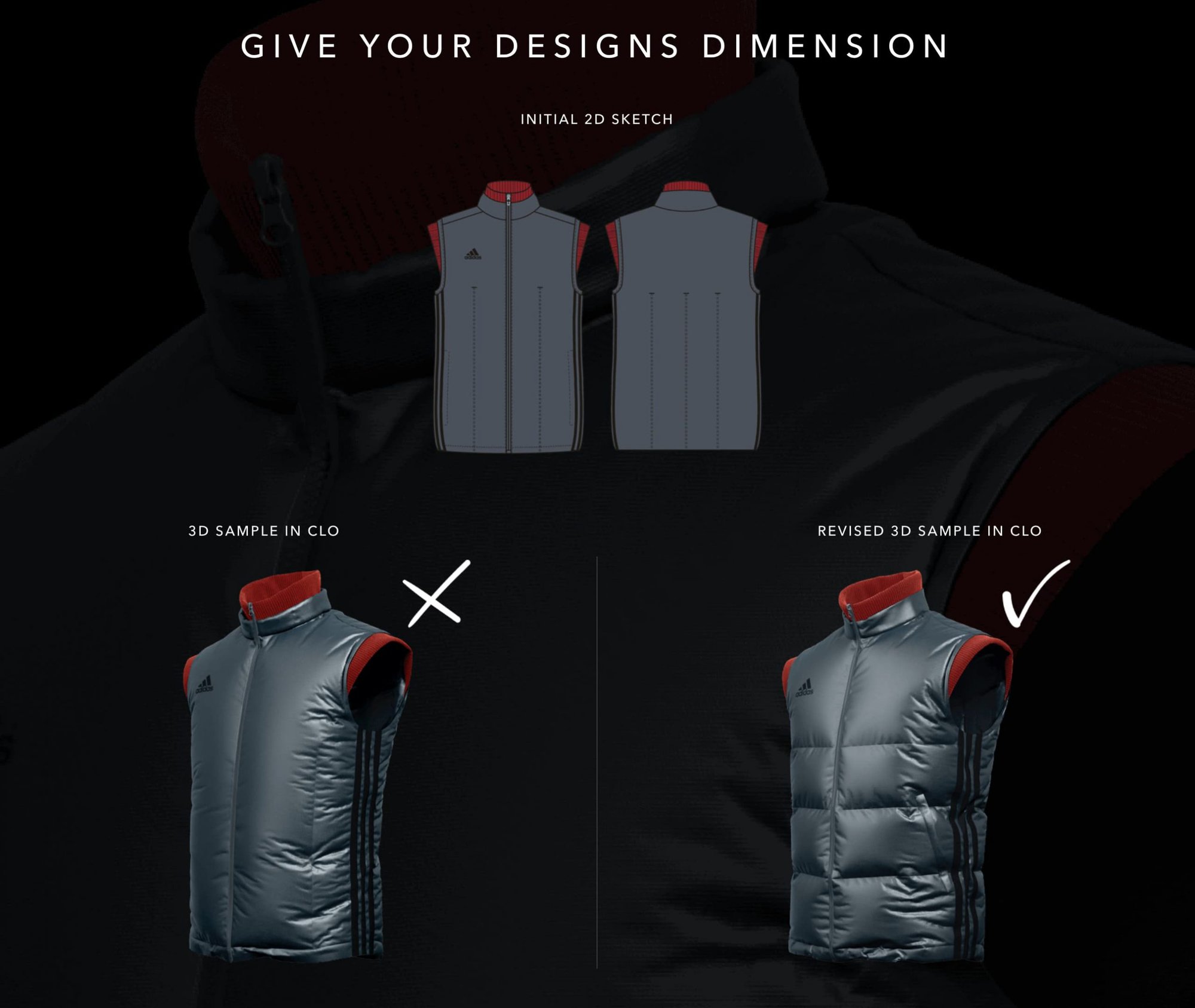 Virtual models are a relatively new phenomenon. Indeed the popularity of Lil Miquela, a character developed by Trevor McFedries and Sara Decou as a digital art endeavor, has a created a following of over 1 million Instagram followers. Shudu, the world's first super virtual model, has appeared in Fenty Beauty campaigns.
Blending the virtual and the physical has been a preoccupation of luxury fashion as brands navigate a more complicated digital space. The stiff competition resides in creating powerful narratives that can stick in the minds of prospective audiences and consumers in the real world.
For luxury brands, the world of virtual fashion still seems a distant future. Still, collaborations with gaming and esports platforms are the first attempts to introduce non-physical products to a new generation of consumers.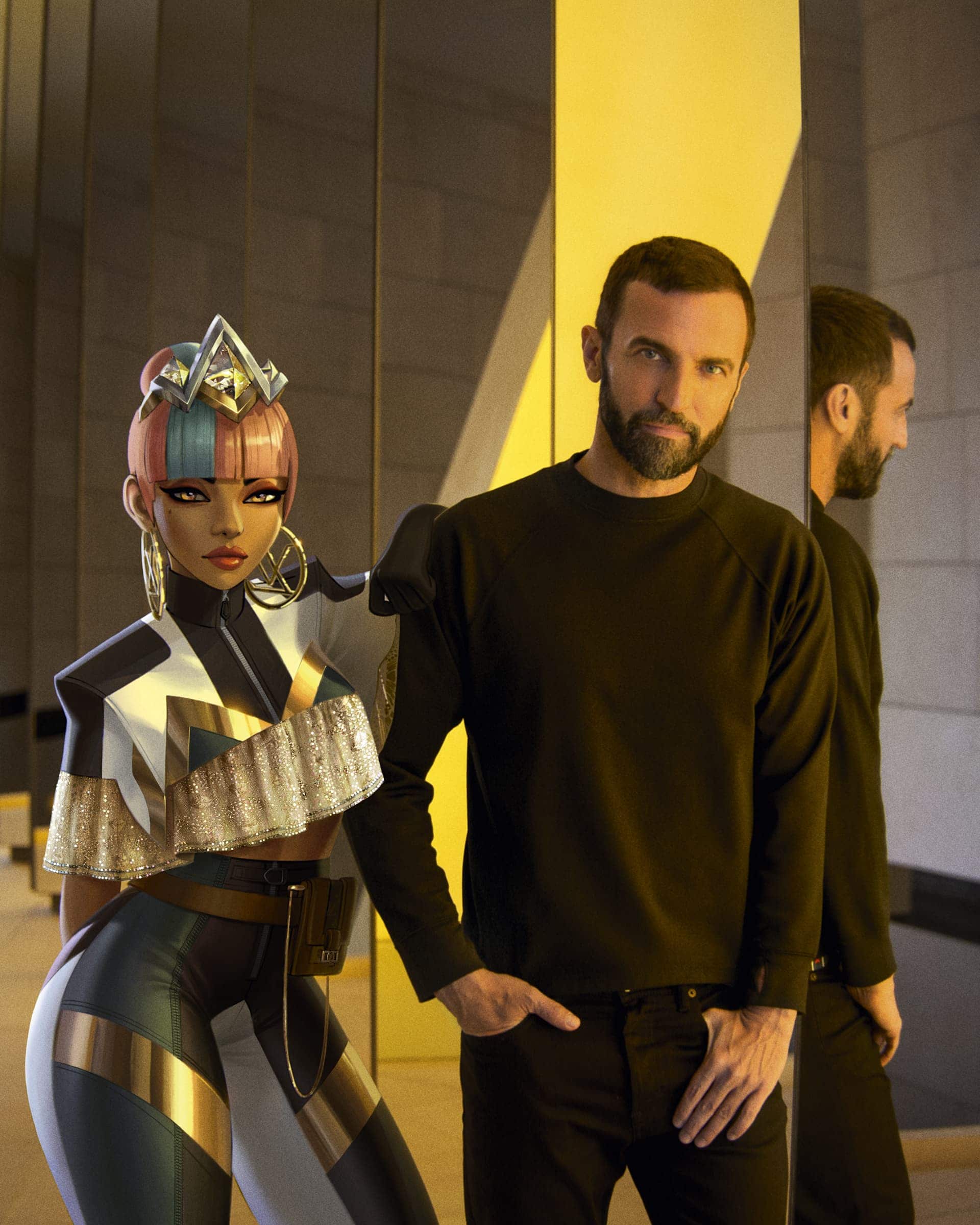 Louis Vuitton's Nicolas Ghesquière designed a Prestige Louis Vuitton skin for Qiyana, a character in Riot Games' League of Legends, which was available for purchase during the video game's World Championship in November 2019. The French brand also designed the ultimate trophy for the World Championship winner in what was estimated to be an audience of over 44 million, mainly Gen Z viewers. Of course, the LV skins sold out within a few days.
Here, in the gaming world, design ideas transcend the actual potential functions of virtual garments. The virtual LV gaming skin is still a Louis Vuitton product bearing all the signifiers of the French heritage brand. What matters most are the powerful potential access and exposure of the LV brand affinity to this large segment of young consumers.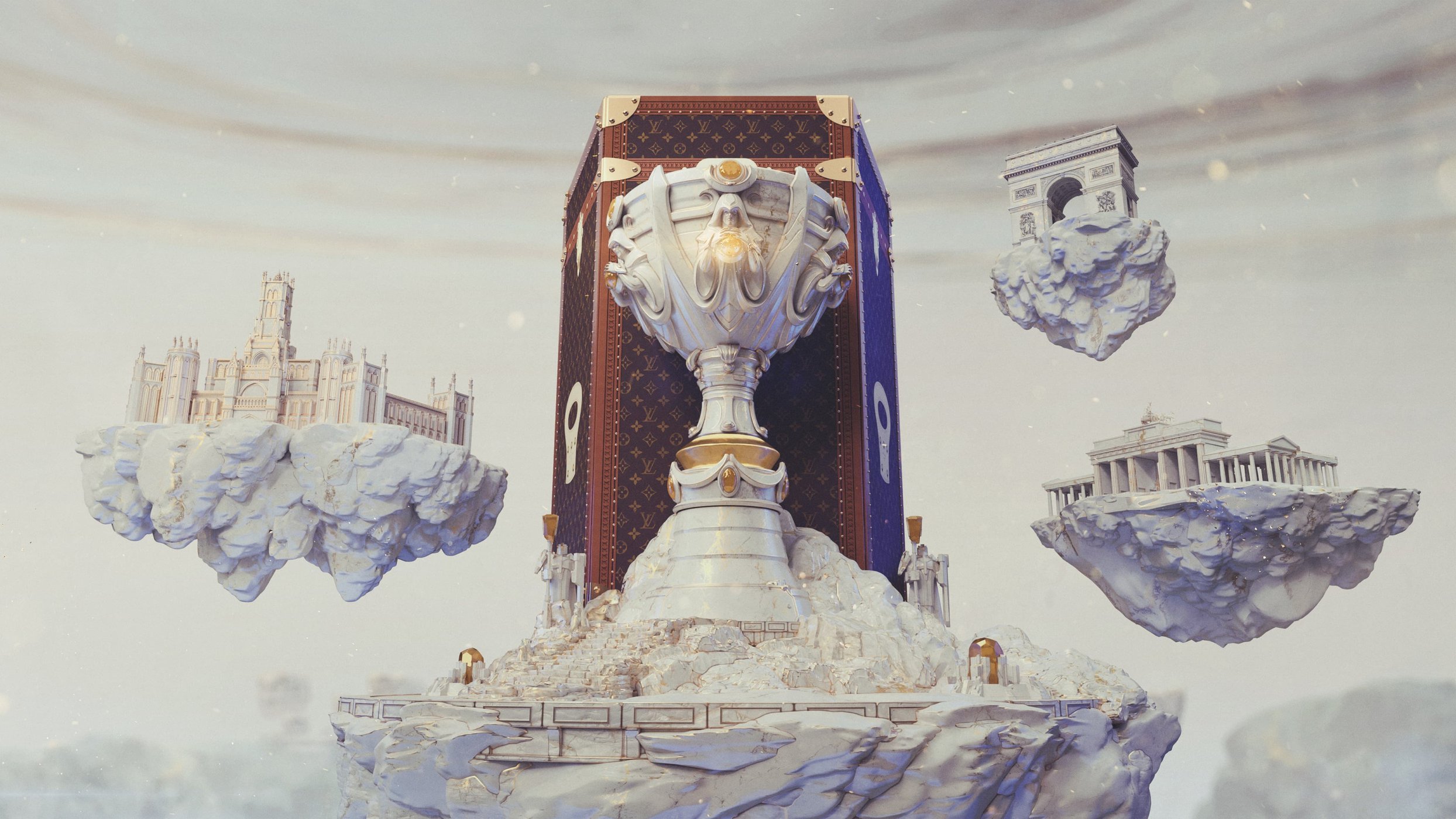 Gucci, too, has joined the metaverse. Last year, the brand launched its games in the Gucci Arcade app. Gucci Ace and Gucci Bee are custom-made mobile video games set against Gucci's history. Recently, the Italian brand has added Tennis Clash, a new game created by Wildlife. The tennis-like match within the app has real-world fashion as a backup for the pieces worn online.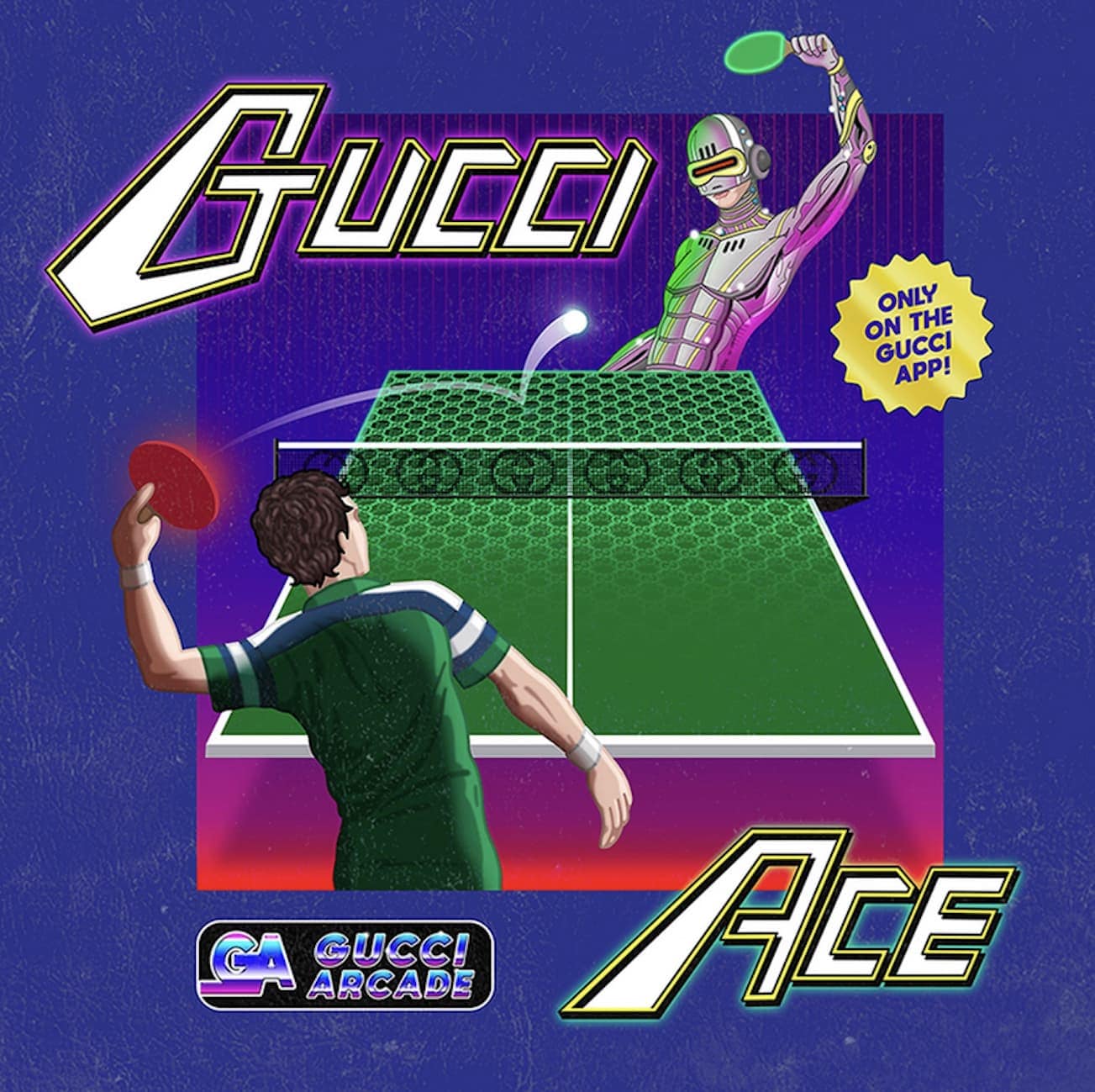 Virtual worlds aren't new to tech experimentation at Gucci. The Spring 2018 'Gucci Hallucination' ad campaign featured augmented and virtual reality experiences. The artist Ignasi Monreal appeared in the video where he altered his surreal paintings. There were also interactive window displays at selected brand stores with customized experiences.
Going a step further than Louis Vuitton, Gucci has offered customers via the Gucci or Wanna AR apps the chance to try on sneakers and watches.
In March 2021, Gucci launched the Virtual 25 digital sneakers, selling for $12.99 via the Gucci app and $8.99 via the Wanna Kicks sneaker app, instead of the real-world $800+ price range. Customers can digitally wear the lime green and chunky pink sneaker in a virtual reality setting like the Gucci Sneaker Garage app or at the Wanna platform.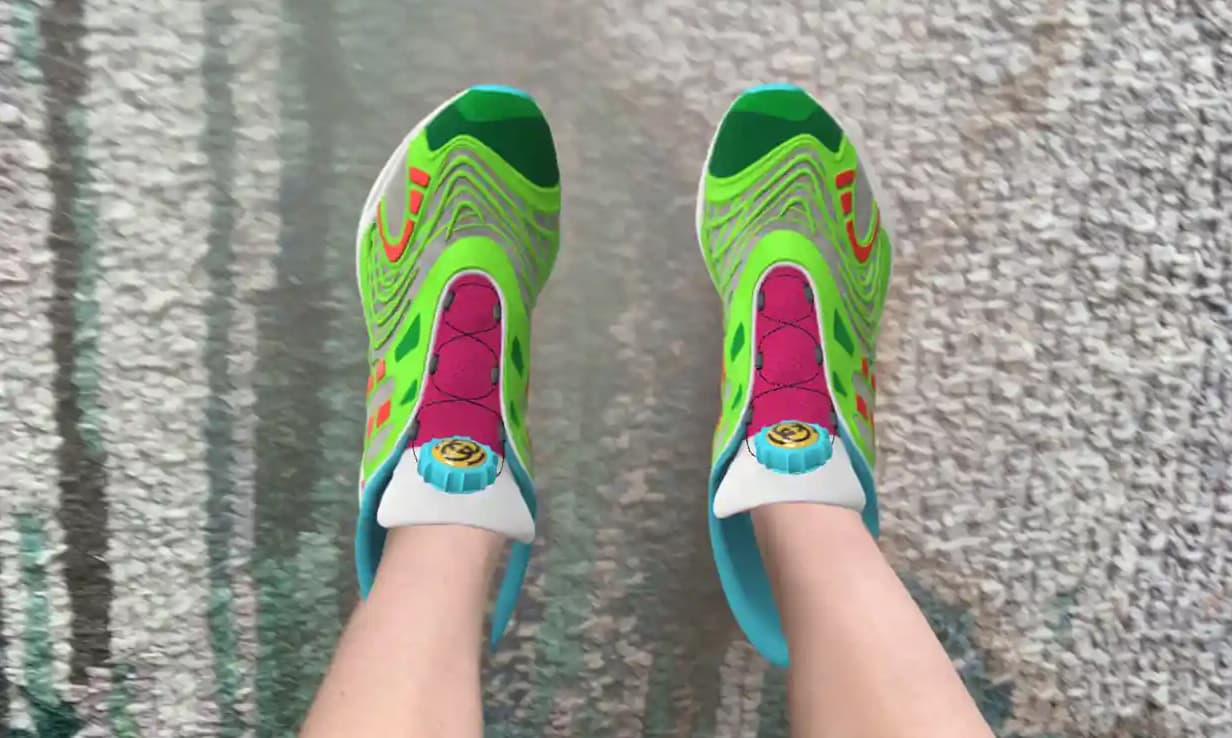 Gucci's sneakers are virtual fashion products available for purchase and actual wearing; these sneakers are not NFTs. The digital version of the Dionysis bag with the bee motif created for the Roblox marketplace for the Gucci Garden Archetypes exhibition in Florence recently out-priced its physical counterpart. This Gucci Garden experience is limited to a fortnight this mid-May through Roblox – an online platform for users to play games made by other creators, which was valued at over $38 billion at IPO in March 2021.
Visitors to Roblox can immerse themselves within the creative process, absorbing elements of the brand in a journey through the content of the recent Gucci campaign, which is segmented into digital rooms which each offer a unique experience. Visitors can also purchase and wear virtual Gucci items – eyewear, hats, handbags.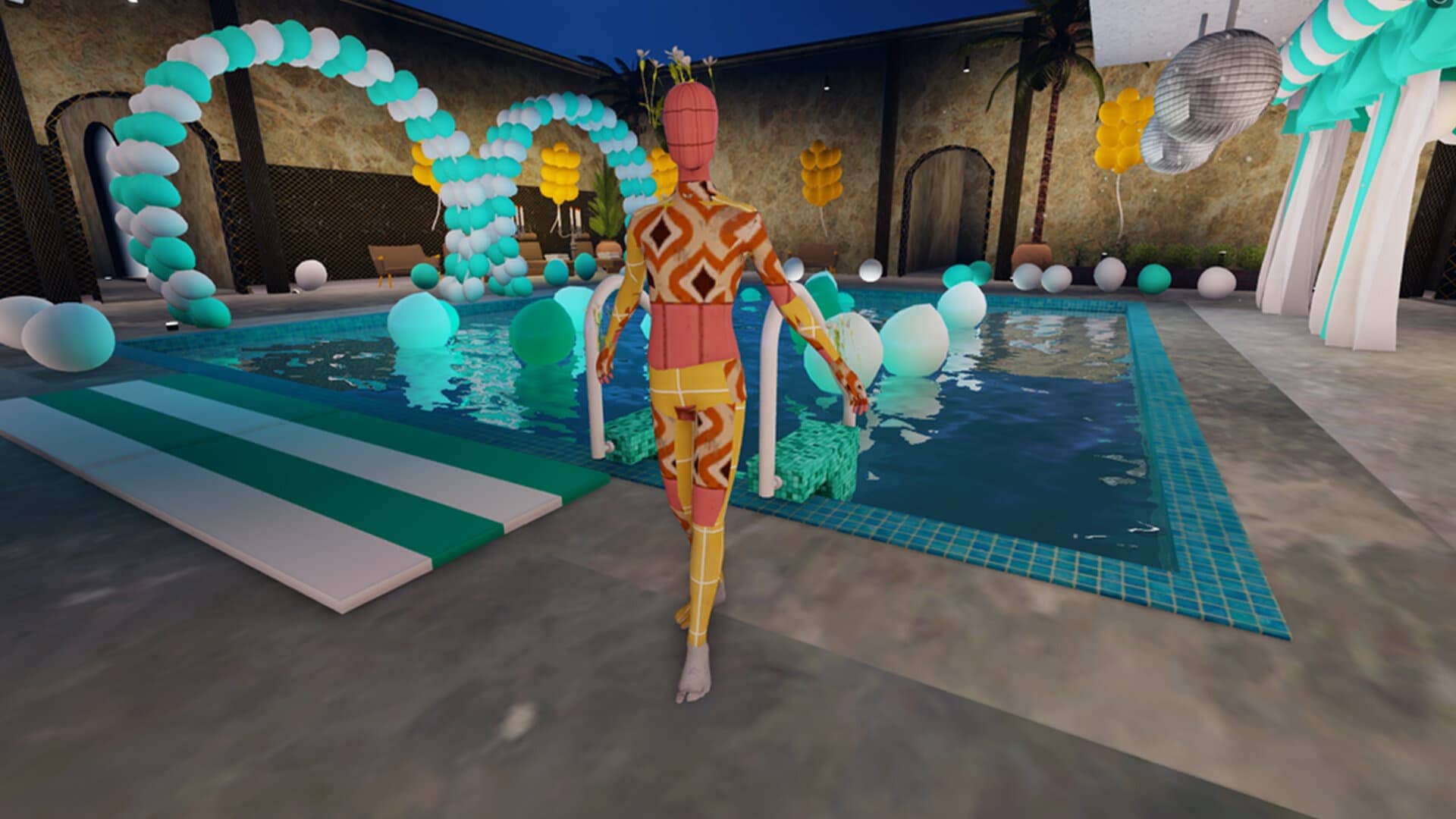 On the eve of Memorial Day, IMVU premiered two group metaverse fashion shows. Guest designers – Collina Strada, Gypsy Sport, BruceGlen, Freak City, Mowalola, My Mum Made It, and Mimi Wade – worked with a group of IMVU creators to bring their fashion ideas to virtual 3D life.
Hosted by Princess Gollum in her actual and avatar selves, the two-day show was the first virtual fashion show on the IMVU, the digital metaverse and social networking platform launched in 2004.
IMVU (Instant Messaging Virtual Universe) is a 3D avatar-based social networking app allowing users to explore an expansive range of virtual worlds (metaverse) and create personal avatars through which they can chat and connect with others, as well as design and sell virtual goods and destinations.
IMVU's audience grew to over 7 million active users (MAU) with a 55/45 US/global divide, and became a top 5 grossing app in the App Store with over two hundred thousand creators and over 50 million items in the catalog, according to the latest data provided by the company.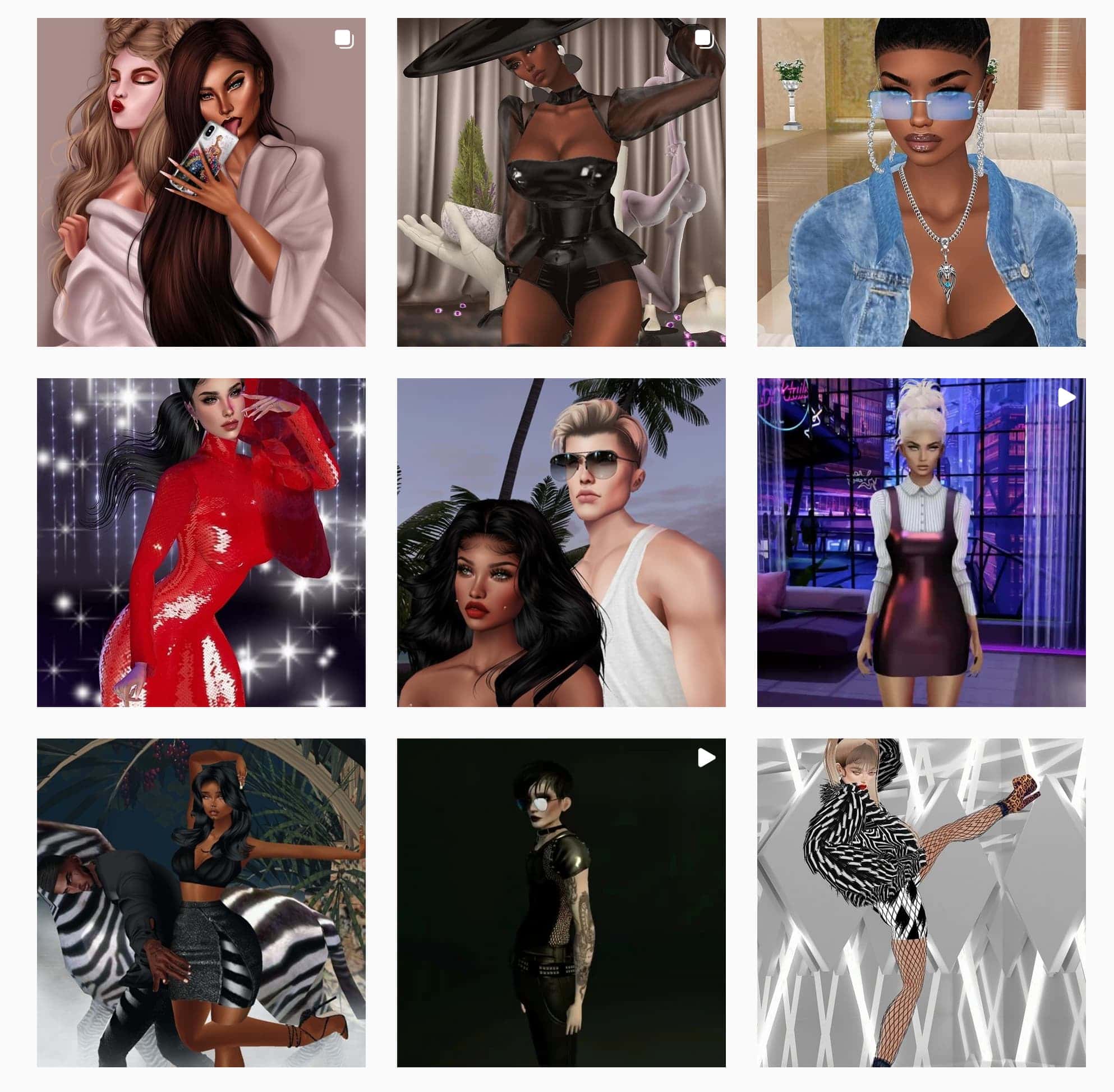 During this recent period of greater reliance on contactless technology, the juncture of the human and the machine has accelerated to the realm of fashion design, putting the old notions of making a fashion garment on the pedestal.
At IMVU, fashion designers work with the existing group of creators to leverage 3D meshing and texturing technology to animate and bring the design ideas to life. The items created for the two-part fashion show are available for purchase on the platform, where consumers can purchase credit packages – $1 = 1,000 credits. Over 27 million onsite transactions occurred monthly.
This IMVU virtual fashion festival is inherently different from the animated Animal Crossing: New Horizons short film inspired by the popular Nintendo game last spring, which showcased characters wearing genuine runway brand looks in 3D cartoon format. Here, the invited fashion designers created new products virtually without making the clothes in real life.
I often sketch a lot and try to be as fantastical as possible. I try to think out of the box and see where my mind takes me. A lot of virtual looks I've created, as of late, will never be produced physically. Frequently, I'm drawing first and then making it digitally.

– Hillary Taymour of Collina Strada, about her design process via Zoom from New York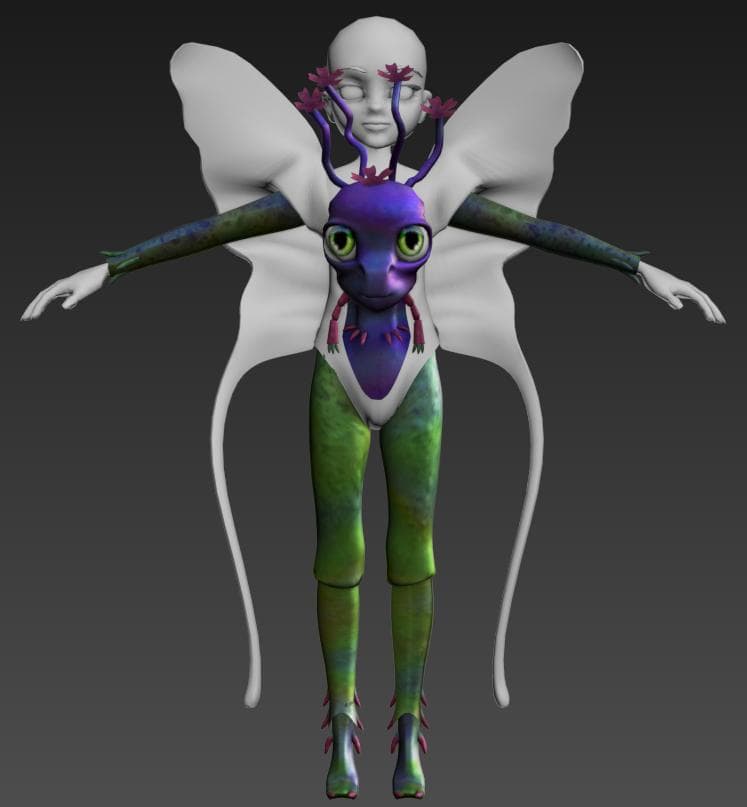 Taymour shared her inventive creations of floral ensembles, star print jeans, white short puff sleeve tunic, cargo pants, and a print ball gown on the opening night of the IMVU virtual show. Artist-photographer Charlie Engman and the team of IMVU creators animated the clothes with hybrid avatars set against nature, where the human and the animal kingdoms merged in a festive green blooming world.
"I really took the virtual idea literally and created looks that would never be able to be made for a physical runway show," Taymour emphasized the difference between the real and virtual approach to her design.
Taymour isn't a stranger to metaverse fashion. For her spring 2021 3D animation show, the New York-based designer created an alternate world, at least in how to present new fashion ideas. Her fall 2021 work extended on the virtual art-fashion concept to animate the human-to-animal avatars.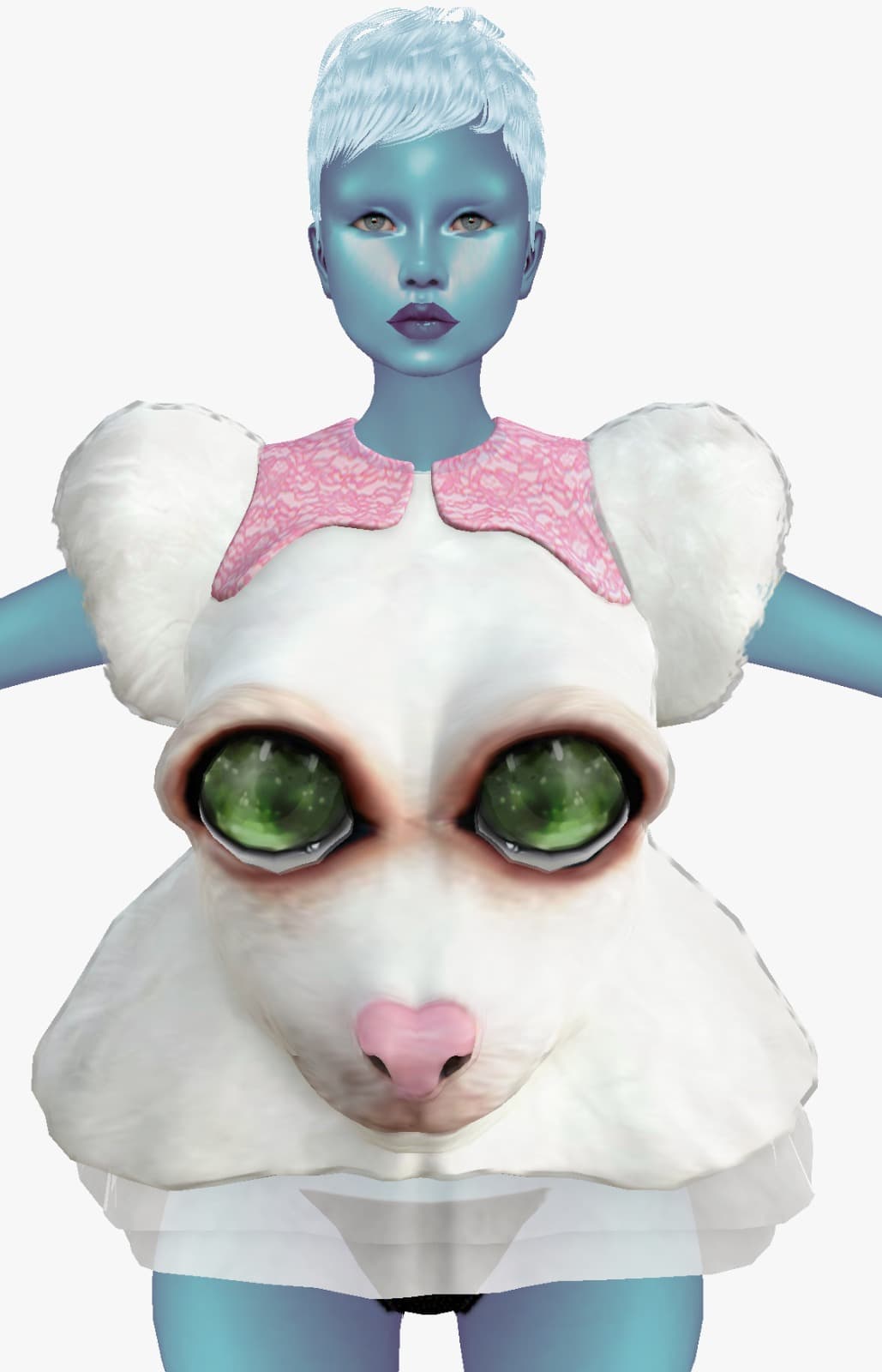 "I was thinking a lot about transformation, especially as we transition back into regular day-to-day life post-pandemic. Much of the collection was made from leftover materials from previous seasons and repurposed tees from the Kantamanto market in Ghana. We also launched a partnership with The RealReal, where pieces unfit for the site have been recut and made into crop tops, dresses, and trousers. The idea of transformation in the collection reflects in our work with the illustrator of the Animorphs book series, David Burroughs Mattingly, by turning the cast of models into cats, peacocks, praying mantises, and even a balloon dog," Taymour explained of her Fall 2021 animated show.
That Fall 2021 Collina Strada show was one of the most innovative formats of fashion presentation during the pandemic year, a period of upheaval in how to present fashion.
"We were part of a fashion week virtual showroom on Joor arranged by an amazing organization called Raise Fashion," said Glen Proctor via Instagram of how the brand got involved with the IMVU show. Raise fashion is a 501c (3) non-profit organization connecting black-owned brands and individuals to fashion industry professionals, while Joor is a premier digital platform for wholesale management.
Launched in 2019 with a focus on colorful accessories by the identical twin brothers Bruce and Glen Proctor, BruceGlen collaborated with the IMVU creators for this short video that's more a celebration of post-pandemic resort vacations with their colorful clothes and accessories.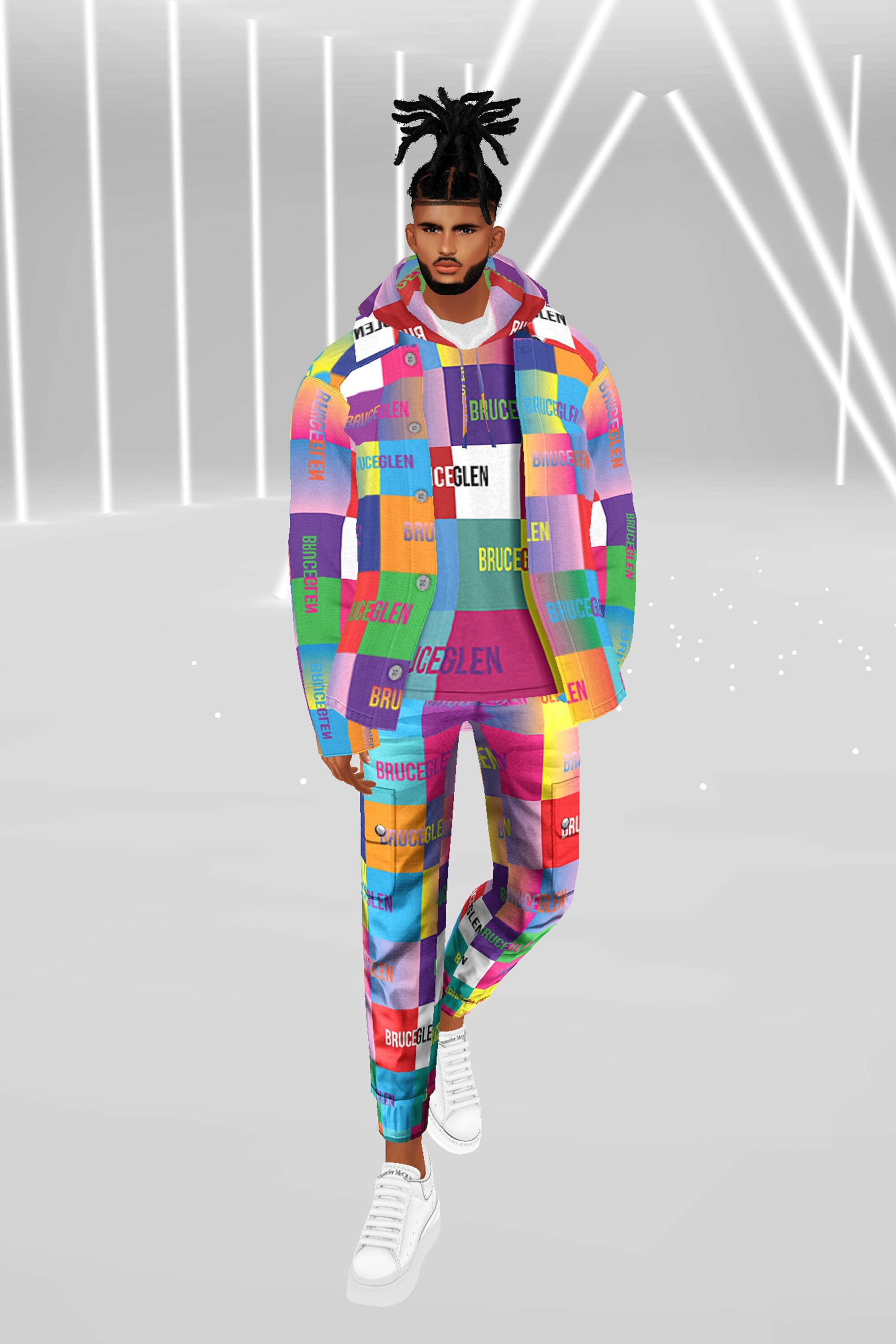 BruceGlen started introducing sustainable ready-to-wear last year in partnership with Resonance Companies, a New York-based technology with the mission of constructing their fashion brand with no inventory. "We were going to wait to get into RTW, but with Resonance, we have a whole staff working on the backend," Proctor said of the partnership that allows for a foot in the door for apparel.
Resonance provides a cloud-based platform and proprietary application called create.ONE. The program allows the complete transparency of the design/sell/fabrication supply chain structure with a direct-to-consumer-first approach. Deploying new technology is a real near-future potential for fashion brands changing their emphasis to demand-driven production, eliminating the requirement of inventory that is still central to fashion now.
"We translated a lot of real styles that we make to virtual ones. There were a few pieces that we call "fantasy pieces" that might have been an actual production nightmare. We were able to bring these more complicated pieces to life via IMVU and virtual clothing design," said Glen Proctor via Instagram.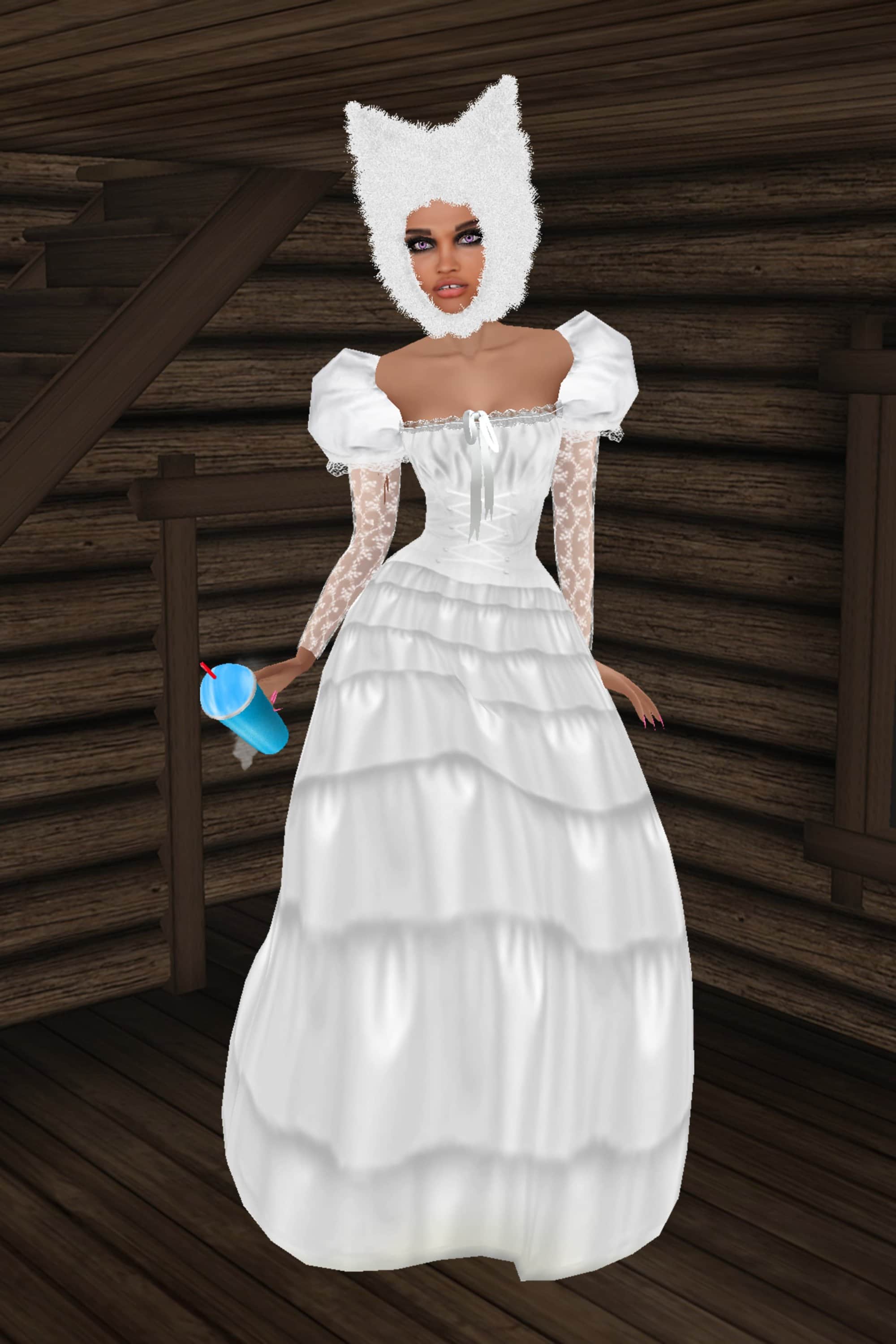 BruceGlen uses Resonance technology and manufacturing to produce their multicolored logo rainbow print shirts, hoodies, jackets, track and cargo pants, or plaid shorts and corsets, now rendered into avatars in the beach cabana and urban settings of the virtual show. "There is an unlimited amount of access to materials in the virtual world at a fraction of the cost. We can do and make things there that is impossible to do and make IRL," Proctor said.
The Central Saint Martins graduate and London-based designer Mimi Wade envisioned her first virtual show as a fairy tale. The narrative of a Princess living in a wooden shed and wearing green and white baby-doll dresses recalled her own Fall 2020 collection in London as part of Fashion East. Then as now, Wade looked to her grandmother's innate actress style as a guide for the colorful prints and sexy looks on her avatars.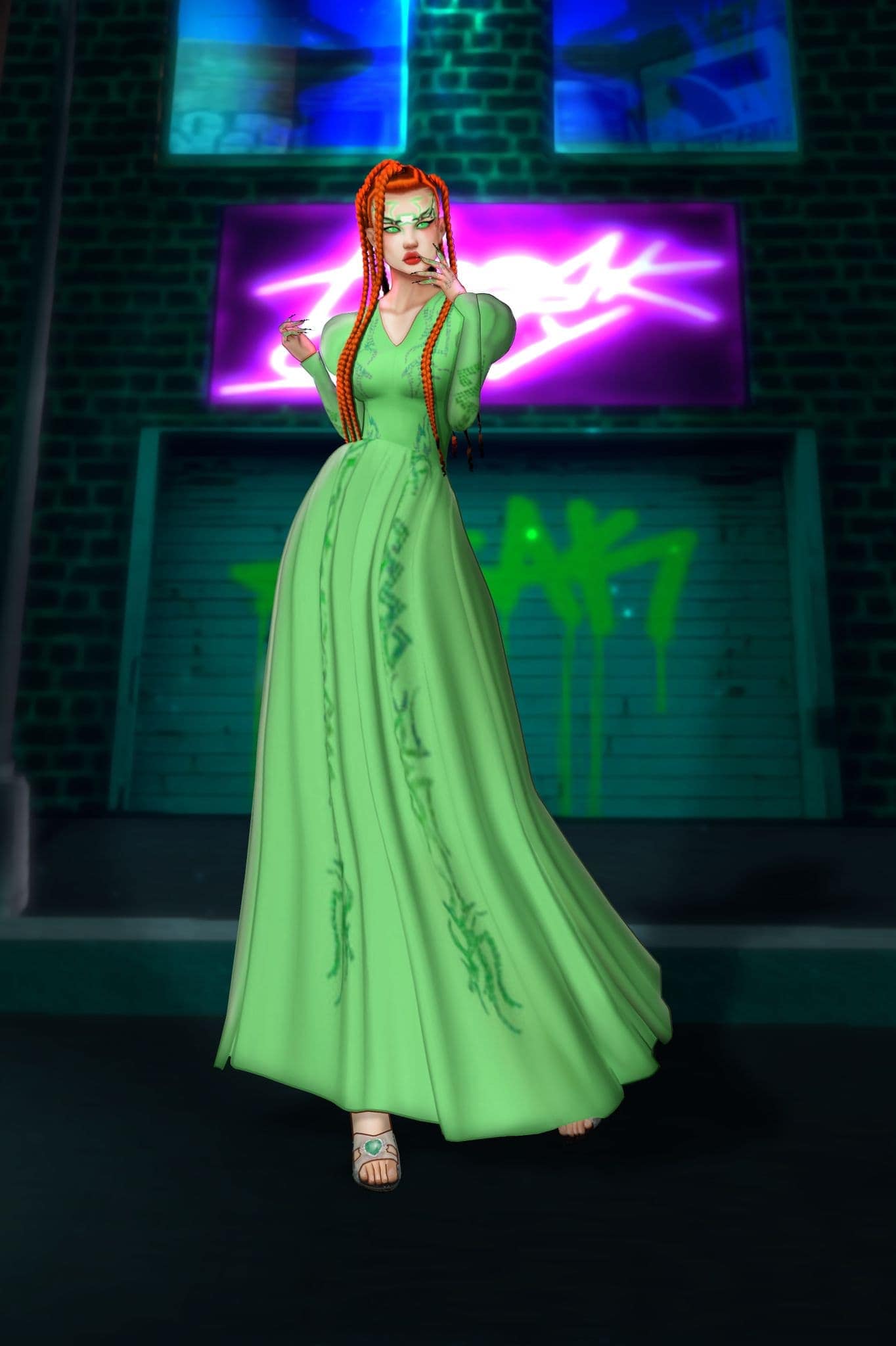 But the London-based Nigerian designer Mowalola Ogunlesi's show was a disappointment, lacking in both the creative spirit inherent in these metaverse conceptions and the weak design imagination of the garments and accessories. On the other hand, the LA-based subcultural made-to-order label Freak City hit its mark with a video of a post-apocalyptic, Mad Max-inspired world featuring the brand's artful and inventive streetwear clothes.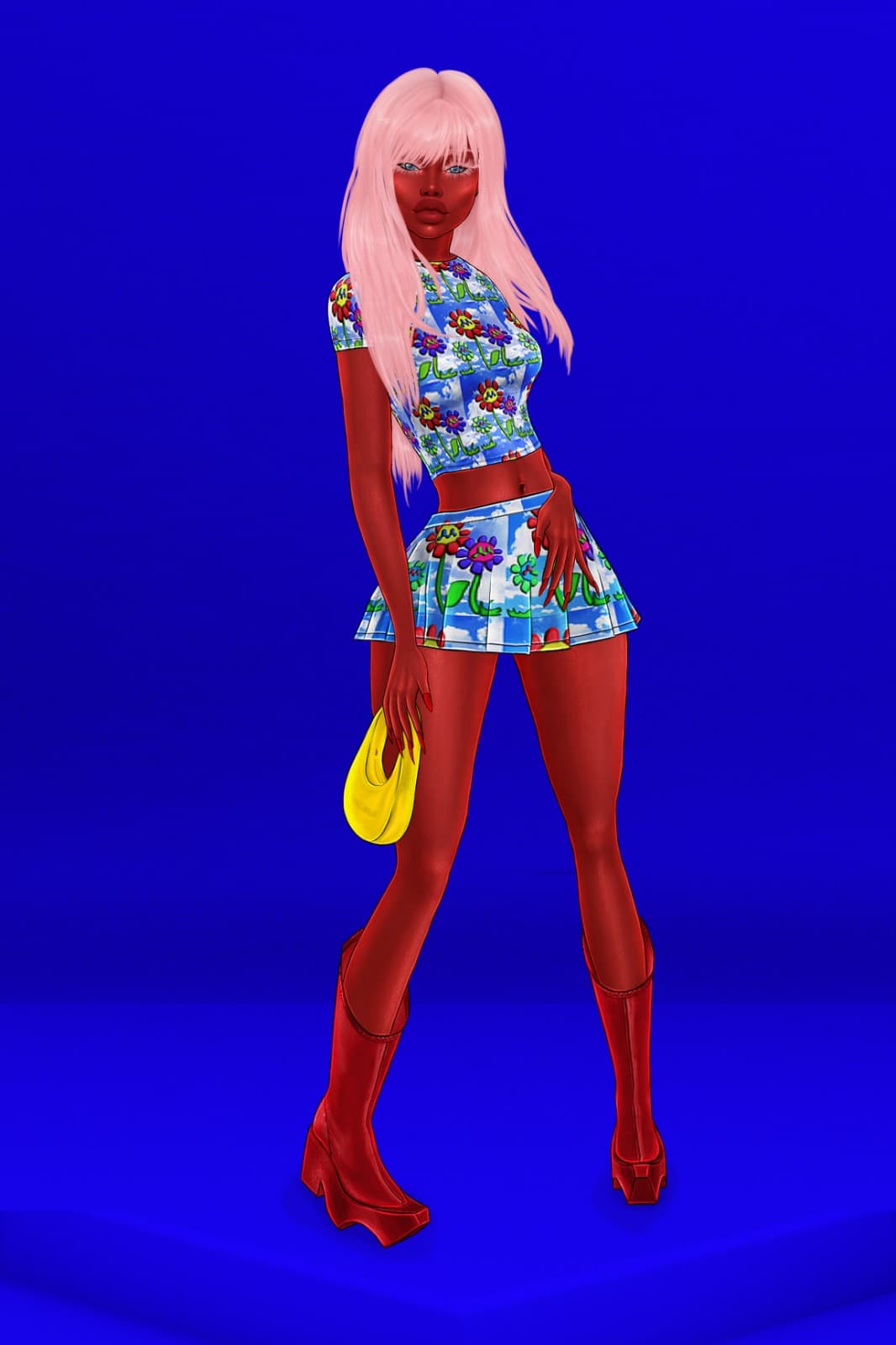 Meanwhile, virtual fashion does not have to be only on avatars.
"The idea arose from video games. I loved playing Play Station when I was a kid. The most fun part for me would always be dressing characters up in digital clothing and visiting digital clothing shops – in Grand Theft Auto, for example. Then in 2016, I was doing a project that introduced me to the software that enabled me to make digital clothes myself. We started experimenting with the garments. Last April, we decided that our database was wide enough to create a brand and see where it could all go," said the Tribute founder Gala Marija Vrbanic via Zoom. The virtual fashion brand Tribute operates as a collective creative group.
Tribute is a virtual contactless fashion brand where the garments undergo a virtual fitting on real people – rather than their chosen avatars in IMVU or even their simulated online selves, as in the case of QHuman. "We work through high-quality renders – Premium Fitting Service – that we apply to our customers' images. Whole process breakdown: you visit our webshop, select the desired garment and send us your photo. We then create your digital avatar and apply the clothing to it. Within a few days, you receive a high-quality CGI photograph of yourself wearing the garment," Filip Vadja, the design director, emphasized the differences that Tribute brand offers to their customers.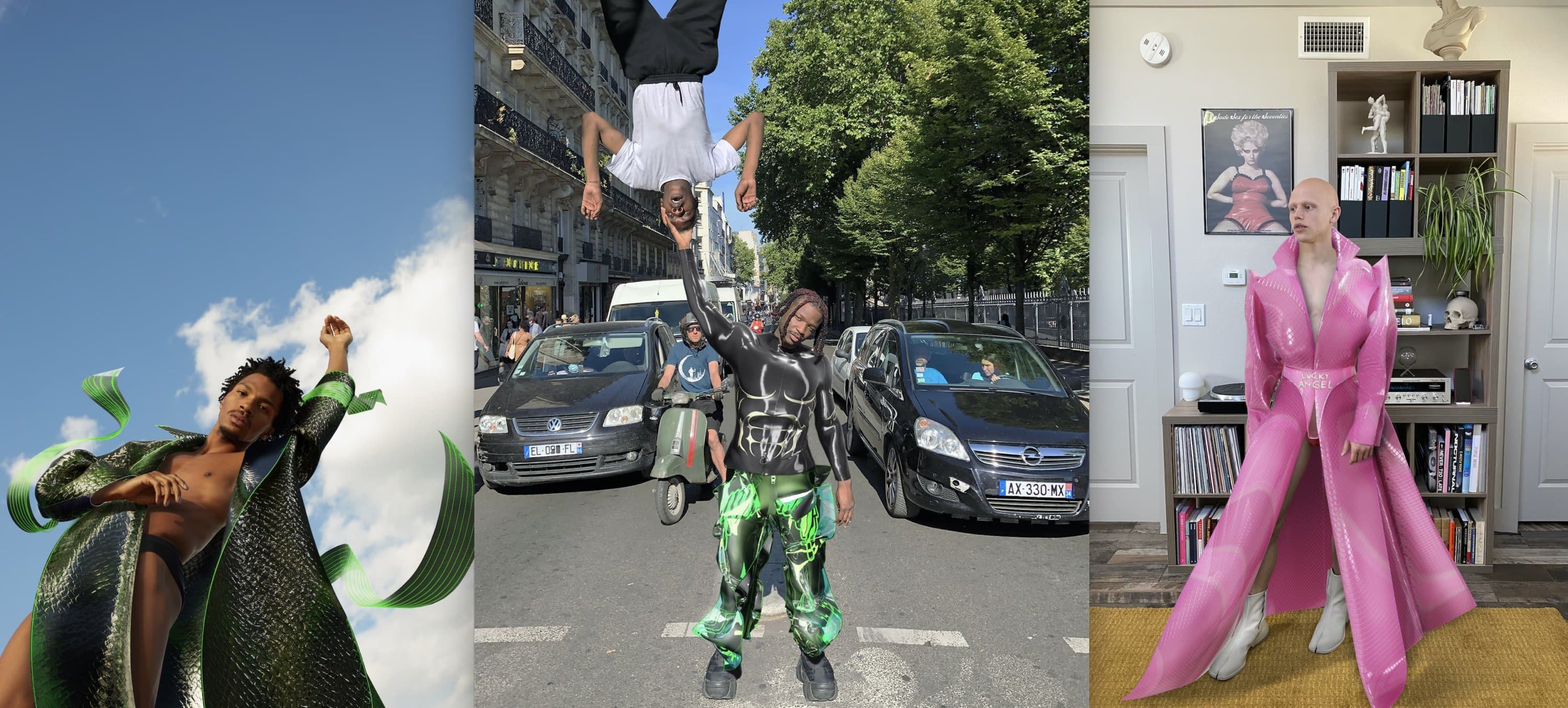 "The entire garment design happens in-house. Before we started Tribute Brand, we directed another brand, a physical one, to have a solid fashion background. The base of digital fashion making is the same: you still need to have a core of people who know pattern making and who understand how it all functions," Vrbanic said of the design process that creates the limited edition garments. Pricing for these virtual garments, usually available at a maximum quantity of 100 pieces, depends upon the demand for the items.
The kind of virtual clothes that Tribute makes is a mixture of couture construction with a sense of humor. The pink Lucky Angel plastic coat with spike sleeves, the silver balloon Bala strapless dress with a giant back bow, or the Boca transparent plastic pants all contoured over the customer's actual clothes. At the moment, just about a year since the brand launched in July 2020, there isn't yet a developed market for consumers who had purchased the garments to resell them, but that is an area the brand collective will explore very soon.
"In digital fashion, the function itself gets lost. There always has to be a functional purpose to the physical garments – wearable and protection. Only after that, the visual moment arrives. Fashion is the "embodiment" of the time or era in when created. And when you create virtual clothing, there are no restrictions regarding function. You can create whatever you like because the laws of physics no longer apply. These garments do not need to look aligned with how we perceive physical clothing, the way we've always known it. In the coming years, the shift in the design in the sense that virtual coats will no longer resemble what our idea of "physical" coats is. The shape will be a new one due to new possibilities or the need for function. The 'idea' of the coat that we have in our heads remains a structural pattern," Vrbanic explained.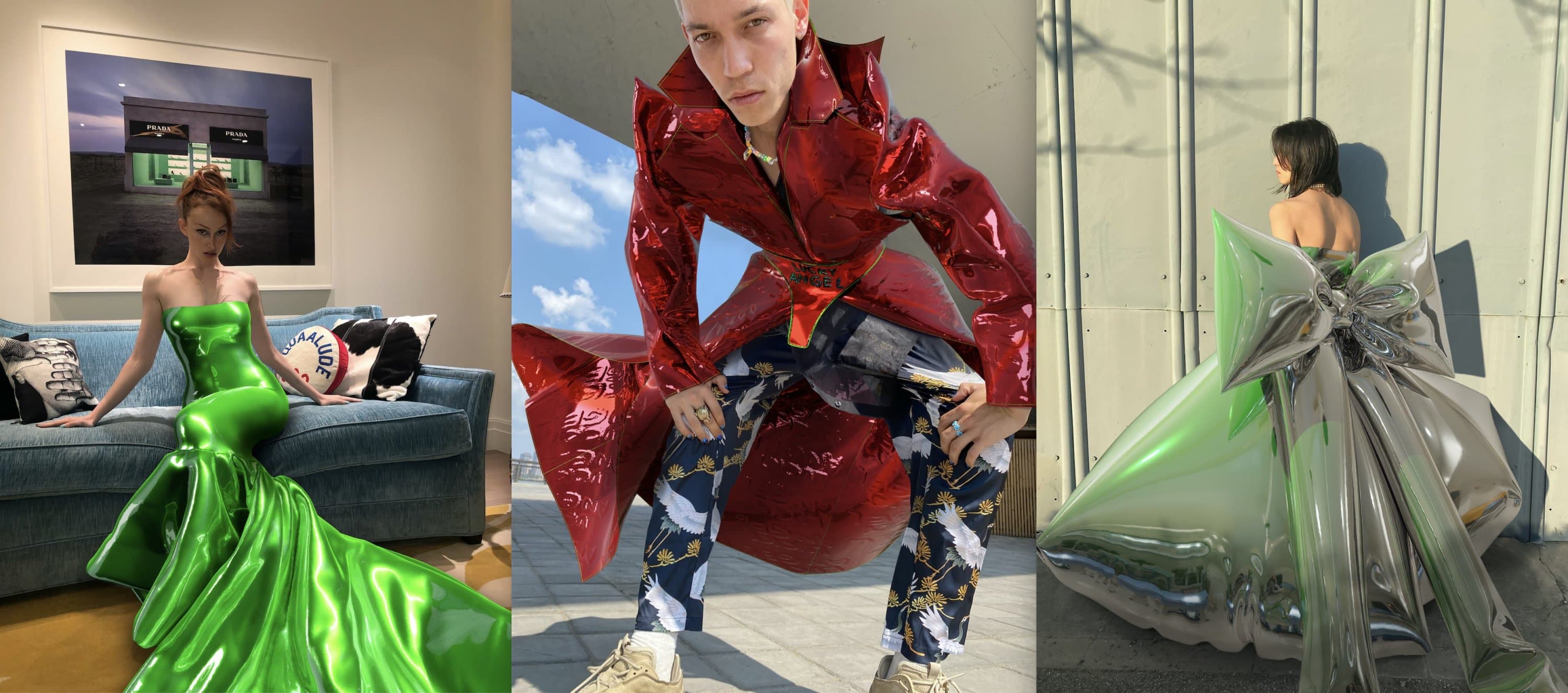 While the art-fashion axis provides the amalgam for incredible decorations on products and further enlivens them at retail, the tech-fashion alignment has far-reaching transformative consequences – from sprouting innovations in design, to production, to consumption. The intersection of technology and fashion makes the unattainable attainable by fostering viable innovative solutions in the fashion ecosystem.
Virtual fashion is still in its early infancy stage at this juncture. The question remains whether there will be sufficient demand to push for more platforms and more designers to join rank. High-end luxury brands can elevate virtual fashion fast as high-brow cultural status symbols. The tipping point towards a partial virtual fashion future isn't a guaranteed one. However, given the propensity for greater digital engagement from Gen Alpha – the next group of youth behind Gen Z – they will exert their influences and preferences in taste and values in the coming decade.
It remains open whether young consumers will value virtual fashion in the same way they are buying into the idea of craftsmanship and the innovative design of the actual merchandise. But there are no reasons to suspect that young people will discount the embrace of virtual fashion, since it is a less expensive and less wasteful way to get a new outfit for those essential postings.
"I think virtual fashion will allow consumers to think about what they're buying in terms of what's possible in terms of creation. If they see what's possible digitally, maybe they'll consider some choices." Taymour of Collina Strada emphasized. "Anything I'm selling virtually I haven't created physically."
Fashion, since forever, clamors for utmost creativity and innovation. But, at a time when there is a real substantive need for changes and transformations, stagnant and regressive modes seem to have retaken precedent against the forces altering the path forward. In the coming decade, Gen Alpha will begin its ascendant domination of the purchasing power, and fashion brands will inevitably focus their energy gearing up to this digital-only generation of youngsters.
You will never hear us say that digital fashion exists to replace physical fashion. But digital fashion allows us to wear an unlimited quantity of outfits, outfits that look better than most of the physical pieces ever could, all while remaining one hundred percent zero waste. We do not believe digital fashion to be secondary to physical fashion by any means. Its value reaches far beyond the possibilities of physical fashion thanks to the unlimited creativity of its body-less form. There are also no gender restrictions to ponder. No shipping, too. What you're getting is a couture look from your bedroom.

– Vrbanic of Tribute on the rightful place of virtual garments in the nexus of the fashion system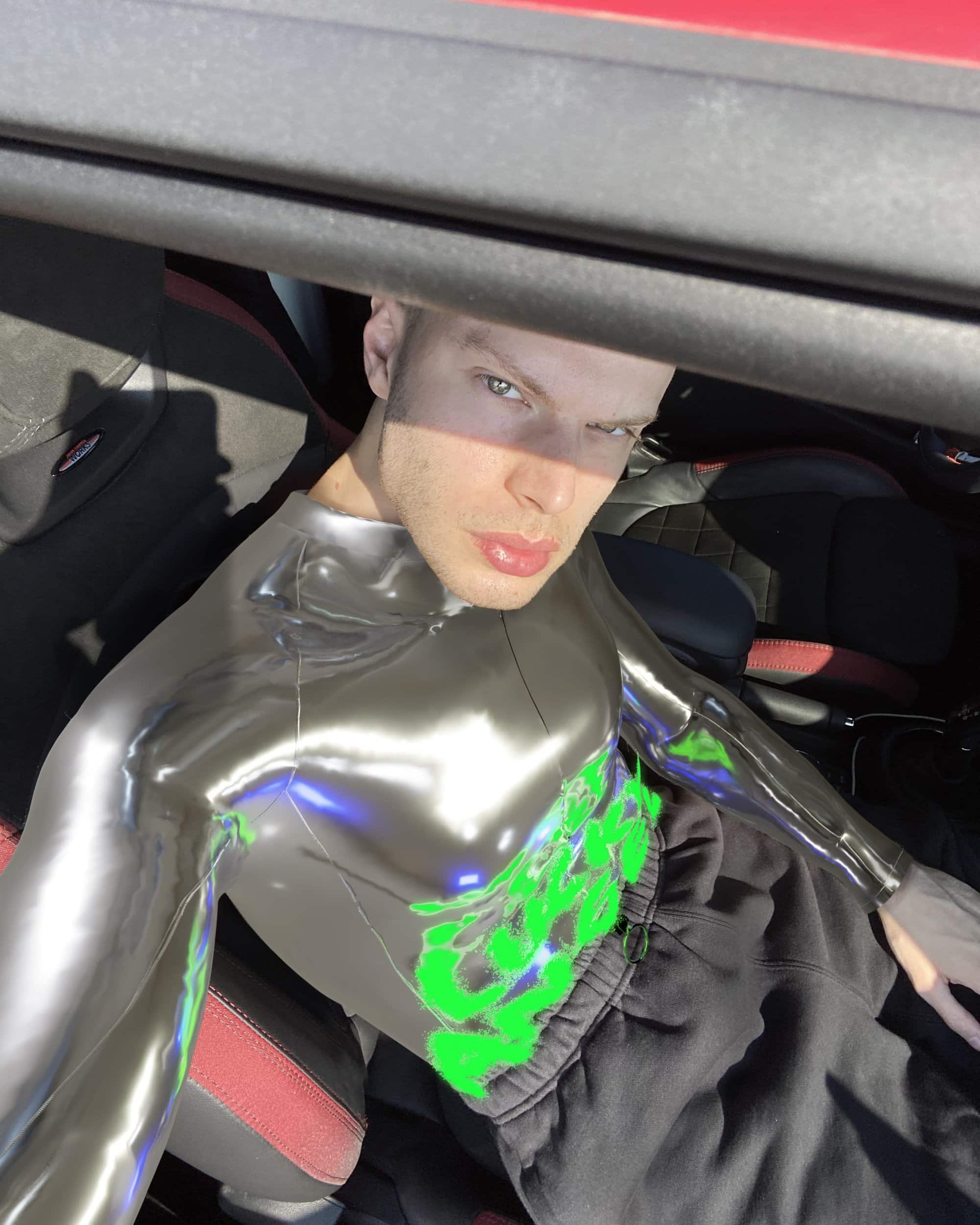 Virtual fashion also offers flexibility and agility in consuming fashion, especially for the rising digital-first Gen Z and the truly digital-only Gen Alpha growing up fast right behind these 20-somethings with different yearnings and aspirations about luxury fashion than their predecessors.
Beyond consumption, greater creativity is another potential of virtual fashion from the design process, at least in the thought process.
"I think it's a great way for designers to express themselves creatively and use their community to provide feedback about how the brand can live digitally. If you're not pushing yourself as a designer, then there's no point in having a brand — my brand is consistently changing from season to season, and I pride myself in that," Taymour said.
Another five years down the road, perhaps the idea of virtual luxury fashion products may not be as farfetched and bizarre an assumption as it still is today in this infancy stage.
Starting with fitting a sneaker, AR is just beginning to expand technology innovations more profoundly into the consumption arena, changing how, when, and what to consume, and who consumes.
It will be up to these young Gen Z and 'older' Gen Alpha members to decide the fate of virtual fashion. Given these generations' preferences for transparency centering on gender, race, diversity, and sustainability, and propensities for digital consumption of time and resources, virtual fashion will without a doubt be a growing segment of the fashion business shortly, becoming a central part of the composition of the fashion of tomorrow.
---