The Great and the Ordinary
By Long Nguyen
The Milano Spring 2022 season just ended with a question still opened – whether to go back to business in the B.C. era or modify the tempo adjusting to a new generation. Perhaps designers wasted too much energy on asking what kind of clothes should women want to wear in the coming post-pandemic era (we are not quite there yet), ranging from full-on party outfits or more somber outings. Too little time was spent putting fashion design at the center of this discourse and how changing design ideas alter the course of fashion.
So much in Milano looked and felt too commercial with a bit of twist here and a minor tweak there, but in terms of substance, there were minor new proposals, new ideas, or as the French succinctly frame the term déjà vu.
Two opposite poles are pursuing the same goals in Milano – the Miuccia Prada and Raf Simons team and Francesco Risso at Marni. Prada and Marni are the season's super exceptional collections. 
Linking Prada and Marni in the same sentence or category or however one likes to call it, it is beyond evident that both brands are actively building their community at a tremendously fast pace in the last few seasons alone. Their game plans differ, sure, but they aim to create a specific Prada and Marni community with the same kind of thinking or intellectual curiosity. 
On an early evening, I took the M1 Red Line, descended at the Porto Venezia station, and exited Via Spallanzani, a pedestrian street full of restaurants parallel to the super busy Corso Buenos Aires. Porta Venezia is equivalent to Paris' Les Halles-Châtelet neighborhood teeming with youths from the suburbs and businesses catering to them. It was nearly early evening, and walking by a corner pizza store, and ordered few small pieces as pizza here sold by weight. While eating at a table outside, I noticed the black and white graphic pattern on the building wall. I looked up and saw the #FeelsLikePrada spelled out in capital letters as white paint on black background with a leaf life motif scattered on the entire edifice.
Prada has taken over the entire building on this corner of Via Spallanzani and Via Regina Giorgina as a public extension of this fall 2021 #FeelsLikePrada ad campaign. But it isn't just an ad campaign alone. It is the next step in expanding the conversation and engagement with the public beyond the fashion circle. That started when Prada-Simons held a post-show live stream talk answering questions submitted from the public after their debut co-designer women's spring 2021 show in late September 2020 and again after the men's Fall 2021 show with live questions from students. The following Spring 2021 ad campaign asks the viewer to answer questions directly at the brand website.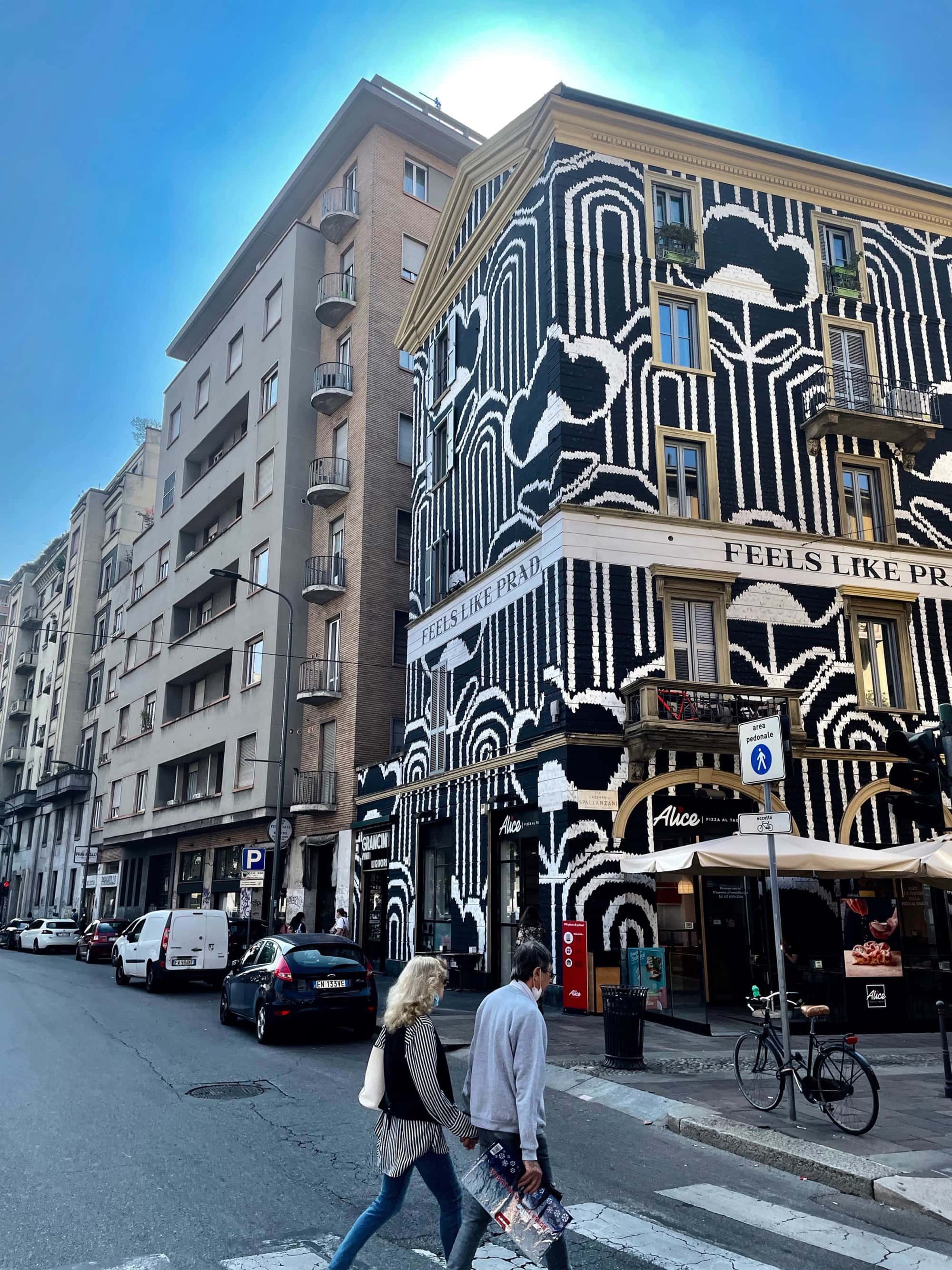 #FeelsLikePrada isn't so much about pushing products as it is a continuing massive effort to commune with an idea, an aesthetic, and an approach that is Prada.
This process culminated in the dual city simultaneous live show of the Spring 2022 collection, the first live presentation for the pair. The Prada-Simons spring show was the great fashion show in recent years, or at least this past decade, where fashion is a center stage, not peripheral.
At Prada, the discourse of how to look at past historical clothes and past feminine coded dressing with an eye not to destroy the past's vestiges but to modernize these coded notions and garments.
For both Prada and Simons, gestures of clothes are powerful. The long train of an old traditional ball gown may be cumbersome. Still, its rendition into a singular long rectangular flap preserved the gesture of the train but allowed for the movements needed today. The corset may be too binding on women, but elements of its structure now transported onto cashmere cardigan and sweater display the firm hold of the corset but in a loose garment with uneven tying in the back. A long gown dress distilled into a short backless dress.
Inside an industrial warehouse late on a Saturday night, Francesco Risso offered one of the most compelling fashion visions I have witnessed in more than a decade. Risso gathered his tribes and had all his guests dressed in Marni hand-painted clothes become a part of a communion ceremony, the apotheosis of a series of massive community buildings commencing with the Youtube global 'Marnifesto' a year ago. Now that Marnifesto has become more expansive to include more and more individuals. #WearWeAre was the show's title, and there was also a haiku.
The clothes that Risso sent performers, friends, and street cast to model in were inventive shapes and materials that enhance the person wearing them. Each of the 'models' owns their looks, not like they just put on this one look then change to the next and boom finish. You can see all of them walking out just like that.
Well, I left wearing a long hand-painted floor-length shirt-dress and hand-painted shorts underneath. Walking from the location to the Lambrate FS metro station on the green M2 ATM line to return to the Turati station across town, crossing a rail under the bridge, I felt weird as the outfit stood out in that part of Milano. But it was fine. Only the concierge at the Cavour, who I have known for many years, looked at me and asked puzzlingly – 'Ha cambiato?' I shook my head in the affirmative indicating I also own this outfit.
Risso's fashion is about the person first, and all the work has been about creating this band of fandom that shares the same kind of perspective. Fashion brand that respect and cherish them as people. 
Miuccia Prada, Raf Simons, and Francesco Risso share a sense of fearlessness. They don't worry that some ideas may not be correct. They don't worry that some products may not be bestsellers – they have to push forward with ideas regardless of consequences. How often can anyone say that about designers today? 
There is a sense that Kim Jones at Fendi just wanted to skip all the complicated processes of building a collection and get to the end at the very beginning of his start as artistic director of womenswear since his debut haute couture digital show for Spring 2021. His first live show and second women's ready-to-wear show were at best uninspiring with clothes that repeated over and over and clothes that aren't proposing anything new or any exciting ideas. 
Since the advent of the fundamental digital era a decade ago that has uprooted many traditional ways of doing things, fashion has seen a tremendous uproar. That is beginning to transform the structures beneath this behemoth industry that is one of the most polluted globally besides the meat giants.
And in the pandemic year, the creative industry leaders have to confront how to present new collections deprived of the customary live runway shows. Short Hollywood standard films, taped live shows with no audience, artistic video recalling music videos of the 1990s, and a hybrid of physical and digital showrooms. New terms pop up like live audience, no audience, physical show, phygital showings, and a host of other combinations to show off new clothes.
Young designers mitigated towards narrating their lives as fashion, while big luxury brands stuck to the monotone of heritage supported by unrivaled access to expensive artisanal craftsmanship.
In Milano, the Sunnei – Loris Messina team seemed to have best understood how to work this new frontier. They started their 'Canvas' project in the lockdown to personalize their fashion and control inventory on the business side. Even without the special white/black lights effects and unique sunglass, their wonderful Spring live show would have been just excellent in the myriads of new clothes proposals the pair brought to the table. The garments, each of them, have their personal touch. 
Jezabelle Cormio said that her collection revolved around the idea of the coming-of-age story and of pillaging clothes from the 1960s to the 1980s era, where style was distinctive. At sunset, she held her presentation at an old 1940 haberdashery store, a bit of the main Porto Venezia square delivering that quotient of clothes between hype and coolness, which should be sufficient for her young clientele. They'll get what coming of age is all about. On the other side, Quira's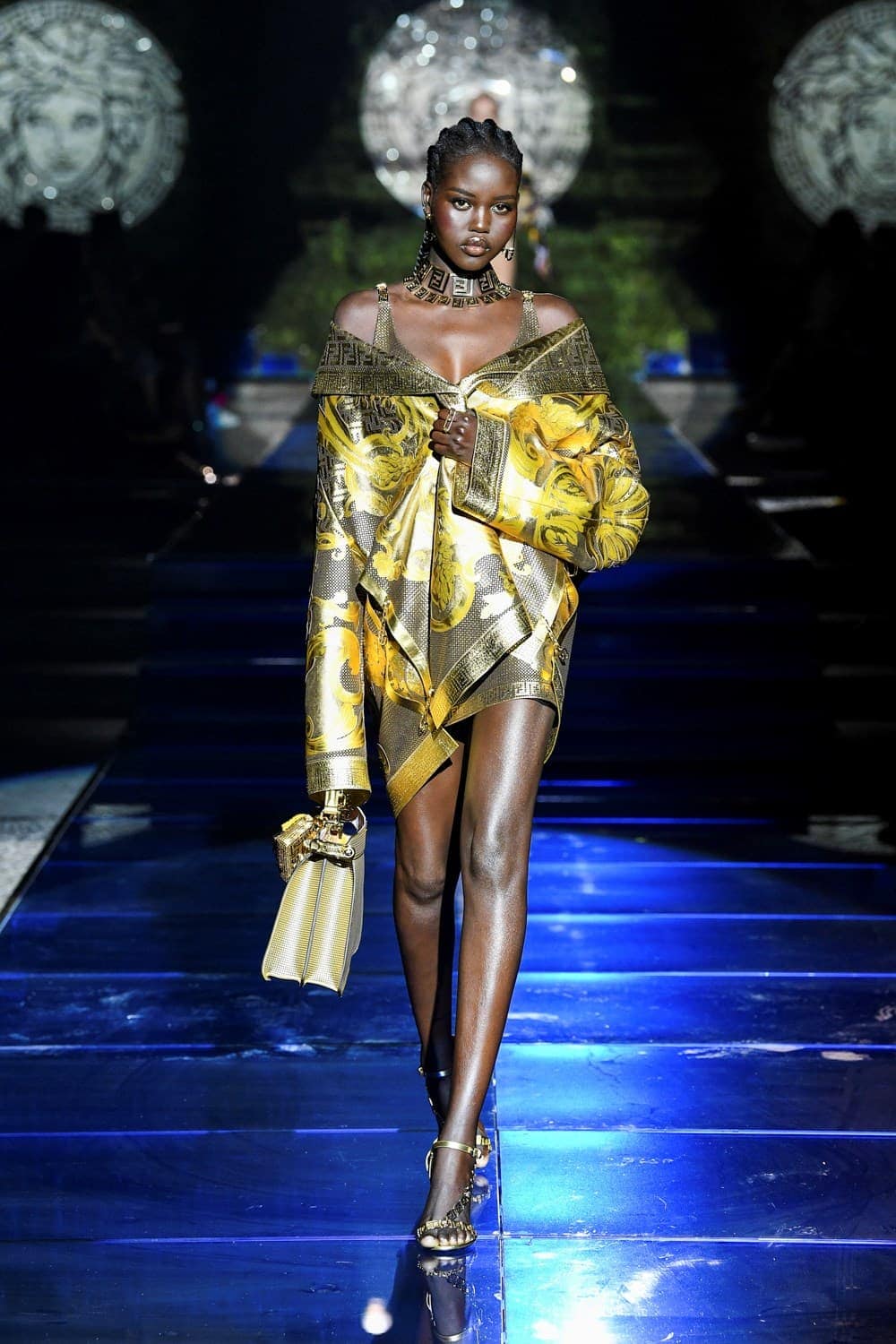 It was surprising that no designers played Justin Timberlake Bringing Sexy Back as part of their fashion show track. But, bringing sexy back, many Milanese indeed did and did in significant ways.
Donatella Versace resuscitated the giant colorful print scarf from the 1990s from Gianni's days figuratively and literally. Muscle guys do their best to keep the colossal umbrella patchwork of large print scarves serving as sun breakers floating and keeping the air flowing. Versace star-studded show, with its fitted and body-hugging dresses from the brand heritage heyday, and its mixtures of ultra-bright colors and signature Versace prints from the Miami Beach days. The French have another saying – plus ça change …
Domenico Dolce and Stefano Gabbana are not shy about their heritage of sexy and glamorous womanhood, an ideal that they have always stuck to since the days of the Sicilian women wearing their corsets. The D&G clothes looked polished, not trashy, and there's a degree of elegance to the proceeding of 103 looks on fast-track music and blasting lights. But beneath all the sparkles and shiny surfaces, there are hand-made corsets, tailored suiting, and embroideries.
You would want to see both Donatella Versace and Domenico Dolce and Stefano Gabbana evolve their core into something different, but then would anyone and their customers stand for that?
Giorgio Armani celebrated the forty years of his Emporio Armani at the same time as bringing his women's ready-to-wear show back to his home base at Via Borgonuovo in the efforts to streamline and distilled both brands just to its essential Armani core. At Emporio, it's a triple effort – show, exhibition, and the revival of EA Magazine. For both brands, the designer accomplished his mission reminding audiences across the globe of his perennial signature silhouettes created over these decades.
Elsewhere in Milano, the name of the game is commerce.
While these collections are fine with well-made garments – Ports 1961, Philosophy di Lorenzo Serafini, Alberta Ferretti. But the clothes have less to say.
Alessandro dell'Acqua at least tried to make N°21 brand resembling something once called 'edgy' – hard to know what that is today, but there were excellent tailoring and creative knitwear.  Nicolas Brognano's regression to the hardcore in the late 1990s suffered from a fundamental understanding of that era's fashion – innovative design. His Blumarine collection was many things – flowers, butterflies, chiffon corsets, and hot shorts – but it lacked a cohesive vision on longer-term for the brand.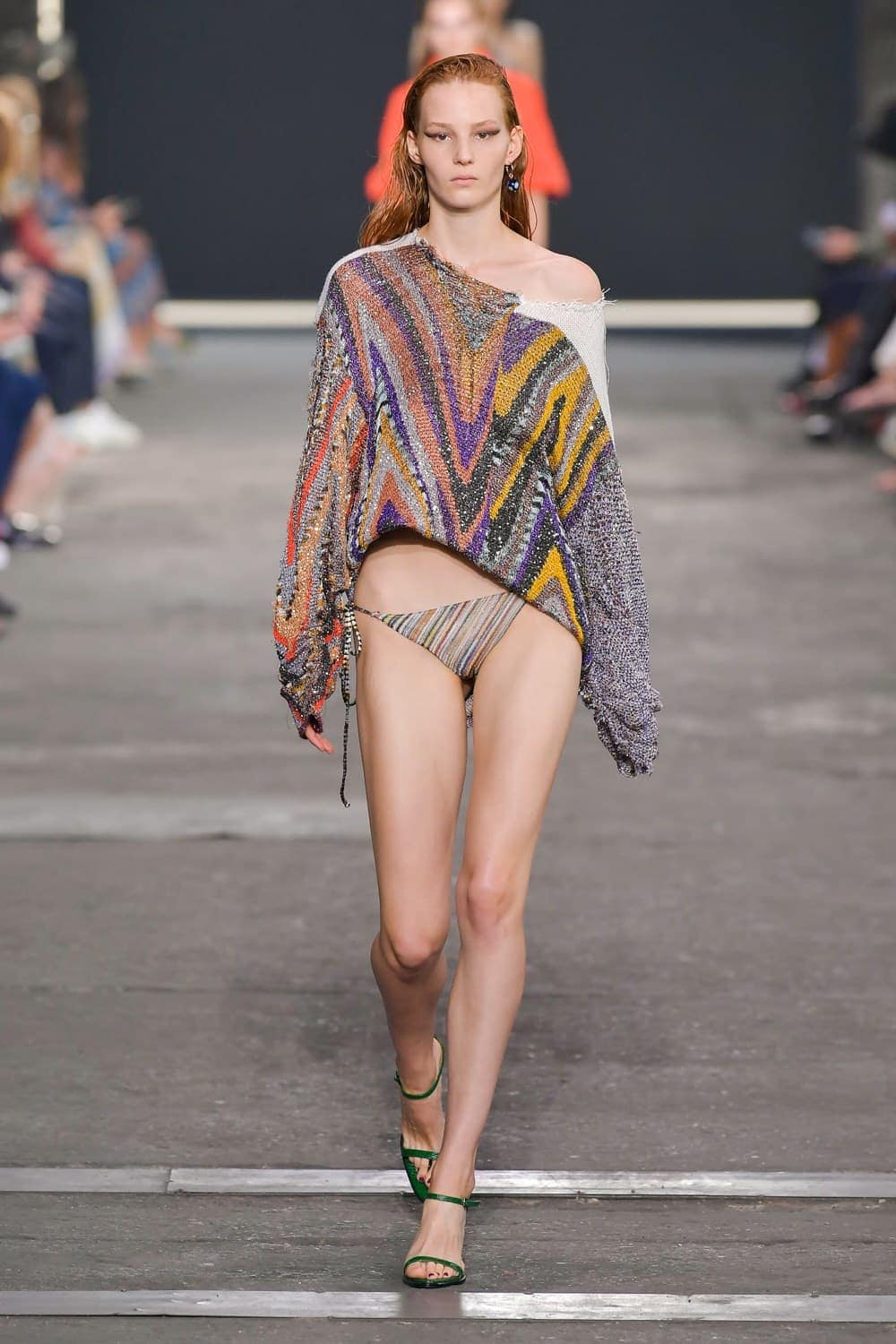 This season, two Italian heritage houses – Missoni and Salvatore Ferragamo – lacked creative directors and sent out their substitute lieutenants as placeholders waiting for any forthcoming announcements. How to carry on a heritage house and build a new consumer base is a question gaining greater importance each season. Neither performed their active duties.
At Missoni, the temporary creative director – Alberto Caliri – replacing the long-time daughter sent out a collection that his old boss would hardly recognize saved for a few ordinary knit day and evening dresses. Typically, moving from heritage codes isn't a bad thing, but Caliri's move to crass sexpot clothes was simply a creative disaster, not to mention an insult to young women. Furthermore, that direction did nothing to elevate the brand's quest for expansion under new equity ownership.
Ferragamo suffered the same fate since Paul Andrew was no longer the brand creative director. Again his menswear designer Guillaume Meilland took over on a temp basis and sent out a reasonably plain collection that customers may try on in stores but make little sense on the actual runway where audiences scrutinize groups for ideas. Perhaps the new incoming CEO Marco Gobetti, an experienced hand at luxury business, will sort out next year.
While these commercial clothes are fines and sure some will find customers, what do they say, and what does the brand stand for? It is a question these brands have to ask themselves, and in these moments of introspection, they should look at their strategies and see if anything jives with young consumers. If not, another reset may be on the horizon sooner than later.
Oh, and, just in case no one noticed, Ford Motors supported its new Mustang Mach-E GT electric car collaborating with the streetwear brand Kids of the Broken Future, making colorful leather blousons.
The fashion game has left town in early morning flights from Linate airport dubbed Il aeroporto della cittā. But, it's hard to get out of the mind the incredible fashion, while on the forgotten tracks were the more ordinary clothes.
---