Review of Miu Miu "Arcadie" Spring 2023 Ad Campaign by Creative Director Edward Quarmby with Photographer Steven Meisel with model Gigi Hadid
Miu Miu draws strength from the life and work of painter Margaret Keane in the launch campaign for its new Arcadie bag. The campaign was shot by photographer Steven Meisel.
The imagery was inspired by the work of Margaret Keane, whose life story is as compelling as her work itself. Known for her kitschy yet emotive portraits distinguished by their subjects' (typically children and women) big eyes, which became quite popular during the 60s, Keane was essentially trapped in an exploitative relationship with her husband, who took the credit for much of his work and falsely presented it as her own. Only after their divorce did it come to light that Margaret herself was behind all the "duo's" paintings – which was officially settled in a court case where Margaret painted an original artwork before the jury, while her husband Walter could paint nothing.
The backdrops of Meisel's portraits represent the familiar and somewhat surreal style of Keane's paintings, complete with the artist's signature brushstrokes. Gigi Hadid stands in for her signature big-eyed waif – a connection that doesn't quite come through, since the model's eyes are relatively normal-sized. Nonetheless, Meisel and Hadid work together well to find other ways to emphasize the eyes, with the photographer's camera boldly meeting her inscrutable gaze.
Margaret Keane feels like an excellent icon for Miu Miu to pay homage to, both in her work and in her life. Her paintings' aesthetic themes of young womanhood, vulnerability, and emotional surrealism nicely sync up with the world of Miu Miu. Meanwhile, her own personal story of resilience, creativity, and determination round out the quietly strong character of the Miu Miu protagonist.
Compared to the pace of many other fashion brands, it's somewhat rare for Miu Miu to do a full campaign that could be considered an artist collaboration – so we know that when they do do it, it will be thoughtful and intentional. Creating a well-timed celebration of art and life (Keane passed away in the summer of last year), Miu Miu, Meisel, and Hadid carry this legacy forward with strength and sensitivity.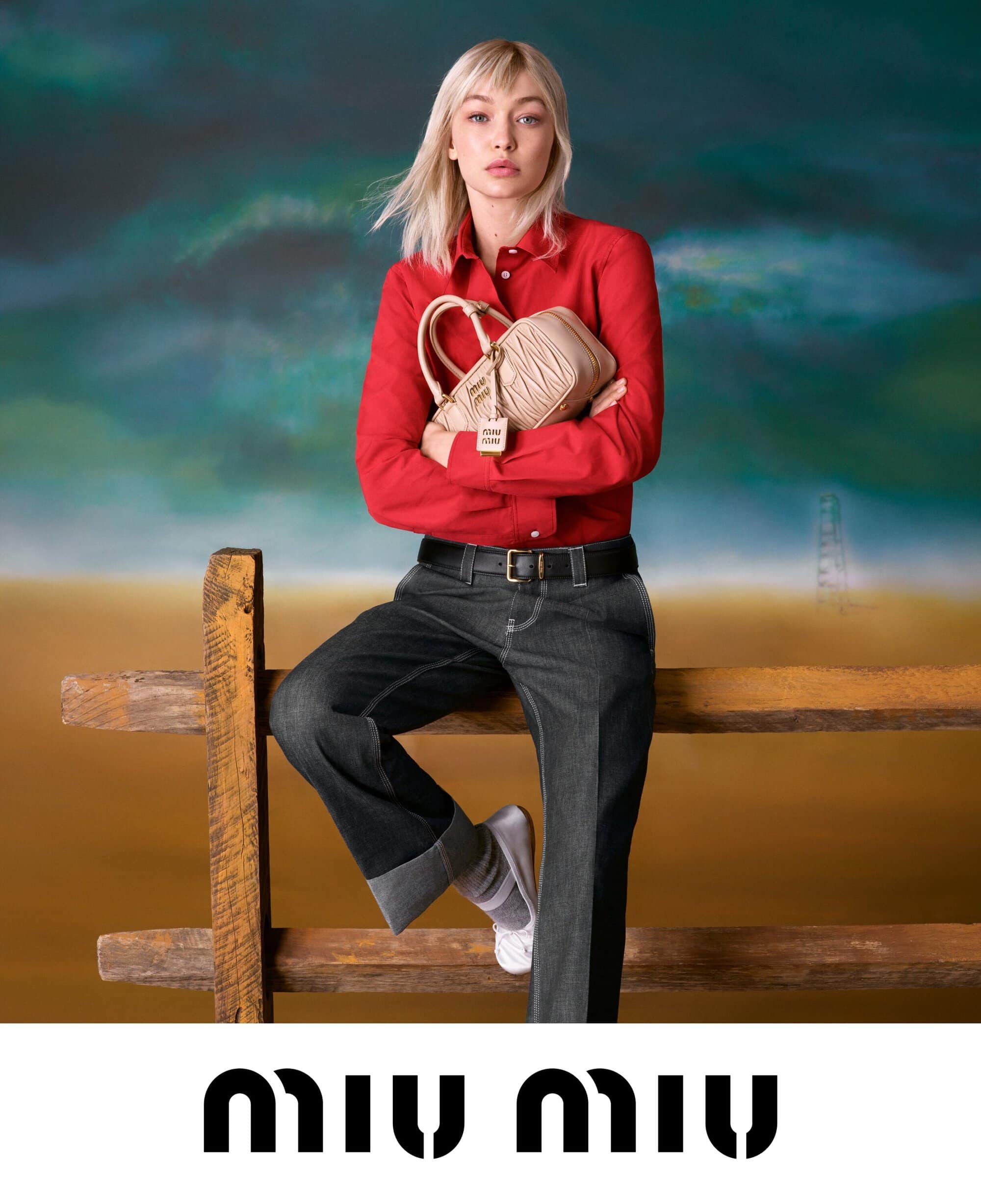 Miu Miu Creative Director | Miuccia Prada
Creative Director | Edward Quarmby
Photographer | Steven Meisel
Videographer | Steven Meisel
Model | Gigi Hadid
Stylist | Lotta Volkova
Set Designer | Mary Howard

---