---
Review of MM6 Maison Margiela Spring 2022 Fashion Show
Forward Within True Signatures
By Long Nguyen
A long time ago in Paris, on a late evening, I remembered the Belgian Paris-based designer Martin Margiela invited different groups of his guests usually convened at often an odd location to various restaurants and cafés around the city. The purpose was to witness his new collection separately for Fall 1996, all at the same time.
This concept was similar to the designer's Fall 1994 show. Then, Margiela did the first see-now-buy-now presentation simultaneously at five boutiques around the globe, including Charivari, New York, Joseph in London, Kashiyama and Maria Luisa in Paris, 10 Corso Como in Milano, United Arrows in Tokyo, and Syndikat in Bonn.
In Milano at the La Belle Aurore café and bar resembling a Paris establishment, MM6 Maison Margiela presented the new Spring 2022 collection with models sitting around tables with white tablecloths and takeout lunch boxes and a special drink called 'Prelude to a Kiss Fear of Strangling.' In actuality, it is a mix of gin, ginger, parfait amour, and sparkling water in a light grey appearance.
Bar waiters watched as models meandered around the tables inside and outside on the blocked pavements lined with square tables.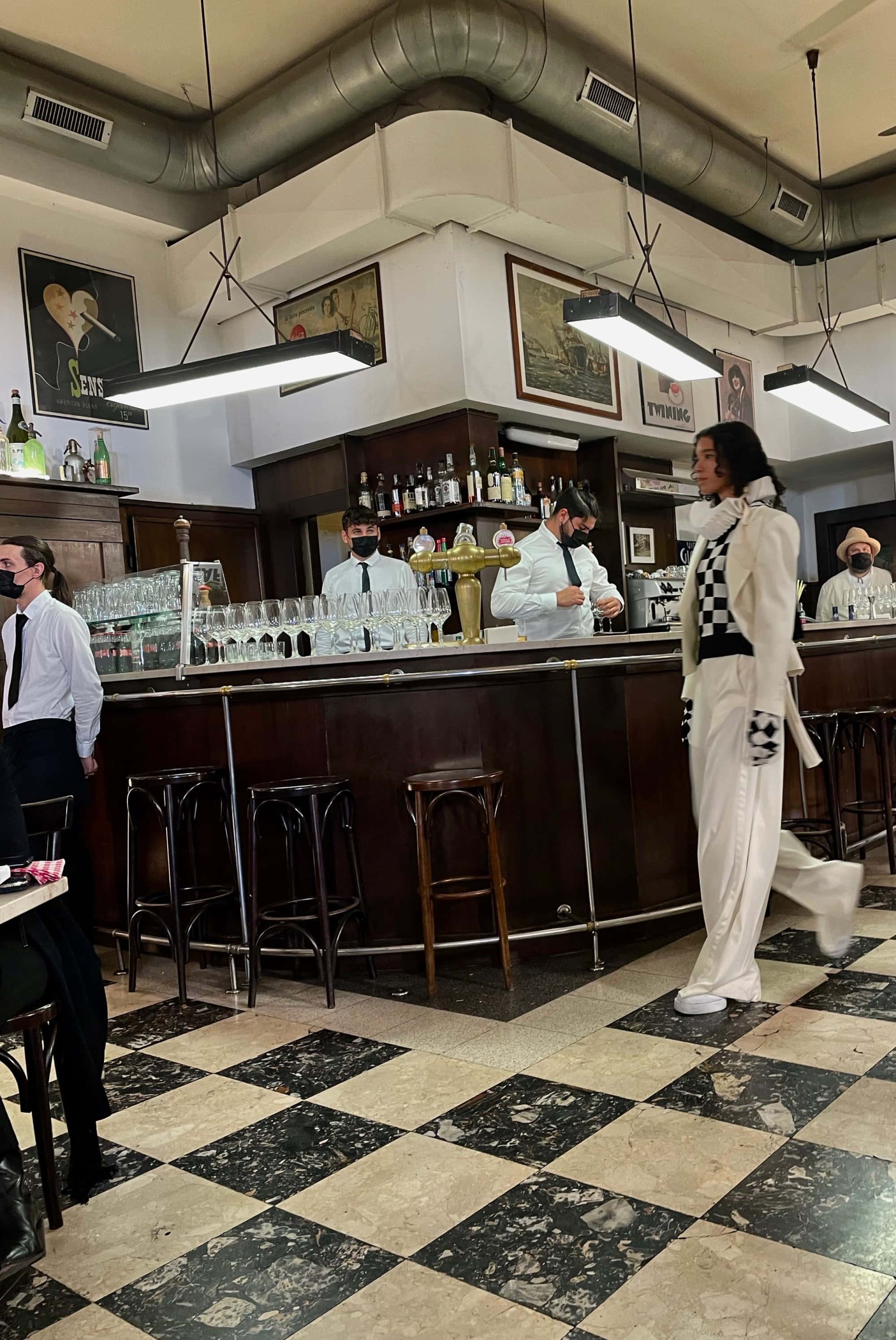 This Spring 2022 MM6 Maison Margiela show brought back that raw spirit, a central part of Martin Margiela's heritage bestowed on this fashion house that still bore his last name.
And it was not just about the chosen location, much hipper than in the old Margiela days. Even more critically, the concise and focused collection dwelled deeply into the signature work of Martin Margiela and brought his sense of proportions and constructions as well as incorporating the process of dressmaking and material into the making of fashion.
The first models appeared in a crisp white pantsuit with the broad shoulder single breast jacket that had an add-on panel folding slightly diagonally in the side of the left lapel. Then another model followed in a sharply cut white wool cropped jacket with a curve cut front vent paired with very loose flare pants.
Tailoring is a trademark at Margiela then and here in this show now, but it is one of the unrecognized strength of this house now coming back onto the surface.
There too, is the dark sand wool cotton double breast pantsuit belted at the waist with white cords and in the coats and jackets in bright red and white or green and white diamond patterns. And of course, the last look was the tailored black pantsuit with more than two sleeves.
Then there is the green leather jacket with extra sleeves as a front belt, an heir to the Spring 1997 work on dissecting and reconstructing raw fabric materials where the different fabrics and cuts became integrated into one garment. Same for the grey trench coat with two extra sleeves hanging on the front and back, adding to a sense of disproportions.
One shiny green velvet extra broad should dress contained several heritage references, principally the shoulder works from Fall 1998 and perhaps unmatched sizing from Fall 1996. And for anyone who had purchased a Margiela leather coat from back in the days, they will remember the long silver steel large size zipper laid diagonally across the front body of their biker. Here it was in a sleeveless green leather vest paired with green and white diamond pants.
And indeed, the black silk dress with Grecian folds or a shorter blouse version recalled the angular silhouettes cuts once on display at the Paris fashion museum Palais Galliera's 2018 exhibition Margiela/Galliera 1989-2009.
The Maison Margiela team did not overdo or go overboard and overdesigned any of the references. But, instead, the team incorporated the ideas into new garments, and they did so with a certain restraint in not over exaggerating that could have turned these clothes into costumes. It was not the case at the Milanese café, a sure transplant from Paris, where the design team brought well done clothes to the expanding network of audience, young clients and stand alone shops around the globe.
---