---
Review of Moschino Spring 2023 Fashion Show
Jeremy Scott's Moschino Blew up the Runway with his Inflated Sense of Fun
By Angela Baidoo
Scott can always be relied upon to keep the joy coming, and this fashion month he Implored us all to seek optimism to stay afloat in these tough times, at least until we start to see the light at the end of what has seemed to be a very long tunnel. 
We must be cognizant of what's happening around us, yet we must also hold space for joy

Jeremy Scott, Moschino
Scott's set design took us back to the days of the supermodel and the elevation of the runway format, as guests were set back from the catwalk, allowing the designer to create an aura of specialness around his designs.
Harking back to a time when tailoring meant business, namely the 1980s, skirt suits came in short and sharp, while fitted bolero-style jackets with minis or high-waisted wide legs were topped off with a straw-brimmed hat, a popular daytime accessory of the decade that needs to have its time again, because aren't we all a little tired of the hyper-casualisation of our wardrobes.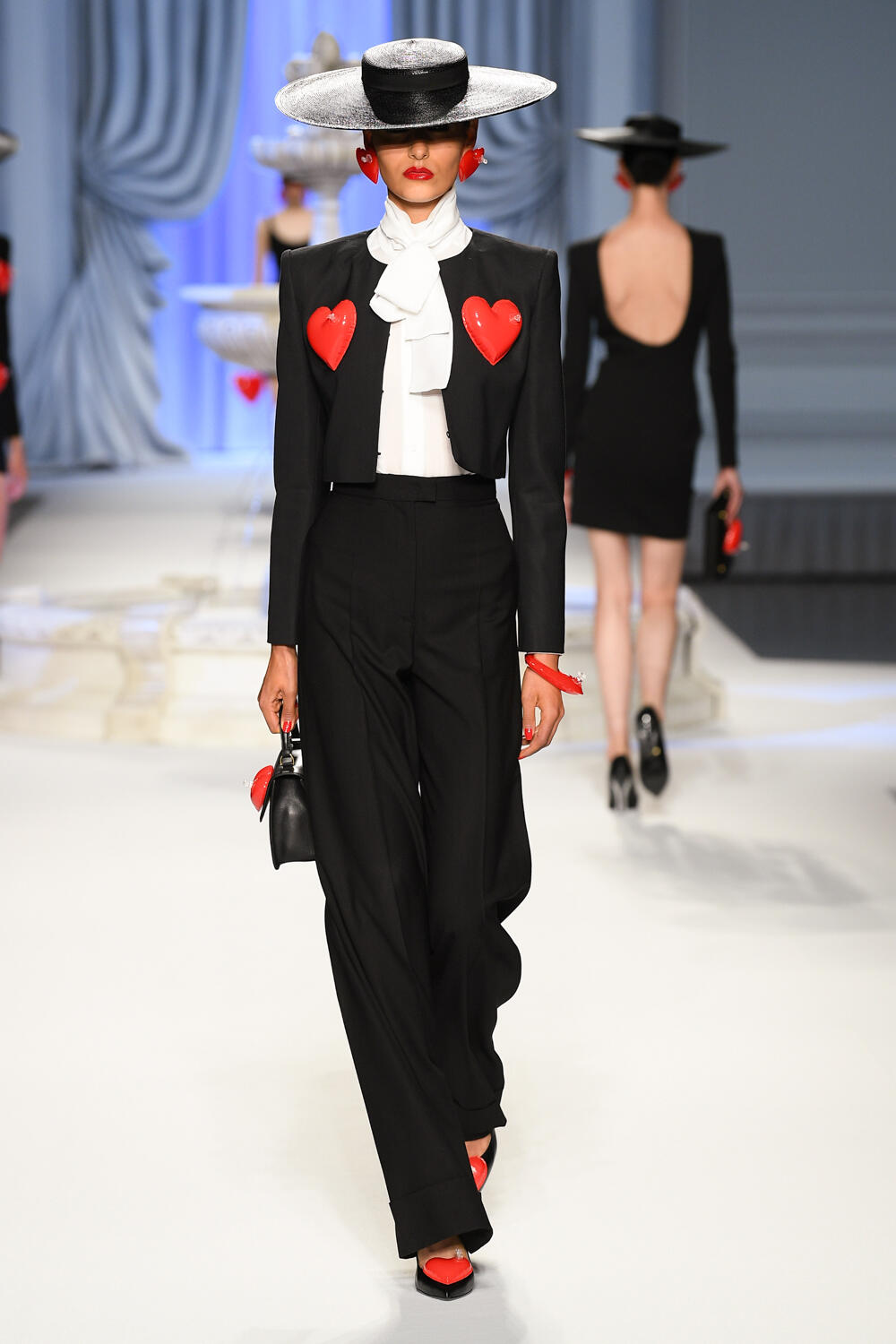 The saying goes "Wear your heart on your sleeve" a phrase often associated with fully expressing our emotions, and being honest and open. In Scotts world he's giving us a multitude of options to do just that. Whether you choose to wear it around your neck (look to the tailored pant suit), waist (try the asymmetric mini dresses), bust (opt for the printed bustier and gathered skirt), or midriff (it has to be the wide leg halter jumpsuit), it's all love.
Attempting to fill us up with fun via flotation devices, the indomitable Creative Director shared in his notes for todays show that some of the inflatables were both faux and real, which will allow for the creation of multiple how-to-wear options for customers, who will appreciate the playful adaptable designs. Let's watch this space to see if there will be a line of Moschino-branded lilos, armbands, rubber rings and assorted inflatable rubber accessories for the chic set to parade poolside.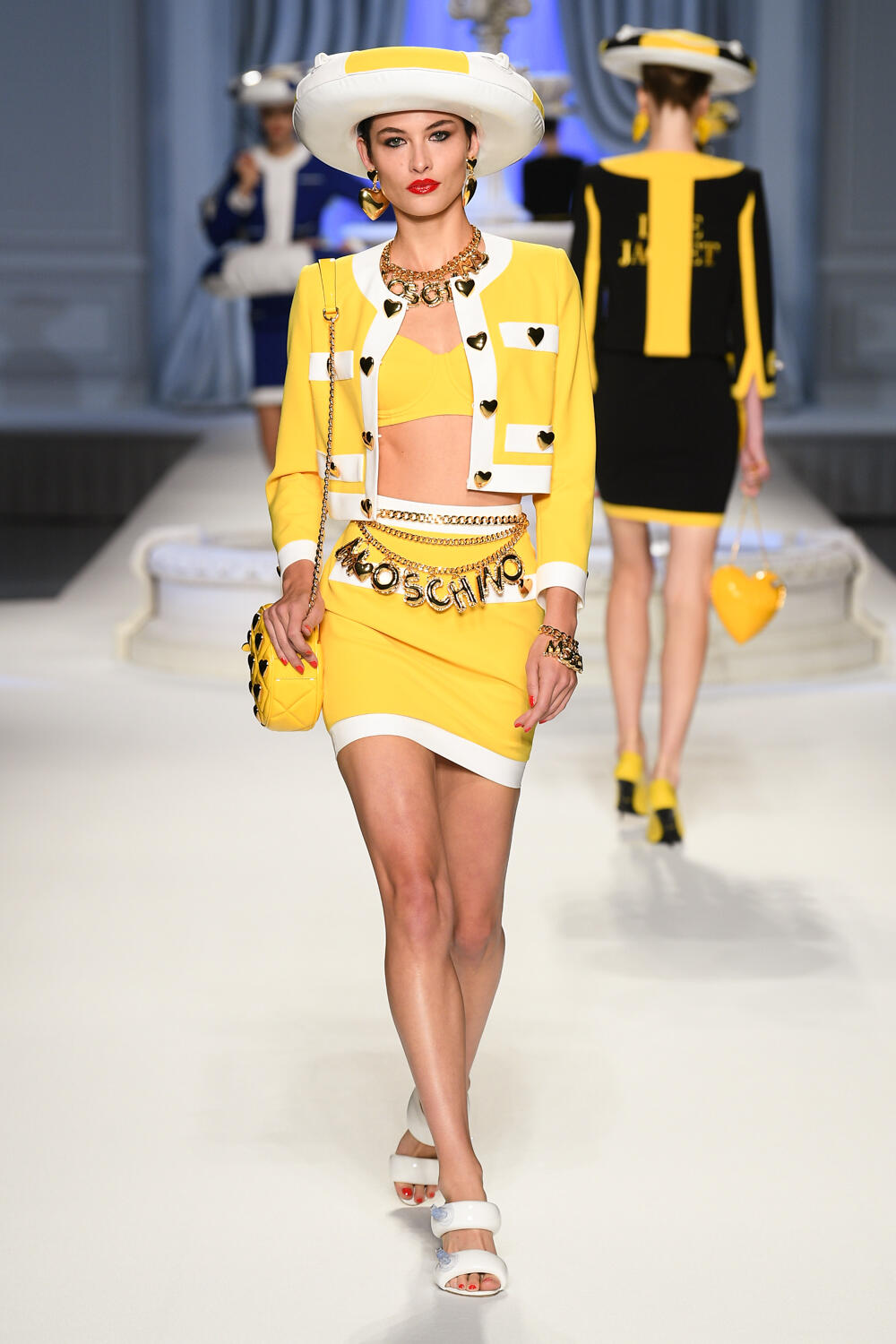 The accessories themselves also received a 'blow up' – earrings and bracelets were fantastic in plastic, as were the double-strap mules, bucket hats and shoulder bags. Die-hard fans and collectors alike are likely to gravitate (or should that be float) towards the multi-chain waist belts which featured the house name spelled out as Jeff Koons-style bubble letters.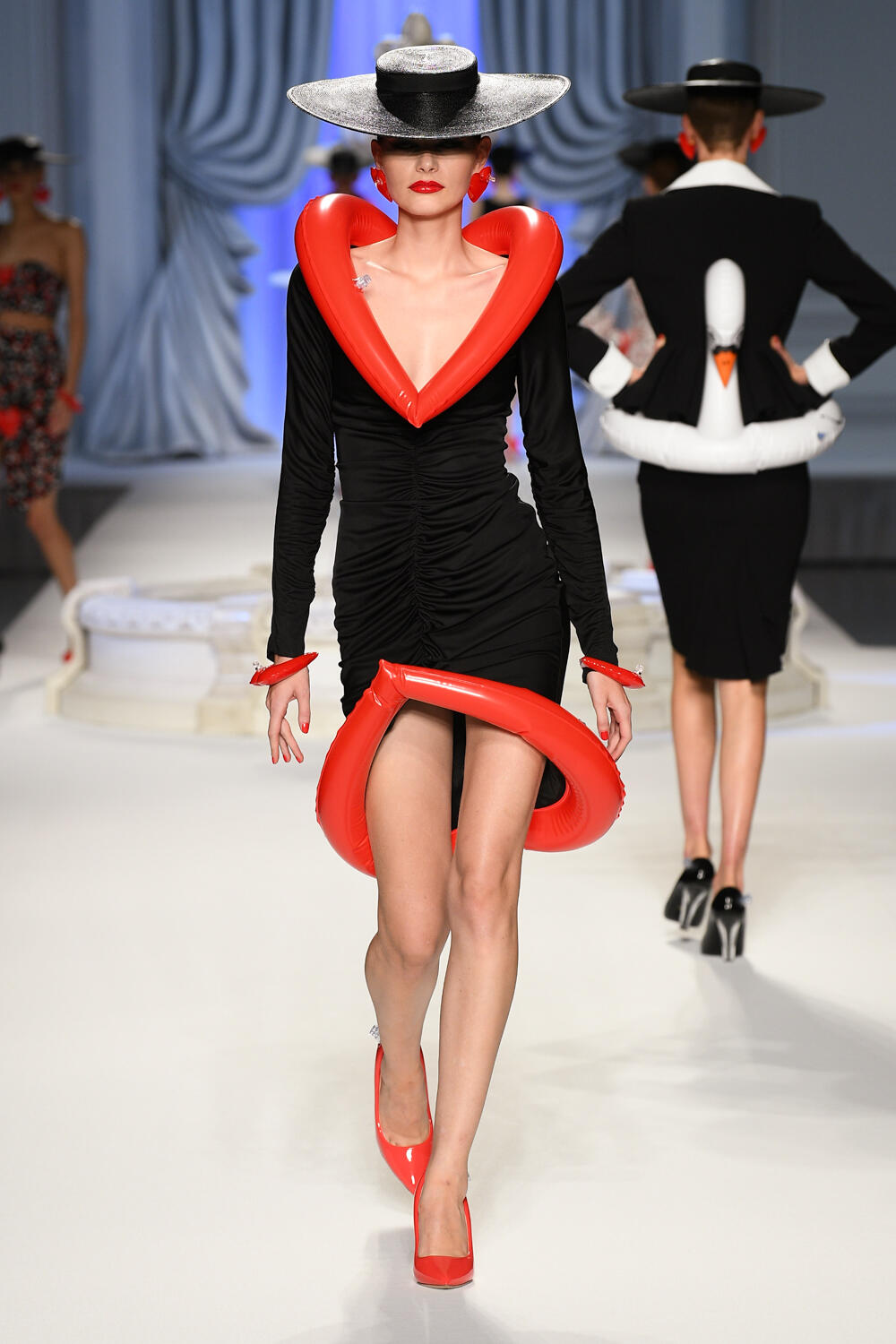 The inflatables are genuine or faux, signalling questions between illusion or reality – another conceptual adjunct to the complexity of our era

Jeremy Scott, Moschino
Outside of the smiles Scott was trying to tease from viewers, there was an overt "Ahoy Sailor" influence in the bold stripes and lifebuoy hats. Nautical references have abounded this season – as if all in the design world vacayed on party islands, calming coastal getaways, or bucolic boltholes – and with Scott steering the ship, we're all set for calmer seas ahead.
So, grab your inflatables we're heading to the pool.
---