Love Undone
Review of N°21 Spring 2024 Fashion Show
By Lizzy Bowring
THE COLLECTION
Unique Understanding of the clientele
The blend of materials
THE VIBE
THE THEME
There is always an underlying subversive theme in Alessandro Dell'Acqua's collections, and for S/S 24, he pursues it even further. Conveying a sense of vulnerability, rawness, and the complexities of love, both in its formation and dissolution, the collection delves into themes of unfulfilled desires, raw emotions, and the fragile nature of relationships. Yet through this, there emulates a congruous blend of contrasts, emanating from the stratified culture of Naples, thriving on juxtaposing the elite's direction with the candid allure of everyday tales, and resonating with episodes of life: an intertwining of memories, moments, and milestones, anchored in the brand's ethos of striking the balance between masculinity and femininity.
THE BUZZWORDS
#Intimate # Strength & Fragility #Subversive # Erotic
THE SHOWSTOPPER
Look # 31
The ensemble effortlessly captures the collection's ethos, blending couture craftsmanship with evocative contrasts. The bralette and skirt, reminiscent of bridal elegance, juxtaposed with the cardigan's carefree drape, echo the tension between matrimony and mournful widowhood.
THE DIRECTION
N°21 has firmly grounded its identity by juxtaposing contrasts like masculine with feminine, vintage with contemporary, and the lavish with the subdued. To truly evolve, it's vital for the brand to dive deeper into these contrasts, blending them in even more unexpected ways. While the sensual and slightly erotic edge of N°21 has been a strength, the brand must resonate with today's empowered, multifaceted woman who balances numerous roles and expectations. As such, N°21 could greatly benefit from merging artistic modernity with innovative creation and presentation techniques. While the brand possesses a solid and recognizable identity, the next phase should refine and expand its narratives, ensuring its relevance in a dynamic fashion world.
My Inspiration was napoli, the contrasts, the sexuality, the erotic and the bourgeoisie together. I love the mix of the materials, from the wedding to the funeral, and again, all used in a very erotic way. – Alessandro Dell'Acqua
THE WRAP UP
Guided by a desire to craft a multifaceted female world, luxe materials, from flimsy chiffon to shimmering paillettes, speak to tactile yet erotic intimacy. In contrast, design elements like disheveled lingerie, and sports shorts speak to Dell'Aquas contemporary, erotic flair. There's also an inherent drama in the intricate detailing of couture fabrics against the sobriety of a widow's uniform. Yet, it's all playfully grounded in the real, an observant narrative free from the bounds of preconceptions.
N°21's latest offering is a testament to Dell'Acqua's unerring vision: to articulate the complexities of femininity in a modern world. It captures the duality of life's experiences, from the sensual to the solemn – a poignant narrative of reality, unfiltered and unabridged.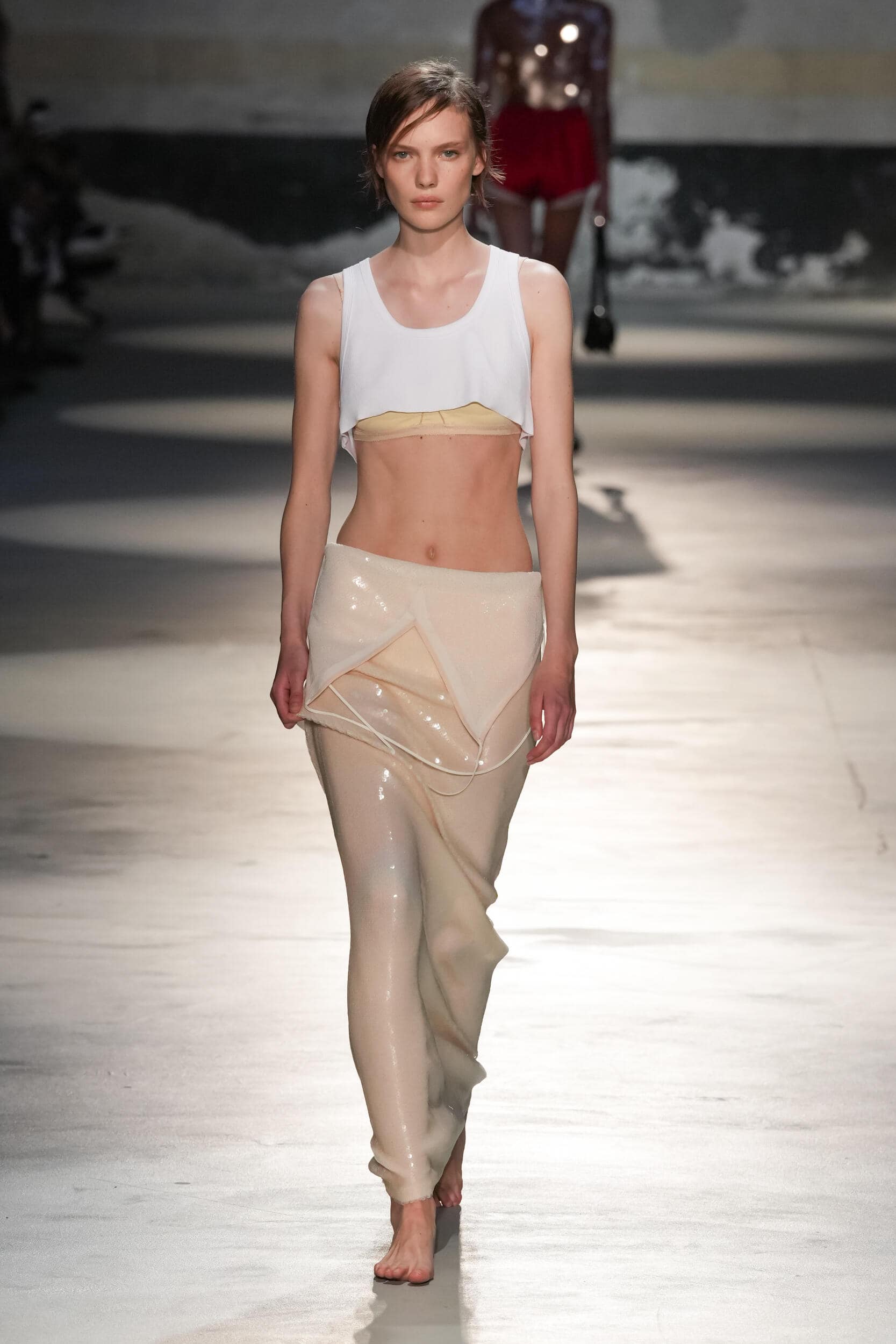 ---