Review of Officine Générale Fall 2022 Ad Campaign by Creative Directors Vincent van de Wijngaard, Mark Schuijt, and Saskia de Brauw with models Saskia de Brauw and Henry Kitcher
Officine Générale embarks on a new chapter with its first ad campaign. While the launch feels like it's been a long time coming, considering the celebrated brand has been around for a decade, it also makes sense given the label's distinct pace and perspective that sets it apart from the typical buzz of the fashion industry. The emotional and evocative campaign features creative direction from Vincent van de Wijngaard – who also photographed the campaign – Mark Schuijt, and Saskia de Brauw, who also models in the campaign alongside Henry Kitcher.
Captured along the natural beaches of Audresselles in northern France, the imagery draws a powerful sense of contemplation from this seaside location and its gorgeous shots of the water, horizon, and shore. Among this atmosphere, the characters weave between moments of intimate togetherness and profound solitude.
The point of departure was the shore, with the idea to travel outside the city. I was born by
the sea, so this backdrop and the surroundings truly speak to me and strengthen the
impression that the clothes make. The perspectives are vast, yet there's this feeling of
closeness to these two characters – their relationship to each other and to their clothes."

– Pierre Mahéo, Officine Générale Designer and Founder
Captured beautifully on Super 16mm film, the accompanying cinematic shorts unfold like movie trailers, pointing to a deeply established sense of mood, character, and place while leaving its narrative open-ended, a vista to gaze upon like the endless waves of the sea.
The campaign will launch in print in major newspapers and magazines across France, greater Europe, and the United States, as well as wild postings in magazine stands. Though it shirks trend, the use of the print format feels like a fitting continuation of the campaign's analogue feel, a more palpable and slow-paced approach that fits perfectly with the brand's approach to simple, intentional design.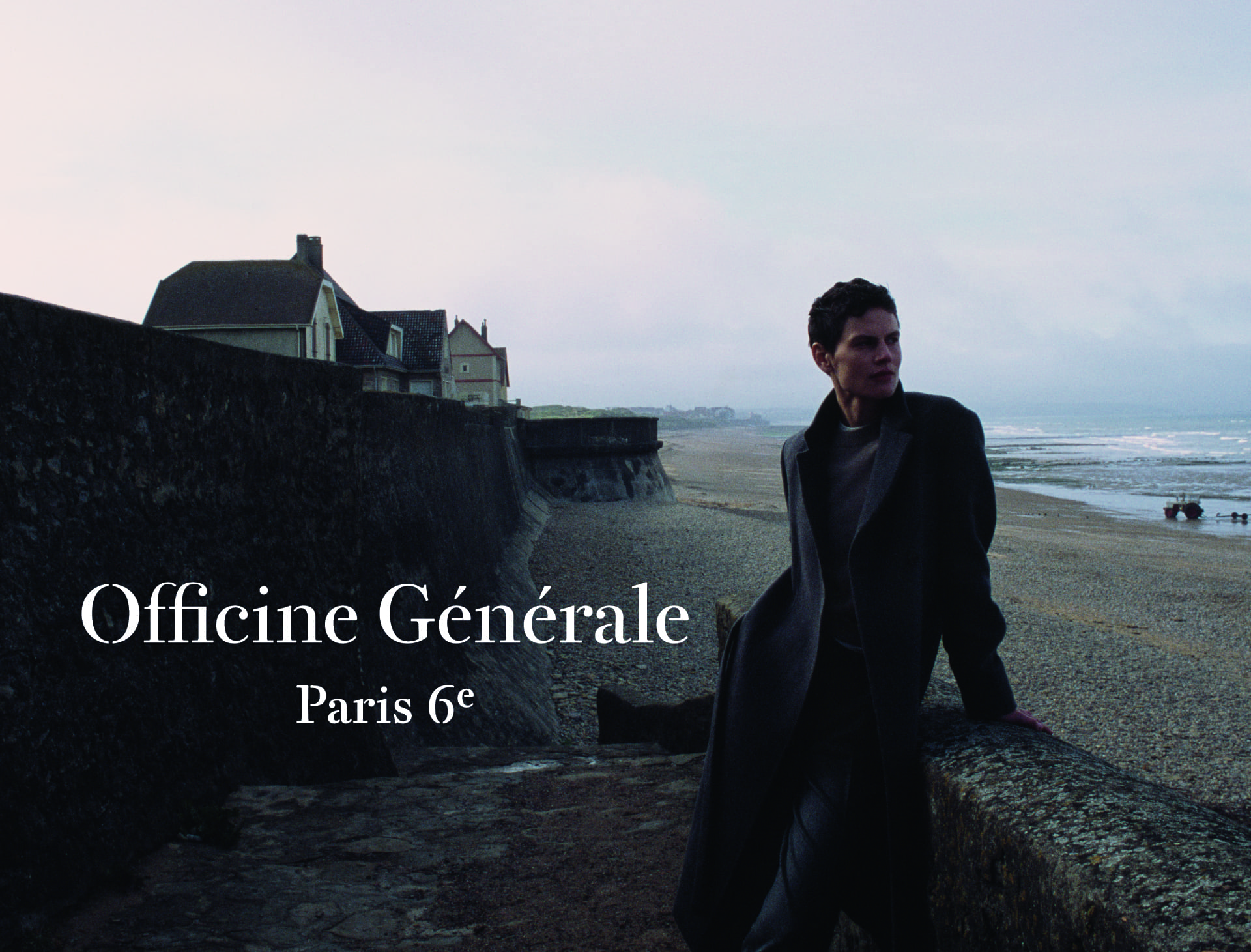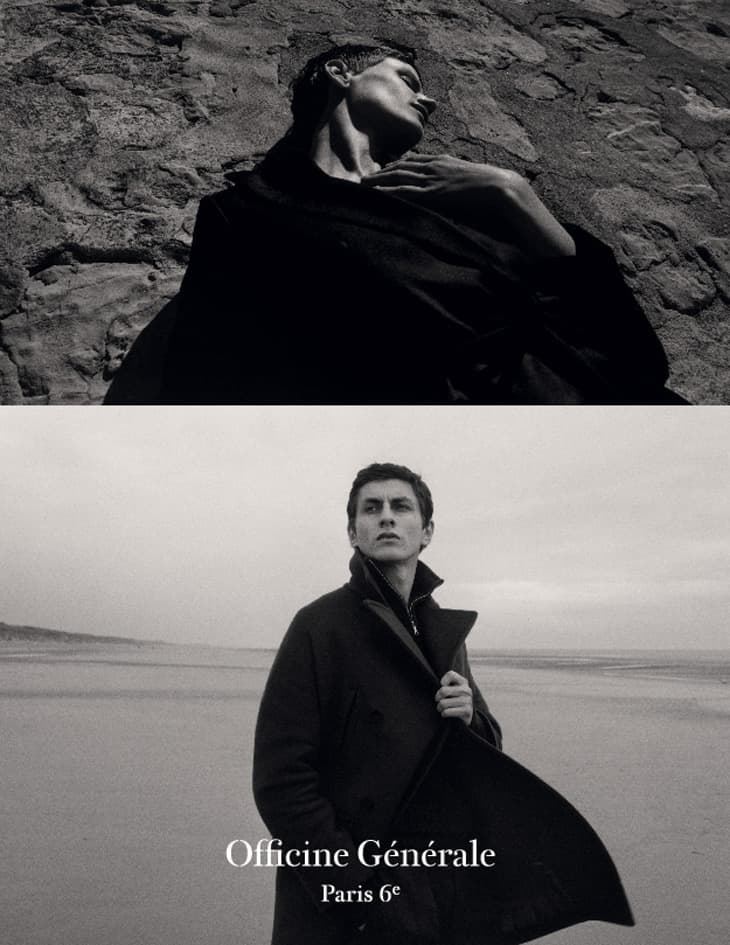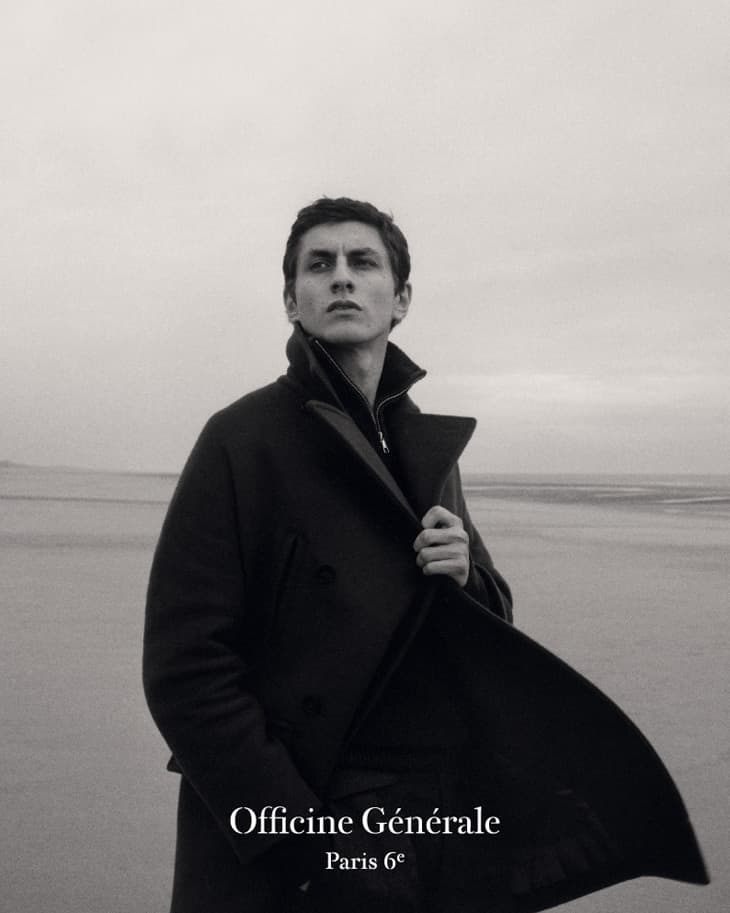 Officine Générale Creative Director | Pierre Mahéo
Creative Directors | Vincent van de Wijngaard, Saskia de Brauw, and Mark Schuijt
Photographer | Vincent van de Wijngaard
Models | Saskia de Brauw and Henry Kitcher
Stylist | Isabelle Kountoure
Hair | Ed Moelands
---