---
Despite still being in his early 40s, Paris-based Belgian designer Olivier Theyskens has already enjoyed several incarnations throughout his working life. From launching his eponymous brand in 1997 to his memorable stints at Parisian houses Rochas and Nina Ricci -as well as broadening into contemporary fashion during his time at Theory- Theyskens has never been afraid to take risks or experiment. Today, for the first time in his career, he's juggling two brands at once: his own line -which he relaunched in 2016- and the high-end house Azzaro.
What makes Theyskens a particularly strong designer is his ability to reconcile the sensual with the cerebral. His clothes are intricate, timeless and dreamy, adding a sense of romance and whimsy to everyday looks. Many of his shows have been described as iconic moments within fashion history, especially during the late 1990s and his early years at Rochas, where he struck the perfect balance between creativity, style and singularity. He's been a personal favorite of Anna Wintour for quite some time as well as major celebrities that gravitate towards his exquisitely-made clothes, such as Nicole Kidman, Madonna or Reese Witherspoon. If he knows how to deliver red carpet drama, you can also rely on Theyskens for a great leather trench, sexy bustier dresses or a sharply tailored pantsuit. His vision of fashion is distinctive and seductive, but critical and perceptive, too.
The pandemic has had a profound effect on the industry since Paris Fashion Week folded last March, but it hasn't distracted Theyskens from his ongoing focus and passion for the craft. He now gets to do Couture at Azzaro -a brand he feels very connected to- while developing his own signatures at Olivier Theyskens. If he values his own creative independence, he also loves the challenge of being the artistic director of a different brand he can reinterpret and make his own. Even though Theyskens has lived in Paris for a long time and is a respected member of the local fashion community, he has kept some sort of distance from the fashion scene and a very Belgian sense of humility, which both allowed him to stay grounded. In this candid interview, he talks about starting a new chapter at Azzaro, the impact of COVID-19 on our lives, and how he learned to surrender some of his creative control to trust his gut instincts.
Philippe Pourhashemi: Have you been thinking of taking some time off during August?
Olivier Theyskens: Not really, to be honest. When I lived in the US and worked for Theory, August was always a stressful period, because we were only weeks away from Fashion Week, so I got used to not taking breaks during that month. I prefer to travel off-season anyway, because it's less crowded. April or May are the best months to discover new places.
Philippe Pourhashemi: How would you describe the months that followed Paris Fashion Week?
Olivier Theyskens: From a personal point of view, I cannot say that this was a negative time for me, even though what we are going through is clearly unprecedented. Obviously, it is difficult to precisely measure the magnitude of COVID-19, and what this situation provoked. I thought about that impact a lot, almost every day. It's difficult to even discuss it in further detail because no one understands how far it actually went.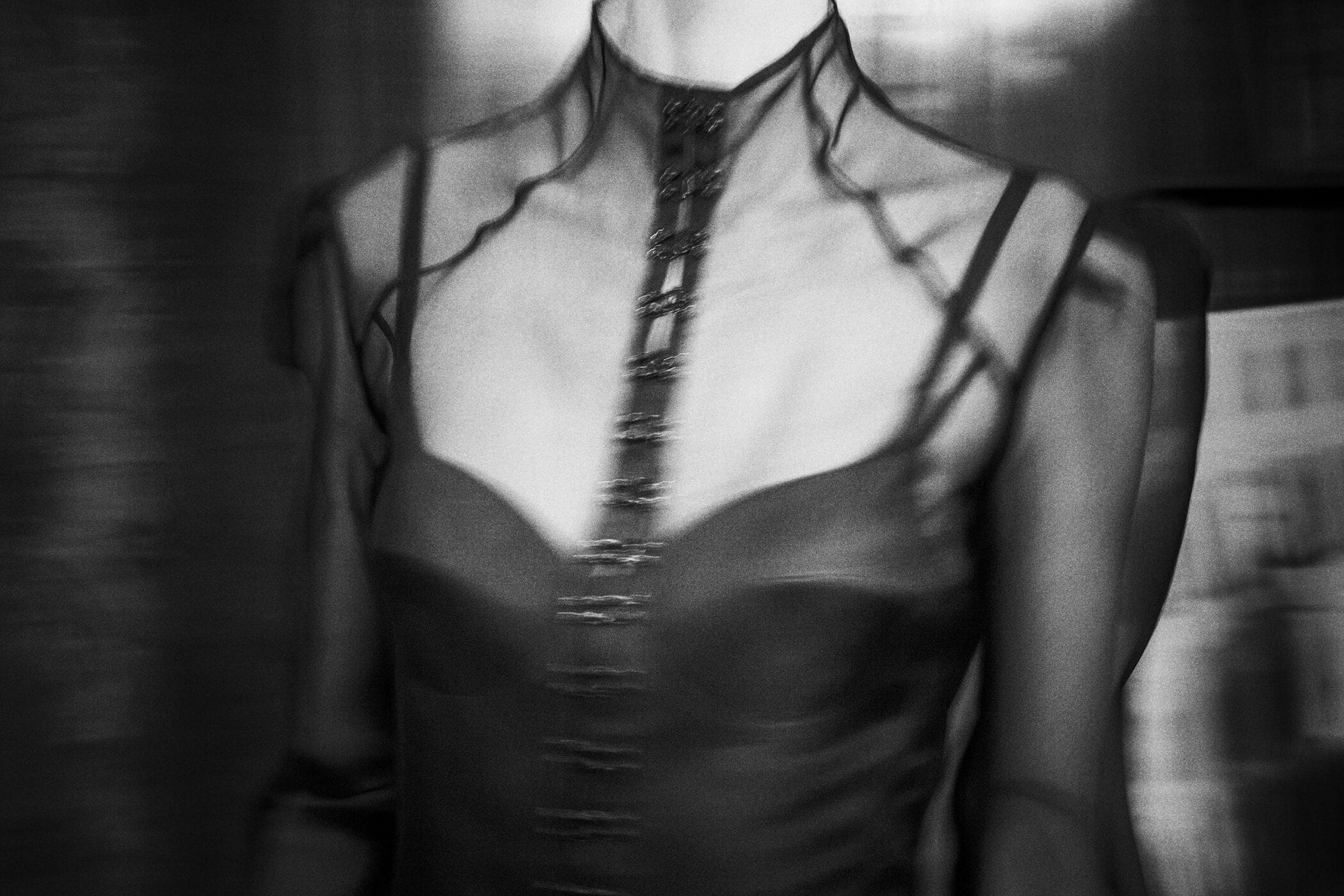 Philippe Pourhashemi: Did it affect you creatively?
Olivier Theyskens: It felt a bit like I was having some kind of holiday, which was welcome, too. I was confined a few days after the end of our showroom, and that was mid-March already. We were lucky to be able to do our show, which I'm thankful for. It was also rare and precious to have time for oneself. I kept myself busy of course, as I was drawing the new collection for Azzaro at the time, but I was glad to have a lighter schedule.
Philippe Pourhashemi: Did it have consequences over the manufacturing of your winter pieces?
Olivier Theyskens: That wasn't a key concern for me. Some buyers could no longer stay in Paris and had to return home earlier, which impacted our showroom by getting more cancellations, but I remained serene faced with that situation. I knew it'd take a bit more time before we could have a clearer vision of what was going on. There wasn't much point being too nervous anyway.
Philippe Pourhashemi: Paradoxically, this has been quite a rewarding year for you so far.
Olivier Theyskens: Well, it allowed me to get to know the different teams at Azzaro. I met them in February for the first time and we worked long distance during confinement, using Zoom, mails and phones. What's strange is that we were put together during a time where people were not supposed to meet anymore.
Philippe Pourhashemi: How did you cope with this?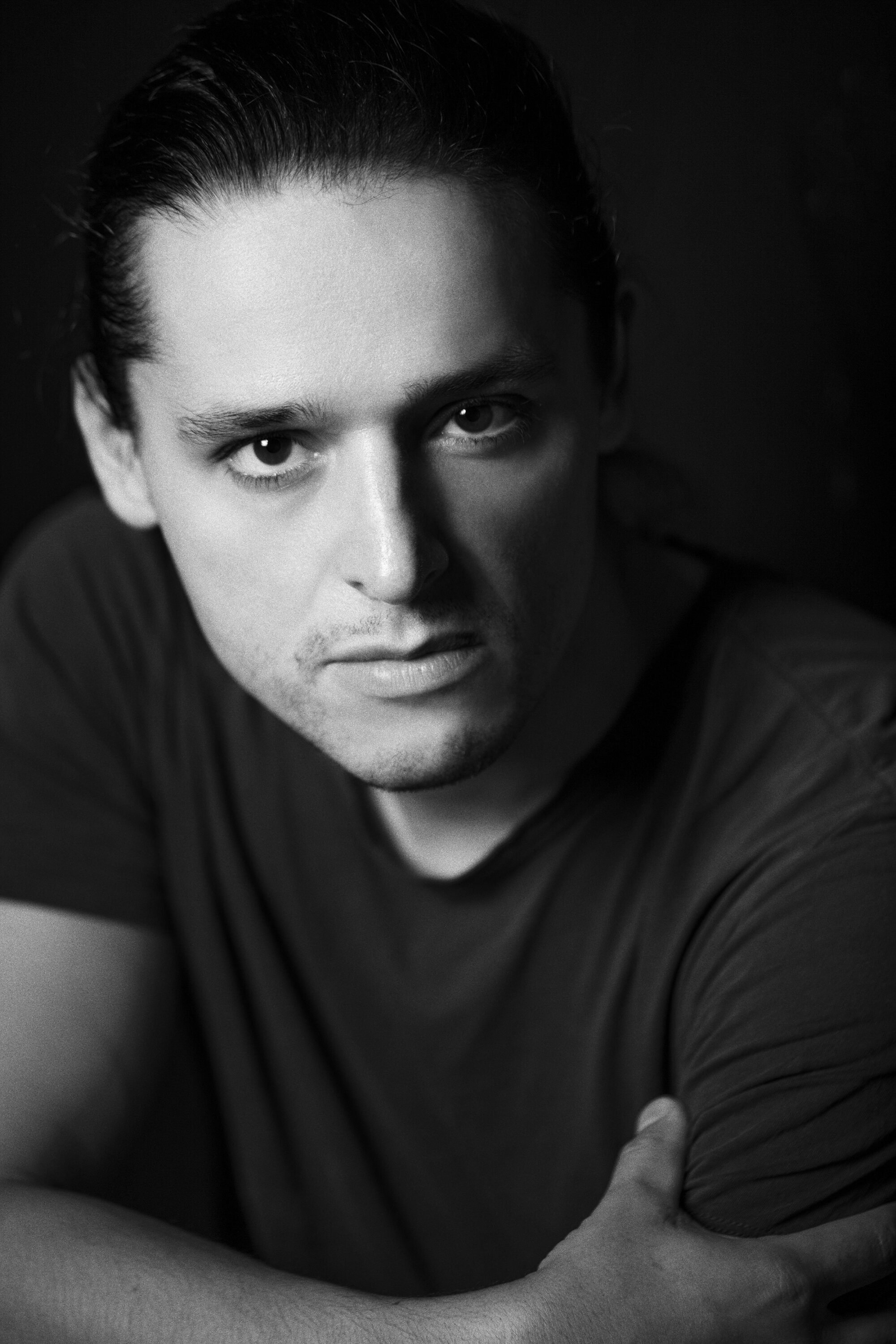 Using your creativity, you always find ways to overcome the obstacles and make things possible. Strangely enough, it was kind of an interesting moment to bond with the teams and get to know each other, because the circumstances were unusual ones. We managed to find a lot of solutions and that was exciting in a way. It felt like a very positive thing.

– Olivier Theyskens
Philippe Pourhashemi: You used a short film from Belgian director Lukas Dhont to present your first Azzaro collection during the Haute Couture schedule last month. Did it make you question the validity of the fashion show in general?
Olivier Theyskens: Not particularly. I had toyed with the idea of digital presentations in the past and it was always something at the back of my mind. We discussed it often with my close collaborators, but the choices we made for Azzaro had to be digital. There was no alternative. Of course, it's not the same as when you are able to showcase a full runway show, which is more immersive and dynamic. Still, I felt like the idea of a debut show for Azzaro was also questionable, given the fact that the heritage of the House was so connected to music, performers, and actresses. There was a lot of celebrity endorsement taking place, too, coupled with a festive vision of Paris that defined most of the 60s, 70s, and 80s. A show isn't the only way to express that kind of energy. I gave Lukas creative carte blanche and we asked singer and performer Sylvie Kreusch to star in the film. I envisaged it as a teaser for the rest.
Philippe Pourhashemi: It is the first time you've worked for 2 brands at the same time, isn't it?
Olivier Theyskens: In a way, yes, except that I was always creative on the side, even when I only designed for one brand. When I work for other houses, their name inspires me first and I'm subconsciously not going to explore territories for these brands that are not relevant to them. From the start, it creates some kind of natural separation between them and my own line. It takes a few years when you work for someone else to understand that there is a narrative thread in place that may also relate to your own style. It becomes part of your vocabulary in the end. You can separate things, but there's a form of fluidity as well.
Philippe Pourhashemi: Is there some exuberance within Azzaro you don't get to express within your own brand?
Olivier Theyskens: Azzaro has new potential for me because it belongs to an era of contemporary fashion I never dealt with. Rochas and Ricci were sleeping beauties. Azzaro is closer to us historically. It's more alive in my mind and I understand that time well because I was born at the end of the 70s. There's a connection to what I feel like an individual, a form of nonchalance I am drawn to.
Philippe Pourhashemi: There was a similar mood in your last show for Nina Ricci, where you explored more glamorous and theatrical gestures.
Olivier Theyskens: That's true. That collection was very inspired by the work of Serge Lutens, especially at the end of the 70s. Azzaro definitely has an allure, and his dresses were cut in a specific way.
Philippe Pourhashemi: At the same time, it is a name that is not too known, quite like Rochas in a way, which helps you create something fresh.
Olivier Theyskens: Yes. Azzaro is a treat for me, because it's a proper House whose spirit I love.
Philippe Pourhashemi: Do you also use handmade techniques in your own line?
Olivier Theyskens: There's always a development part within the collection that relates to the work and experimentation you can find within a Couture atelier. You need to have that kind of freedom within your own atelier, such as making samples without using a manufacturer. Of course there are things you cannot do yourself, but a studio needs to be a creative lab. Even when we deal with a small factory in Italy, it's always about human relationships in the end. You need care everywhere.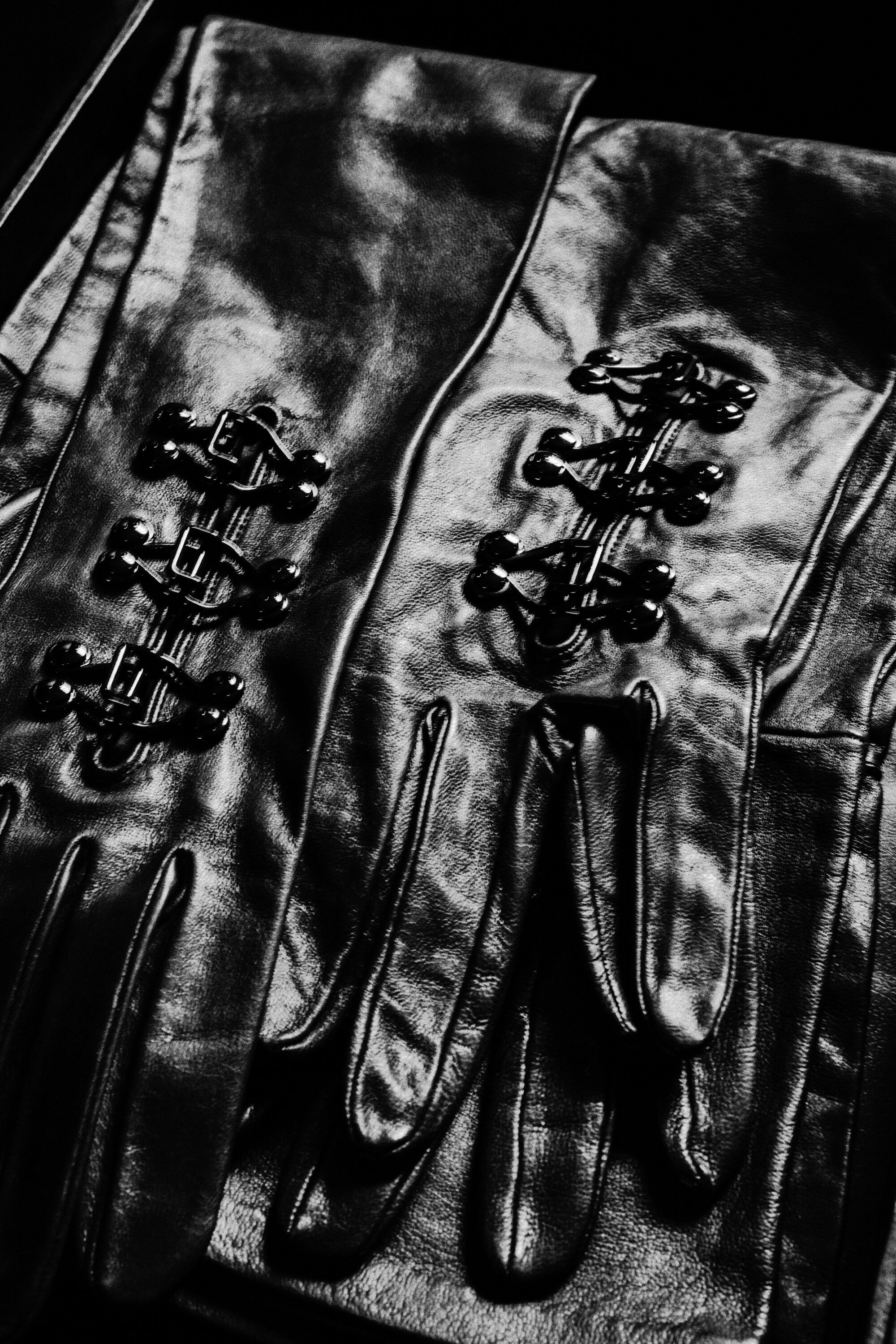 Philippe Pourhashemi: Is this dimension key for you as a designer?
Olivier Theyskens: It depends on the kind of fashion you make, but if you're dealing with the notion of designer work, then it does matter to me, because you won't maintain high quality standards if you don't have tight relationships with your manufacturers. Their expertise is fundamental. I actually think their job is to make your sample even more beautiful each time they produce a new garment. They elevate your work.
Philippe Pourhashemi: How do you see the future of independent brands like yours?
There's always going to be room for certain values within fashion, but the status of a brand does not guarantee its future in any way. Whether your brand is corporate or independent, what matters the most is that the brand creates desire and makes you crave its vision.

– Olivier Theyskens
Philippe Pourhashemi: Within corporate houses, don't you think that there's more development within the accessories as opposed to clothing?
Olivier Theyskens: That's difficult for me to judge. You need to go to stores and look at how things are made. I still think that the reaction of buyers and press towards certain brands is a clear indication of how creative it is. As a designer, I can look at a show and see what kind of work has been done or which teams they must have used to get certain results.
Philippe Pourhashemi: Are there living designers that keep surprising you?
Olivier Theyskens: I'm not sure. In the past, I may have been impressed by some collections designers put together, but that isn't so much the case now.
Philippe Pourhashemi: It's funny, because I never think of you as having particular references within fashion itself.
At the same time, I have huge respect for certain designers, and sometimes it's nice to realize that it's mutual. Designers are all the same: insecure, ambitious and frustrated beings that are part of a singular scene.

– Olivier Theyskens
Philippe Pourhashemi: You do worship solitude, don't you?
Olivier Theyskens: Solitude makes me happy. It doesn't mean that I want to be alone all the time, but I'd rather avoid social events in Paris, because they drain the hell out of me.
Philippe Pourhashemi: I find the energy in Paris quite challenging.
Olivier Theyskens: Yes, it wasn't the same when I lived in New York. I tended to go out a lot more when I worked there, because I found people more positive in general.
Philippe Pourhashemi: When do you find your best ideas? Any rituals you'd like to share?
Olivier Theyskens: It can happen at any moment for me, you just need to put yourself in a certain frame of mind. When I worked for Rochas and Ricci, I had many design deadlines throughout the season, which ended up feeling like an obligation to me. I find myself being much more spontaneous, which you see in my sketches. They are lighter and quick. I will think a lot beforehand, but won't spend more than 2 hours sketching at a time.
Philippe Pourhashemi: Do you think you trust yourself more as a designer?
Olivier Theyskens: I think it's just what I'm into as a person right now, I want to explore this new side of my creativity. It's very strange for people who know me well. I find pleasure in that sense of freedom. If you look at the first records of singers you loved, there's usually something less controlled and contrived in their sound, which makes their work more beautiful and immediate. It's funny, because I'm usually quite a control freak at work.
Philippe Pourhashemi: This reminds me of Bettina Rheims' introductory text to "Modern Lovers". Are you familiar with it?
Olivier Theyskens: No, I'm not.
Philippe Pourhashemi: She talks about working in a state of discomfort and urgency, which allows her to lose control and let the image happen in front of her eyes.
Olivier Theyskens: That's very close to what I'm trying to convey. I love to drape directly on the mannequin when I'm in the studio and see what happens. It's about approaching creativity in a more lighthearted way. It's nice to do something without having to justify it -or discuss it- with others. It's pure instinct.
Philippe Pourhashemi: What are your plans for September?
Olivier Theyskens: It's hard to see how things will shape up and I'm talking to people on a regular basis, whether they are in distribution or event management. My own structure is small, which makes it easier for us to adapt and react to what's going on at any moment. We need to stay open and cautious. When it comes to showing during Fashion Week, I think it's better to wait a little bit more before making any decisions. There are other things that are more important in life.
Philippe Pourhashemi: Do you see big changes taking place in fashion?
Olivier Theyskens: People always talk about drastic changes in the industry, but if you look at 2010, are there so many stylistic differences between what was created then and what we have now? Yes, there is Instagram and the rise of e-commerce, but have things fundamentally changed over the past 10 years?
Philippe Pourhashemi: I'm wondering how people will describe the look of 2010 in 20 years time.
Olivier Theyskens: "Normcore meets skaters and sweatshirts"? (mutual laughter) Anyway, I really hope there will be real changes taking place between now and let's say 2023. Then, in 2023, we'll no longer be showered with designer sneakers and logoed hoodies.
Philippe Pourhashemi: At the same time, the pandemic has changed the way people dress and we are heading towards less informal times.
Olivier Theyskens: Of course. It depends on generations, too. Now young teenagers say they don't want to buy their clothes online like their mothers always did, and they are much more interested in ethical brands that support communities or respect the environment. I'm not judging this of course, but that's how life goes and things evolve from one age group to the next. As long as there's an evolution taking place, we don't have much to really worry about.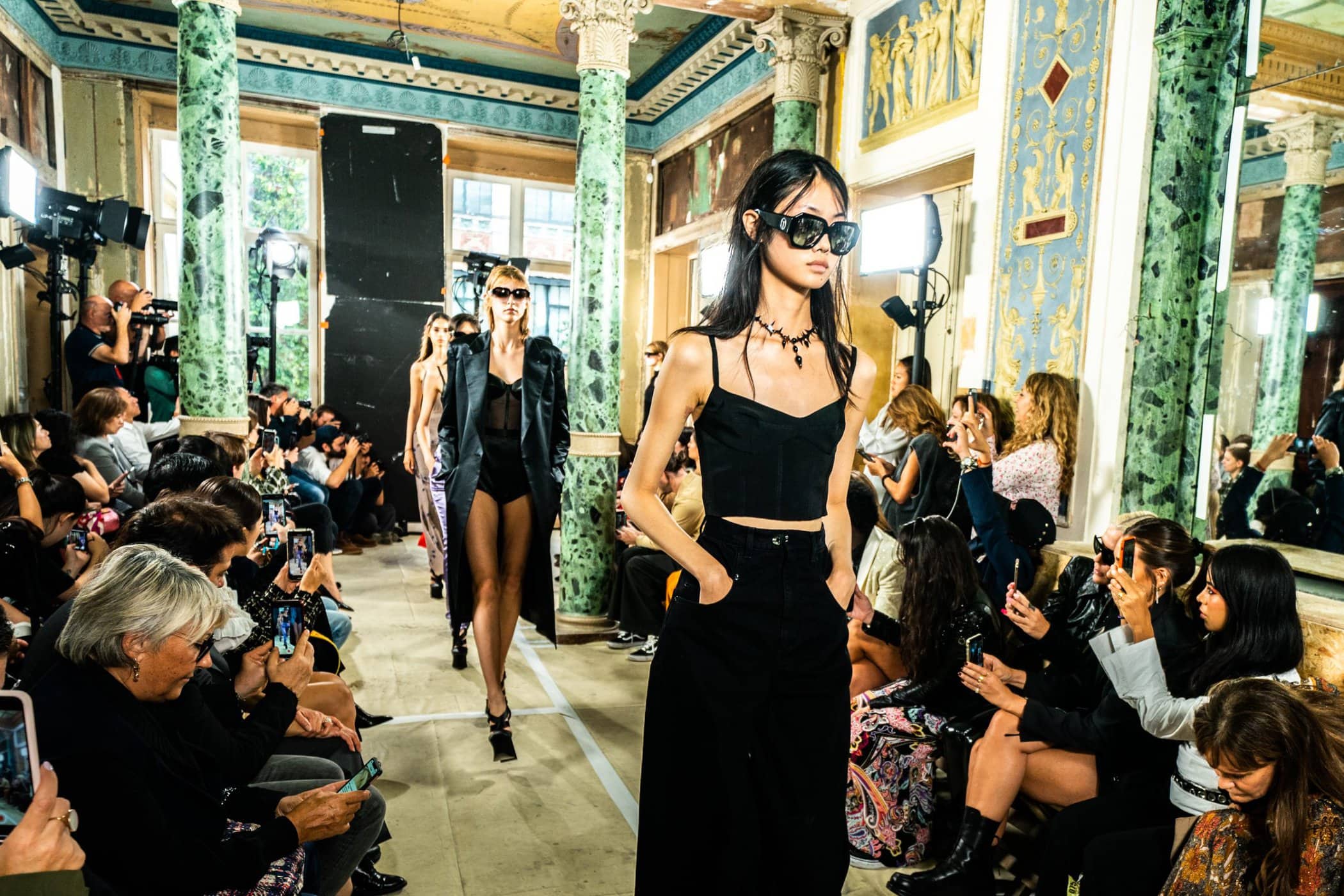 Portrait Photo | Thomas Deschamps
---