Swipecast, an online platform for the fashion world, has quickly become the place where creatives and image-makers can go to cast projects, network and discover talent. Brands ranging from Estee Lauder to Tom Ford, photographers like Charlotte Wales and Nick Knight and magazines like V, Self Service and Numero have all joined the platform. In just two years, what started off as a booking app for models has developed into a 360° resource for the fashion industry.
We caught up with Swipecast's founder, Peter Fitzpatrick, to talk about what's next for the invite-only platform.
Kenneth Richard: Peter, thanks for taking a moment. Let's start off by learning about who Swipecast is typically for. Who are your users?
Peter Fitzpatrick: Swipecast is for the fashion editor who wants to connect with Ben Hassett for an upcoming beauty shoot, the designer who wants to cast ten models with at least 50k Instagram followers in London or the producer searching last-minute for a manicurist in Portugal. You can cast an entire project and pay everyone all in the same place, but you can also hunt down studio space in Berlin or compare makeup artists in Madrid. Whatever role you play in the industry, you can get work done or just hang out and network.
Kenneth Richard: You started in 2015, which is really just yesterday in the scheme of things. How has Swipecast evolved since then?
Peter Fitzpatrick: When my Co-Founder Matthias Wickenburg and I first launched, we were trying to help models run their careers in a simpler way. We quickly realized that the entire industry shared the same problems, and we had the solution. We've expanded to include thousands of brands, photographers, creative directors, stylists, hair & makeup artists, designers, editors… you name it. Now, you can create an entire shoot over our platform, including the details like scheduling, sending out call sheets and group chats. We handle all payments, and anyone working on Swipecast can expect to be paid within two days of completing a project. So no more chasing invoices!
We just closed a $2.5 million financing round led by a group of investors that includes the backers of Business of Fashion, Mashable, and a number of other important fashion properties. They include former Hearst Magazines International CEO Duncan Edwards, former Louis Vuitton Malletier CEO Marcello Bottoli and former EMI Music CEO Elio Leoni-Sceti. This has helped us attract the right people and opportunities to our platform. Additionally, we hired the founding team from Le Book NY who onboarded a great array of high-end brands.
Kenneth Richard: Congratulations, that's quite a group. Let's chat about what draws the artist. If I'm a designer or magazine editor, why do I need to join Swipecast?
Peter Fitzpatrick: We bring the world's top creatives together in one international space and make it much easier for them to connect and share ideas. If you're an art director for Nike in Portland, it might be hard for you to physically meet up with new creatives each day oversees or across the coast. On Swipecast, you can put together mood boards of New York and Paris-based photographers whose work you like and reach out to them directly.
People who are already at the top of the industry need to have their finger on the pulse and keep up with exciting new work. Swipecast is a relaxed, private space where they can interact with other image-makers and also discover the next up-and-coming photographer, brand or Instagram It-girl to make sure they stay on the creative vanguard.
Kenneth Richard: What's your next move?
Peter Fitzpatrick: As we speak, we are building out production tools that will empower the world's top agencies to manage opportunities that come to them through Swipecast, allowing everyone involved in a photoshoot to plan and collaborate in real time. Over the longer term, we hope to branch out into other fields, such as entertainment, sports and music.
Kenneth Richard: That's a nice reach and makes sense for the platform. Where do you see the industry going over the next five years?
Peter Fitzpatrick: It's going to get faster, like every other industry. We're going to keep seeing more content on lower budgets, like viral videos and social media content. Swipecast is ideal for this new sort of guerilla-style project, because you can communicate in real time and set up and cast a Snapchat or Instagram shoot in hours without having to physically meet everyone involved. At the same time, Swipecast can also be used to pull together an entire $250,000 project. We're building all of the tools needed to do so: group messaging, ability to share mood boards, calendars, call sheets and everything in between!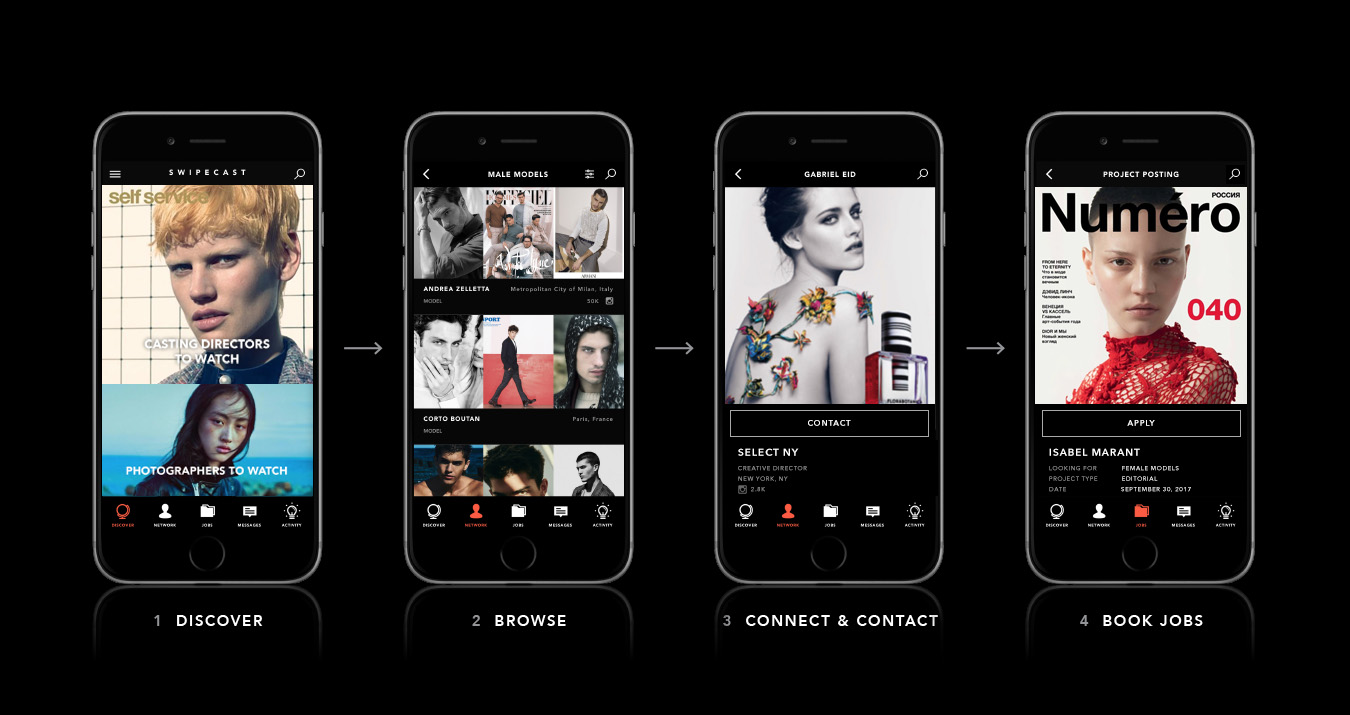 Kenneth Richard: Have you had any talent that is exclusively represented through Swipecast?
Peter Fitzpatrick: Demi Hannah Scott is an up-and-coming model from East London. As of this year, she is the first model to be exclusively represented by Swipecast. Demi defies and transcends conventional beauty standards, so we thought she'd be an ideal first for us. She's taking the fashion world by storm and has already done very exciting editorial work with Nick Knight for V Magazine, Rihanna for Fenty-Puma, and Terry Richardson for Free Magazine.
Kenneth Richard: Great that you can bring talent to market and help shape the narrative. What has surprised you the most since launching Swipecast?
Peter Fitzpatrick: When I first launched Swipecast, people told me that the fashion elite was averse to new technology. Within months, we had some of the industry's best creative directors and editors posting jobs in Berlin and Paris and other high-end projects being street-cast in Brazil. I've been surprised and humbled by the support I've received from the industry and the amazing creatives and image-makers that joined so early on. People have been incredibly open-minded and willing to change the way they work and interact. If you'd told me two years ago where we would be today, I would have called you crazy!
Kenneth Richard: That's the value of the digital age. Speed to go and grow like crazy. Thanks for taking the time to chat with us, Peter.
Peter Fitzpatrick: My pleasure, many thanks to you, Kenneth. Hope to see you soon on Swipecast.
---