---
Review of Prabal Gurung, Ulla Johnson, R13, Jason Wu, Markarian, & Imitation Of Christ Fall 2021 Fashion Shows
AMERICAN COLLECTIONS
"Opening Day"
With Little Fanfare and No Heavyweights, the American Collections Open
By Long Nguyen
The challenges for the global fashion business in the past year were nothing short of monumental. The pandemic crisis threatened many of the industries surrounding fashion, such as the supply chains' endangerment. Three of the 'big four' fashion global capitals have figured the road ahead with creative digital approaches that at least lent a sense of stability in Paris, London, and Milano.
Meanwhile, the American shows in New York have been nothing short of 'everyone for themselves, and God against all' mentality.
At first, fashion reacted to the emerging disease by carrying on as usual, with full runway shows packed with the audience until the Paris season's closing shows. The fall 2020 shows continued unabated, only with Giorgio Armani opted for a non-audience live stream on the last day of the Milano season.
The established show calendar survived despite all the gyrations, albeit with some significant changes. Global brands have been experimenting with how, where, what, and when to show.
Instead of fusing around an official calendar, there may be a future where big and small brands can show on their own time. Gucci, Saint Laurent, Bottega Veneta, Alexander McQueen, and Balenciaga – brands of the Kering group – have been a leader moving towards this independent route by showing during the 'off-season' timeframe.
The Spring 2021 digital season in New York was nothing short of an embarrassment. No wonder why the giants of American fashion – Ralph Lauren, Michael Kors, Tommy Hilfiger, Tory Burch – chose to show their collections on their schedule rather than stay within a dying system. New York is split between two parties with different vested interests to speak with one single voice in place of a singular show schedule that governed the entire fashion week agenda. There is the CFDA/Fashion calendar schedule; on the other, there are the IMG sponsored events – NYFW: The Shows – based at the Spring Street studios.
Instead of coming up with creative solutions and pushing designers to create better quality presentations that can attract and retain Internet audiences, the CFDA basked in the vainglorious renaming of New York Fashion Week, in existence in 1993, to American Collections Calendar.
The name change pins a magical reboot to the declining New York show week on nomenclature but practically changes nothing else. This fall show calendar contains a schedule up to mid-April. It is nothing short of a fashion week travesty than the other competing cities, notably with the continued absence of industry stalwarts Ralph Lauren, Michael Kors, Marc Jacobs, Brandon Maxwell, Christopher John Rogers, and Tory Burch.
It is nothing short of mind-boggling that the creative community here cannot marshal resources and ideas to foster a more robust digital platform, not just for this moment, but for how fashion will operate in the future. The Spring 2021 digital season in New York was particularly awful and uncreative as if all that time spent in lockdown did not incite the mind to address the real issues at hand. No wonder why the internet audience was tuning into the spring NYFW was the lowest in years and the lowest among all the fashion capitals.
The highlight of the New York Spring 2021 was the wait for the Tom Ford look book drop, which will also perhaps be this fall's showing main event to take place on the night of the last of the three-day event. Even the students from Central Saint Martens did far better with practically no resources in telling their fashion stories last June when London was the first city to open the all-digital show week.
The heartbeat of New York fashion, the designer Marc Jacobs, is still sitting out another season with no realistic date for the return of his influential shows that once anchored NYFW deep into the heart of the global fashion community. Missing, as well, is Kerby Jean Raymond for his label Pyer Moss, who has not shown since his last megaproject at the Kings Theater in Brooklyn in September 2019, and designers like Telfar and Rodarte. They have something to say in addition to showing clothes.
Shows like Pyer Moss or Telfar once delivered a vision beyond the clothes. There isn't anyone on the current calendar that can provide this level of far-reaching fashion that can capture and create a visual and sartorial vocabulary of a moment in time and culture. Remember that Telfar show at the Irving Plaza concert hall or the one on 34th Street and the East River in the middle of a rain and hail storm where the audience sat behind a metal barrier? Are there any new designers in the embryonic stages of their fashion development that can take the mantle in the near foreseeable future?
The decline of the New York shows has been rolling downhill in the past few years, but the pandemic has rendered a harsh verdict here than, say, in Paris or London. While it may still be preferable for young brands to coalesce around a central schedule, this is no longer the prerequisite both on the retail or DTC side and on the messaging aspects to reach their communities. These brands can and should present their new wares when readied and not rush to a set date. Missing from the renamed calendar is vanguard designers like Eckhaus Latta, who did a live show along the downtown East River piers after the official season closed last September. Gone too is the perennial late-night show from The Blonds, who staged their dazzling Spring 2020 show with Moulin Rouge's cast at the Al Hirschfeld Theatre.
That the current American Collections Calendar for fall extends to mid-April testify to this transformation, where the schedule is stretched thin to accommodate some cohesion. Why not opens the program all season long in the future? Do this decline in New York a permanent and not a temporary slide?
This fall 2021, American shows won't make a dent in the precipitous falling audience numbers tuned in to last season's digital debut without these creative image-makers. A live stream presentation like last September by Jason Wu for his now contemporary focus brand opens the fall American Collections this evening.
In 1897, the French symbolist poet Stéphane Mallarmé wrote his last book of poem – Un coup de dés jamais n'abolira jamais le hazard (A throw of dice will never abolish chance) – consisting of free verse stanzas. These verses revolutionized traditional poetry in the mixed-up typographical layout across its thirteen double-page spreads. Mallarme abruptly brought this literary genre into the twentieth century. The published poem consisted of a mesh of typographical and graphic designs not seen before in poetry as words scattered in disorderly manners, complicating reading the poem. Mallarmé verses broke the artist Pablo Picasso's linear perceptions a decade earlier with his Les Demoiselles d'Avignon, the shipwreck of the old ways paving new aesthetics.
Making fashion that captivates and changes culture is a remarkable phenomenon, just like artists and writers who used their art to challenge conventional wisdom and accepted orthodoxies. Designers as tastemakers are rare nowadays and rarer in New York. Will any renegades be coming forth to challenge the status quo?
And, this opening day of the NY shows isn't much of the organized chaos of the Mallarmé masterpiece, nor is it a cause for so much celebration, unlike other traditional opening days in New York like the first game of the new season from either the Mets or the Yankees. It is not apparent if any young designers present here who can inspire and take risks with a visionary and innovative fashion in New York this season.
While the current calendar will surely continue over the next seasons, it isn't a sure bet that any of the marquee names will return to the fold after finding success going solo. For example, why would Michael Kors come back to his usual spot on a Wednesday morning, when his brand is not affected by showing outside of the official calendar. And the more profound question to ask is whether brands big and small can forgo the formality of runways ultimately to other ways to show and tell their collection stories to the global audience.
"I started at this series at the beginning of the pandemic as a way to keep in touch with people, connecting with the community so we can be with each other," Rio Uribe, the creator of Gypsy Sport, told me over Whatapps. His monthly hour-long call in with what the Gypsy Sport designer said as the 'creative community.' "I announce the time of the live cast on my Instagram and Facebook, and then the people find me."
On a smaller scale, what Uribe fosters is a sense of a linkage between young aspiring fashion designers and young creative people in different fields that all share a commonality that extends far beyond just fashion.
In the Instagram call that I witnessed on the lunar new year's day, participants included two poets, a model-creative-designer-artists, and a beautician who made homemade artisanal skincare products.
Organizing this type of intra-community activities online is an alternative today in the process of community building far away from the prying eyes of the fashion flock and a practice perfected by those still considered outsiders to the fashion and the creative community. Is what Uribe and his tribes of creative people a potential alternative for young designers?

Let's hope there will be a ray of lights here and there, even faint ones, in the three days ahead.
PRABAL GURUNG
The Nepalese-American designer Prabal Gurung has approached his fashion more from an intellectual approach – inching his clothes to the proximity with art, with political and social movements, and with Hollywood – but rarely does Gurung showed us the fashion coming from his heart. With this pre-fall and fall 2021 scaled-down and focused collection, Gurung placed emotion at the center stage of how he came to make these clothes that express his experiences since the long summer of 2020.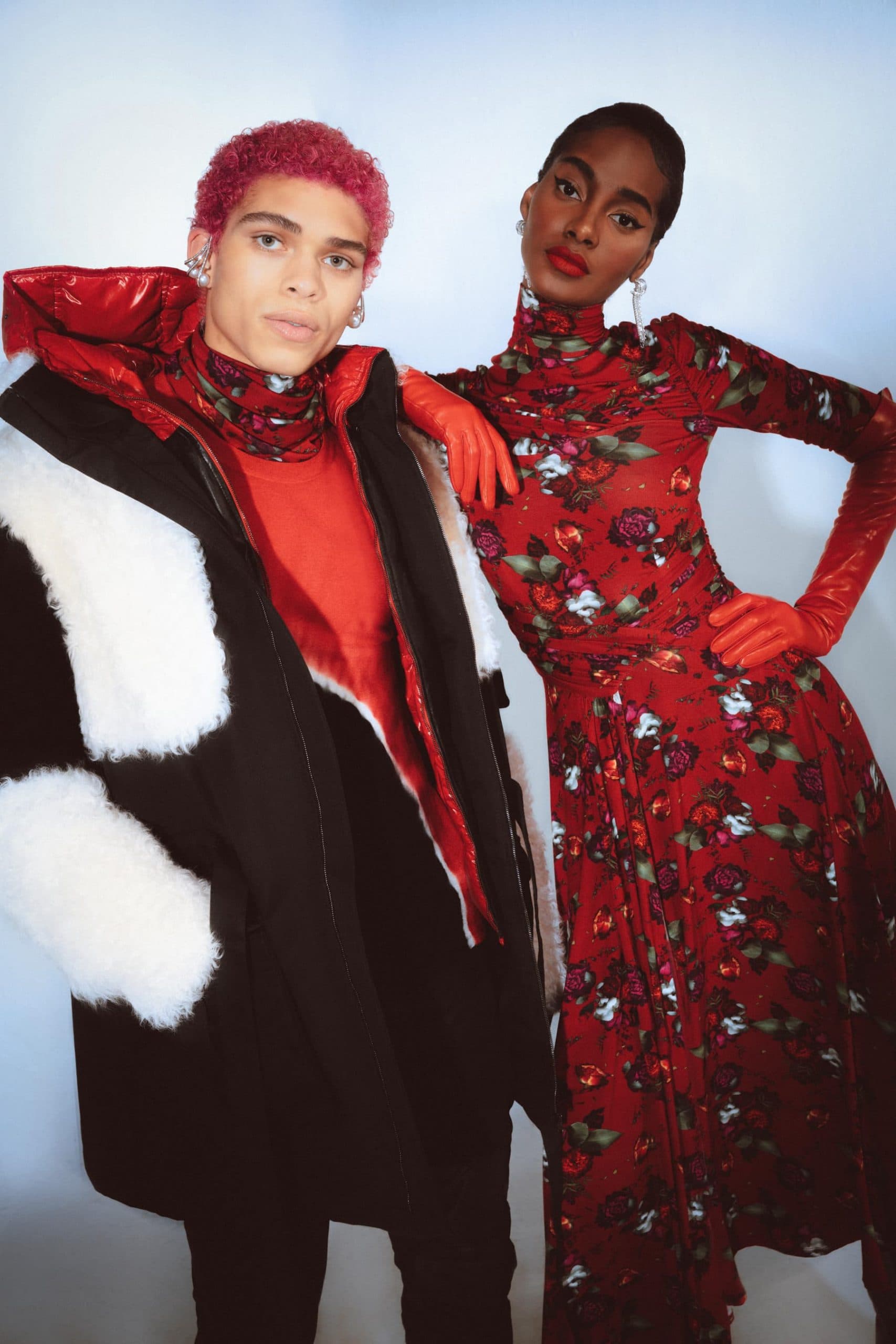 On the first day of the metal ox's year and after being absent from a spring showing last September, Prabal Gurung presented his pre-fall and fall collection digitally. This more precise and more focused collection speaks from the heart, rather than a few of the designer's recent collections that were more intellectual.
Gurung titled his new clothes 'In the Mood for Love' not after the famous Taiwanese movie of the same name. The designer praised all the moments, especially during the past summer in New York City, where many had abandoned greener pastures. Still, where he remained and found the strength and the poetry for fashion within smaller daily acts, not all necessarily acts of courage. He mentioned the emotions of seeing the Black Lives Matter protests, those kids hanging out in Washington Square Park, the drag performers at Sheridan Square on a Friday night, and the new generation Voguers at the Piers.
Since launching his business in the dark days of the great deep recession and not being a stranger to crisis, he found beauty in places around the city where he had chosen to stay and not flee to the suburbs. Gurung used the simple shape of the rose flower he found around the bodegas in NYC during the long summer of pandemics and unrest. Its colorful petals at the corner street store provided an inkling of hope and beauty in those lockdown months.
The shape of the rose permeates throughout this duo-collection from the head to toe pink short ruffle dress with matching turtleneck and tights with hints of the rose flowers sparse throughout, as a center decoration of a pink strapless long gown with ruffle short sleeves, or as the wavy shapes of the rose petals on a punk, ruffle folds long dress. The pink and red color palette reflects the shades of new beginnings in India and Nepal and a rebirth of fashion that Gurung hopes is within reach later this fall.
This scale down and tightly edited collection harks back to the early Gurung days where fashion passion was apparent.
There's vitality in the vintage assortments of shiny tweeds dresses and coats black silk satin short floral print dress. Besides, a few men's outfits like a res wool one button single breast flare pantsuit worn with a polka dots black and white blouse, a black coat with silver decorations, or a pink wool jacket with pink jacquard pants and pink felt wool coat. They matched the womenswear day and evening garments and are also interchangeable.
It is refreshing to see how Gurung has used the slow down period to reflect his fashion and how fashion can be soon in a changing world. This collection is a world away from the more costume oriented show he sent out on top of the Rockefeller Center to a small crowd on one side of the Rainbow Room last February, almost exactly a year ago today.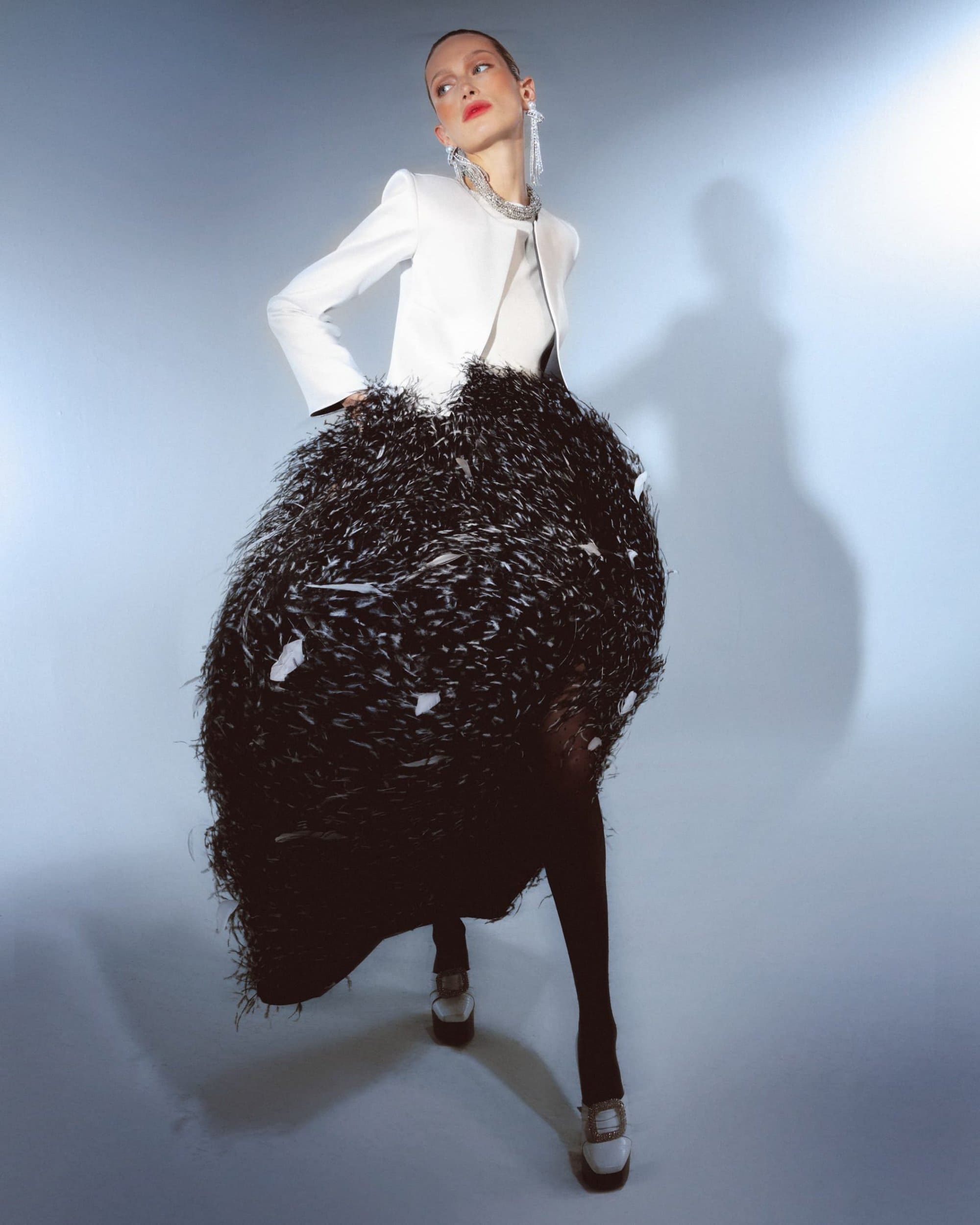 Then, it feels like in the previous century, Gurung's construction of women was more structured and, in a way, more fictional representation – perhaps the images in old Hollywood films that gave greater assurances to the rigid clothes shown than in an academic manner. Gurung has since sharpened his fashion pencil this season, has gotten rid of the kinds of clothes deemed no longer relevant, and has focused solely on the necessity that these times demand to find "the healing power of unfettered joy and unapologetic expression of oneself."
The difference now, though, and it shows in this pre-fall and fall collection, is that Gurung has set aside the need to prove his design worthy as he may have done so in the past and works in a more confident way and hopefully in the future seasons.
Fashion is often more significant if coming from a deeper set of personal aspirations and convictions translated into clothes.
ULLA JOHNSON
It was a surprise to see this Ulla Johnson fall collection filmed at the David H. Koch Theatre at Lincoln Center that has been closed in mid-March, with no known date for a reopening yet at this moment. This non-audience show continues the trajectory that Johnson started last season with her full taped show along the East River bank with the NYC skyline as a backdrop.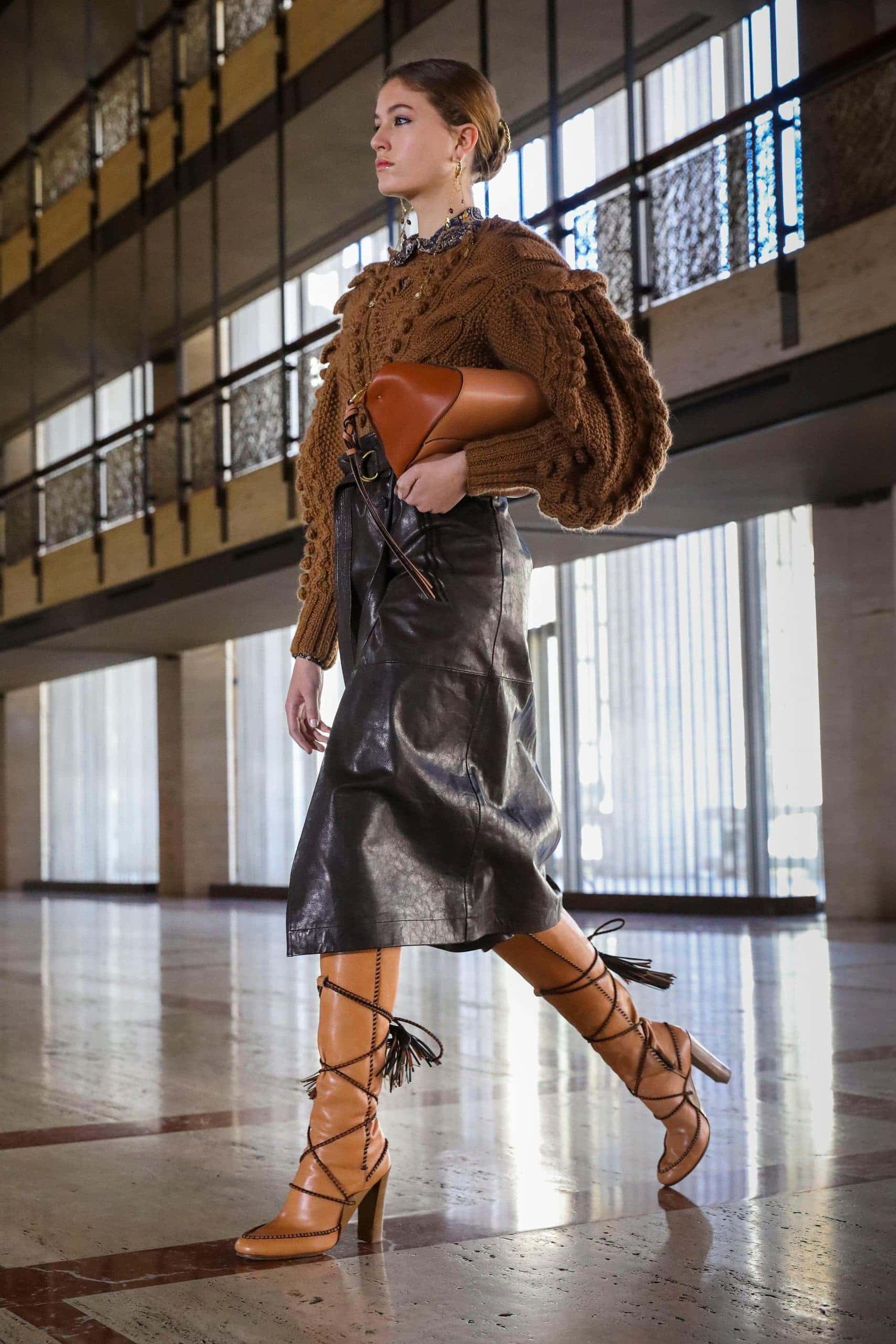 The collection Johnson showed was unabatedly more fashion than her softer approach with the kind of friendlier clothes that appeal to her audience and clientele of professional women looking for a bit more than just ordinary garments for their daily lives.
The Julliard School alumni played the Viola de Gamba and the Theorbo in a baroque score, underlying a sense of classicism to these clothes with vibes of travel, nature, and a bit of escapism. The clothes ride the waves of the 1970s and 1980s inspired close body-shaped dresses and broad shoulder plaid coats in saturated fabrics of cosmic and animal motifs with oversized collars adding a bit of nostalgia. The range of dresses – long red puff sleeves tiered dress or a short layered ruffle dress – is the strength of this collection, along with the knit separates like a gold thread mock neck sweater paired with a front slit print skirt that vacillates between the tight fitted knit dress and the loose white cable knit long sweater dress.
The long black coat with exaggerated shoulders did not seem to fit into the rest of the show, perhaps as an ode to the prevailing shoulder trend, an enforced element of fashion that isn't necessary here.
R13
"Our current reality isn't dissipating. It's only evolving," Chris Leba said of his fall 2021 R13 collection that he titled 'Covid Grunge' with a girl gang spirit to the clothes that each of the models chose themselves to wear in the photos taken around the Soho area of the brand Howard Street HQ.
By grunge, Leba meant the kinds of clothes familiar in the early 1990s as a rebellious style against the onslaught of the first wave of luxury branding practice by kids in the Pacific Northwest. Grunge then was a first manifestation of the do-it-yourself and find-it-yourself vintage garments, each piled upon the other, creating an effect of a fashion that exists so far apart from official style.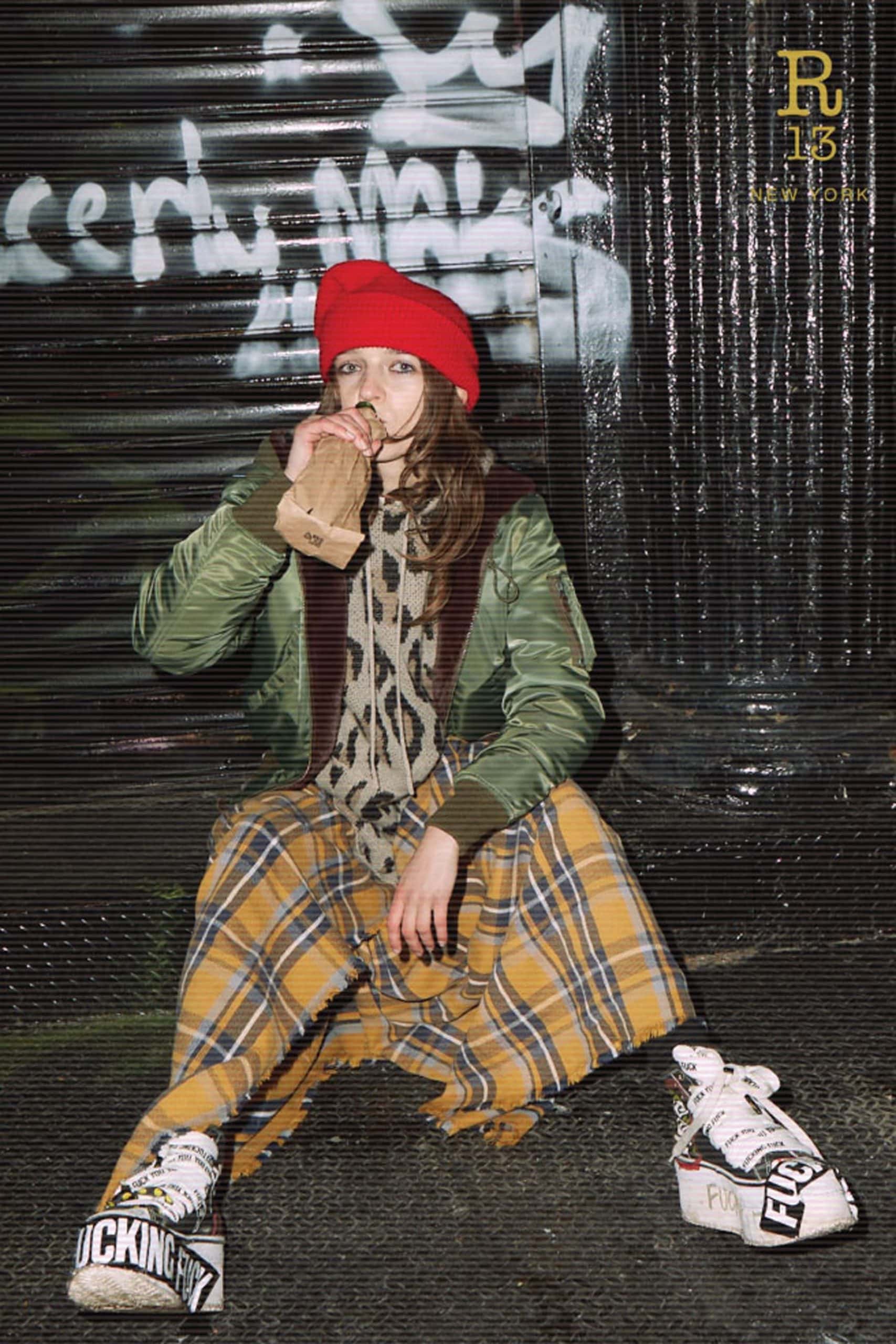 However, grunge is never a style that fashion designers can regurgitate and make into some high fashion trend. Even that famous Spring 1993 Marc Jacobs for Perry Ellis' grunge' collection was far too polished to be grunge if viewed from the kids who despise the kind of fashion system that had coopted their lifestyles garments without living their kind of lives. Designer versions of destroyed denim are never real destroyed denim, no matter how 'real' the tears of the denim fabrics on the legs appeared.
Despite the photo evidence making the 'looks' of the clothes more authentic, this R13 collection, while full of both stay at home and going out dresses, isn't an exception to the case of borrowing the garments of another distant lifestyle and reimagined them into an authentic fashion experience complete with yellow and brown plaid shirt and red flannel shirt, chocolate corduroy jacket, long cotton cardigan, a yellow tartan fitted pants, and an unfinished print zebra tee shirt with frayed edges.
Real disheveled and designer disheveled isn't the same kind of feeling or aesthetics, even if the designer version feigns realness that can almost pass as the real thing. That said, there are plenty of fun clothes – leather bikers, large puffers, long leopard, zebra, and tiger print coats, black leather pea coat, black and white faux fur coats, and a great range of denim – all with the kind of 'rebellious' spirit, whatever that may mean.
JASON WU
It was not long ago that Jason Wu's midday lunchtime show was a hot ticket during the opening days of the official New York Fashion Week at the time.
I remembered going to Wu's first few fashion shows at Bryant Park in the early aughts when big media hadn't yet shown up because he was just a start out designer showing on the last day in the Tents. Then, his clothes were refined more on the ball gowns side, luxurious and well made, and more European than the kind of American Sportswear is known for in New York. But, his shows then were populated with the type of 'downtown' denizens that lent credibility, and Wu started to make a name for himself within the trendy New York community of creative people, first with his clothes for dolls than for women.
Looking at the first few looks from Wu's new fall collection as his models entered a warehouse loft space in Noho, it was not clear why the designer should put these looks on the runway. Models wearing a black loose wool coat with white wool fringes at the bottom trims, a grey wool print v-neck sweater, and white print long skirt, or a red and white stripe pullover and grey wool pants walked around the layout with baskets of fruits, vegetables, and foods curated by Chef's Warehouse. City Harvest will receive these food baskets as donations post-show.
While Wu has taken a radical turn from embracing high-end fashion for many seasons, the designer has finally focused his brand on the middle range market in terms of pricing. This show's problem is that these aren't the kinds of clothes for a fashion show, even a live stream version. It is a problem when the stage setting is more innovative than the actual clothes – it should always be that the décor serves as a setting for the dresses, not the other way round. A showroom walkthrough is more than sufficient to show this collection; otherwise, they can go straight to e-commerce.
Wu's new focus on the business at hand is undoubtedly a significant first step towards moving his brand forward differently; perhaps this also means rethinking the needs for an actual fashion show. Here, Mr. Wu's General Store's contents and the designer's recent food interests were the headlines, less so were the spread lapel double breast wool plaid coat.
But, the show's reasons lie in the red silk Coca-Cola long sleeve dress was perhaps the reason for the show as the soda drink maker was one of the main sponsors of the live event.
MARKARIAN
The designer Alexandra O'Neil founded her label Markarian in 2017, named after a group of distant galaxies to foster that notion of romance and grace at the heart of her design since learning how to sow from her grandmother when she was barely ten years old. O'Neil centers her business and manufacturing out the New York's garment district with the hopes of preserving the skills of the local artisanal craftspeople in the city that is disappearing.
"I started designing and making clothing with my grandmother's help. At night, when we turned out all the lights in the house and looked outside, all we could see was complete darkness and the light from the stars in the sky," O'Neil said of growing up in rural Colorado that gave her a romantic sense of mythology and the mysteries of the cosmos.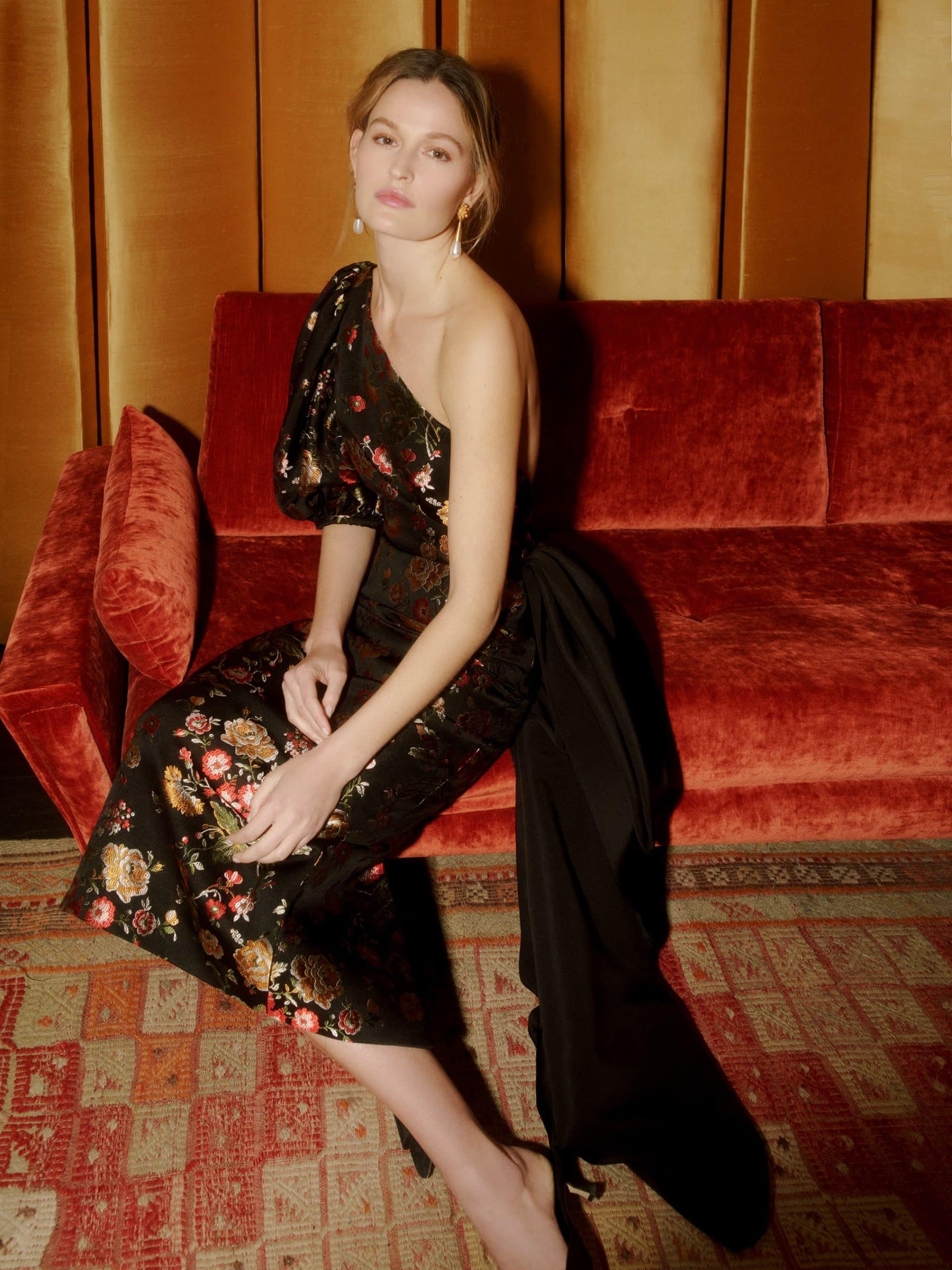 "I looked to Ovid's Metamorphosis for inspiration. I have always loved ancient Roman art, architecture, and literature. Metamorphosis seems particularly relevant with the changes we see across the globe. Ovid paints vivid pictures of transformation triggered by challenges, strife, and turmoil, often suggesting that art and creation allows one to transcend suffering," O'Neil said of the thinking behind her new fall clothes.
For her fall Markarian label, O'Neil strikes an outstanding balance between the needs for more practical clothes and her needs as a designer of a young brand not to lose the voice that has been the reason to start her three-year-old clothing label.
That meant a short sleeve black dress with ruffle trims next to a black one-shoulder, one sleeve floral jacquard print dress with a black wool train in the back, or a white strappy long dress next to a black dress with silver palm embellishment. Elsewhere in the collection, a more formal mustard button dress mixes with the casualness of a light yellow silk loose pajama set.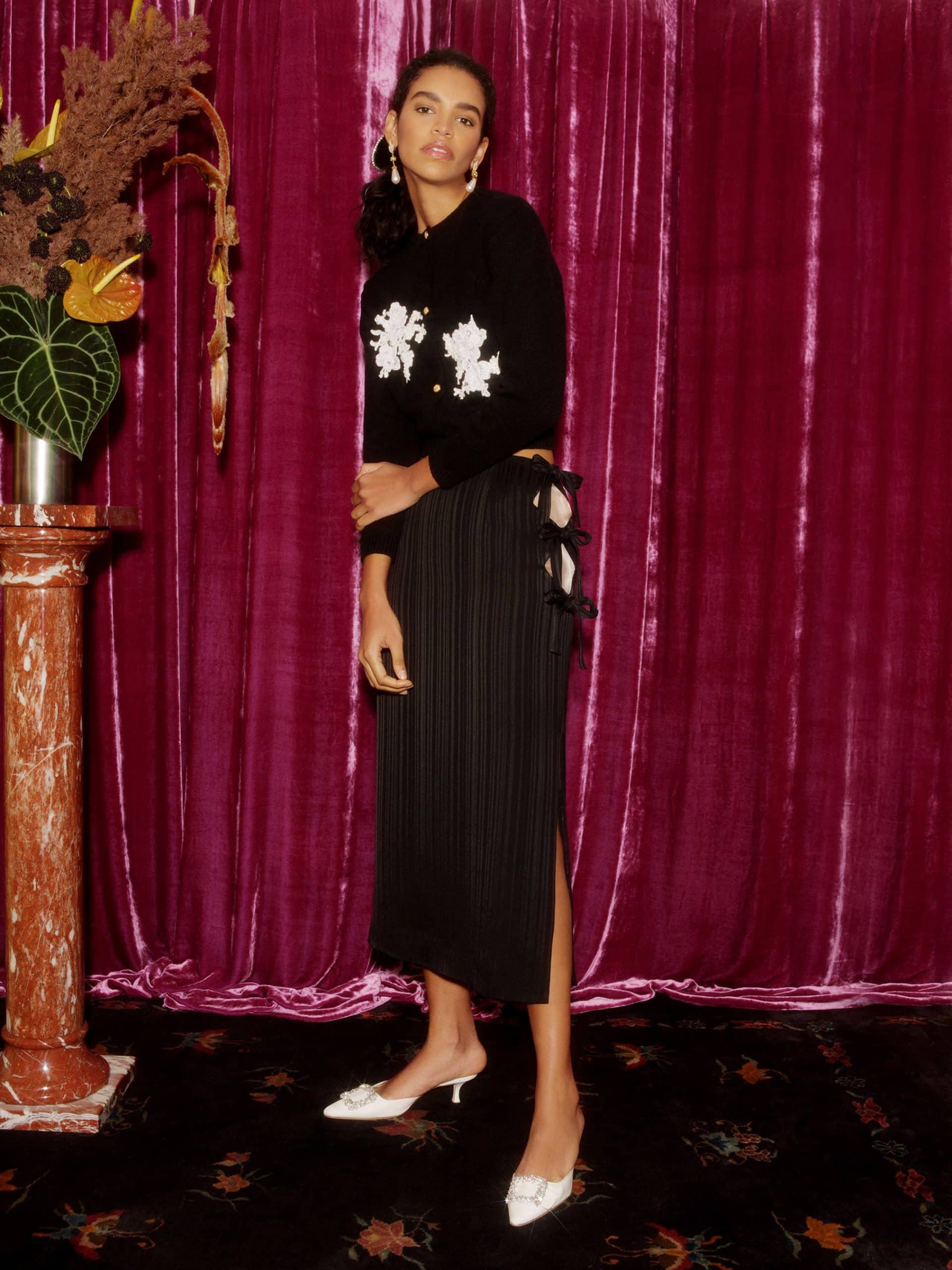 A long ecru cashmere coat or a blue cashmere backless dress are made from recycled cashmere and sustainably harvested mohair with production methods that will reduce energy and water consumption by over 75% versus traditional virgin wool production.
"I want these pieces to be able to fit into our new lifestyle and to be in a way that felt right for each individual. I mixed these more practical elements with some pieces that are pure fun and fantasy," O'Neil said with a deep understanding that fashion cannot just be practical clothes, and even then, there still have to be garments that inspire.
IMITATION OF CHRIST
Tara Subkkoff, one of the founders of Imitation of Christ who brought the line back to life last season, lost one of her close friends to the pandemic. Subkoff dedicated her new fall line to celebrate life and death in a short video of friends wearing her new clothes next to a close-up shot of a 3-D animated heart beating. In the video, the heart began to transform into beads, and the soundtrack featured the hospital bed alarm signaling the heart has stopped beating.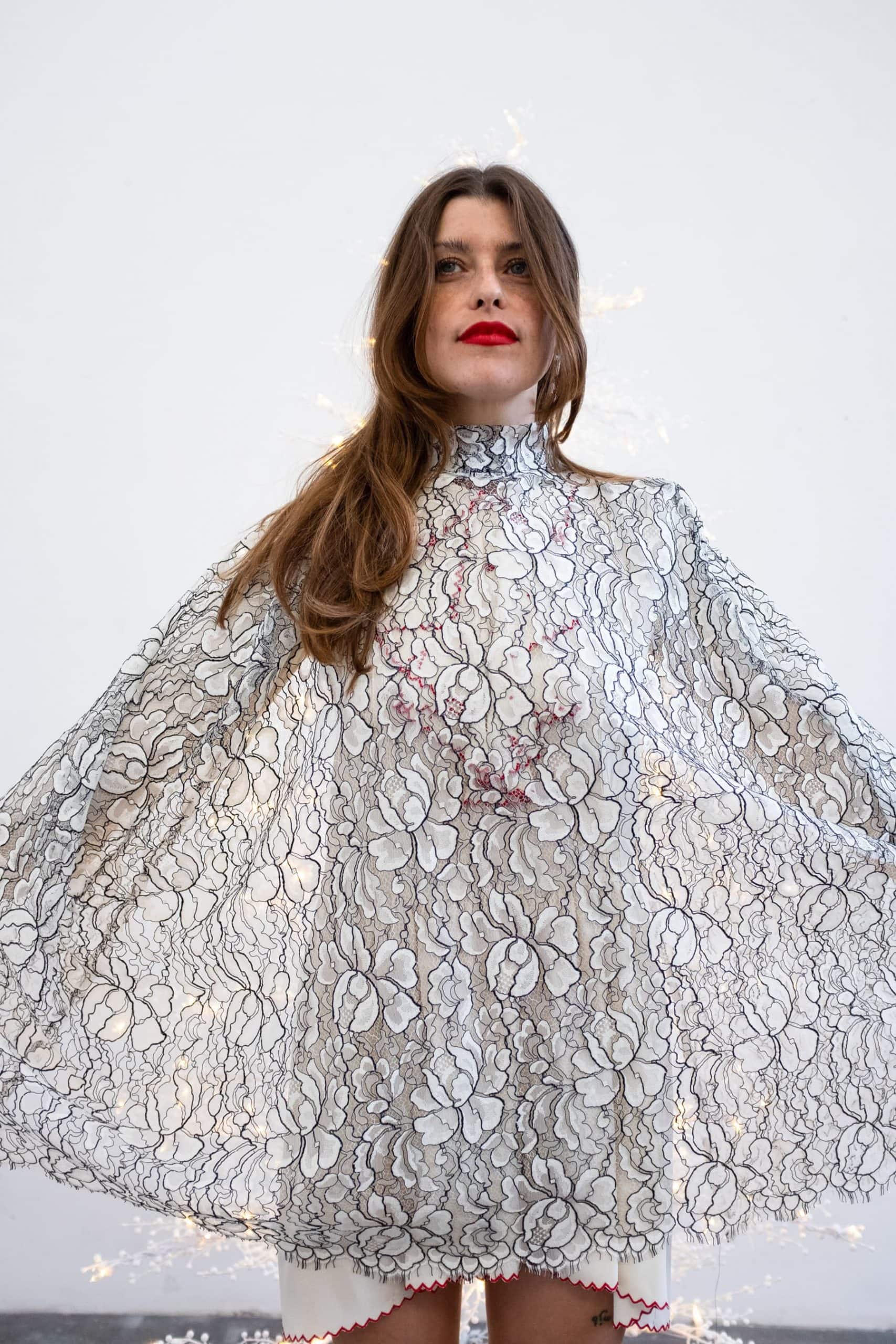 "Let's, please try to celebrate our life while we still have it," Subkoff said at the end of the brief video with rapid movements of the models to the fast beats of the heart and its end video made together with Daphne Muller and Adam Teninbaum. Instead, the designer transforms what usually is a day of heart symbols to ask what these symbols can mean now.
The collection is the kind of inventive clothes that Subkoff is known for – remixing and repurposing old clothes into fine new ones.
This time, they included the beaded butterfly shape silver and purple top with black pants, a floral and leaves embroidered tulle skirt paired with a white tank, and a long sleeve silver backless dress. There's a beautifully cut fitted black short sleeve buttoned jacket and a deep purple sheath dress with one shoulder of silver beadings on one side. The silver beadings permeate throughout and even ended up as a decorative necklace on a simple light purple men's jumpsuit or the shoulder of a red double layer ruffle blouse. The clothes have that sense of artisanal craft to them, as they are all unique pieces.
With the continued messaging of real sustainability, the clothes will be available like last season immediately on The Real Real, with a portion of the sales going to Fridays for Future.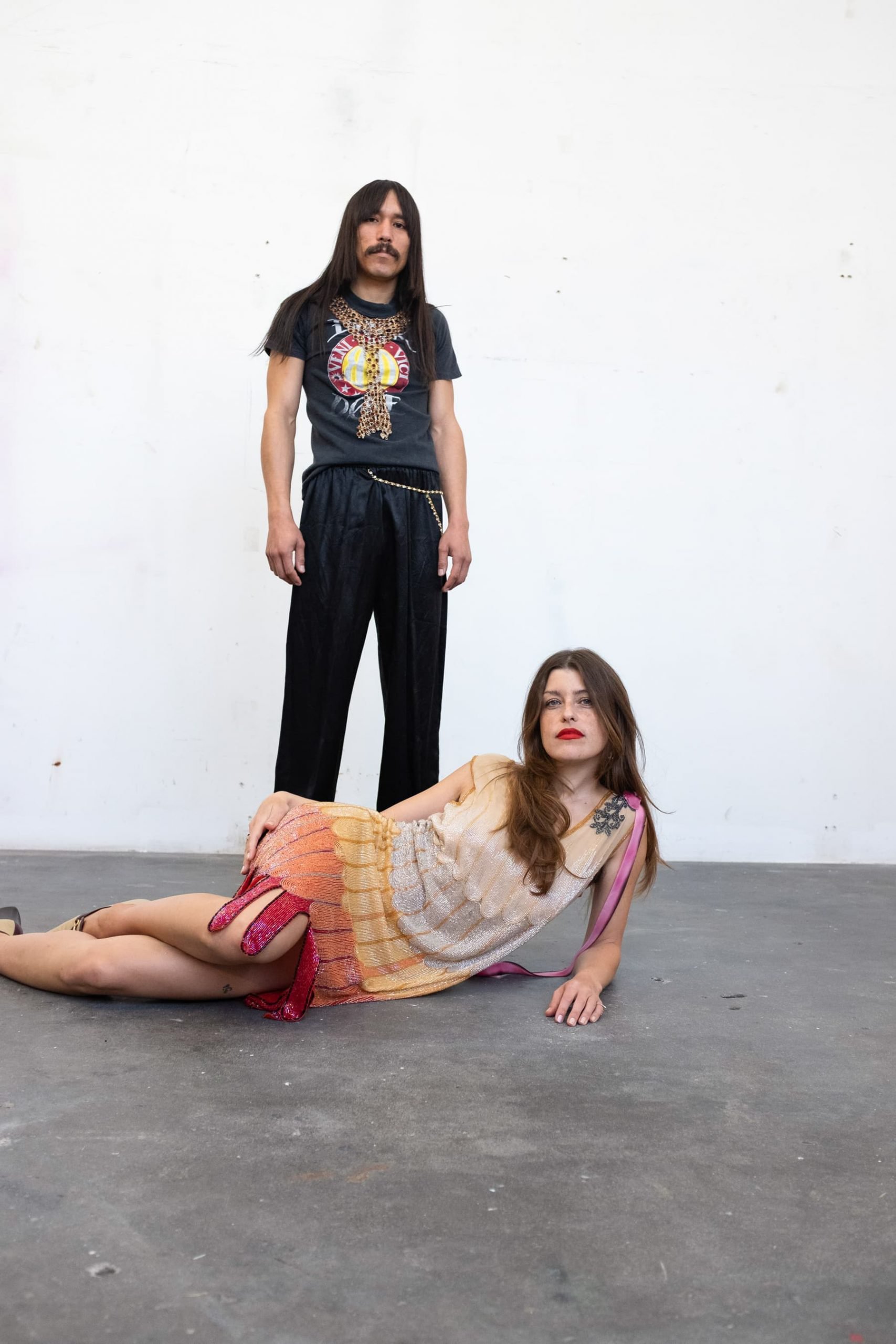 As a conceptual brand, Subkoff underlined the idea of upcycling and repurposed when IOC started two decades ago and emphasized that this concept is no longer an outlier idea but a central business proposal for fashion brands' profound impact of waste and pollution.
---