Review of Prada 'A Midwinter's Night Dream' Holiday 2021 Ad Campaign by Creative Director Ferdinando Verderi and Director & Photographer Glen Luchford with Talent Julia Garner, Shira Haas, Louis Partridge, and Taylor Russell
Prada shares a new Holiday 2021 campaign that combines wintry beauty and fantasy with a chilling forecast of the future. "A Midwinter's Night Dream" features creative direction from Ferdinando Verderi and film direction and photography by Glen Luchford.
The campaign follows a group of young explorers across a desolately beautiful frost-scape. Luchford's film treats us to sweeping cinematography of snow-capped mountains, crystalline caverns, howling winds, pink suns setting over vast plains of ice. Our four protagonists – cohesively styled in black, white, and silver – are dwarfed by the landscape, but rather than feeling small and isolated, they find a sense of beauty and community as they explore together. Their dialogue is not weighed down by juxtaposition, but instead pulls the viewer right into a sense of story and character while leaving us to form our own overarching narrative. Strauss' legendary Blue Danube Waltz is blown up into an epic sci-fi-film score to create an appropriately sweeping, hopeful soundtrack.
The film's final moments feel somewhat ominous, however, as we see a palm tree just poking above the ice, then realize where we are as we see a road sign for Los Angeles buried in ice à la Planet of the Apes. Though our protagonists can only find wonder in the artifact, we in the present have to see it as something else – an ominous and terrifying sign that global climate catastrophe has changed the world as we know it. The travelers' distance from this reality, both emotional and temporal, creates a tension which is both sweetly ironic and existentially upsetting.
But in the film's final shot, they do discover the city of Los Angeles, still thriving and full of people and futuristically complete with flying cars, though covered in snow – humanity has found a way. We recognize that our travelers are not alone; they are on their way to a joyous gathering.
The campaign feels at once beautiful and haunting, terrifying and celebratory – and what makes it great is that it neither shies away from or overtly pushes these contradictions, but instead lets them coexist. This feels like an appropriate artistic reflection of our present timeline, which is rife with contradictory experiences of genuine beauty and catastrophic environmental and human exploitation.
Few brands would be willing – or even think – to embark on such an artful and complex aesthetic narrative for a holiday campaign (which always tend to be the year's least thoughtful and most commercial), but Prada is known for setting themselves apart from the pack with their commitment to aesthetic excellence and incisive intellect. Even so, this campaign exceeds our expectations as it freezes us in our tracks.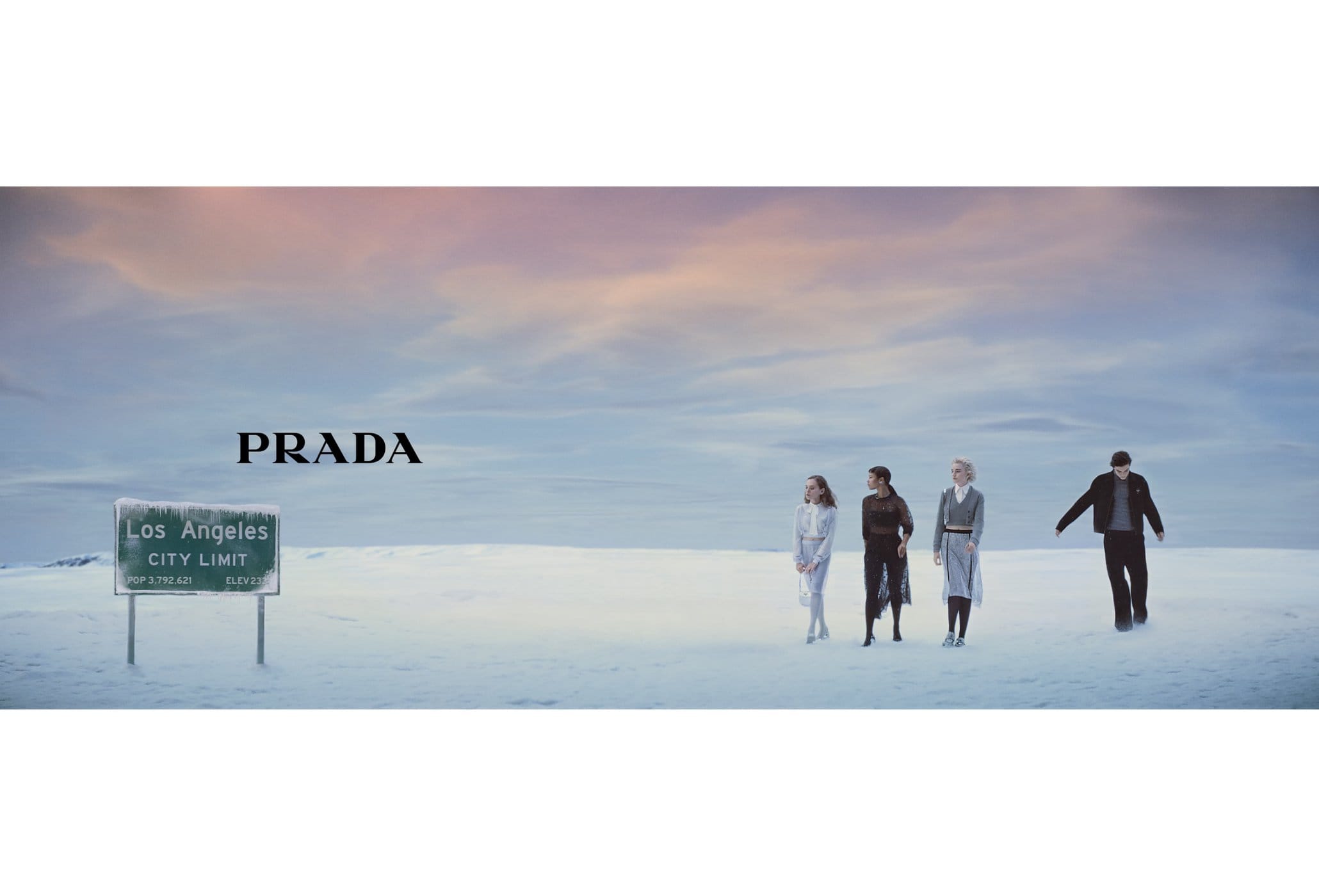 Director & Photographer | Glen Luchford
Creative Director | Ferdinando Verderi
Talents | Julia Garner, Shira Haas, Louis Partridge, and Taylor Russell
---