---
Review of Prada Spring 2022 Fashion Show
Seduction by the Body, Then the Mind
By Long Nguyen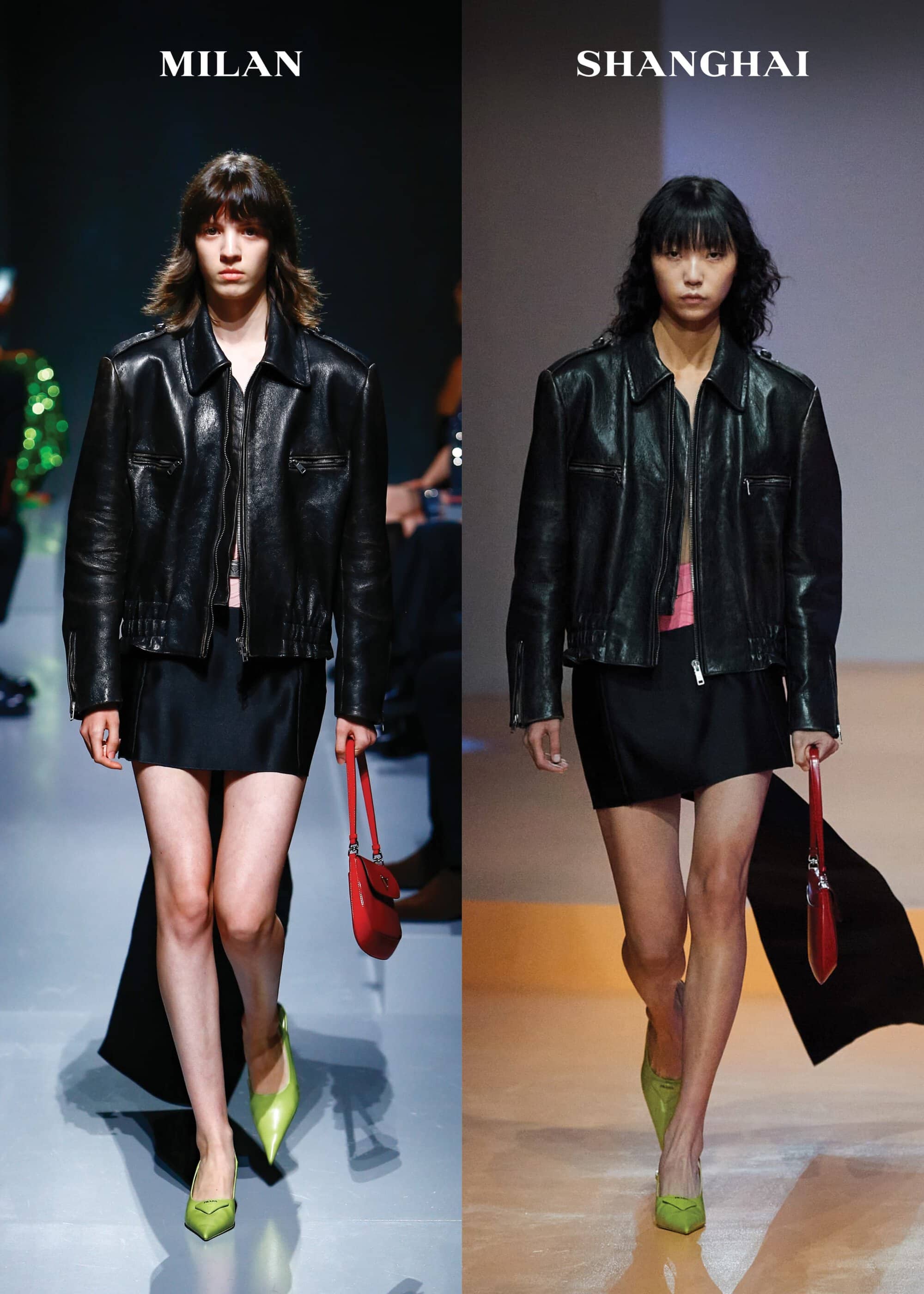 A model wore a black leather biker jacket, a black satin micro skirt with an attached long rectangular train, and carried a red leather bag entered the stage at the Deposito of the Fondazione Prada in Milano. Meanwhile, on the floor-length monitors staged around the set, audiences could see another model wearing the same outfit, low heel gold slingback, and the same red leather purse. However, the model on screen walked live at the same pace 9100 kilometers away in Bund 1 in Shanghai on top of a high rise with the lighted skyline beyond its window frames.
The high-definition monitor screens showed a not live stream version of the actual live show but a live presentation happening simultaneously across the globe, six time zones ahead. A fashion first in a simulcast.
This Prada Spring 2022 collection, the third for co-designers Prada and Simons, transcends physical borders and the borders of dress. It's the ultra clever deployment of couture and dress techniques onto functional clothes that transforms the conventional micro skirt into a sensual and sexy haute couture garment paired with a leather bike or a worn-out brown leather pea coat.
"We thought of the words like elegant – but this feels so old fashion. Really, it's about a language of seduction that always leads back to the body. Using these ideas, these references to historical pieces, this collection is an investigation of what they mean today, what seduction means. Why are these ideas still important after hundreds of years? We are exploring those ideas and confronting them," Miuccia Prada said of the genesis of this Spring 2022 collection.
The tensions in modern fashion between functional/utilitarian and high haute couture design played out harmoniously on the clothes shown.
But often in jittery sensations as the gamut of pastel yellow, pink, and black shiny and rigid silk satin micro skirt with a single rectangular long sash sown onto the skirt from behind, winding and flipping side to side like a long fish navigating the water. The classic Prada cashmere sweaters made every day have also undergone a sartorial surgery transformed into a tight frontal corset with cotton string tying together the back of a cashmere cardigan. The long evening dresses of a bygone era now are transformed into short dresses backless in the form of brassieres.
"Trains, corsets, evening gowns. These things that are historically beautiful – they are interesting, but we want to disturb them. An evening gown, however beautiful, feels like such an irreality. We want to make them feel relevant for the twenty-first century, for women now. We want to enjoy beauty, but in a way that is not about the past. It is about today. These clothes can become complicated: evening dresses, historical costumes. We wanted to make it uncomplicated. That feels modern," Raf Simons said of the transformations of the clothes.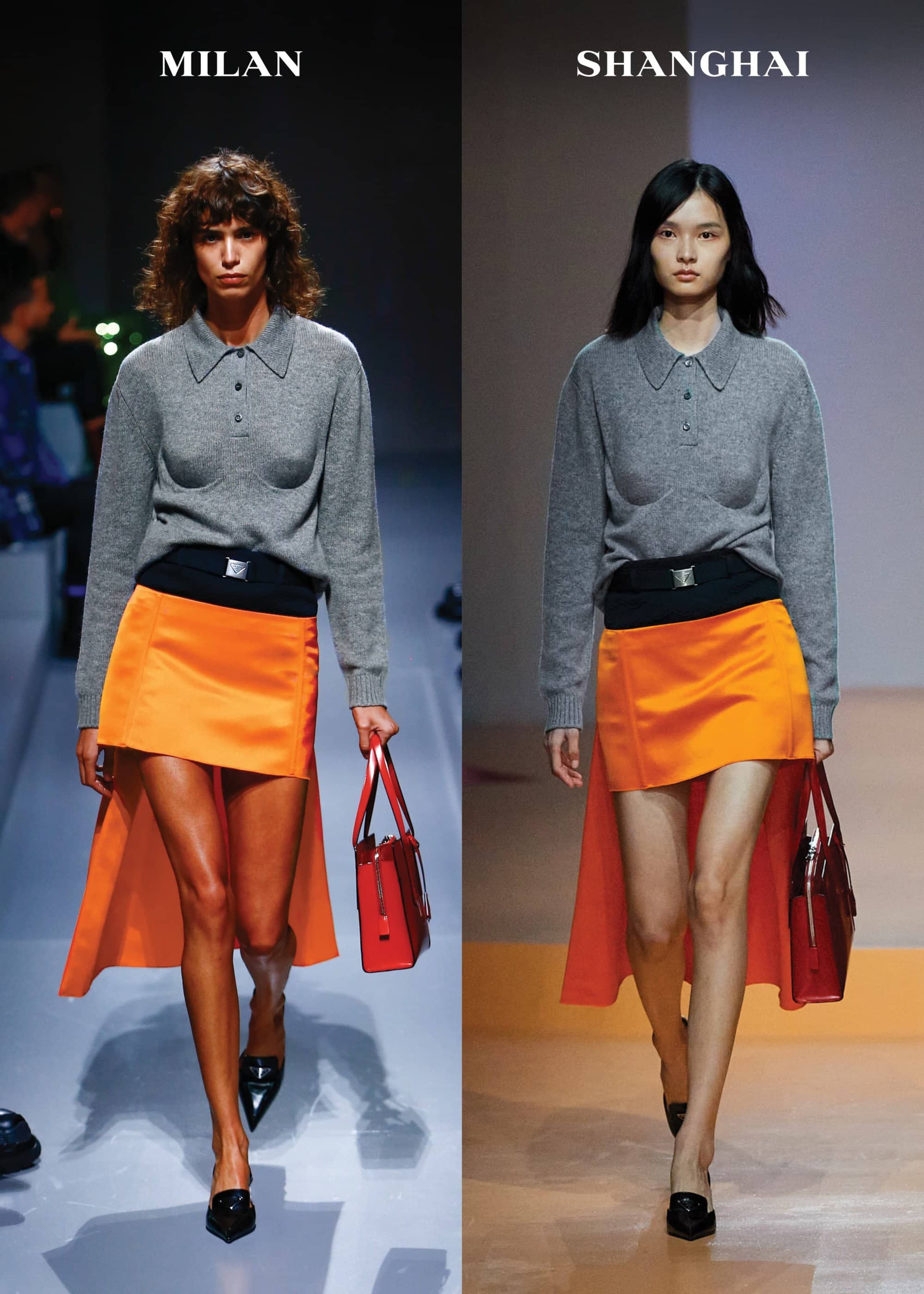 What was stunning was the light touch pervasive throughout the show, taking elements of historical dress, say parts distilling say the rigid corset into knit sweaters conveying the rigidity of the corset mechanism with the tight stretch cups over the breasts. And loose cotton strings left slightly untie in the back, turning a regular cashmere sweater into well an evening dress for now. Or what could have been a long satin silk gown now became a specter of its past now turned into a sexy short bright yellow satin with an open back, making the dress into a sort of over the head chemise.
"The pieces we reference – I like the idea of investigating these because they are something always relevant to our history, as women. It is not a rejection, but to rethink. To use in a different way," Prada said about the specific of the women sartorial historical garments.
Prada-Simons showed just a few of their ideas and focused on showing just enough of a small range of anchor looks. At least on the runway, ideas and execution matter, not quantity. The short skirt with the rectangular train anchored the collection so firmly with their leather biker jackets companions. It is pointless now to dissect which designer contributes which ideas to the clothes, in fact, just silly.
For this first time, simultaneous fashion shows in Europe and Asia occur at the exact time with the precise collection and look just with different models. Prada is moving forward with various experimentations conducted during the pandemic on how a more comprehensive range of audiences can experience fashion. Now the brand is carrying on forward, expanding these trial-outs.
"I strongly disagree with the idea of a return to 'normal' – we must draw lesson from this moment. We have learned that we, in fashion, engage with a much wider world. And our engagement with technology, the use of technology to mediate between humanity, was the inspiration for the first show of Raf and I, our first collection. This show reflects that idea, also. After all that has happened, how do you go back?' Prada said about the two shows shown at the same time.
It isn't only on the runway that Prada is extending the meaning of experiential initiatives, perhaps heightened by how to address the presentation of 'experiences' of fashion – a crucial dilemma during the pandemic year.
At Prada, seduction commences with clothes and the body, indeed doesn't only with corporal desire. The seduction of the mind is the other fat teaching effort across projects since the pandemic year of rethinking how the brand can deliver its cosmos – fashion aesthetic – to a vast global community of shared thinking.
Prada is surging ahead now, not just in terms of sales growth, but more critically in forging a hermetic global community around the brand significantly more expansive 'Prada' experiences. All of this starts from the grassroots level up to the fashion show, the stores, and the merchandise. But these immersive experiential endeavors aren't just limited to the fashion orbit. Instead, the reach is also to the larger public, encouraging people outside of fashion to partake in this community even without the requisite merchandise purchases – just like a cultural institution actively engaging the public.
Technology has come to the forefront of how to experience fashion and has dominated every facet of contemporary life – a fridge can now send an order for groceries. But bringing innovation in tech to fashion has not always been a simple task but hastened to a quicker pace during the lockdown era.
"Because of the pandemic, I think so many people, from different generations, became attuned to the ideas already embraced by a younger generation – their communication methods, their engagement with technology. This is an important and valuable lesson, an evolution. It's no longer about a small world – in fashion, or elsewhere. It's about a wider connection," Simons emphasized the need to evolve forward.
Prada's answer in the last few seasons of purely digital initiatives was not to lose the sense of a live presentation at a time when that was impossible. For men's spring-summer 2021, the brand presented the men's spring and women's resort collections by deploying the visions of five photographers given carte blanche to interpret the collection in their manner. They provided the global audiences multiple perspectives to instigate that some of the charisma of the live effects.
Prada is changing how to look at its fashion showing, invoking greater audience participation, and even seeking public dialogue in this ever-evolving process. It is now a two-way street in a revolutionary rethink of connecting via technology but not staidly.
At the first show of the duo creative of Prada-Simons for Spring-Summer 2021 in September 2020, the designers directly answer questions selected from audiences worldwide in a live stream post-show session. The Spring 2021 ad campaign continued this dialogue approach. It featured a series of questions like 'Is Future A Romantic Idea for You?' or 'What Utopia Are You Striving For?' and the public can answer the questions or view other responses at the brand's website. This would be a kind of public polling of sorts, gauging audience opinions about subjects indirectly related to fashion.
Photo Long Nguyen
At the first men's show titled 'Possible Feelings' for Fall-Winter 2021, Prada and Simons sat on the furry wool set and answered live questions from fashion students at various universities worldwide.
Currently, at Via Lazzaro Spallanzani, 18 in central Milano near Porta Venezia and the Stazione Centrale is the first installment of the #FeelsLikePrada building wrap campaign. Where 'imaginary surfaces became Prada textures and patterns with the intention of 'take-over of everyday places relays the same desire for contact, a need for sharing and relationships.' The invitations for the global digital debut of the men's and women's Fall-Winter 2021-2022 were colorful wool furry boxes containing cookies and candied chestnuts. The same colorful wool furry fabrics on the rectangular boxes covered the staging of those two taped shows, connecting the invited audience and hoping to transform the actual digital viewing itself.
In the pandemic period, Prada actively sought and experimented with different methodologies, hoping to land on new processes that can serve as a starting model today. As brands are always at the forefront of experimenting with aesthetics, materials, and forms, this is just the beginning of the road to findings ways to challenge and enhance how to see, hear, and feel fashion.
"Doing these shows simultaneously demonstrates a new possibility: that a Prada show can happen anywhere. It's about sharing – not just sharing imagery, not just sharing through technology, but sharing a physical event. Community is a vital idea: drawing together people who share ideologies, values, and beliefs," Simons mentioned the importance of community building.
But, it isn't just adopting new technologies and incorporating them in broadcasting the fashion show. It is how to deploy these tech inventions in the services of humanizing fashion experiences, including striking that crucial emotional connection that can bind the brand to its audiences, new ones, and already fans.
So many commotions have been made about circularity in fashion consumption and production to lessen the burdensome and damaging environmental impact. Still, little focus was placed on viewing fashion presentations in similar circular routes in the hyper-digital future.
As fashion is slowly and carefully emerging from the pandemic era, it can no longer revert to another time zone in the apogee of packed live shows, hoping that somehow this coated patina can serve the general purpose. Prada is moving forward slightly differently, setting what the brand learned from purely digital initiatives to now finding how to mix live and on-screen coherently with both versions enhanced in some shape.
Among a small constellation of enthralling new garments, there is a distinctive sensuality in this collection. Yet, the body was never over-exposed in any way. The legs seen and then all else covered or the back or hints of nothing under the range of leather jackets.
It isn't sufficient to look but now also to feel.
---